What took me so long?
27.12.2008 - 27.12.2008
Well, I meant to post this MONTHS ago, but I guess I just got to busy with school and such. Yesterday I told someone I would send them a link to my old travel blog and when I checked the link to see that it still worked I noticed I never posted my last day photos. So there they are, better late than never I suppose.
My last day was not a full day. My flight left around 5ish in the evening and my shuttle would pick me up around 2 to take me to Kayseri and the airport, so I had a good half day to fill wondering around Goreme. I suppose I could have did a hike in the Zemi Valley but decided I didn't want to risk missing my shuttle. Would I have minded being stranded in Goreme one more day? Not at all, but missing my flight from Istanbul back to the states would not have been to my liking. So I stuck around town, enjoying local scenery, chatting with a few locals, purchasing some music, having coffee, taking it all in before I would have to leave.
This was my hotel, the Peri Cave Hotel. Not a bad place to stay. Certainly not the lap of luxury but what would one expect for $20 a night?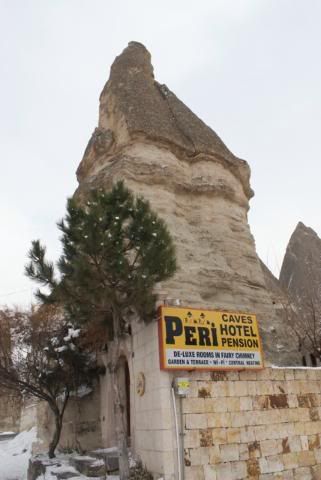 Coming into the town (village?) of Goreme. Truly there is not a lot to do here in the winter, although the hot air balloons still fly. I enjoyed it though. It was not crowded with tourists.
A sign indicating some of the local food choices. Unfortunately in winter the choices are limited since they don't cook as much as they would in summer. I enjoyed all my meals here in Goreme none the less. The lentil soup was was always lovely, no matter where I ate it.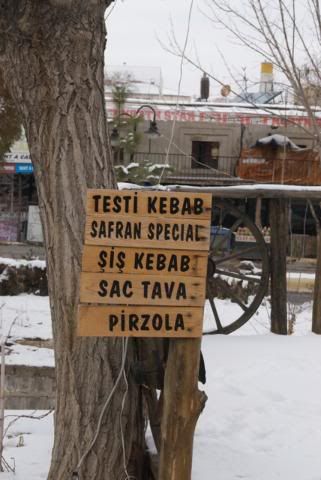 One of the many friendly cats....she was precious. I really wanted to take her home. I picked her up and she just snuggled into me.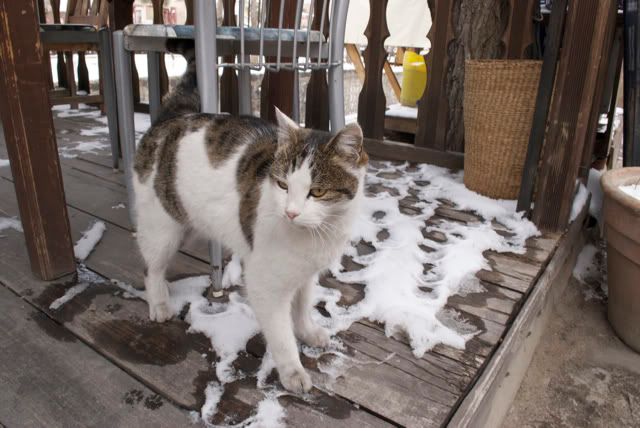 The ubiquitous Ataturk monument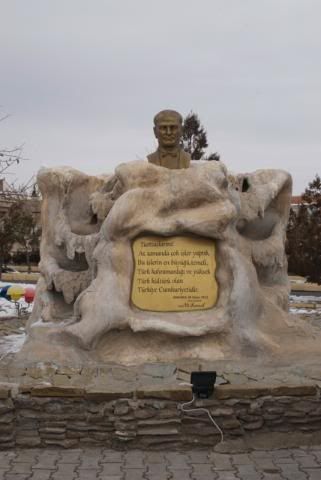 Pottery kebab is pretty popular here. I didn't have these, but had something similar. The food is cooked inside the terra cotta pots and they are broken open for you to eat the food inside. This place was closed but had a plethora of broken kebab pots lined up on their wall.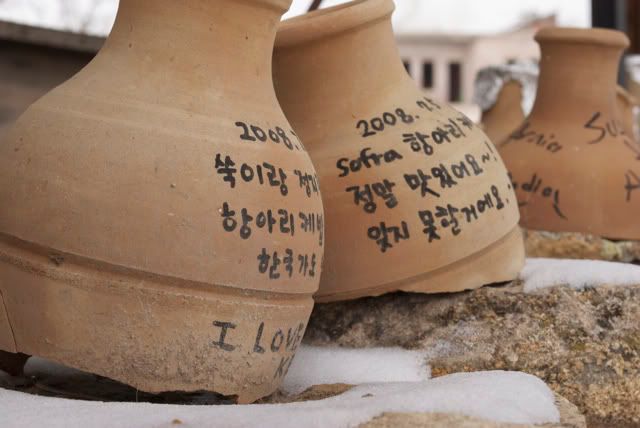 A massive icicle!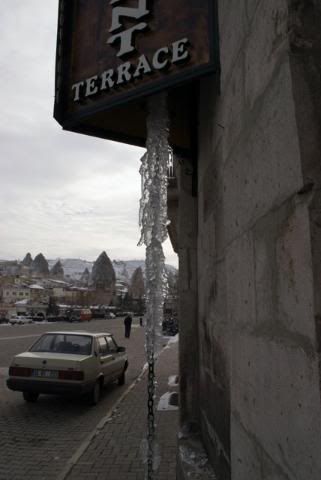 Yea, even the Turkish can get a bit cheesy when it comes to attracting tourists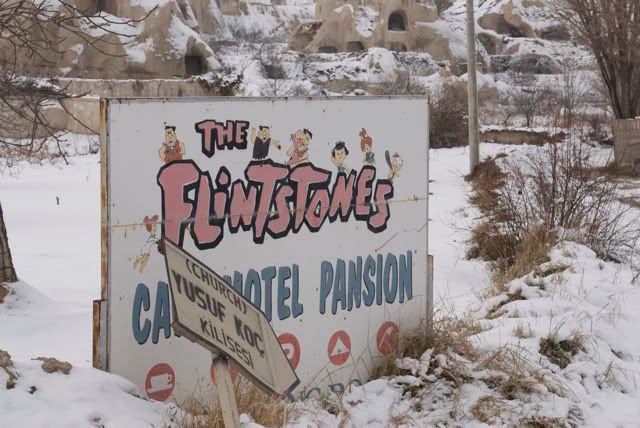 Love the fringe in the windows!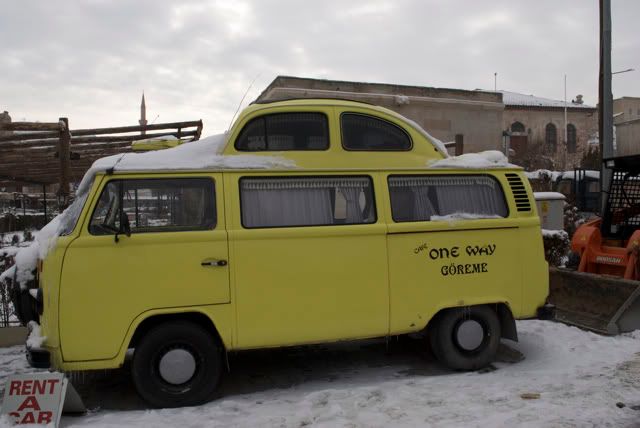 There were a lot of old wagons sitting around town
A couple of dogs running around town....these two, although cute, were upsetting me because they wouldn't leave this cat alone. It was heartbreaking to see the cats that looked hungry, cold, and perhaps sick.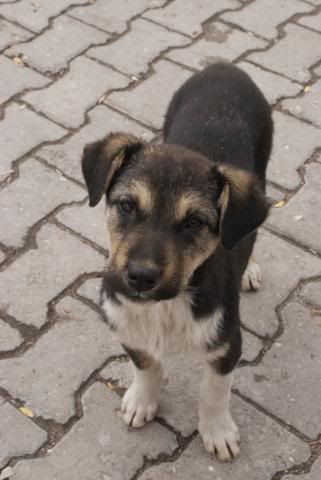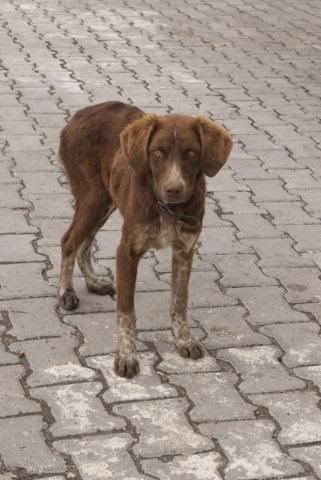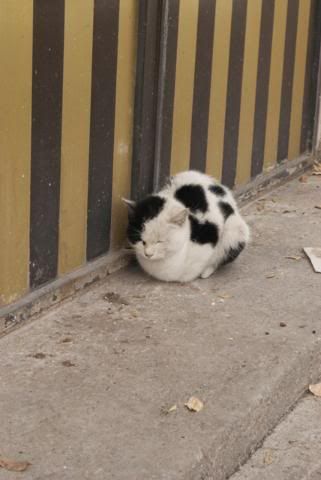 Local wares for sale...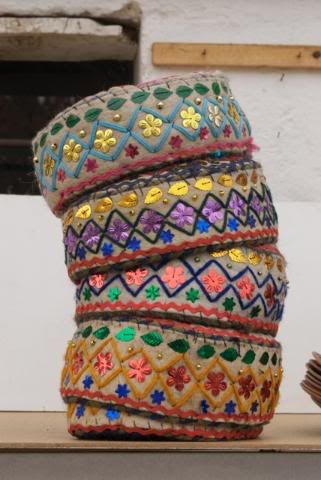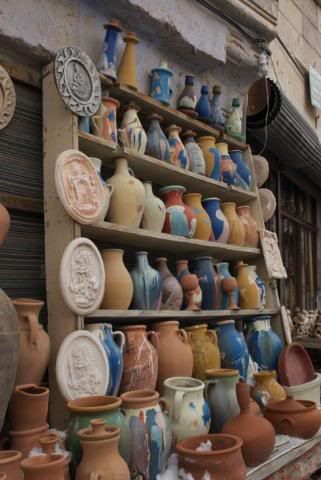 I'm not exactly sure what the meaning of this was! But it made me laugh.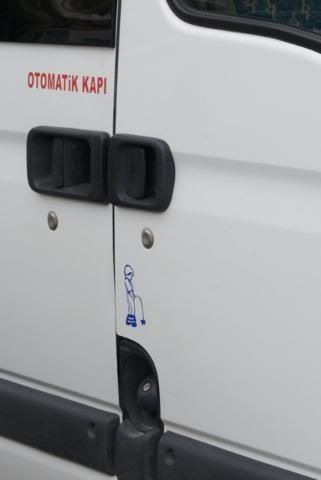 The local market. I wish I had found this earlier in my stay. I really wanted some local citrus...Turkish oranges and tangerines are beautiful and tasty! They would have been quite welcome on my long hikes.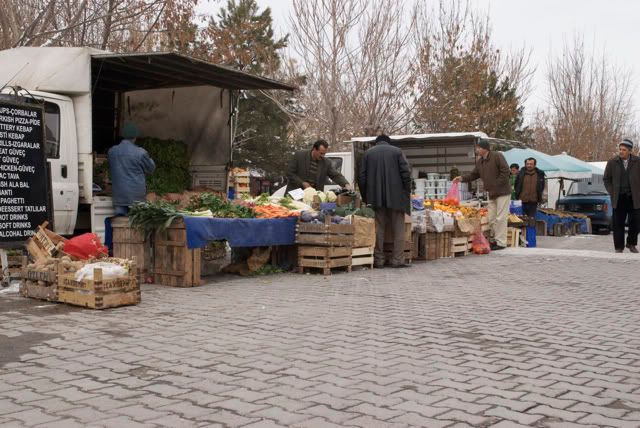 I loved this door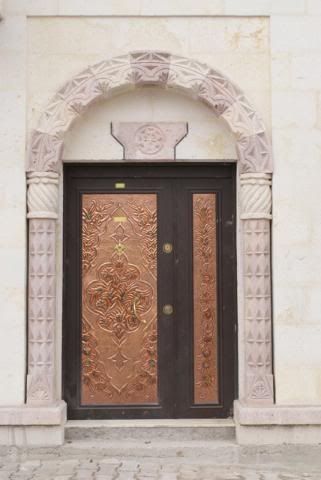 Last but not least a few more cats...yes, there are a lot of cats in Turkey.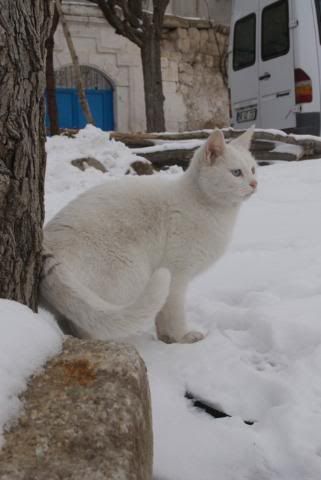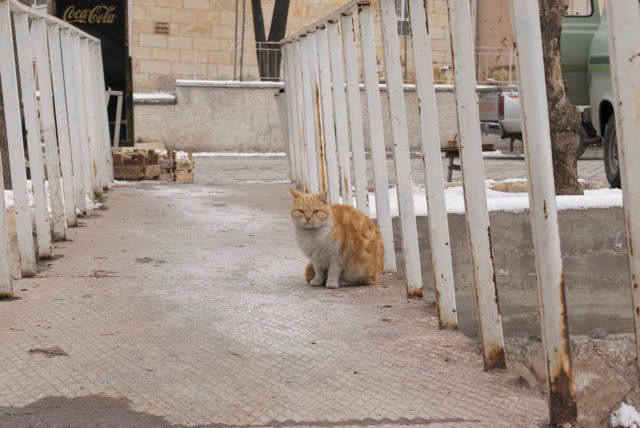 And that was my last day in Turkey. As I sat here and did this entry I realized how much I really miss the place. I had hoped to go back this summer but life took a turn that wasn't meant to take me down that road. So I'll plan a future trip for summer. I want to see the stars under the clear Cappadocian evening and hike the valleys when the trees are green and full. Yes, my heart holds a spot for this special place.
Posted by oceanchild 04:09 Archived in Turkey Comments (0)