With views of the Rose Valley
27.12.2008 - 27.12.2008
My final full day in Cappadocia was devoted to hiking toward the Rose Valley. I didn't make it through the Rose Valley, but did make it to the Red Valley and up on some ridges that gave some spectacular 360 degree views of the whole area. Now I have to go back so I can hike through the Rose Valley. Each day I have been given the gift of wonderful scenery and solitude. This day was no different. I would say the scenery was a bit more "grand" than my other hikes, and the solitude was not quite as sheltered. I do know that I did not have nearly enough time to thoroughly explore and enjoy the area. Hard to believe that many people go to Cappadocia on their tours of Turkey and only spend 1 or 2 days. I have been told that was changing and my 6 day stay, although it elicited some strange looks from locals, is starting to become more common. I could easily go back and spend another week there. Again. And again.
My map, if you can call it that, really gave me know good idea of how to get to any trail and where it would really lead me. There were, however, numerous signs for the Red and Rose Valley painted on the stone in the area leading toward these valleys. It seems almost every sign said 2km. Apparently I didn't take as many photos of these 2km signs as I thought I did, because I found only two in my collection. Needless to say, they were quite common.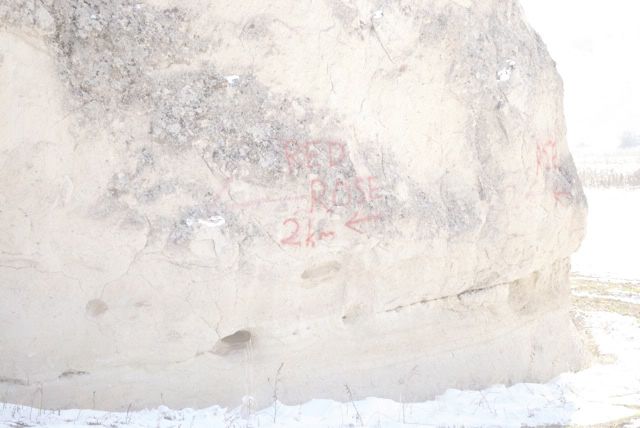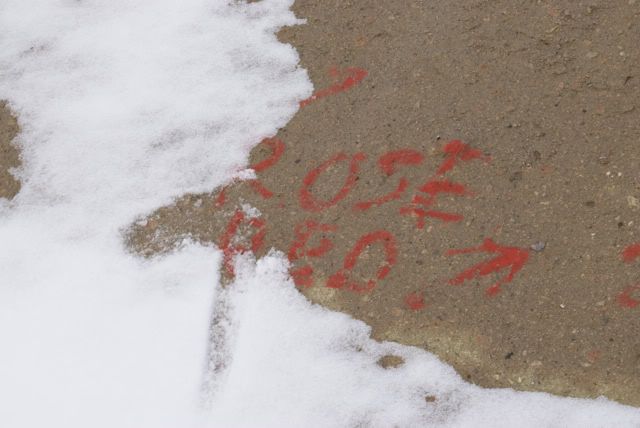 So, I head in the direction of these signs. I think it would really be tough to get lost here. The area is not all that big and going in any direction should lead to a road of some sort. But it's fun to go off on an adventure with no real idea of where you might end up!
My destination is somewhere over near those rose colored rock formations....hence the name Rose Valley. Looks like a long way, but it really isn't all that far.
The first valley I came into had some graceful formations that made me think of desert sand dunes. I have to admit I was a bit impatient and wondering when I would get into the Red or Rose valley.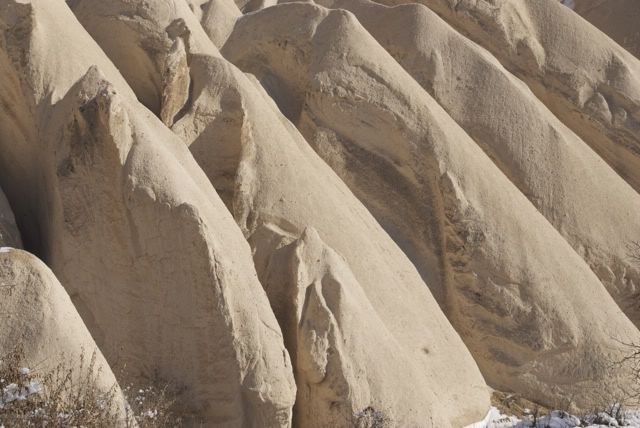 So I decided to take another path that went up. There was a sign that pointed toward a church, something I'm always glad to find out on these hikes. You can see the paintings. I believe some of them had thistles painted on it. I really intended to come back this way and get some better photos with my zoom lens. Lesson number one, never wait until you come back to get photos, because you may end up discovering a path that will take you the long way 'round! Needless to say, I didn't come back this way.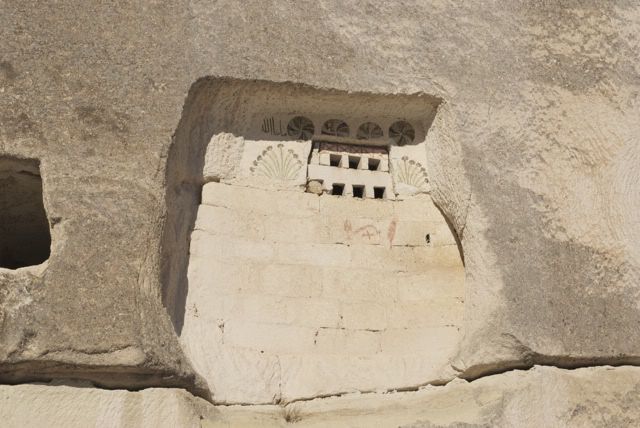 I enjoyed the various colorful striations in the rock formations.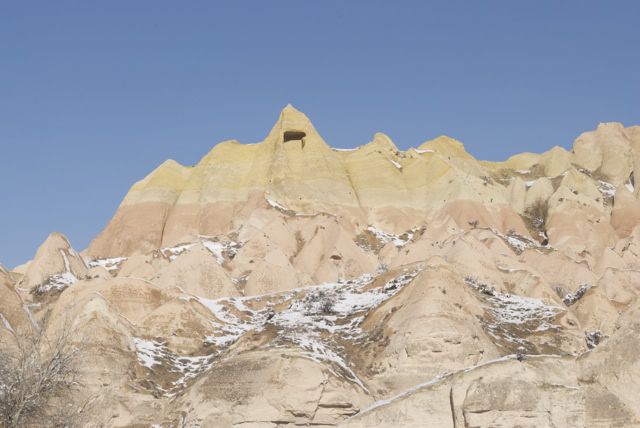 and the snow made this hike another beautiful, if not a bit slippery one....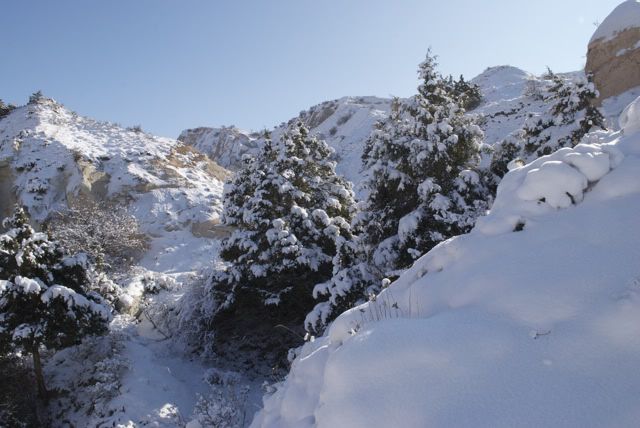 Good thing there was a rope to hang onto at one point
Ok, I admit, here I was second guessing my decision to climb instead of stay in the valley. The trail just kept going up and up and up. It got quite steep at one point and believe it or not I got a bit warm with the sun blaring down!
But then I got to the top and what I wrote in my journal was "sometimes taking the path of least resistance leads to the least reward" because I knew if I would have stayed in the valley then I would not have been able to partake in the vista that awaited me up top. Here I was once again, all alone and surrounded by such magnificent landscape that it was almost overwhelming. Here again I was able to just sit and ponder...reflect....pray...breath it all in. Here again I realized how much I had been blessed.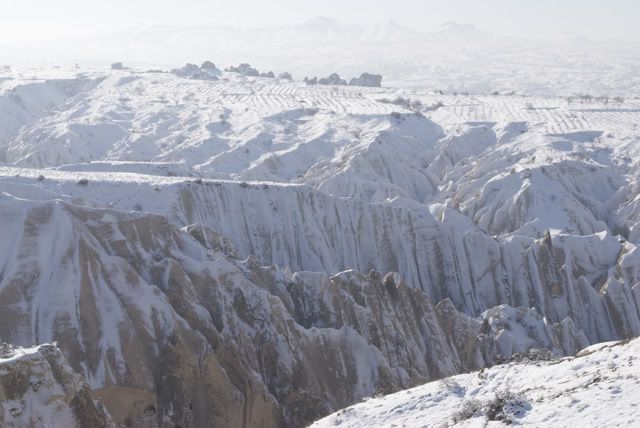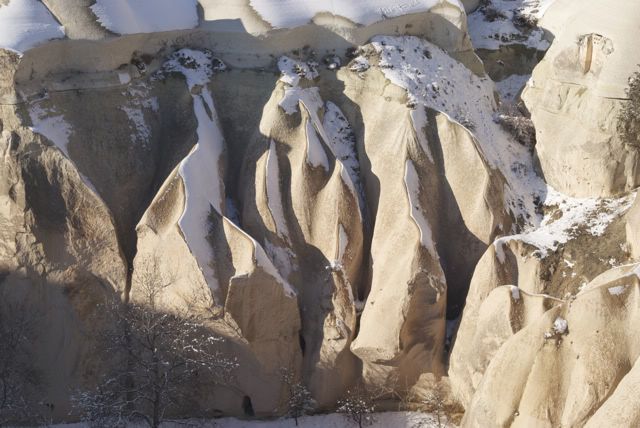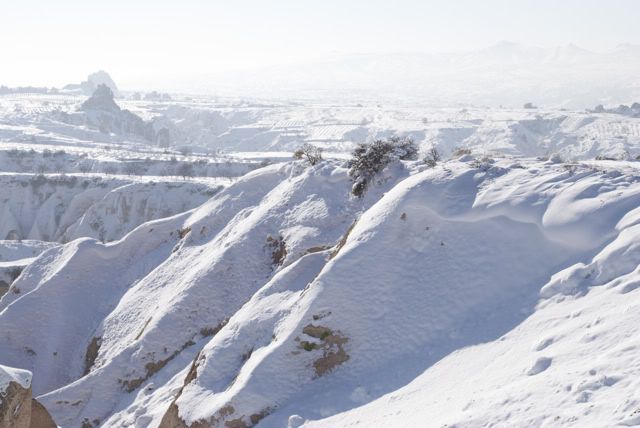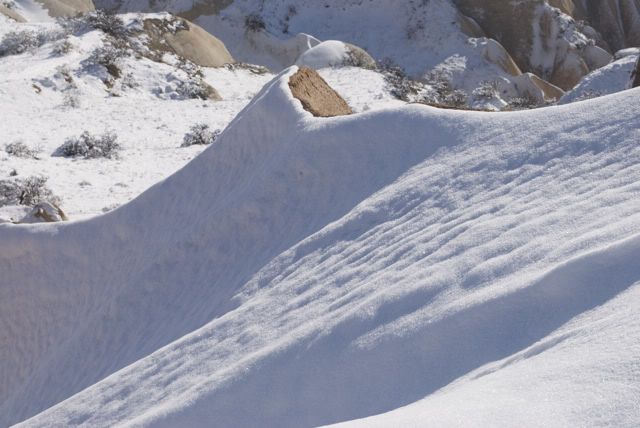 Not much can top the views from up there. I did hike down to the Grape Church with is in the valley below. A Turkish man and his wife are "keepers" of the church and run a little cafe next to it it where you can get some lovely Turkish food. I had pllenty of tea and some wonderful homemade lentil soup. Lovely after a long snowy hike. He encouraged me to return in the summer and enjoy the star filled skies of the valleys here. I will.
Stairs down toward the church...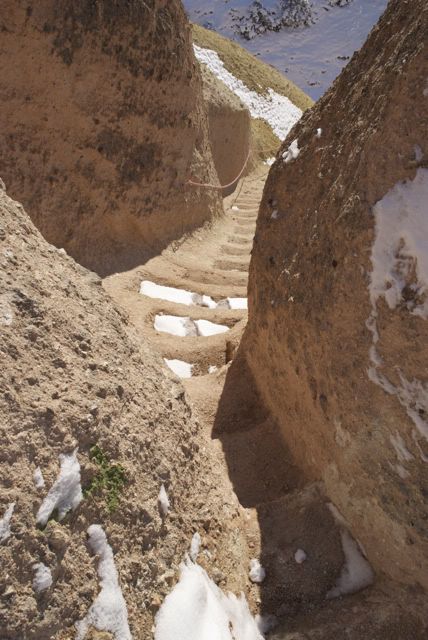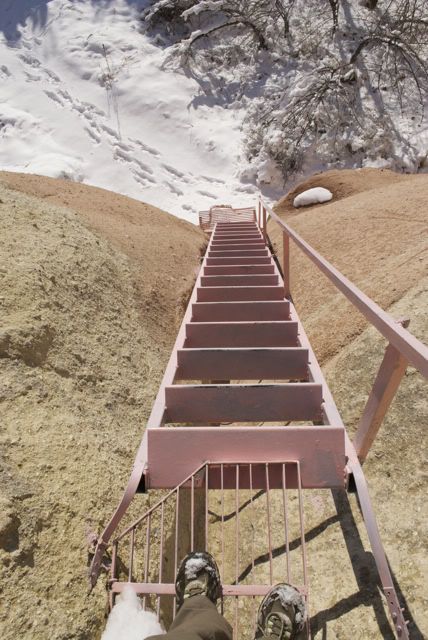 The ceiling in the Grape Church....so called because of the grape motif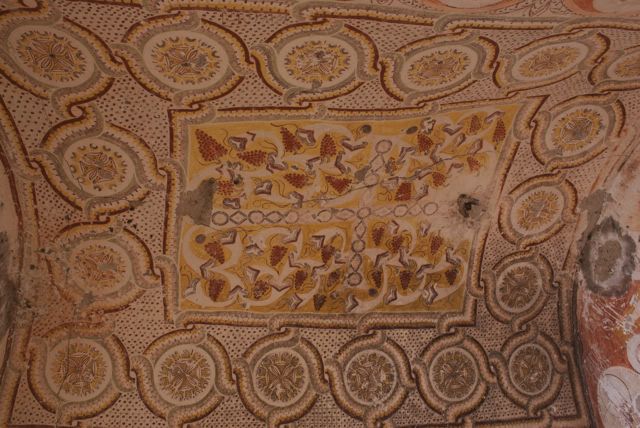 Cafe seats and some beadwork for sale....and a wagon that sat nearby...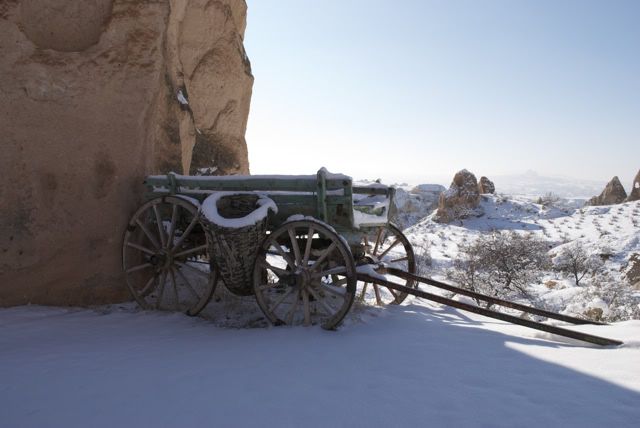 I intended to hike back through the valley but ended up out on the road instead, with a great view of Mt. Eryces in the distance....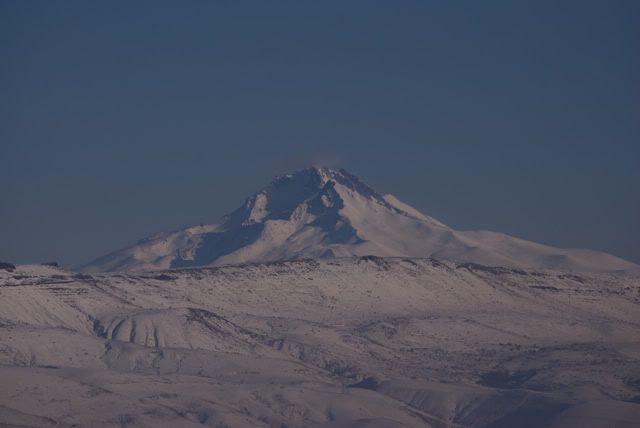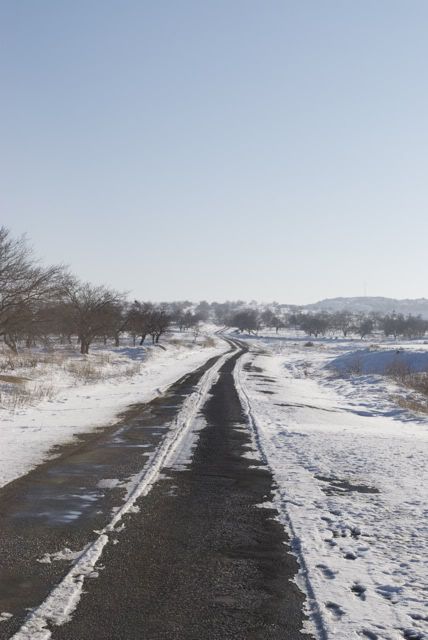 Even though I was walking on a long (and deserted) road, the views were still beautiful and serene...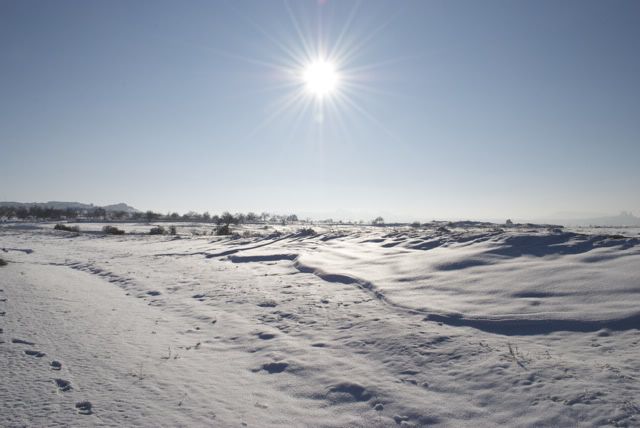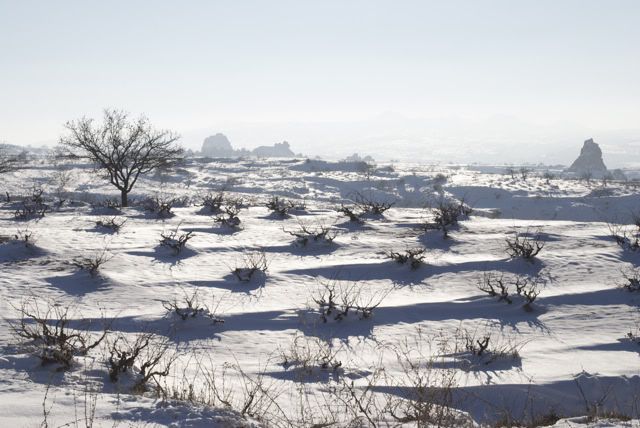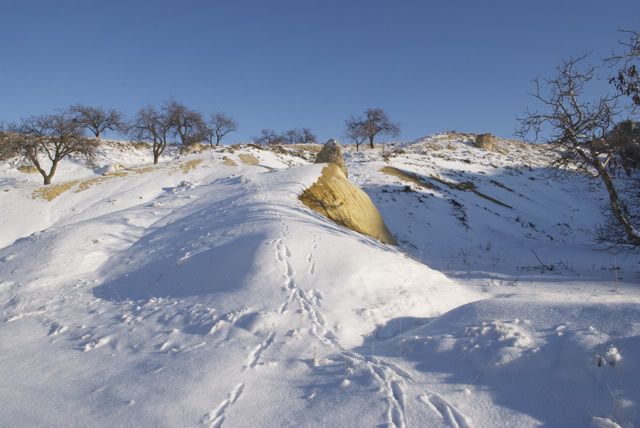 Of course it was a longer walk that I had anticipated and I had a little trouble with icy roads and the only unfriendly animal I have ever encountered on my travels. A small dog decided he or she did not want me walking by its territory and came very close to biting my leg until a shuttle van stopped and offered to give me a ride back to Goreme. I wouldn't have minded the walk back, but didn't want to deal with this dog, so I gladly took him up on the offer. The Turkish hospitality really stands out to me. It is part of what makes this place so special. That ended my last hike in Cappadocia. I was glad to be heading home the next day, but also longed to stay and discover more of this beautiful land. On my last day I would do nothing but walk through the village of Goreme and photograph the local scene. I drank plenty of tea and talked to a few of the locals. It was a nice end to the stay in Goreme. I can't wait to come back.
Oh...and I will post photos from that last day.....so don't despair
Posted by oceanchild 20:42 Archived in Turkey