Goreme Open Air Museum and Swords Valley
25.12.2008 - 25.12.2008
Other than I have been thinking about Cappadocia and reliving, through photos, my time I spent there I don't have much to say with these. This was truly an incredible time, probably the best I had my entire time abroad so I wanted to add a few more photos from my last days in Cappadocia. Christmas day was wonderful. I went to church. No, not an active church, there are none in Goreme that I know of, but to the cave churches at the Goreme Open Air museum. I had been there before, last January. In fact it was standing in one of those churches looking up at the wonderful frescoes that I realized I was on the wrong academic path. It was not modern history that I wanted to study, but ancient and religious history. I'm glad I made that change. I still love modern history but changing my major to Religious and Classical studies has opened up these wonderful travel opportunities for me! Now let's just hope it opens up some grand opportunities once I have my degree!
The Goreme Open Air museum is a wonderful collection of rock-cut churches and other buildings that came to be in the 10th through 12th centuries. The churches have some of the best preserved frescoes of the rock-cut churches. This at one time existed as a Christian monastic community. The artwork of the churches varies from the minimal and simplistic to wonderfully colorful and detailed frescoes. Some are better preserved than others, with the Dark Church and Buckle Church having the most colorful. Needless to say, the Open Air Museum is a must see if one is visiting Cappadocia.
As you can see, it is truly open air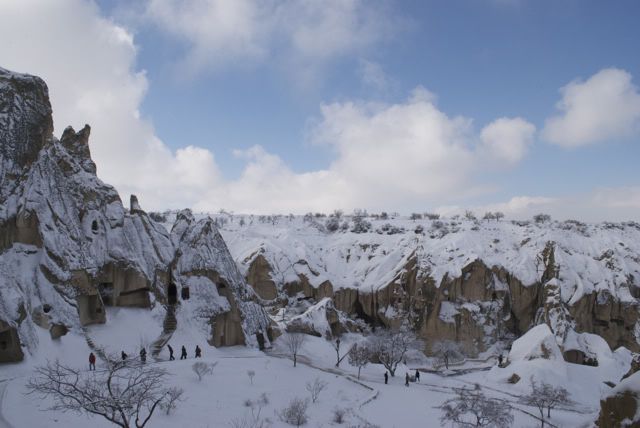 Of course I seem to meet wonderful cats everywhere I go. This lovely little guy was intent on staying with me and cuddling. It was very hard to put him down and continue on. I am thankful that most of the cats I saw were well taken care of, or at least appeared so.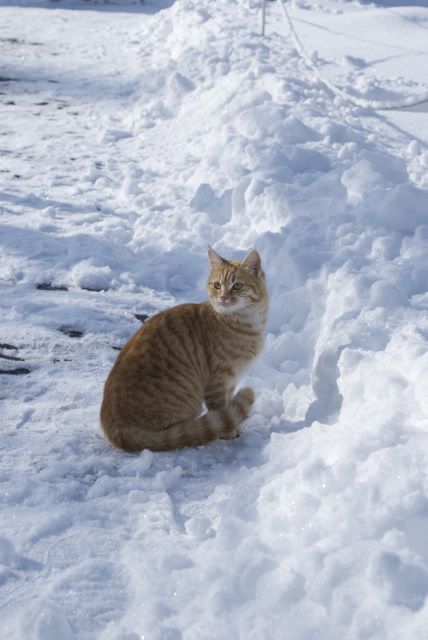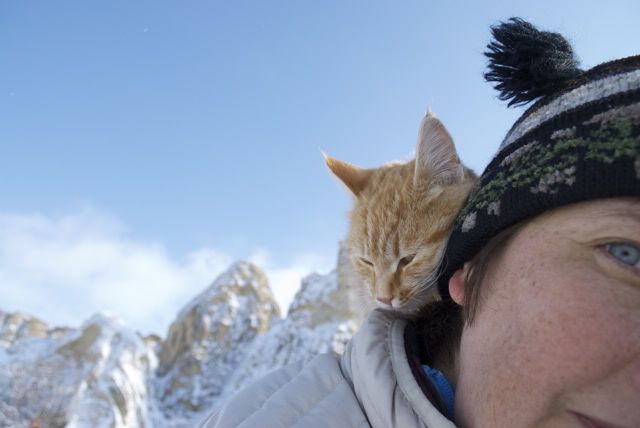 A very nice Turkish man offered to take my photo for me....and I have to say this is one of my favorite photos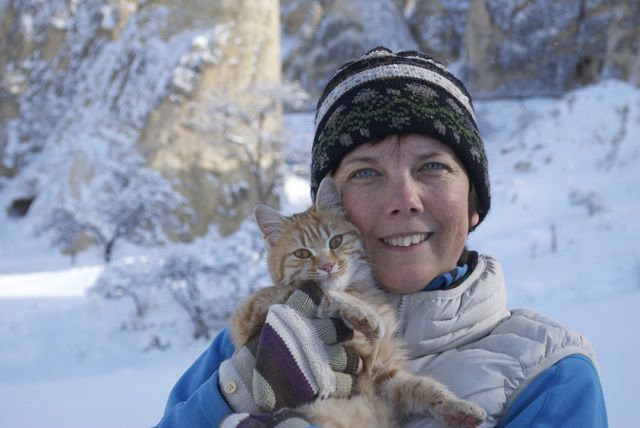 Leaving the kitty to charm some other visitors I went on and explored the churches in the open air museum
St. Barbara church is small, very open, well lighted, and simplistic in design....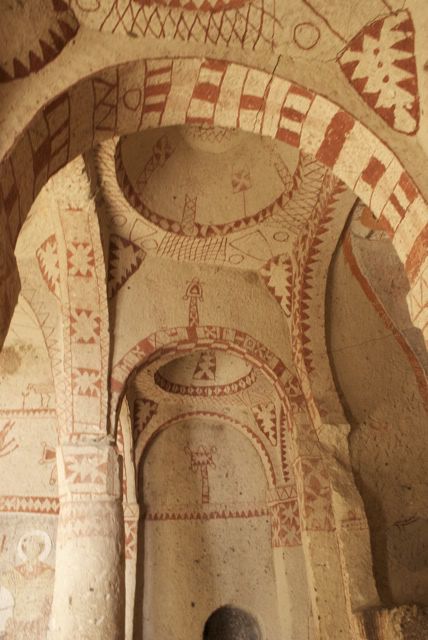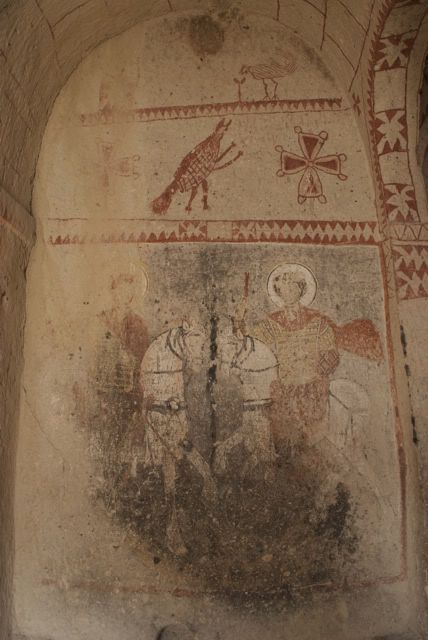 The Apple Church takes it a step up in artistic design. The colors are not as saturated as the Dark Church or Buckle Church, but it is lovely in its own right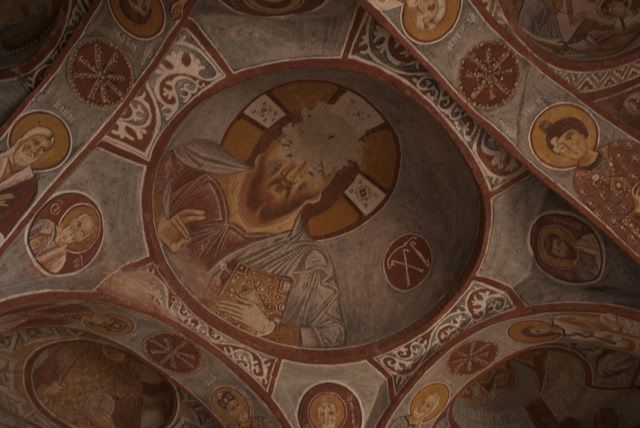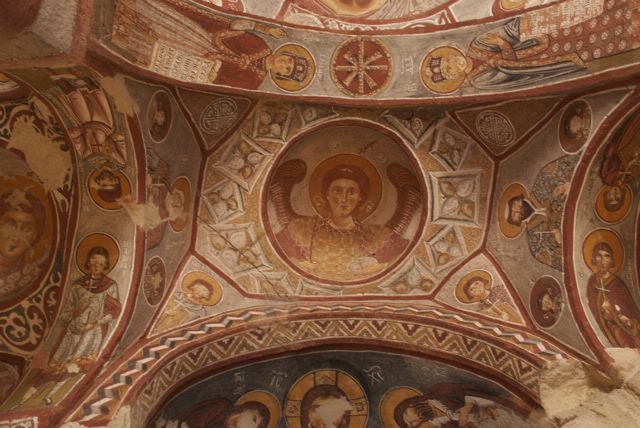 Hmmm...that's the first time I've noticed that part of my face got into this picture...too funny!!
The Dark Church is my favorite. The detail, the color...they are all so exquisite. It is so well preserved because of the manner in which the entrance was created. The doorway leads to a tunnel that bends to the right as you enter, keeping light out and the paint preserved.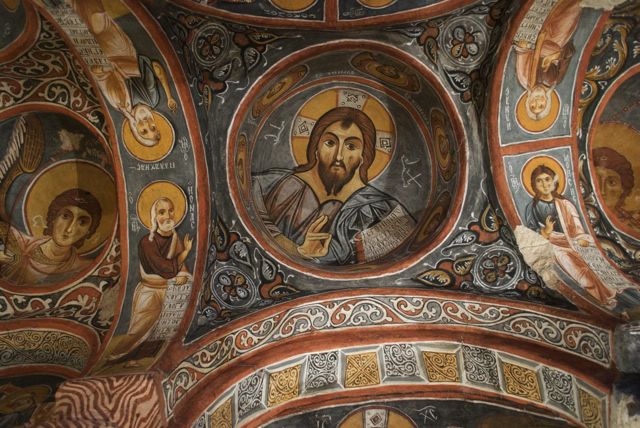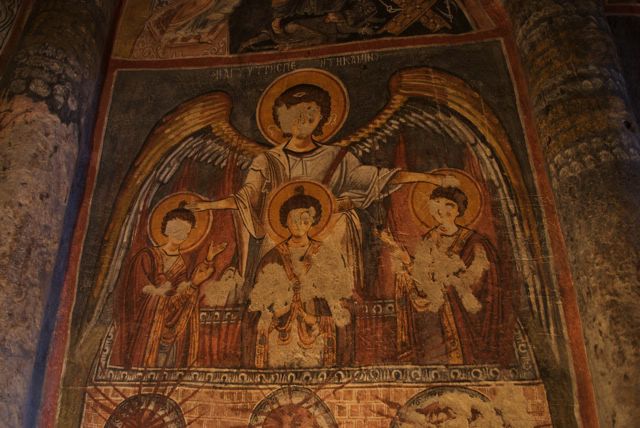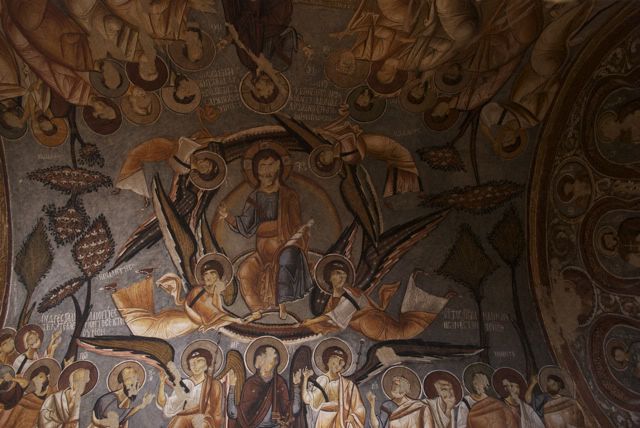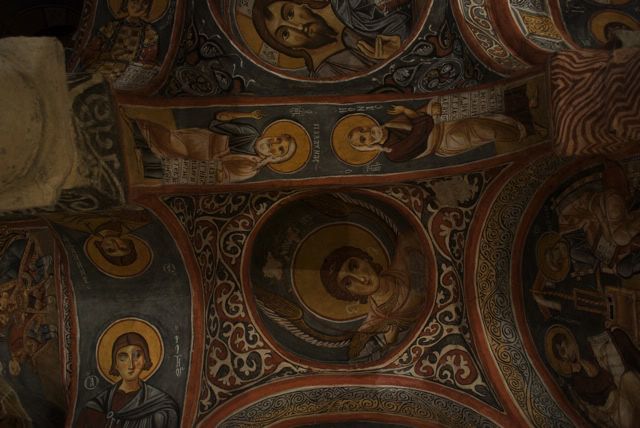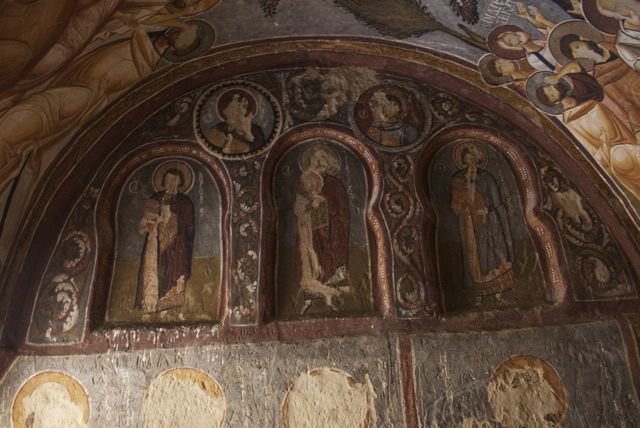 There are other churches and various buildings within the museum, but those are the highlights. Then there is the wonderfully treacherous stairs that one must climb to reach one of the other buildings. I'm sure these are not bad in summer, but covered with ice they were quite a challenge.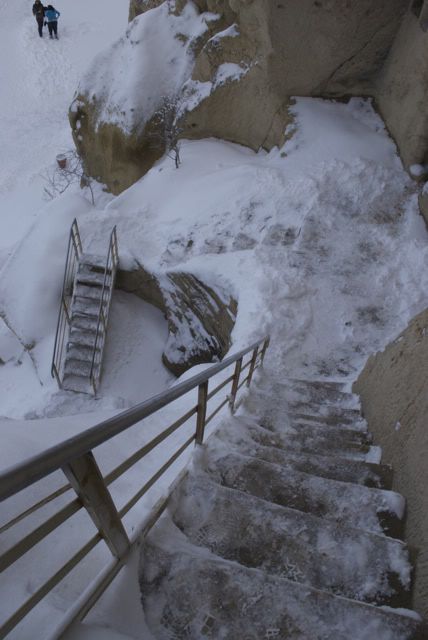 Once you leave the museum there is one other church on the outside down the street. This is the Buckle Church. It comes a close second behind the Dark Church. The colors here are outstanding and I simply love the blue hues!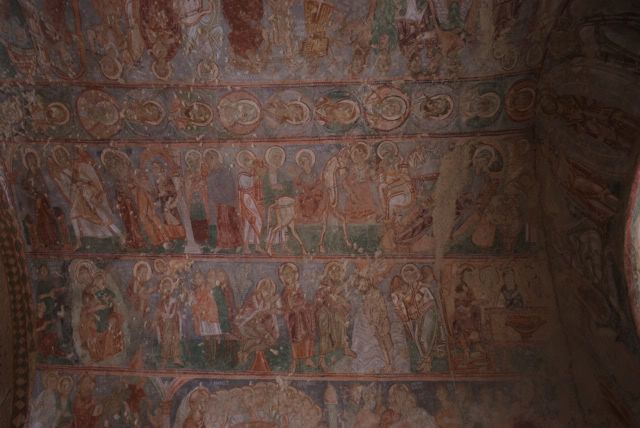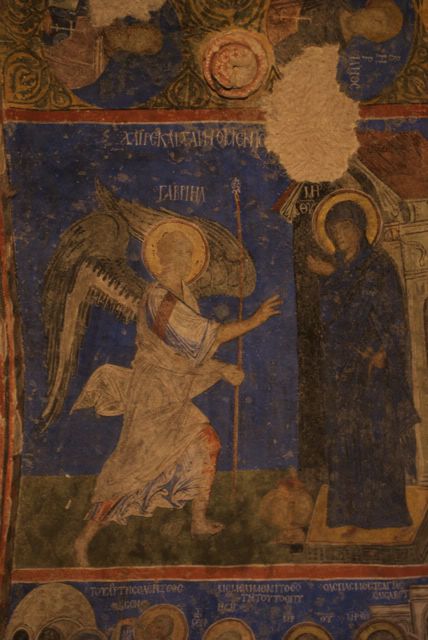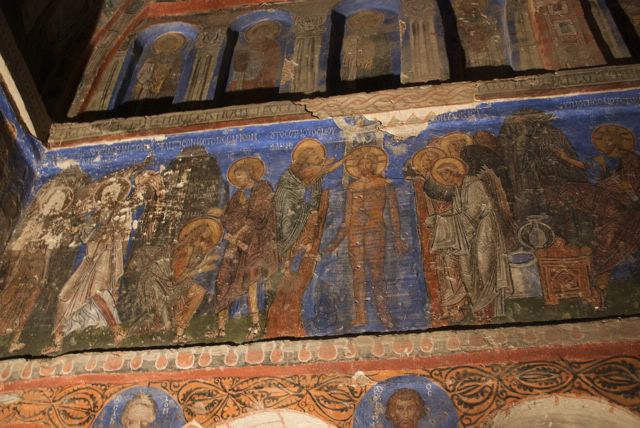 Christmas afternoon I went hiking through Swords Valley. I had passed it the day before as I climbed above the valley in the snowfall. I'm sure I could have explored so much more if time had allowed but I found some amazing cones and beautiful landscapes! To top it all off I saw an amazing sun dog as the afternoon wore on and chased a hot air balloon! It was an amazing day, as were all my days here. As with all my hikes I had no idea where I was headed, I just went. Here is what I saw.
A horse farm...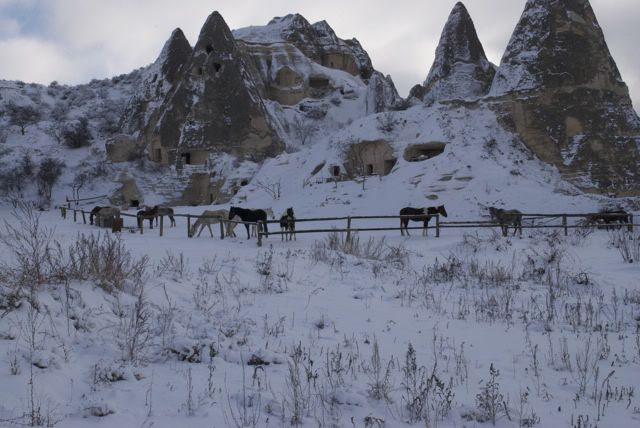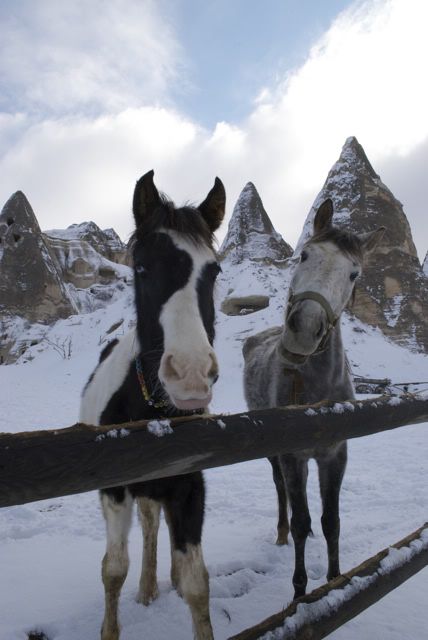 Untrodden path in the snow....
Beautiful, crisp, clean....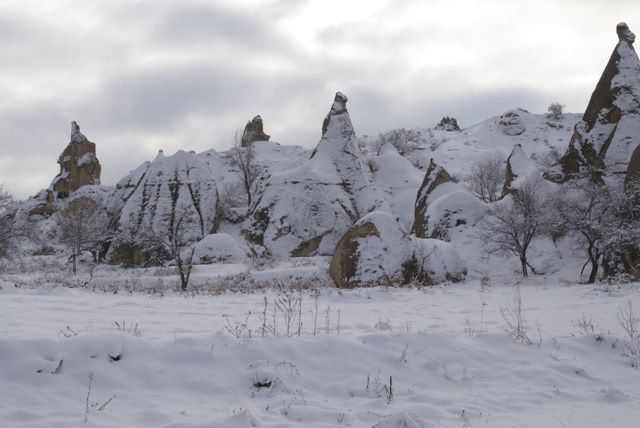 A lone cone...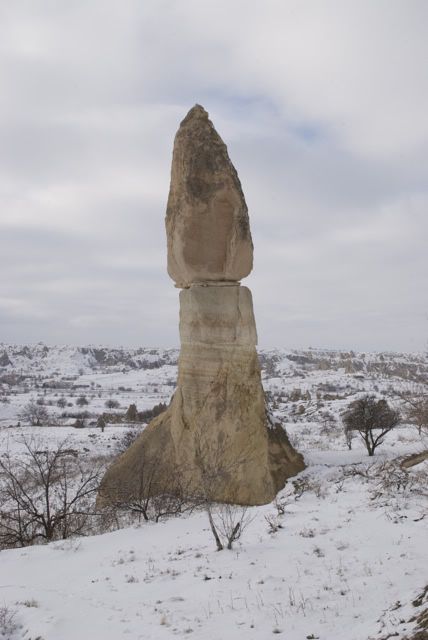 Cave room....I climbed in here and had my lunch...and called my mom to wish her happy Christmas..
Hot air balloons are a common site in Cappadocia if the weather allows flight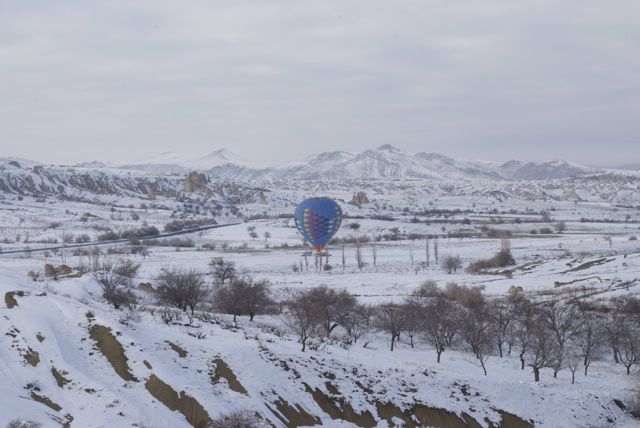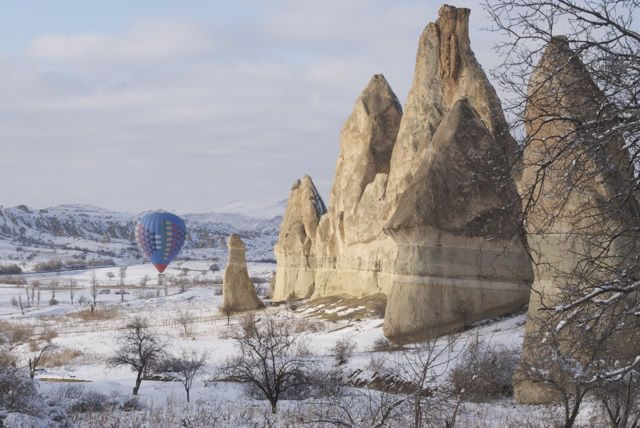 I actually chased this one!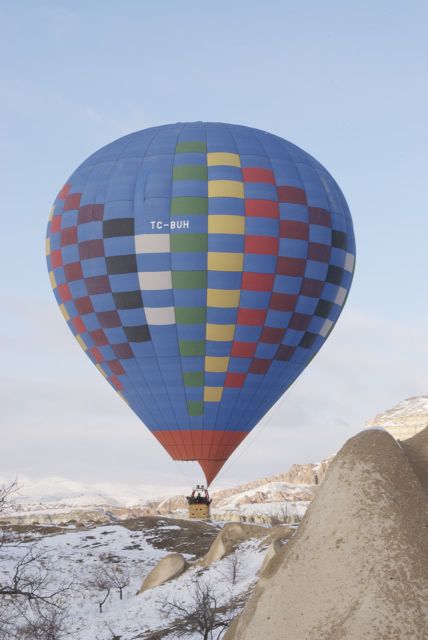 What a wonderland!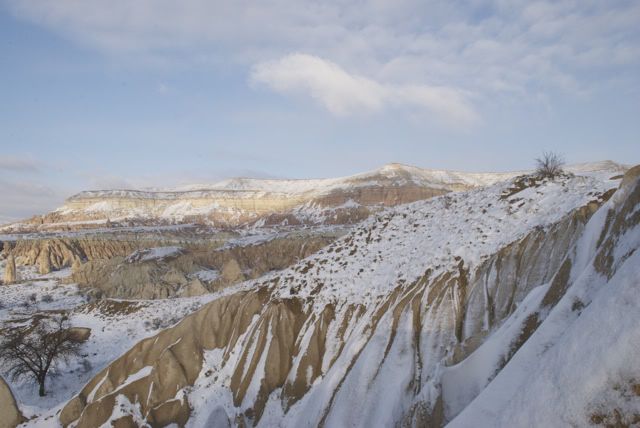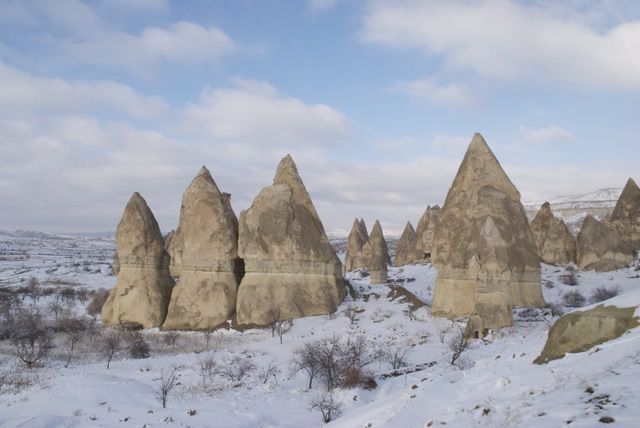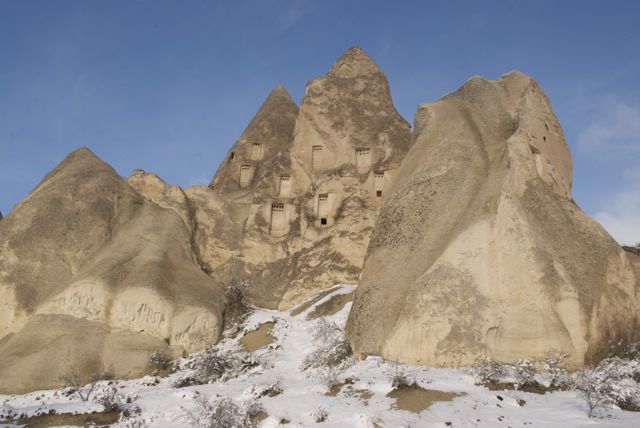 But it isn't all fairy chimneys and windswept badlands. Cappadocia grows apples and grapes.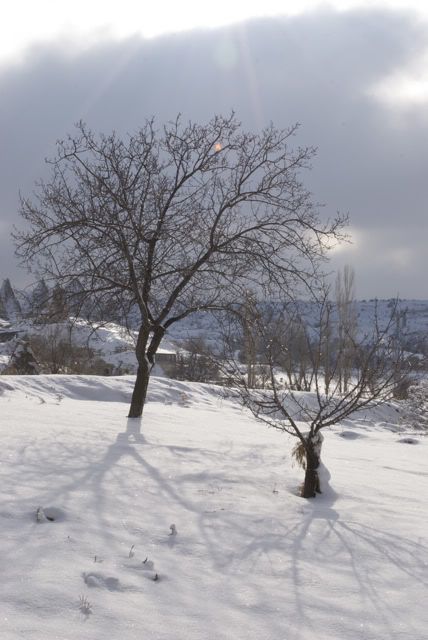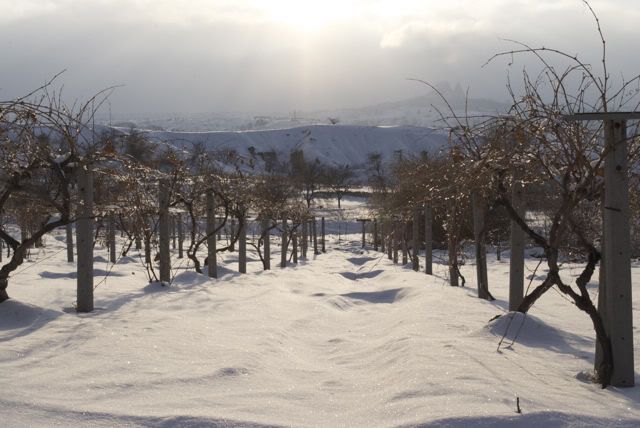 Uchisar castle from afar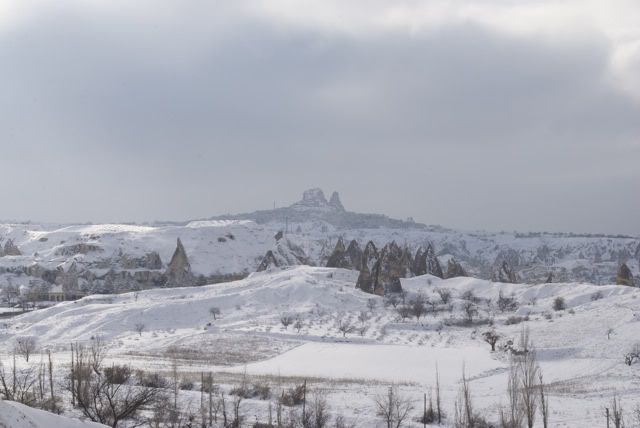 And finally the day was topped off by seeing these wonderful sun dogs! I'll let www.astrophys-assist.com describe what sun dogs are since they do it better than I ever could
Sun dogs, also called mock suns, are colored, luminous spots caused by the refraction of light by six-sided ice crystals in the atmosphere. These bright spots form in the solar halo at points that are 22 degrees on either side of the sun and at the same elevation as the sun. Below is a closeup of a sundog to the left of the sun.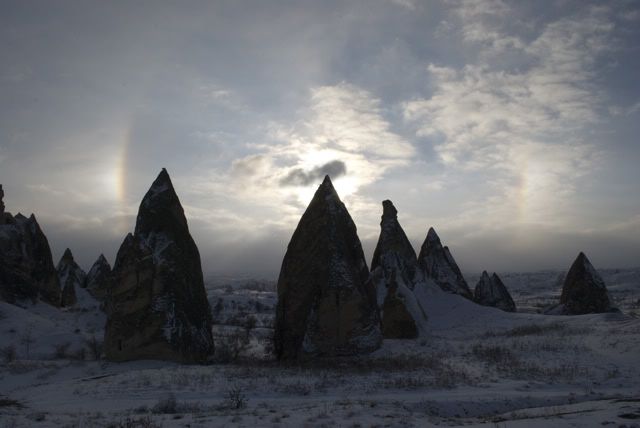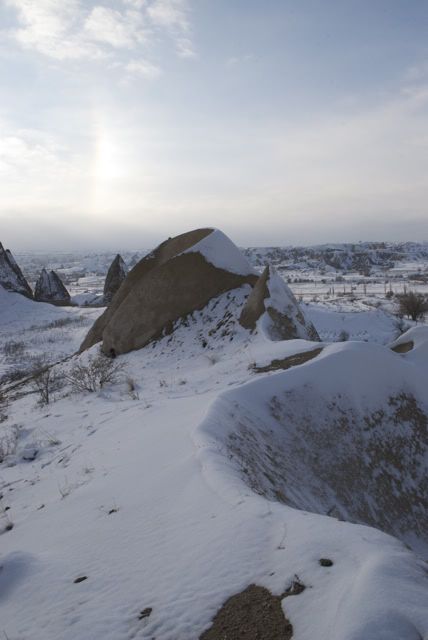 Posted by oceanchild 05:16 Archived in Turkey