My wish granted!!
24.12.2008 - 24.12.2008
-1 °C
I have been wanting a white Christmas for years. As I posted earlier, I got my wish this year! Too bad I have to come all the way to Turkiey to get it. Not that I mind coming to Turkiye, not at all. This is probably my favorite place in all the world. I think I should make a tradition of spending Christmas in Cappadocia. Not sure my family would think to fondly of that...unless they came with me. Now that sounds like a plan!
I woke up on Christmas eve morning to find snow falling and falling good. Of course that didn't stop me from going out and getting in a pretty good hike. I tried not to stray too far because I was not sure how hard it would snow and did not want to lose my trail back if my foot prints were covered as it snowed. I walked into town to get some snacks and then headed down toward the open air museum. There is nothing like the quiet that falls over the land when snow is falling. It seems to muffle everything. It is a stillness that I have always appreciated and once again it afforded me the opportunity to find some peace and solitude that I came here for. On a whim I took a trail up hill just before the open air museum. I was well rewarded with the views when I got further up. And once more I was standing high on a hill as the call to prayer echoed out over the valleys.
Here are a few of the photos from that snowy Christmas Eve hike....
Clay pots covered with snow...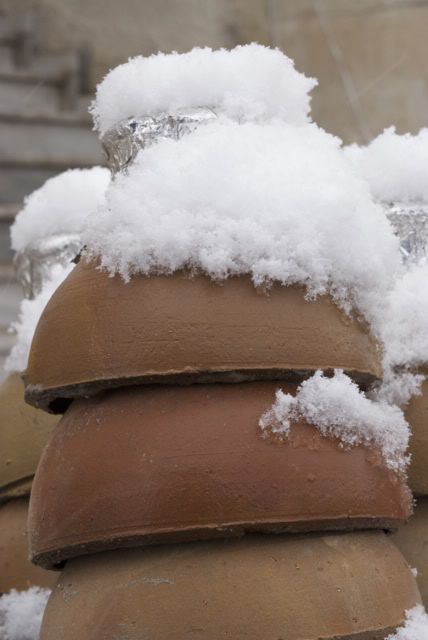 Göreme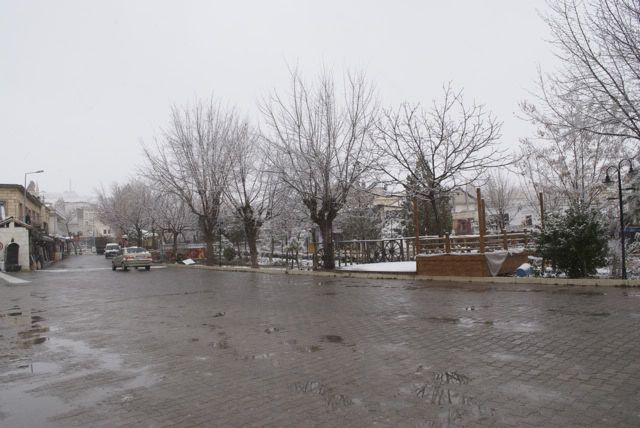 Olive oil cans being used as planters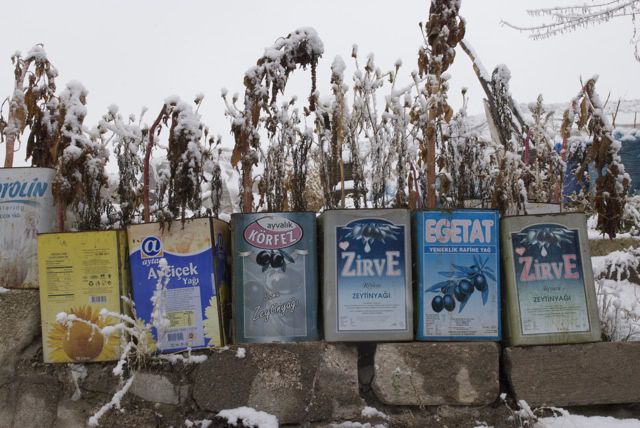 Flintstones cave bar....really....there is also a Flinestones Cave motel....really...
Ufuk Cave hotel....yes, it really is Ufuk....in Turkish it means "horizon"...Eastnor will never be the same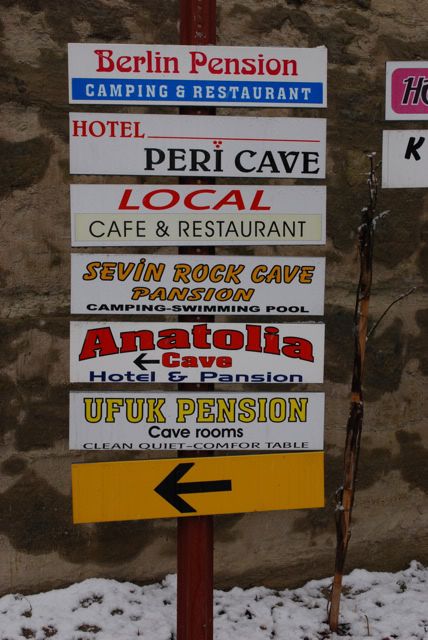 Snowy landscape...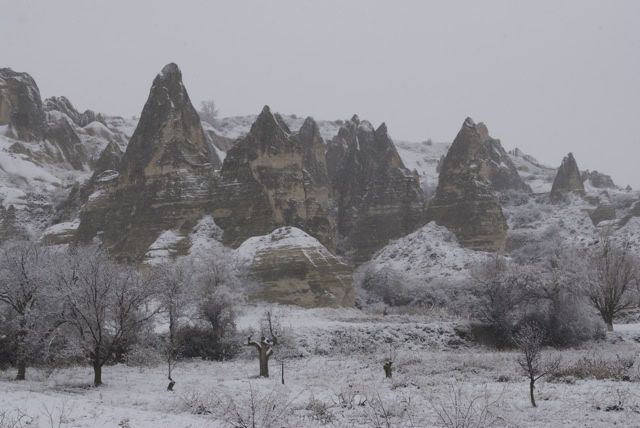 A pottery tree.....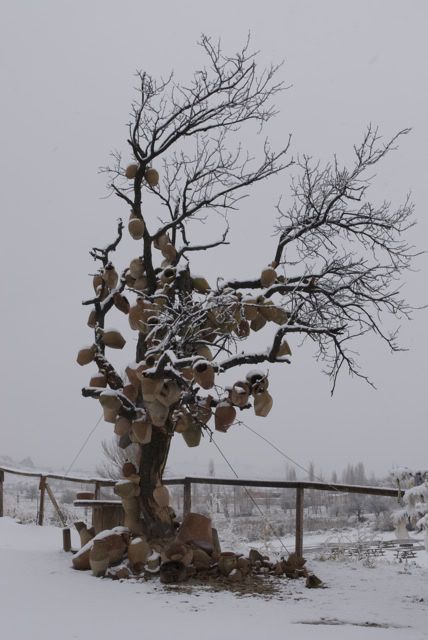 A prayer tree...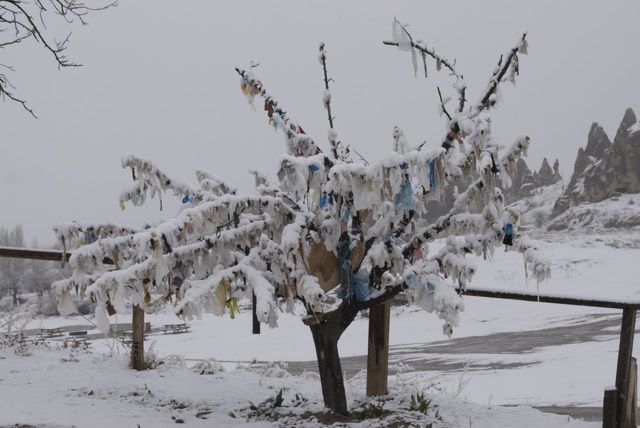 The path of my choosing....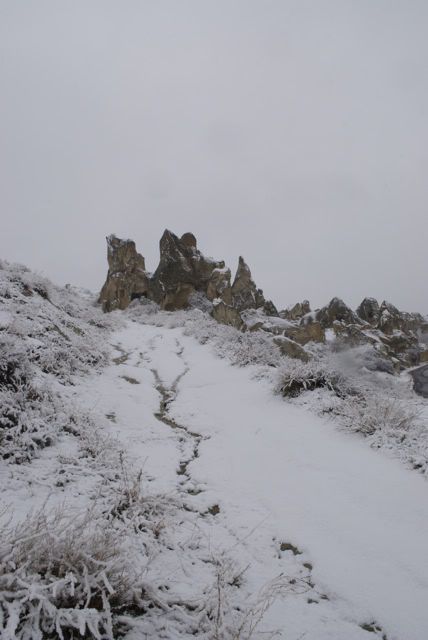 Well worth the slippery climb....I stood here and just listened to the call to prayer...not another sound for miles....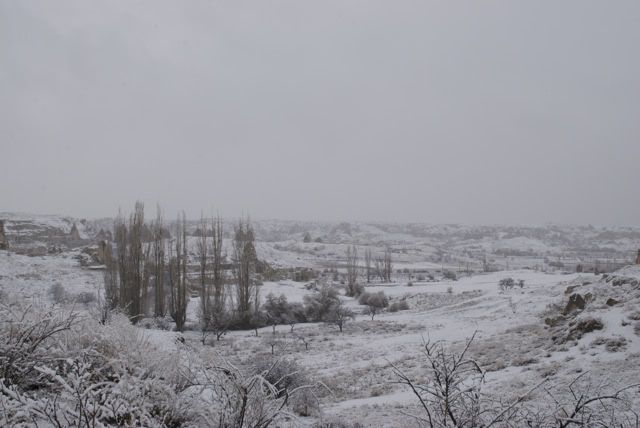 Quite a way down into the valley....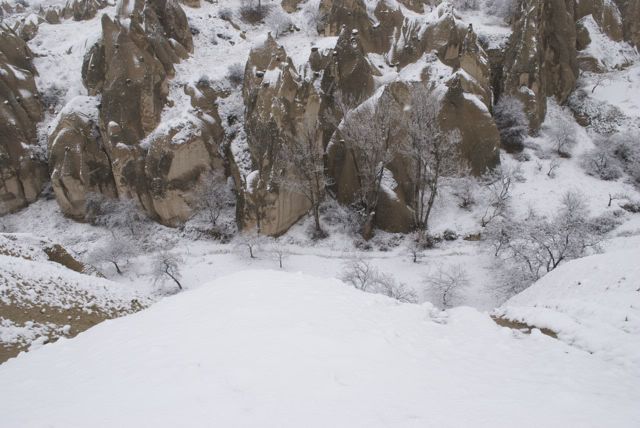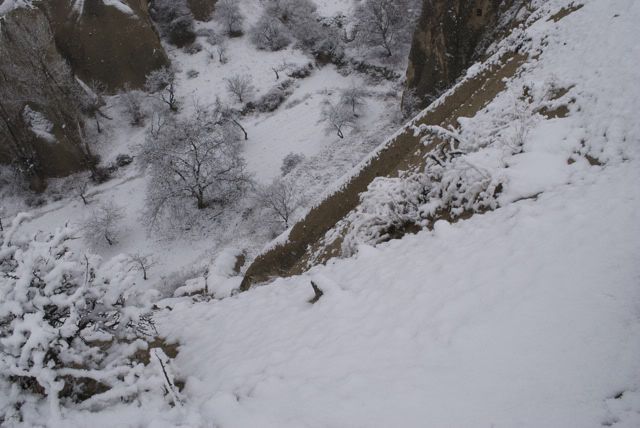 On a clear day the views are spectacular, but even on a snowy, cloudy day they are pretty darn good...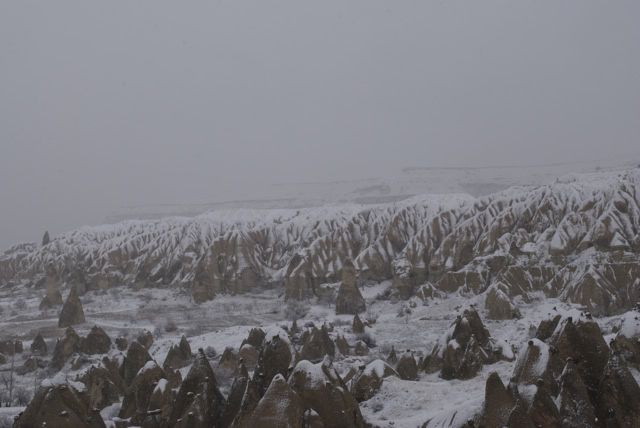 I've seen numerous rocks here with these "windows" carved into them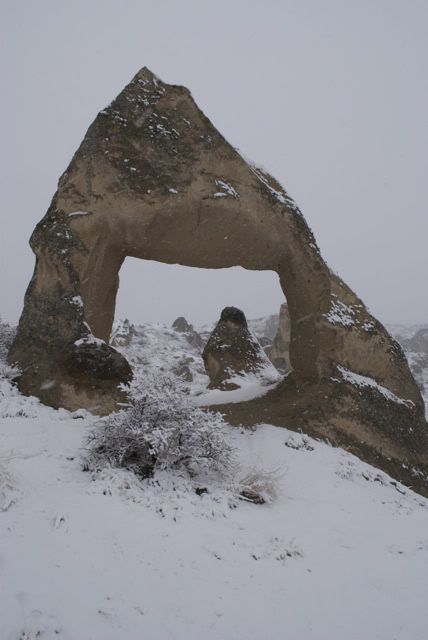 One last look before I head down....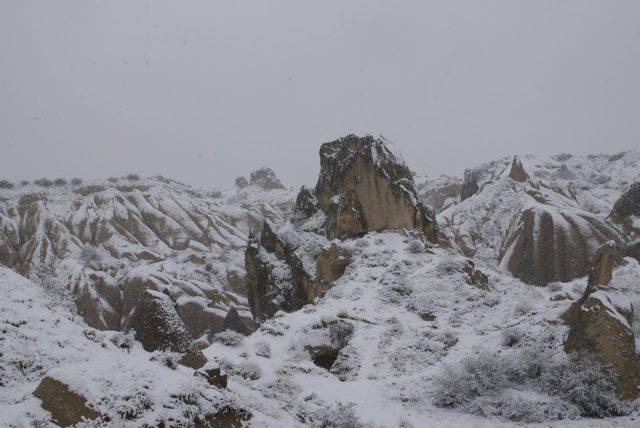 On my back to the hotel this little puppy followed me. I think it is an Anatolian shepherd puppy...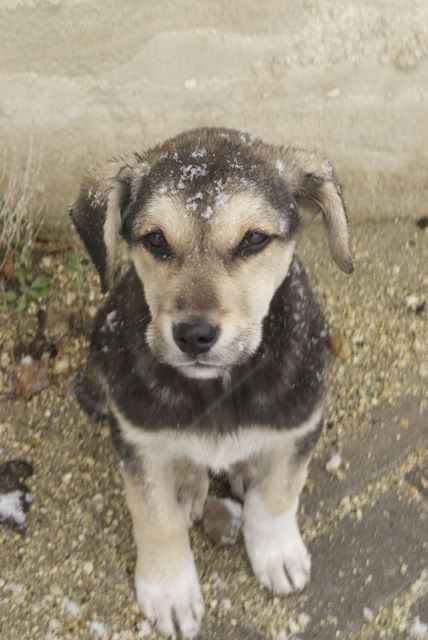 I took a bit of a detour over toward the "love" valley on my way back. The road was pretty muddy and slippery, but I made it.....it was like walking through a winter wonderland. What a perfect Christmas gift from God!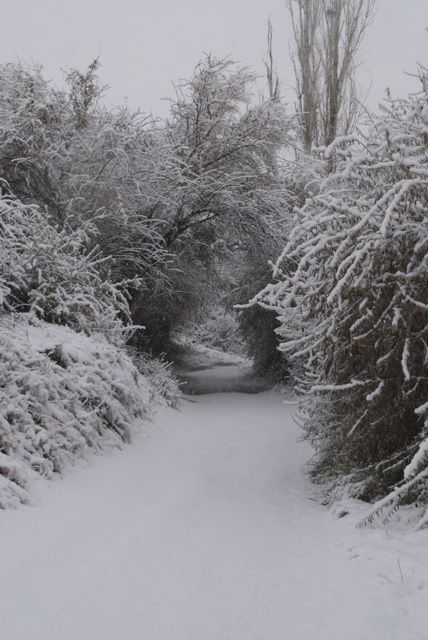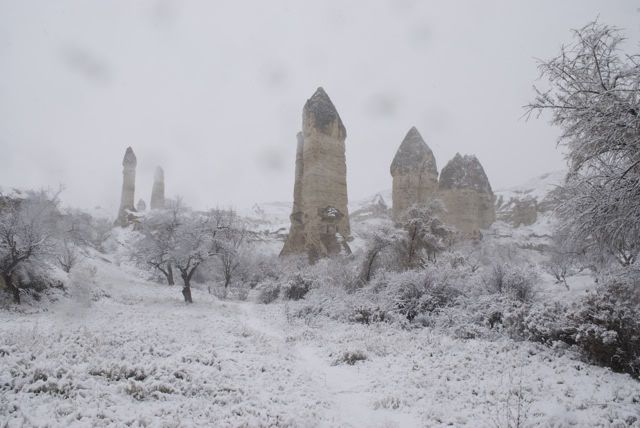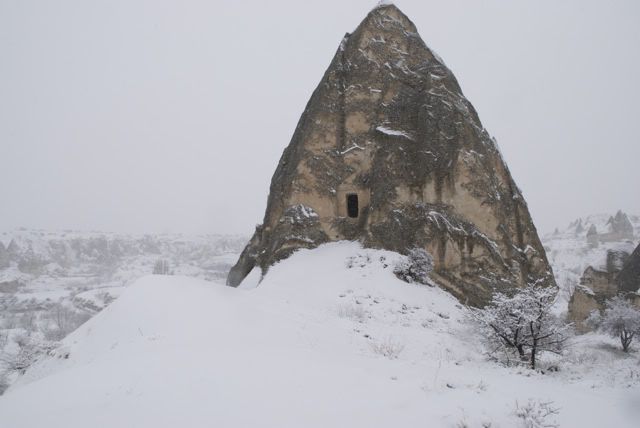 This one has a skylight!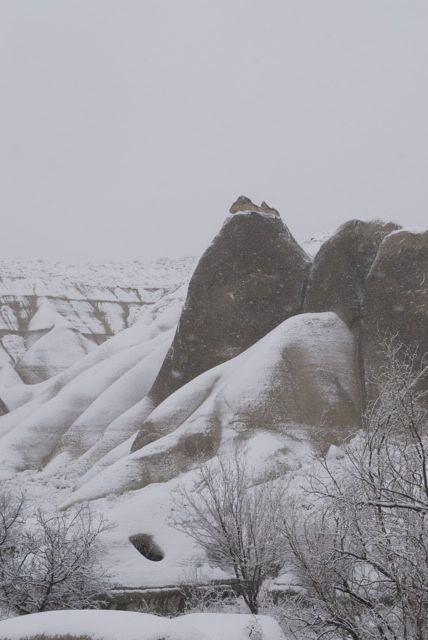 Next time I come to Cappadocia in the winter (and let me assure you there will be a next time) I will bring more suitable boots for winter hiking! Of course when I came to Greece in September I never dreamed I would spend a week in Cappadocia at Christmas.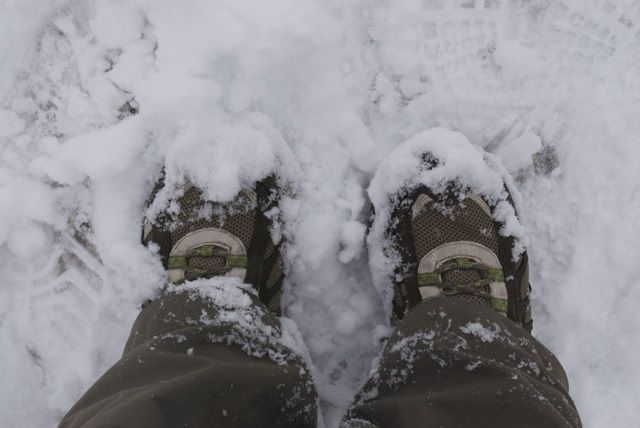 Christmas eve night I treated myself to a nice dinner at Alaturca restaurant in town. Actually the dinner was no more expensive than any of the other places I had dined and the atmosphere was cozy and beautiful. This was a wonderful Christmas gift, to get to spend time in this magical land. If only had my family with me it would have been absolutely perfect.
Posted by oceanchild 11:04 Archived in Turkey