Like having Cappadocia all to myself
23.12.2008 - 23.12.2008
2 °C
Welcome to Goreme!
I've been in Cappadocia for 5 days now, and each day I have made it my goal to go out and hike alone for at least 3 hours. The time spent here as been exhausting and rejuvenating at the same time. It has given me ample opportunity to just reflect and clear my mind. My first full day here started with a hike in the Zemi Valley. The owner of my hotel gave me a map and told me where to turn. I couldn't miss it, there is a sign that says Zemi Vadisi/Zemi Valley. So I set out with some snacks, water, my map and my camera. Sure enough, just past the Tourist Hotel there is a road with a sign that says Zemi Valley.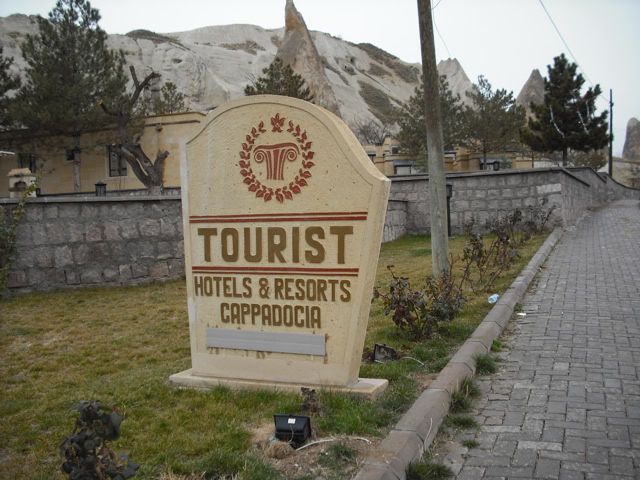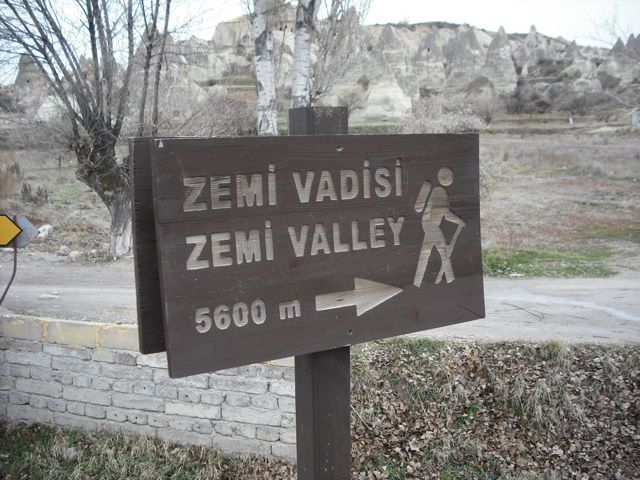 Wow, I'm hiking in Cappadocia! What a gift! After a short walk I turn off to head up to some cones that look as if they have churches carved into them. Climbing up the hill a bit I get a great view toward the Red and Rose valleys.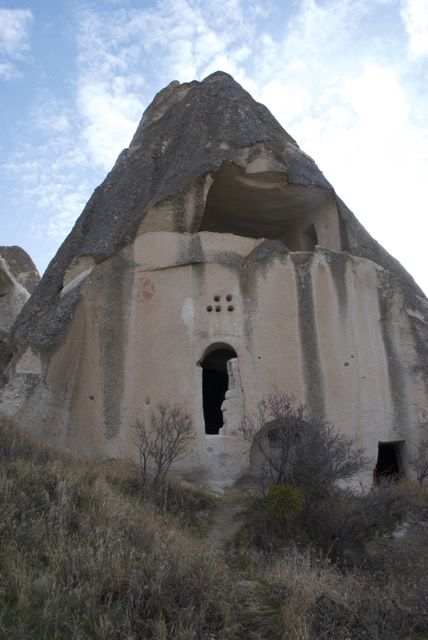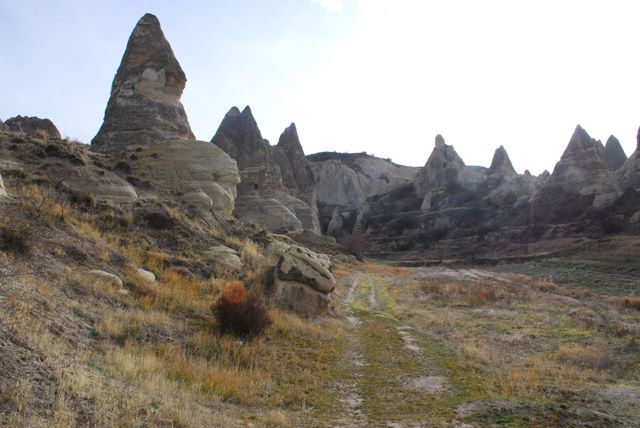 Unfortunately I could not get into the church so after enjoying the view I headed back down to the road. I had a long way to go and the weather did not look promising. Rain turning to snow was in the forecast. The road was already looking like a stream in several places and I didn't relish the thought of it raining.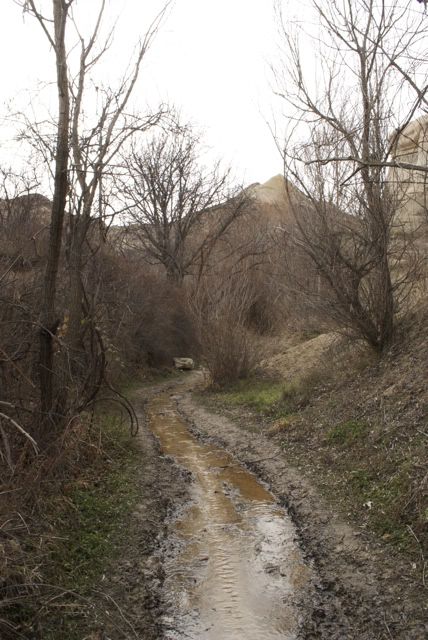 In some places there was so much iron in the water that it was bright orange! There are places where the rocks show the presence of iron as well.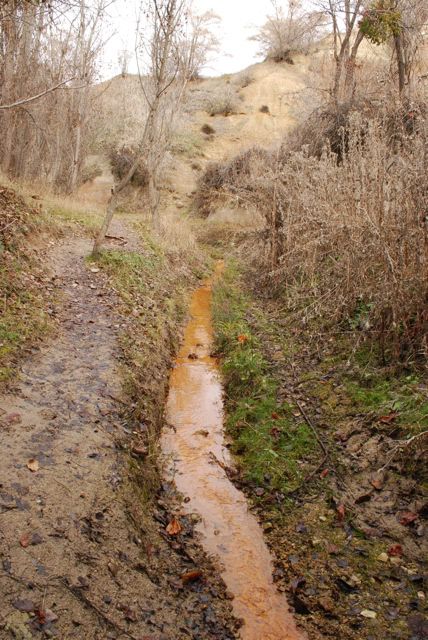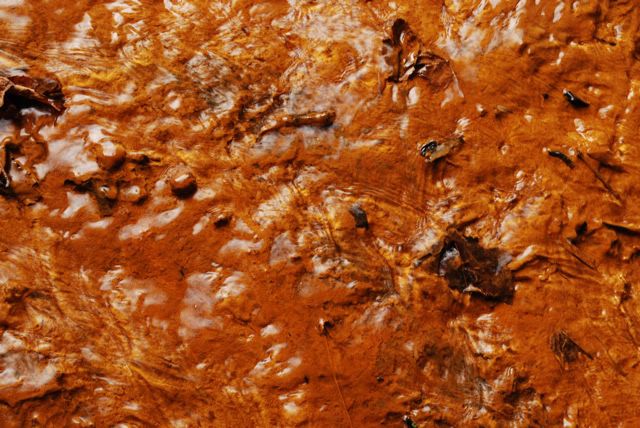 I managed to make it pretty far without getting my feet too wet or muddy. No, I take that back, muddy they were, but I did keep my socks pretty much dry. Thank goodness because it wasn't too warm. The temperature was hovering just above freezing.
What is amazing about this area, besides the fantastic landscape, is that every time you look up you see a house, pigeon niches, storerooms, or churches carved out of the rock. But it is the landscape that really takes your breath away. It is often referred to as a "lunar landscape" but that doesn't do it justice in my book. It's not so barren as a lunar landscape. Many thousands of years ago the event that gave birth to this landscape was the eruption of the nearby volcanoes Mt.Erciyes, Mt. Hasan and Mt. Melendiz. The area was covered with volcanic ash with turned into "tufa" stone. Centuries of wind and rain carved and sculpted the landscape into what it is today. The peri bahcalari or "fairy chimneys" were formed when boulders would protect the underlying stone from erosion, leaving a column of tufa stone often topped still with a boulder. In other places valleys were carved out leaving graceful curved ridges and dune like walls. It really is a magical landscape!
The Zemi valley itself doesn't boast many of the typical fairy chimneys, but it is beautiful and peaceful. Tall poplar trees dot the valley the entire way. This time of year the valley is monochromatic. It seems to lack the deep colors that other areas of Cappadocia boast. Tall poplar trees dot the valley the entire way. As I hiked I saw no other living soul outside of the birds adn a fox I spotted scurrying along the ridges. I am not sure how far I walked, but I eventually came to the point that I could go no further. Not for lack of desire, but because the path ended and I saw no way up and out of the valley. I must have hiked nearly 5 hours that day but I never really got tired. There were a few moments when I climbed to a high spot and just enjoyed the peace and solitude. Otherwise I just walked and enjoyed the majestic scenery.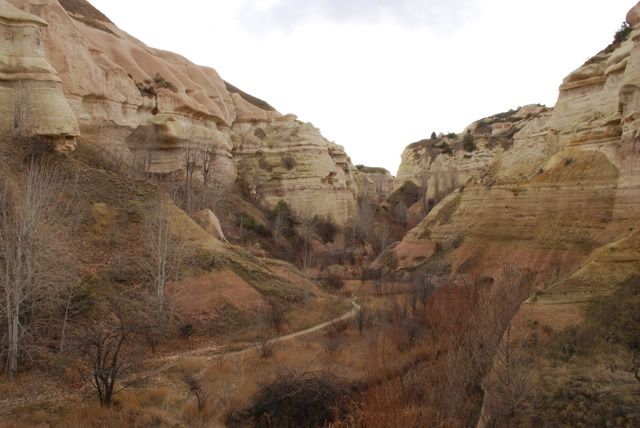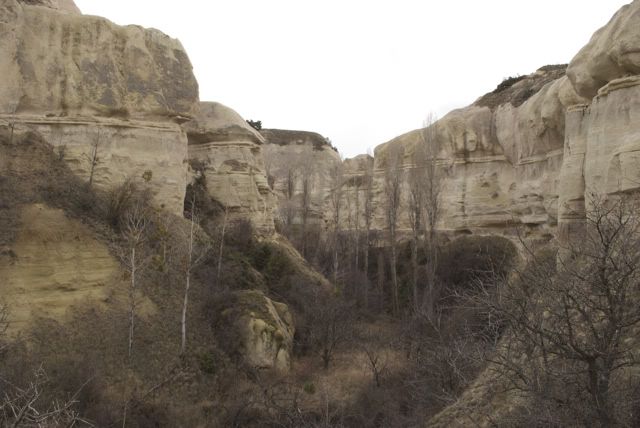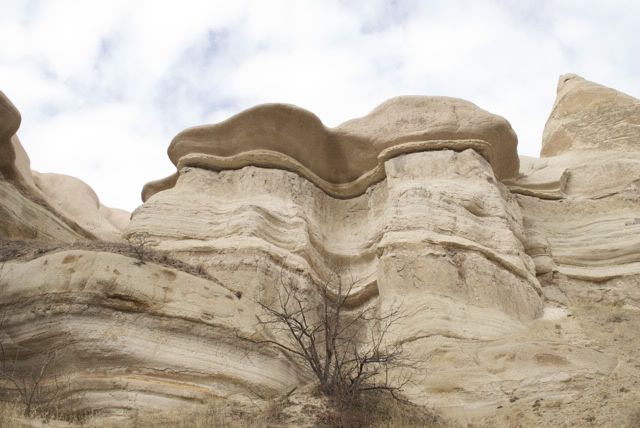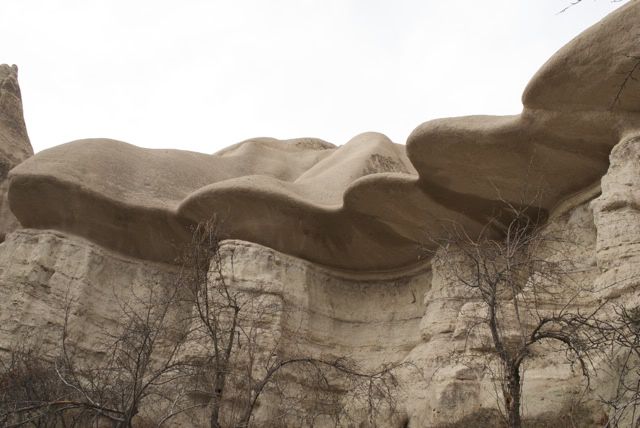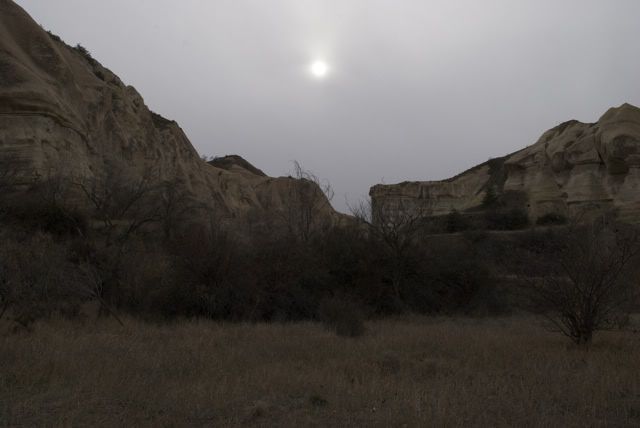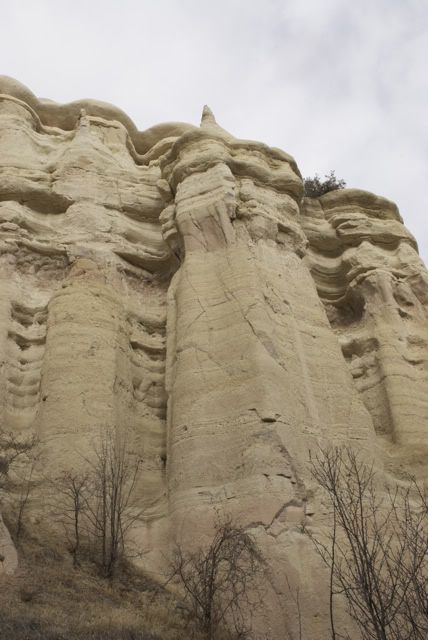 I did happen upon one cave church that I was able to access. I noticed it from the road and found my way up to it.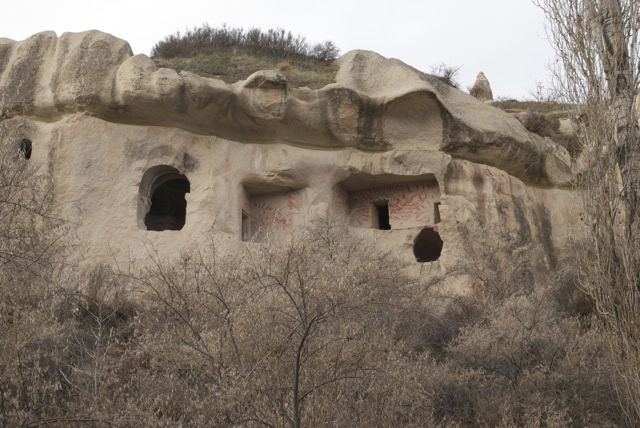 It was an interesting climb up a long metal ladder. I guess if you have a few of heights exploring cave churches in Cappadocia is not for you.
To get to the actual church you had to climb through this tiny tunnel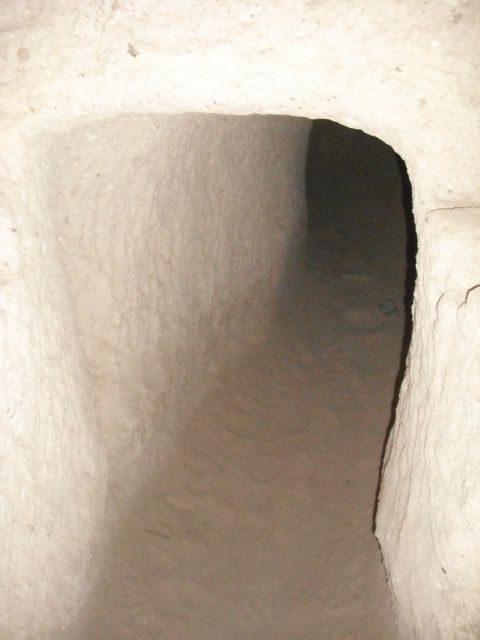 This church was not adorned with the wonderful frescoes that some of the churches here have but I'm still in awe at how uniform the carved out dome is. Sadly there was a lot of graffiti defiling this church.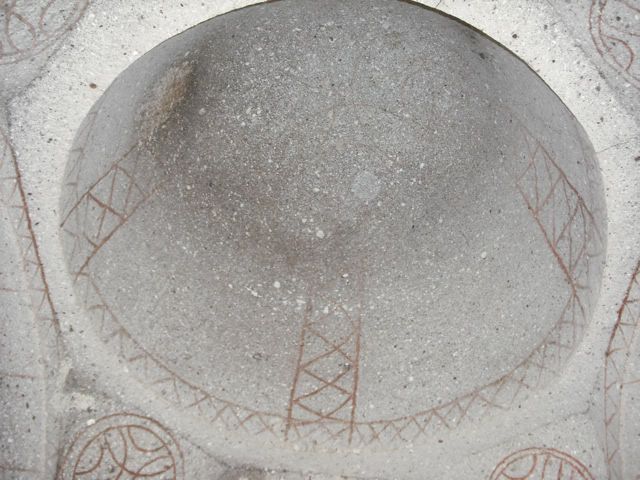 It did have a nice view!!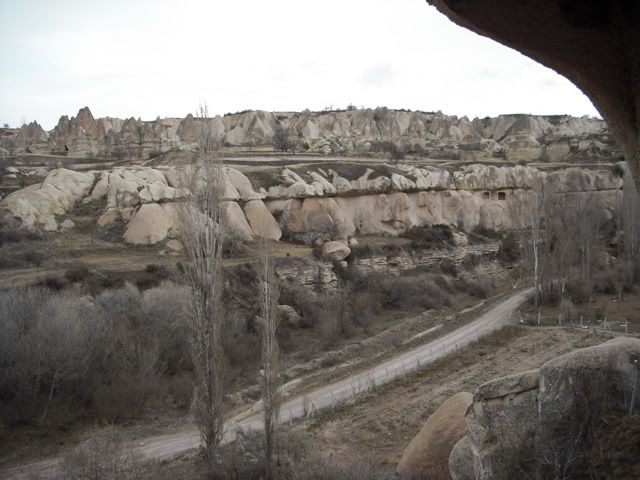 They often used "millstone" doors to block of the entrance...this one still had it's millstone intact....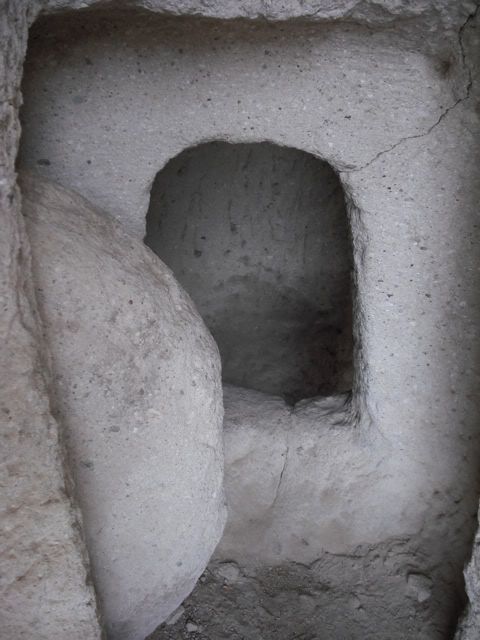 At this point I came back to the main road and wanted to head into the valley they call "love valley" because of the phallic nature of the fairy chimneys there. I can't resist posting my photos of both mother and father earth. Sorry for the irreverence but the resemblance is uncanny....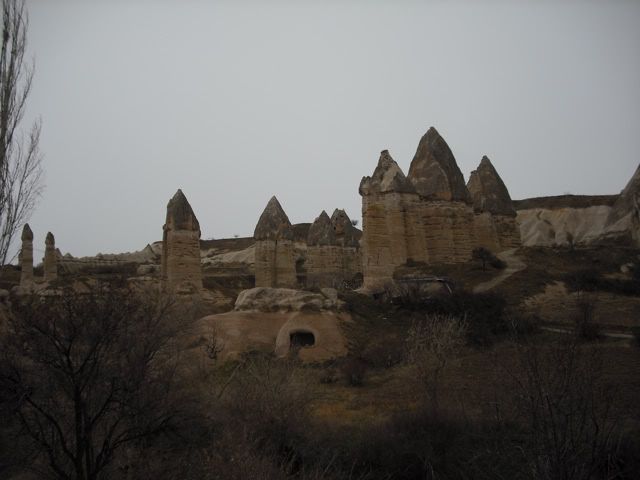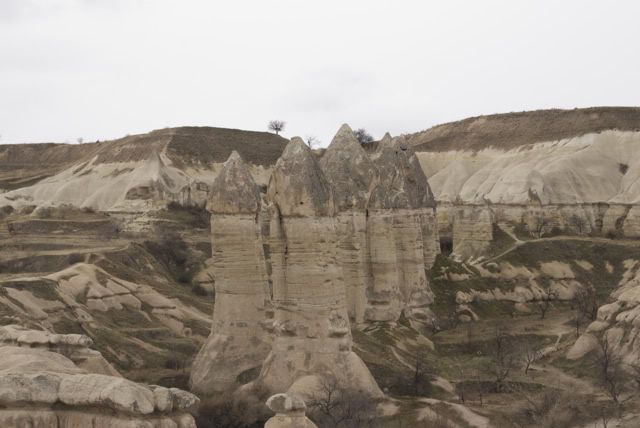 Over on the ridge here there are great views of the red/rose valley.....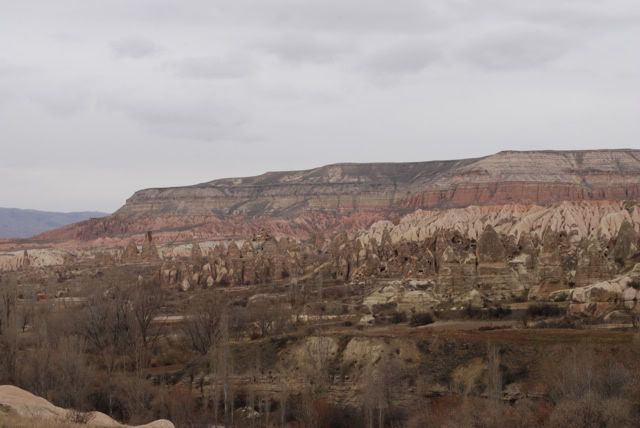 At this point it started to rain a bit so I headed back to my cave so I could warm up and go get dinner. Snow was in the forecast and that would drastically change the look of the landscape here. I couldn't wait!
Posted by oceanchild 11:24 Archived in Turkey