Many more to come
08.09.2008 - 08.09.2008
28 °C
One night down.
103 more to go.
I hope that I will either get use to the incessant noise or the nights will cool off enough so I can close the windows! I slept, but not soundly. When I did get to sleep a loud motorcycle, the heat, or a car horn inevitably awakened me. I'm sure the time change adjustment did not help. I can't wait until I've adjusted and can start thorough enjoying myself. I can see a big difference between this and the trip I took to Turkiye in January. In Turkiye I was kept busy the entire time. It wasn't just me, alone, among a sea of people I did not know. I know. I didn't have to adjust to living there. I was a tourist plain and simple. Here, not matter how you spin it I am not a tourist. I am a temporary resident who doesn't speak the language or know my way around. It can be daunting if I dwell on it, which I've chosen not to.
We went to the market today and it's only about a 5-minute walk from our apartment. Shopping was not too difficult of a task. Not to difficult when buying items off the shelf that have pictures on them. Ordering from the deli is a different task however. I am really going to have to learn how to order that yogurt. It's going to be essential to my stay here. Bargains can be found if one looks closely. The disparity between brand pricing is pretty big it seems. I'm sticking to simple meals at home – pasta, lentils, bread and cheese, olives – and will use eating out to experience the full range of Greek cuisine. I have yet to delve into good local cuisine. We stopped at a place called Ciao and had lunch. Yes, Ciao. In the middle of Athens. But the food was good and not expensive. A feta and tomato sandwich was only 2,40 Euros. Not bad at all.
Tonight we had our first Greek lesson. Daunting? I little, but with perseverance I think I can pick it up. Following our lesson, which was 3 long hours, a small group of us walked to a neat taverna a few blocks from the center for dinner. I chose not the have the rabbit lemonato and opted for a safer chicken dish. I have yet to encounter what I consider traditional Greek food, but it won't be long I'm sure. After dinner we took a stroll to the Olympic Stadium. Yes the original Olympic Stadium built in 1896. Some modern history near all the ancient stuff! It is kept lit up at night so I hope to get down one night to take some good photos with my tripod. Speaking of tripod, did I tell you I left mine at the airport? Yes. Left it. On the luggage conveyor. Never even noticed until last night. It should be in lost and found but I have to figure out how to get to the airport and not spend 30 euros.
We also saw the Temple of Zeus and the Parthenon from afar tonight. More great nighttime photo ops!
Meanwhile here is a photo of the Olympic Stadium. Not the best quality but it will have to do.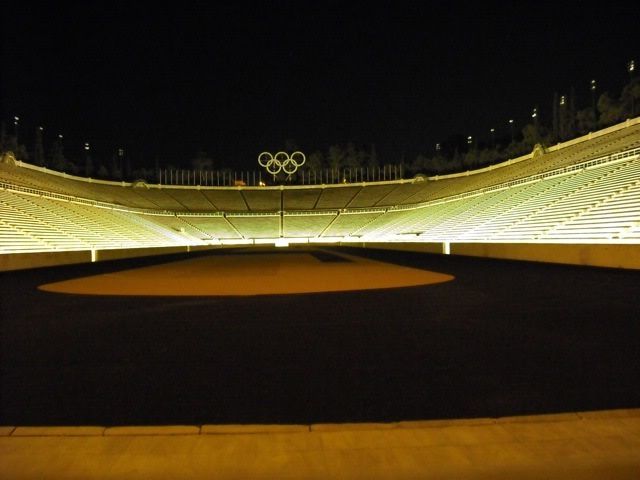 I stayed out rather late tonight. It's already 1:15 AM. I'm not tired so I guess I'm still adjusting to the time change. I think I'm adjusting to being here though.
Until classes start.
Then I'll stress.
For now, Αντιο! (good bye..I think)
Posted by oceanchild 15:10 Archived in Greece Tagged living_abroad