My last day in Athens
18.12.2008 - 19.12.2008
After dragging a 55lb bag to the center, in the rain on Thursday morning, I spent my last day in Athens walking through some of my favorite areas, saying goodbye to things I've come to know and love, wondering when I'll get back and what will it be like when I do. A lot of this is the same old stuff, probably boring to all my readers by now. But to me it was what I needed to do before I left. A walk from Pangrati to Syntagma, Plaka, and Monastiraki. These are a few of my favorite things....and a few not so favorite things....
Cat on Argos street near the stadium
Another cat, relaxing on a chair, near the stadium
The stairs of death....the first time I climbed these stairs I thought I would literally die. It was better at the end, but they still weren't my favorite thing...
Isn't it beautiful? And it matches the sky!
Kallamarmaro Stadium....
My shortcut to Syntagma, through the National Gardens....
A stray dog sleeping on the steps of the Zappieon....
Another stray dog in the National Gardens....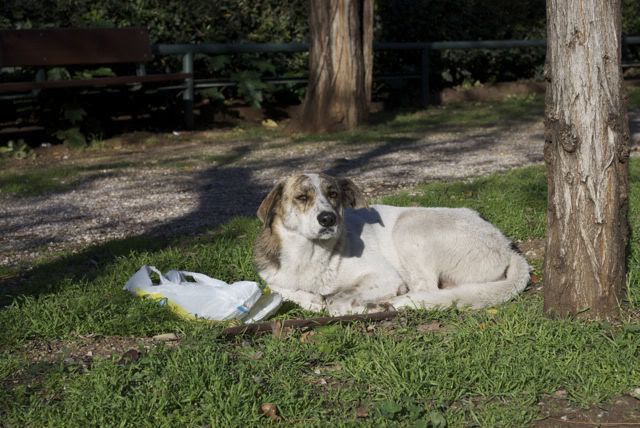 Oh boy! Another protest and more tear gas! This was the KKE (communist party) I believe...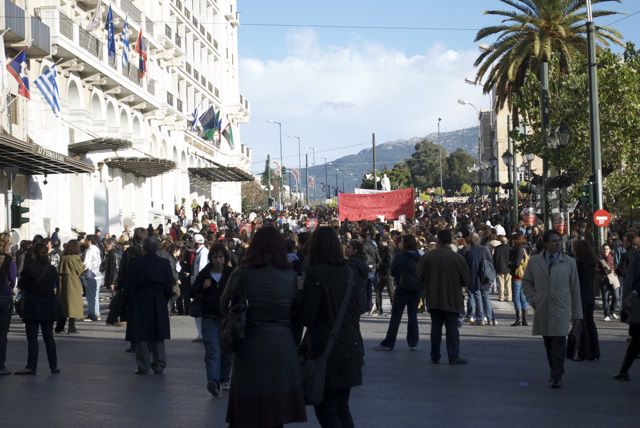 Old meets new....
I remember my first class with Stavs at this Byzantine Church....I thought I'd never be able to keep up with his lectures..."few only words...."
Ubiquitous graffiti...but it all changed tone after December 6....I was in Syntagma when the group was doing these ΔΕ ΣΕ ΣΟΝΥ graffitis. I can't recall what it means though
Oui!!
Old meets knew in a different way....
Selling "splat" toys in Monastiraki. These guys were all over the place. The toys were balls that resembled pigs, tomatoes and various other things that when thrown onto the ground would flatten out and looked like a splatted tomato. No, I never purchased one....I'm sure Tim, Adam, and Rich would have loved it though....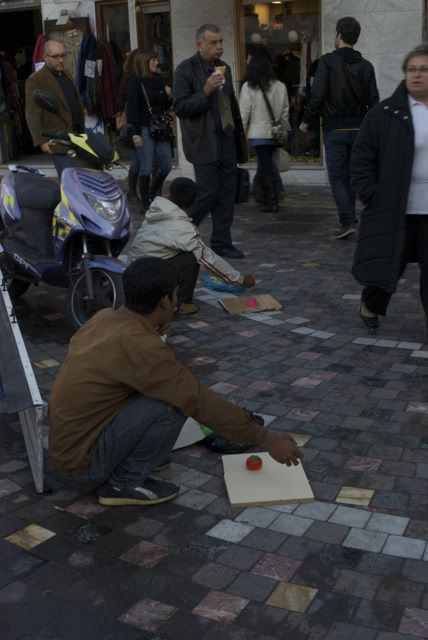 Old meets new...kind of. The Stoa of Attalos is ancient, but burned down and was reconstructed in the 50's I believe. It now houses a museum and offices....the metro runs right by it...
Cafes in Monastiraki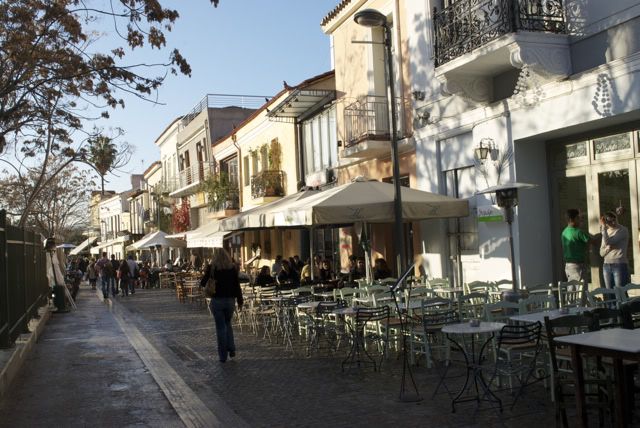 Not too fond of the National Bank of Greece I see...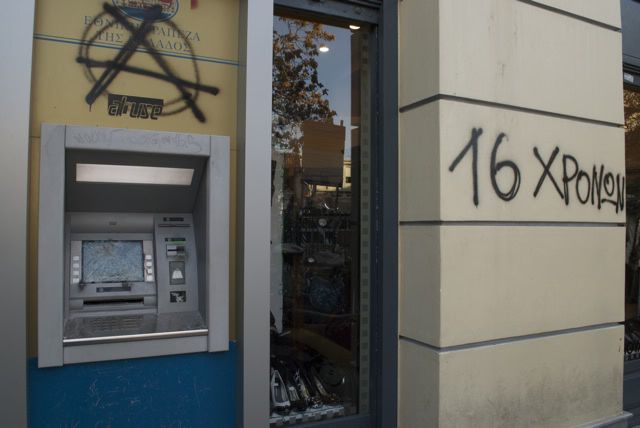 Hadrian's library and an Ottoman mosque
This cute little kitten greeted me as I took photos of Hadrian's Library. When I was finished photographing the kitten a pack of dogs came running and went after it. The kitten managed to get under a car but I watched for at least 20 minutes while the dogs circled the car relentlessly. They finally seemed to get bored but I was none the less concerned about the kitten's safety. The only person who did anything was a gruffy old man who looked homeless. He yelled Oxi! Oxi! Oxi! (NO! NO! NO!) at the dogs several times. Dogs killing cats is one of the problems that plagues the stray cats in Greece. I know it isn't the dog's fault, but it made me have less sympathy for the stray dogs than for the cats.
Some shots of Syntagma at night with Christmas lights....
Parliament at night...
The Acropolis lit up
Kallimarmaro stadium lit up
And finally my cats from Plaka. This was probably what I loved best about my daily life in Athens...feeding the cats once a week. Eleni, one of the volunteers from Nine Lives Greece met me on Thursday evening and we walked the route and chatted as she fed the cats. She then took me to a nice cafe in Plaka and we had coffee and hot chocolate and chatted for a long time. I wish we had got to know each other better sooner. She has been volunteering with the cats for almost 18 years! Forgetful me did not get a photo with Eleni....but here are the cats, at least some of them...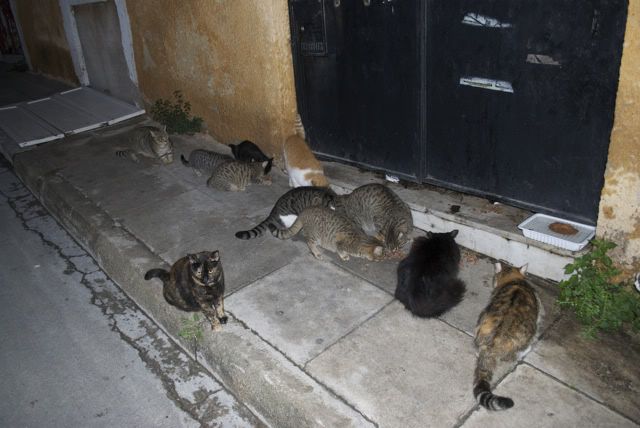 Thursday was my final night in Athens. Arcadia Center had a farewell party that night with food and music. Each of us was voted as "most_________" and I was voted as "most likely to work for Lonely Planet." It fits....that would be a dream job I guess! I didn't stay at the center all night as some did. Since I did not have a long flight the next day I felt I needed some sleep and finish packing my overnight bag. Packing was not fun, I can tell you that. Trying to fit all you have accumulated in travels in one suitcase is a feat that takes the power of an Olympian god. I must have had it with me because I managed and was only 5 kg over weight. Thankfully Olympic did not charge me for that 5 kgs! 3 hours worth of sleep was about all I got though and I was up and lugging the rest of my luggage to the center to catch the bus to the airport. There were sleepy, tearful goodbyes and then I was on my way to Istanbul one last time.
Posted by oceanchild 00:58 Archived in Greece Tagged living_abroad