Preparing to say goodbye to Athens
12.12.2008 - 12.12.2008
14 °C
I realize my blog entries have become un-chronological and somewhat discombobulated, but my purpose is to share my experience, not give a blow-by-blow account. That term, blow-by-blow seems quite apropos these days given the climate of unrest in Athens and the rest of Greece. Two months ago, I was so ready to leave Athens and just go elsewhere. Now, I find myself teary-eyed over the thought of leaving. I am ready to head toward home (although I'm still thinking of more travel before coming stateside) but I keep thinking to myself "but wait, you never just got on the metro and went to some unknown part of the city just to see what was there" or "where are those night pictures you have been saying you are going to take since SEPTEMBER?" I have put off doing so many things. I learned the other day that this is the nature of the Greek people as well. I guess I fit in better here than I ever dreamed I would. I had plans to just get out and do what I hadn't done this last week. Will it happen? Not likely. Not all of it anyway. But seeing the things I haven't seen (the National Archaeological Museum being one of those things) is not really why I am teary-eyed. The things that really make me cry are the little things like the cats in Plaka, my fellow students, and the staff at Arcadia. Just typing this gives me a lump in my throat. Sure, once I'm out o Greece, things will be better and my heart will not ache so much. I'll carry these fond memories with me for a lifetime. But in the mean time, this last week is fraught with emotion and an unsettled feeling, much of which I'm sure is due to the civil unrest that this past week as seen. It's been one of the toughest weeks here I believe.
Yesterday I took time alone to just walk around Athens and hide behind my camera. I captured small insignificant things; pigeons bathing in a puddle, flowers for sale on the side walk, a poster advertising Stephen King's "Misery" in Greek. But I also captured the pain of a city; graffiti commemorating Alexandros Grigoropoulos who lost his life needlessly to a bullet, cars and buildings damaged by fire, graffiti expressing hatred toward authority, masses gathering to express their anger and discontent. Two sides of a city that I have called home for almost four months.
Oh look what replaced the "Otto, or Up With Dead People" poster!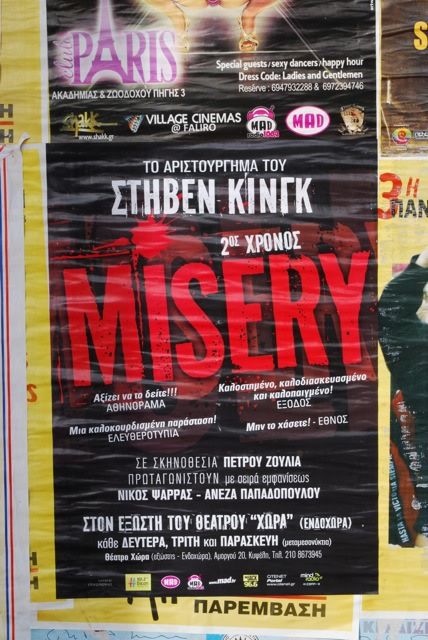 St. Paul's Anglican Church...I've went to several services here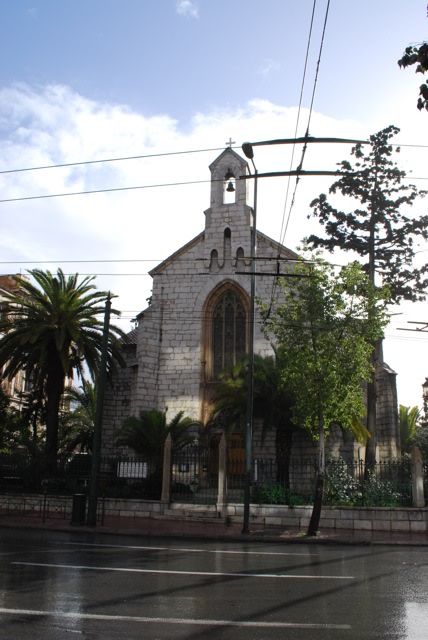 Look!! A band! I should have followed them....that might have been fun to see what they were playing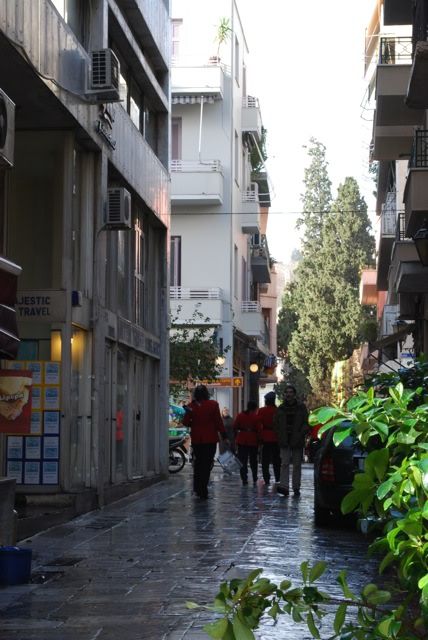 The green lens was apparently broken in the riots making the "walk" man look a bit like a naked man wearing an elf hat!
The guards at Parliament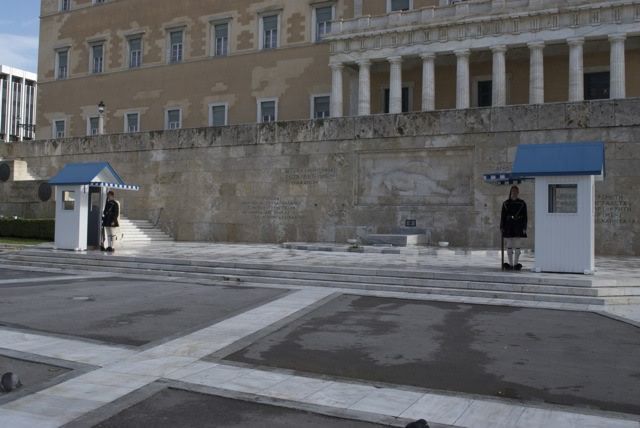 Selling lotto tickets....wonder if I could win?
one of the strange, surreal trees that decorate Attica, the department store
Looks like Athens got quite a downpour overnight!!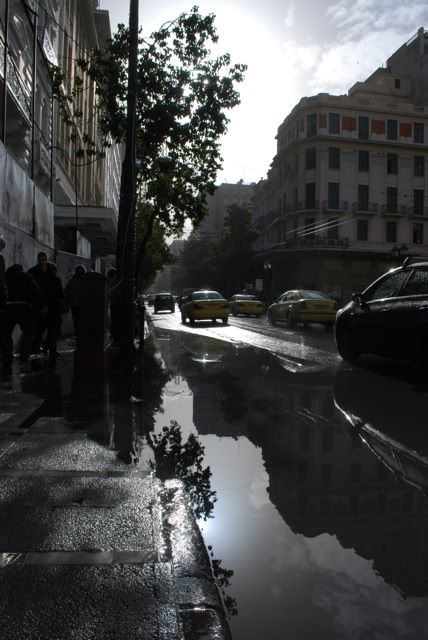 It appears that the Greeks also embrace cheesy Christmas symbols
Flowers for sale....the bright colors sure are in contrast with the gloom that had settled over the city in the past week....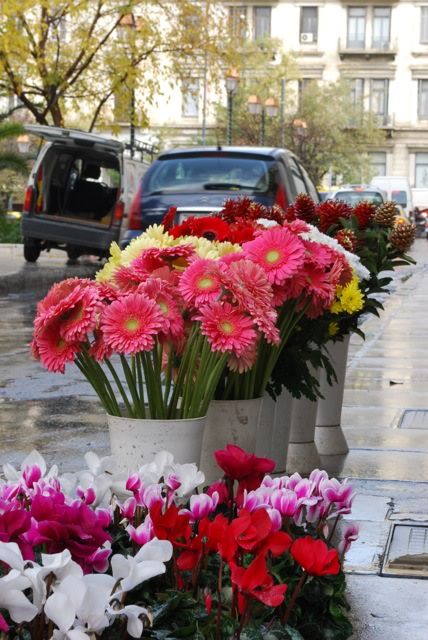 As I walked into Plateia Omonoia I noticed loud Greek music was playing from somewhere. I soon discovered the source. Loudspeakers mounted on the poles. It was very surreal given the nature of Plateia Omonoia and the fact that protesters were gathering in the square. It almost had an Orwellian feel to it.
Plateia Omonoia has a reputation for attracting the lowly of society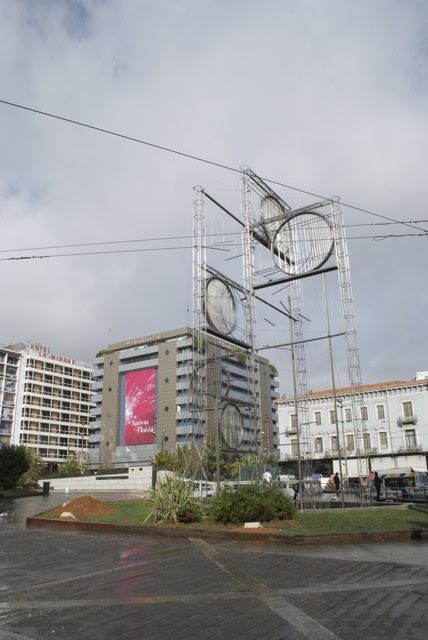 Pigeons were enjoying the puddles
I then made my way to Central Market. This is an interesting place to say the least. This is were many Athenians go to purchase their meat and fish for the week. It is not for the weak of stomach. It is essentially a giant butcher shop and fish market. To some I'm sure it is quite gruesome. It fascinates me but makes me shutter at the same time. I'll refrain from posting photos of completely whole, fully skinned, butchered animals hanging from hooks. The smells here are just lovely. Maybe I will become a vegetarian!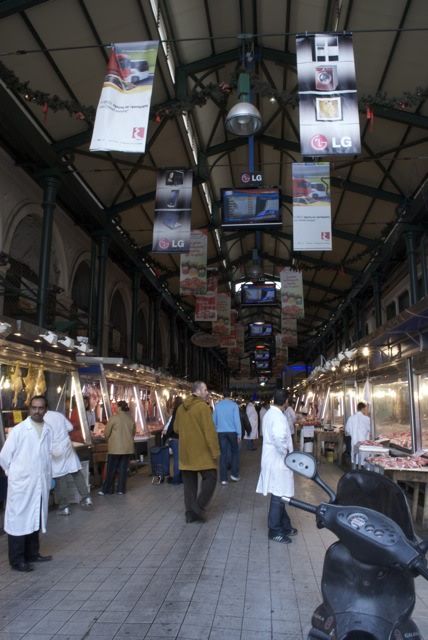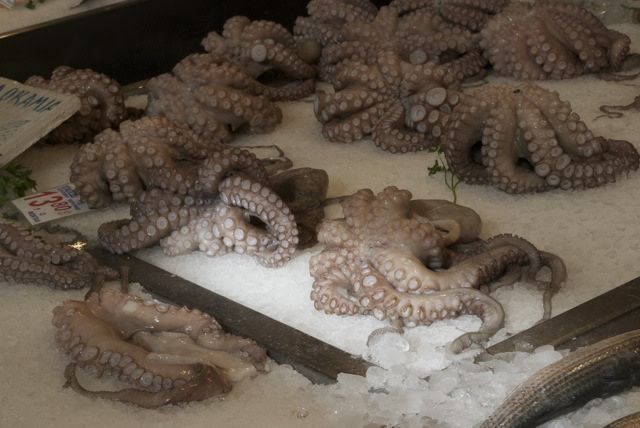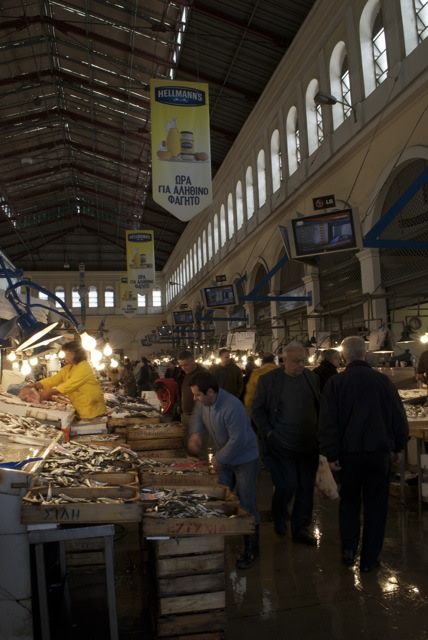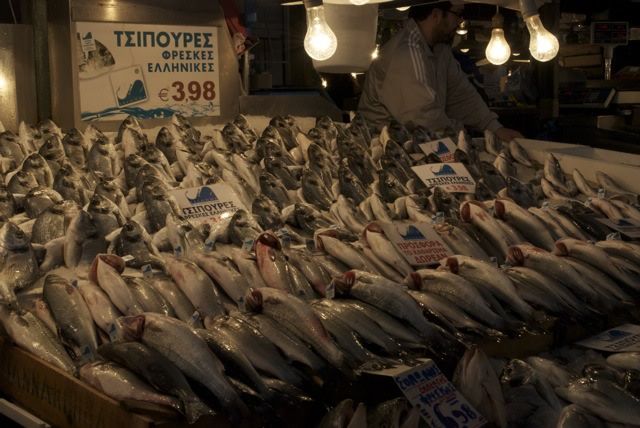 The streets around the meat and fish market are full of vendors selling everything from spices and nuts to sausages and other goodies.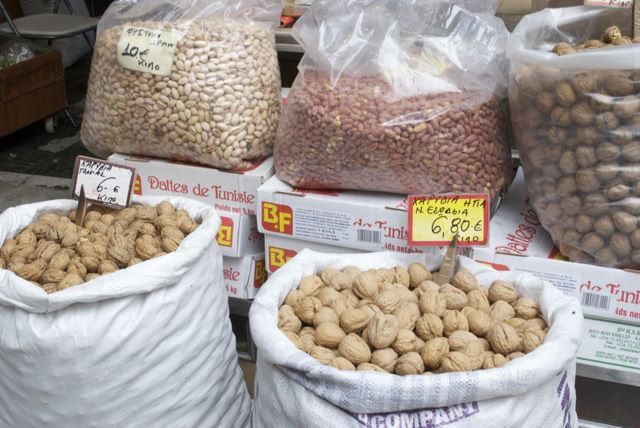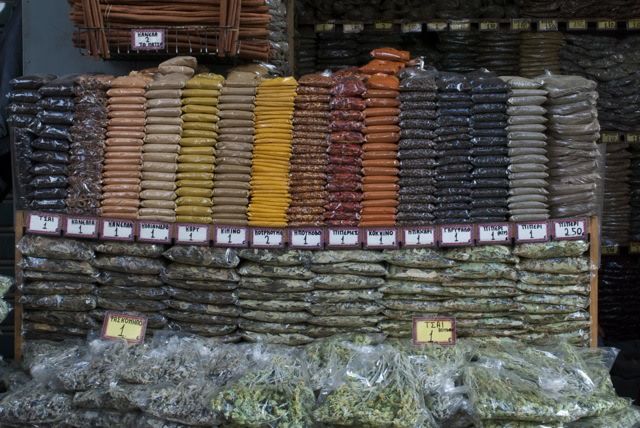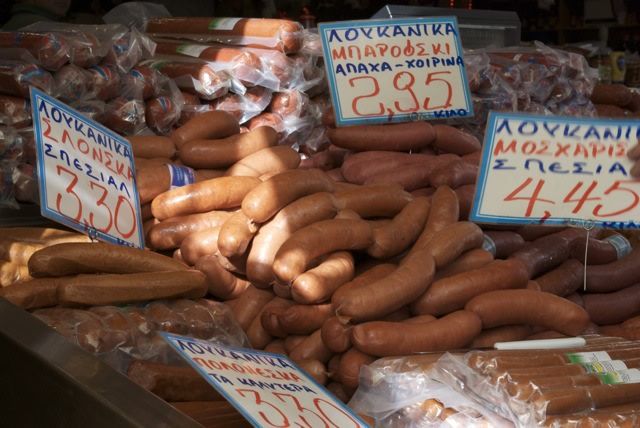 Even gingerbread houses!
Leaving the central market area and Omonoia I decided that curiosity had got the best of me and wanted to walk toward Exarchia and Polytechnic. Exarchia is the district in Athens were Alexandros Grigoropoulos was shot by the police officer and the center of the violent and destructive riots. I have been to both of these places before and they are a very different part of the city from Pangrati or Syntagma. I thought to myself that I'd walk in that direction and if I felt at any time things were not safe I'd turn around. On my way out of Plateia Omonoia I noticed groups gathering with banners, as well as those with red flags mounted on pretty substantial sticks. From November 17 I believe I recognized this group as possibly the KKE or KNE (communist youth). Needless to say, the red flag bearers looked serious. I didn't take any photos because I didn't want to be obvious. Photo taking has become somewhat of an issue here it seems. More on that later. So I walked on, my first time walking about without a map. I new the general direction and within 10 minutes I turned down a street that had been roped off and recognized Polytechnic up ahead. All I can say is the events of the last week had cast a pall over the area. The changing nature of graffiti was immediately evident. My Greek is not the greatest but I will do my best to try to translate, or at least get the gist of what is written. Although some are in English.
It's apparent what this one is expressing...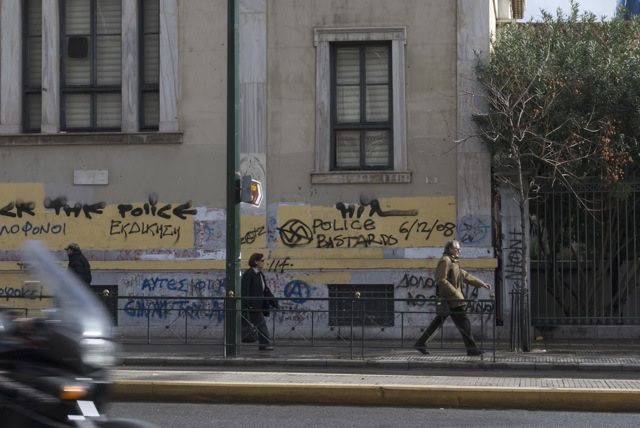 This banner says something about a strike/slap/blow and murder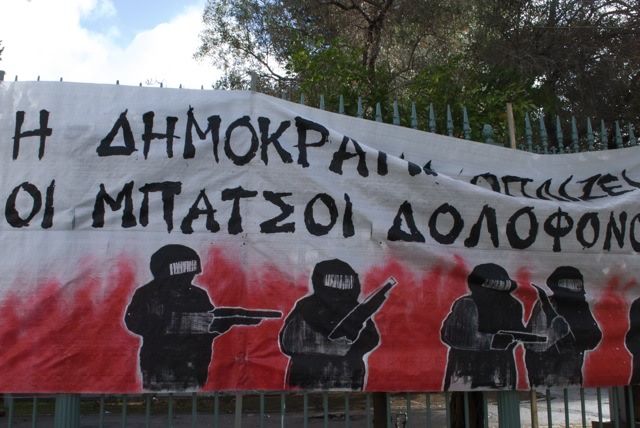 Commemorating the date and the state is a murderer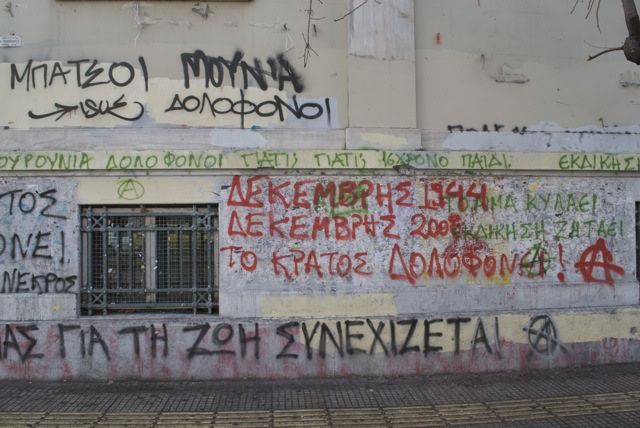 Burn down Babylon and the KKE logo (KKE= communist party of Greece)
Uh, yea...isn't that what anarchy is all about?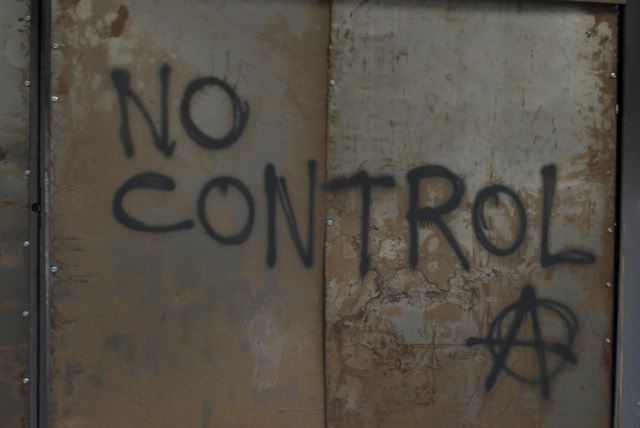 I wouldn't want to be a cop in Greece right now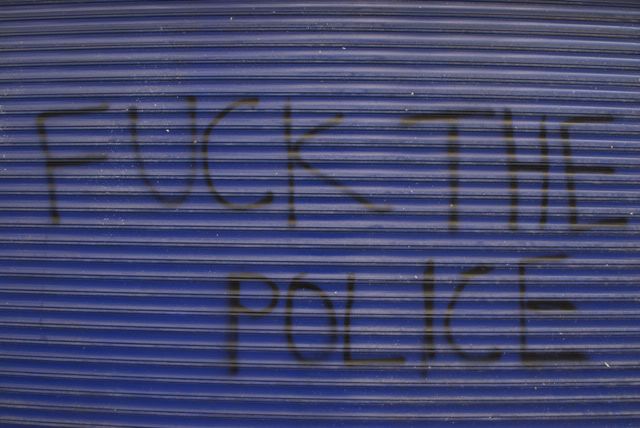 Something about Karmanlis (the PM of Greece) and chaos?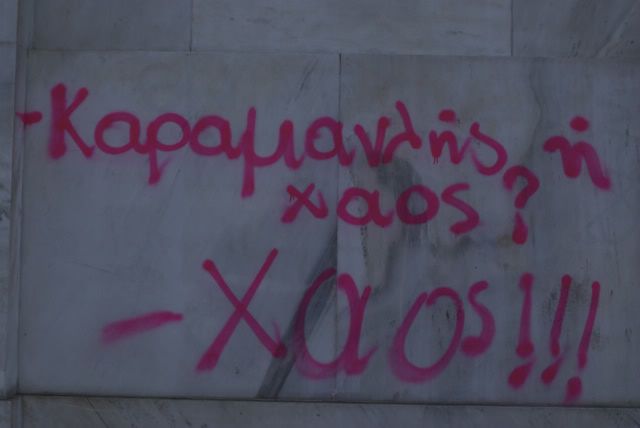 The image was touching. It is a stencil someone did of Alexis. The words if I am translating correctly say "Greece eats its children" .....I know Η ΕΛΛΑΔΑ is Greece, ΤΡΩΕΙ is it eats, and ΤΑ ΠΑΙΔΙΑ is the children and ΤΗΣ is the possessive.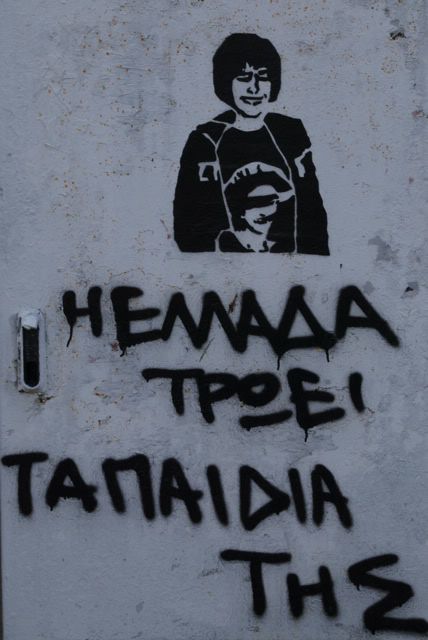 And then there is the damage. The first five are from around Polytecnic, the others are from Syntagma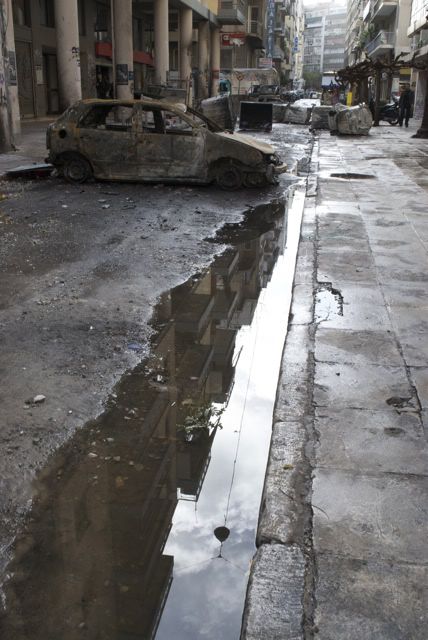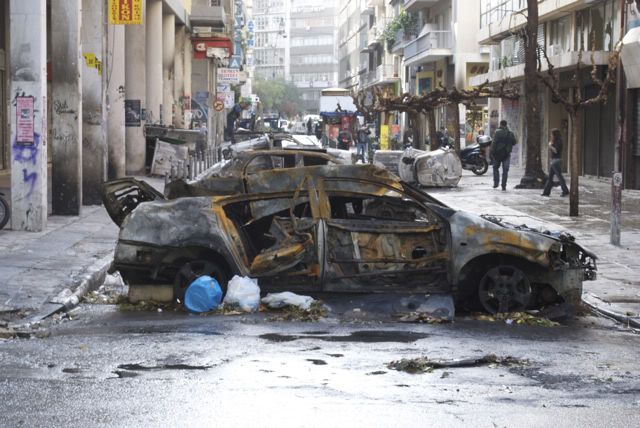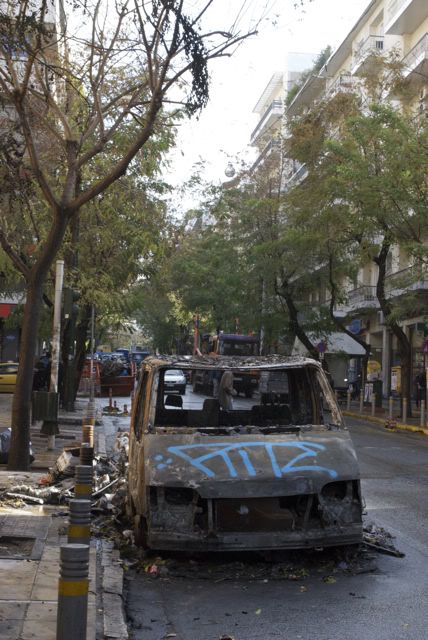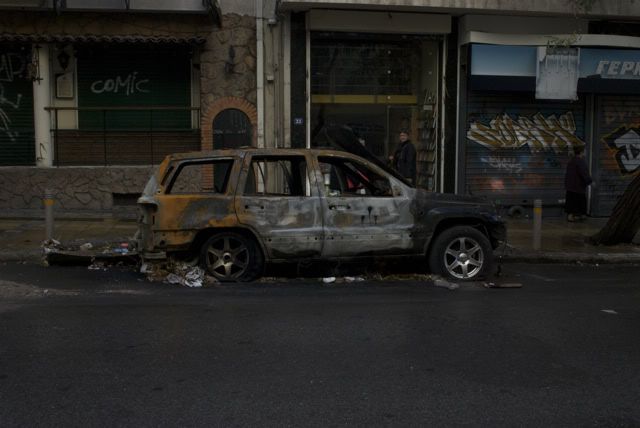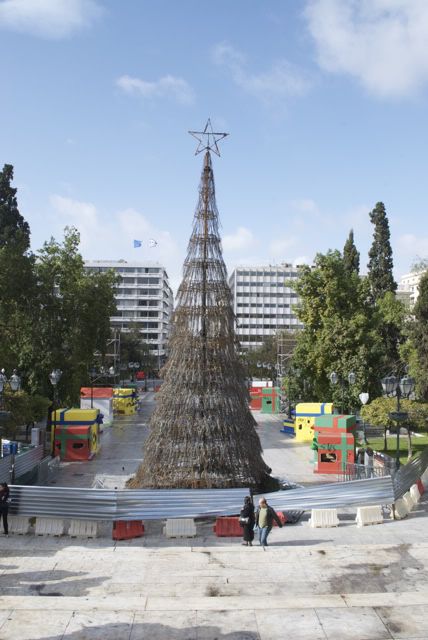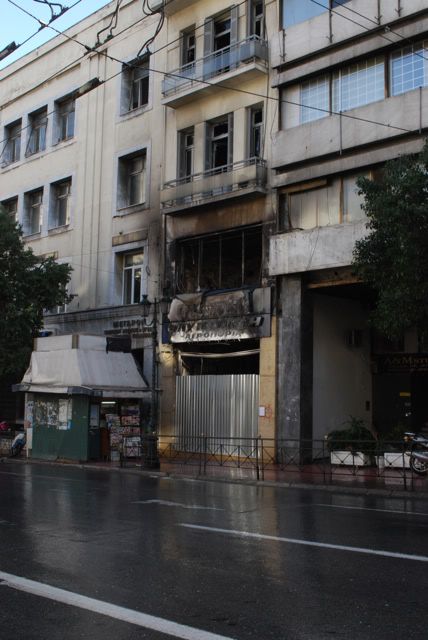 A common site around the city these days
Lastly, as two of us watched the demonstration from the rear a couple of young guys noticed we were snapping photos and ran at us yelling and motioning to stop. I think the anger is clear in this photo. This was the one and only time during this that I felt truly threatened. I believe the one with the chunk of rock in his hand was poised to throw it at us. I suppose my camera will get me in trouble one of these days.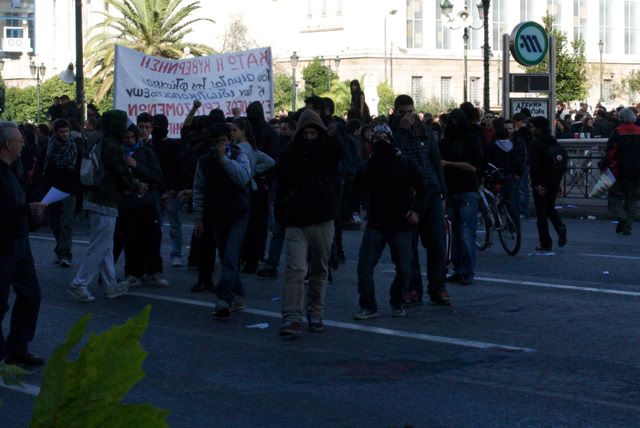 So this is the Greece that I'm saying goodbye to in a few days. Some may be surprised that I am not just ready to get out. In a way I am, but Greece has become a part of who I am and I will always miss it, good and bad.
Posted by oceanchild 01:30 Archived in Greece Tagged living_abroad