08.12.2008 - 08.12.2008
Today is the 4th day of riots here in Athens and in the rest of Greece. Unrest has filtered as far away as London and Germany where incidents have taken place at the consulates. The Berlin consulate has been occupied by so called anarchists. Today the funeral for Alexandros Grigoropoulos was held and rioters did not even allow that to stop them from wrecking havoc across the city. To add insult to injury two of the major unions are striking tomorrow bring Athens to a grinding halt. Flights, ferries, metro, buses, and trains will all stop leaving many with no mode of transportation. I've come to learn that strikes and protests are not unusual in Greece, in fact hardly a week goes by without one or the other being brought to my attention, but I have a feeling that because of high tensions tomorrow's strike and protest may just give rise to more violence in the city. I only hope and pray that I am wrong.
The smell of smoke has drifted into our little corner of Athens, Pangrati, and last night we were able to hear explosions coming from Syntagma. A few of us braved the smoke and noise and walked that way to see if things had calmed down. The scene was a bit surreal. People were out and about, surveying the damage, taking photographs, even laughing. I suspect those laughing were involved in this perhaps. A walk down Ermou street gave us sight of broken windows and burnt out store fronts. Syntagma Square was a sad sight with the Christmas tree smoldering and blackened. Down Nikis Street we could see fires still raging. I believe it was the Olympic Airlines office that was gutted down there. Banks were also heavily targeted as the pictures below will show. It has been a sad week for Athens. The tension in the air is still palpable. Just 10 more days until I leave, and even with all this mess I find myself saddened. Greece has it's problems, but it has been home to me for the last 3 1/2 months. I'm also saddened by the destruction, the murder of a young boy, the unrest, the uncertainty. It too will pass in time, but right now it looms on the horizon like a dark storm cloud.
Fires on Amalias Street
Syntagma Square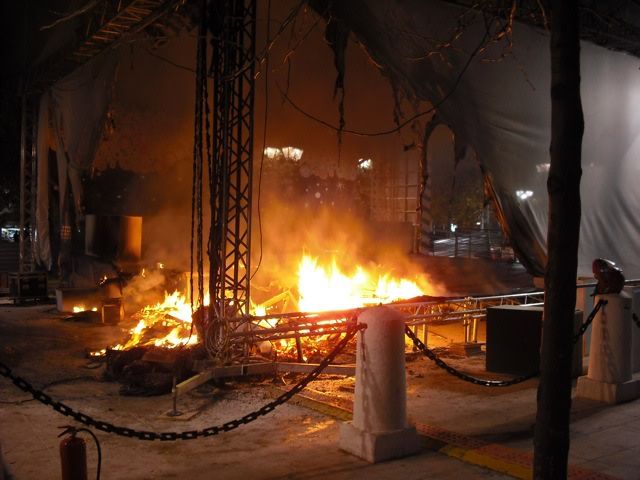 A dog surveys the damage of a gutted shop in Monastiraki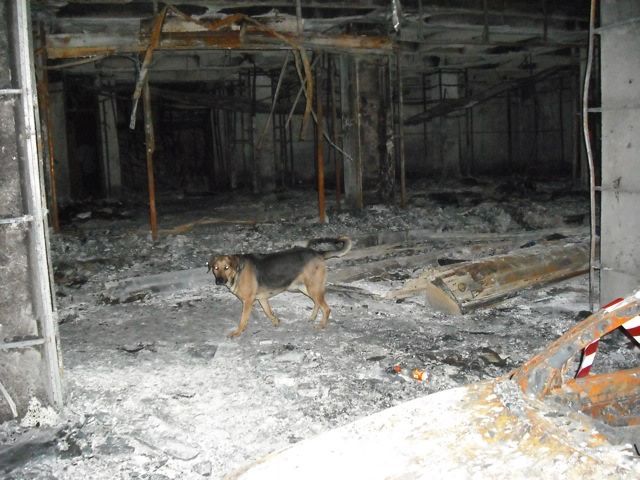 Sprider on Ermou
I was amazed that places like this were completely open and nobody was looting
ATM's were all smashed
Cars burnt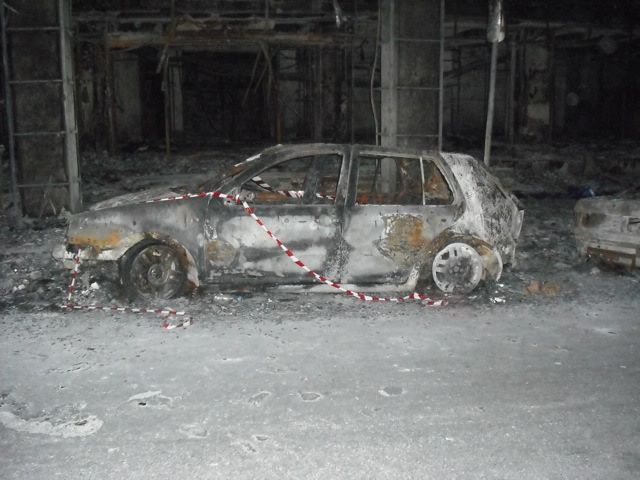 Firetrucks down Nikis Street
The Christmas tree in Syntagma Square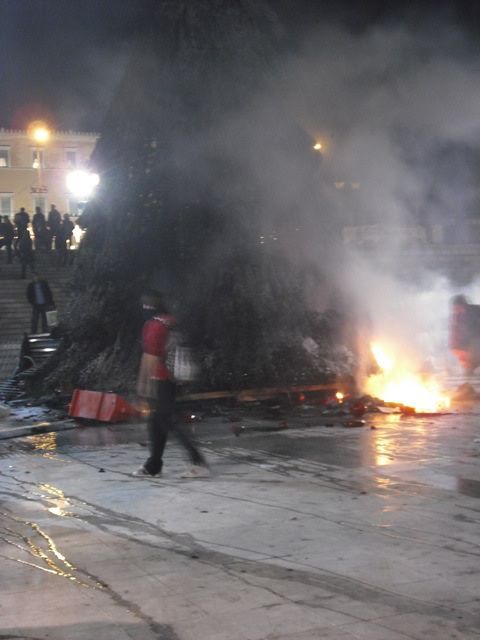 Posted by oceanchild 11:39 Archived in Greece Tagged living_abroad