28.11.2008 - 28.11.2008
Let it be known that late fall, early winter is not a good time to visit Italy. It seems rain is in the forecast almost every day and true to form, it rained on us quite a bit! But what is a traveler to do when they have spend good money on a flight and hotel? You don your rain gear and see it all anyway. That's just what I did on our second day in Rome. We hit the metro and headed to the Colosseum because we knew it was near a metro station. What amazed me so much was stepping out of the metro station. Whoa!! There it is, the Colosseum. I think this is what many think of when they think of Rome. It is an amazing structure. Huge is an understatement. Like so many things in Rome, the scale is just enormous.
What we didn't know was that it was going to cost 11 euro to get into the Colosseum. With that info and the long lines we decided to hit the Roman Forum first. I believe my guidebook said it was free. Remind me not to trust Fodor's ever again. It wasn't free. At least a combined ticket would get us into the Forum, Colosseum, and Palantine Museum for 12 euro. Forum first, Colosseum later. The Roman Forum, or Forum Romanum as it was known in ancient times and still is in Italy was in its heyday the center of Roman life. It was where citizens did business, politics, and shopping. Whenever I feel the need to complain about crowds in these sites I remind myself that navigating the crowd is exactly how it would have been in ancient times. There is so much in the Forum and it is impossible to post it all and label it. Ok, not impossible, but improbably given the time I have these days. One thing I noticed about Italy is that nothing is labeled. I think this is because they want you to buy and audio guide. I chose not to spend the money. I also failed to take a ton of photos as I usually do because the rain kept falling in waves and I kept my camera out of harms way. It was truly a miserable day but I loved every step I took through the forum!
Heading up to Palatine Hill
The stadion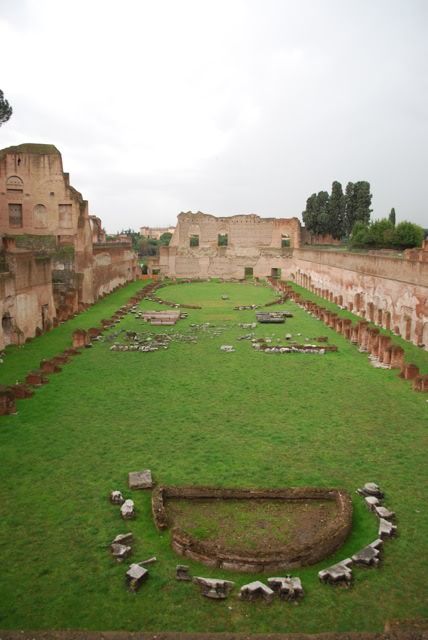 Palatine Hill
View from Palatine Hill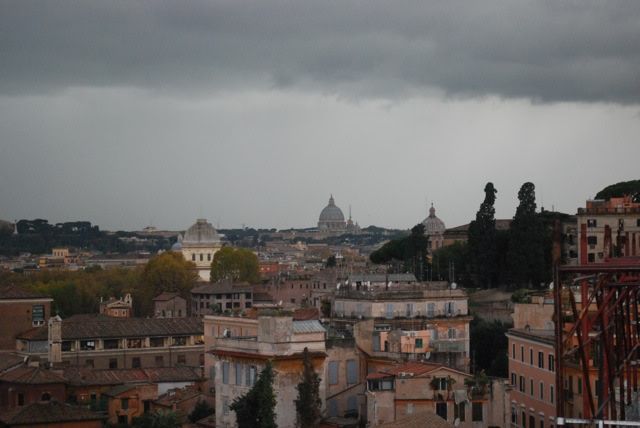 House of Augustus....the Augustus, grand nephew of Julius Caesar....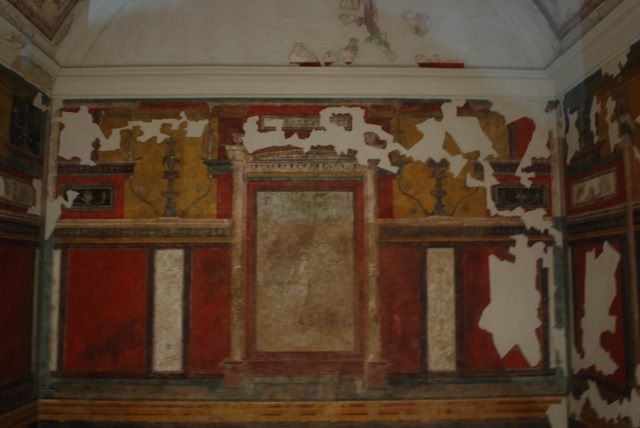 And then it rained and we took refuge in a tunnel or sorts..
It seemed like every time I thought the rain was going to stop and the sky looked clear, it would start again. My travel companion had forgot her umbrella so I gave her mine since my coat was water resistant. I probably should have sprung for a second umbrella because I got wet even though I had rain gear on. We did manage to get out into the forum though and look around. There is no rhyme or reason it seems. I think a good weather day, a good plan, some history, and a few hours would have made the Forum all the more enjoyable to me. But still, there I was, in the Roman Forum. My Latin lessons started coming back! Ok, maybe not. There were plenty of reminders though.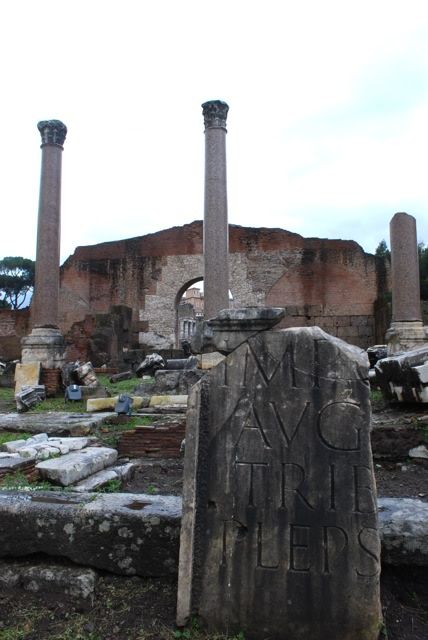 Detail of sculpture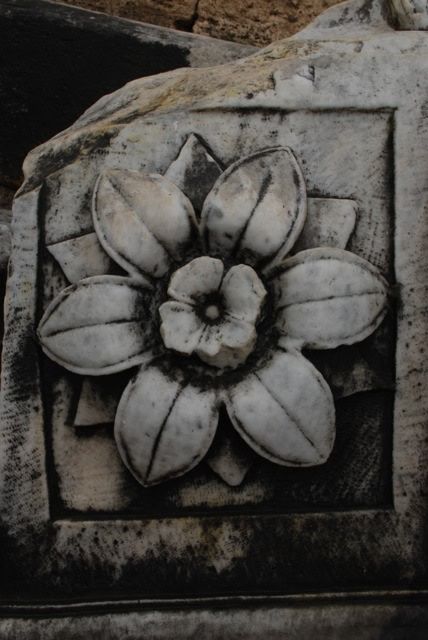 The Forum in it's entirety almost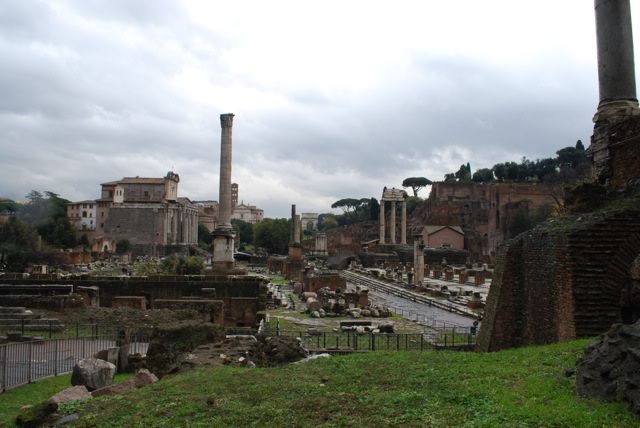 Arch of Septimus Severus (all I can think of is Snape)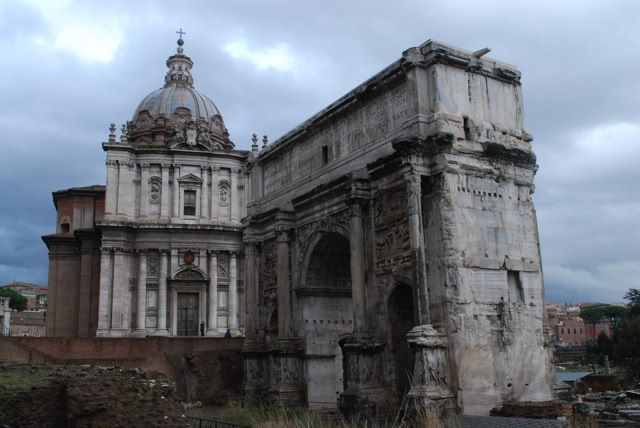 Temple of Saturn
Interesting fountain just below the gardens of Palatine. It was like a massive rock with moss and had water flowing into the pool below. Very interesting and I bet it's a nice place to sit on a warm sunny day.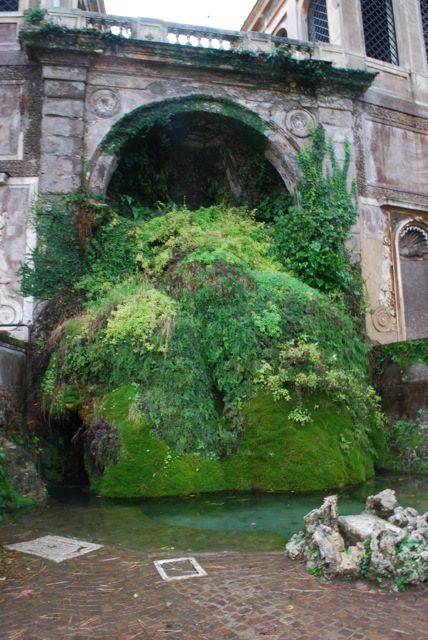 Temple of Antoninus and Faustina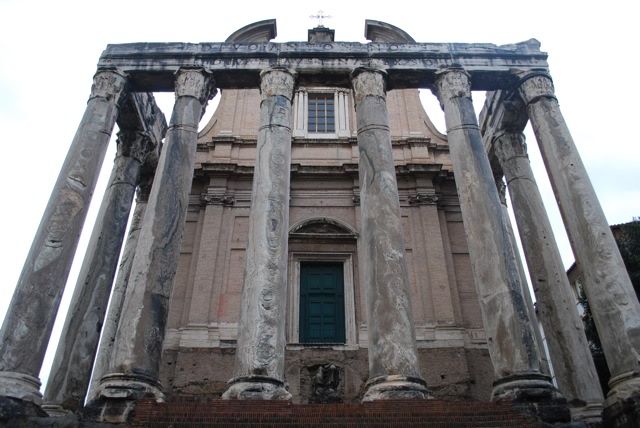 The grass is so green....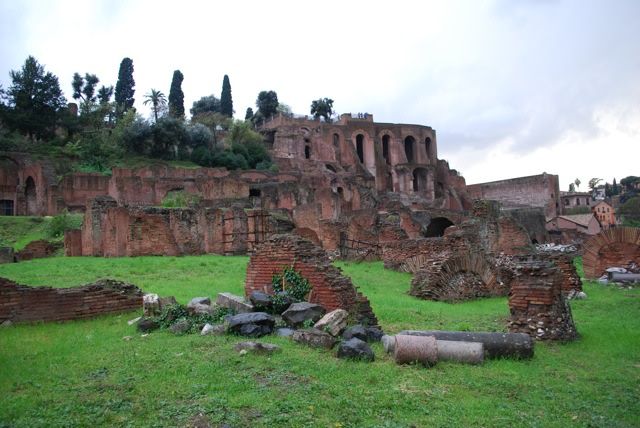 Arch of Titus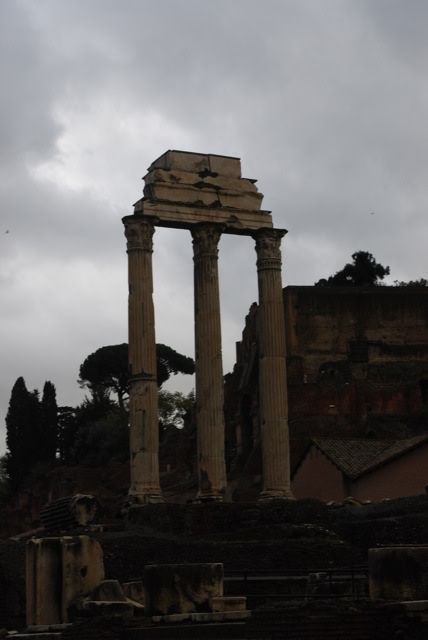 The Via Sacra, or Sacred Way going toward the Colosseum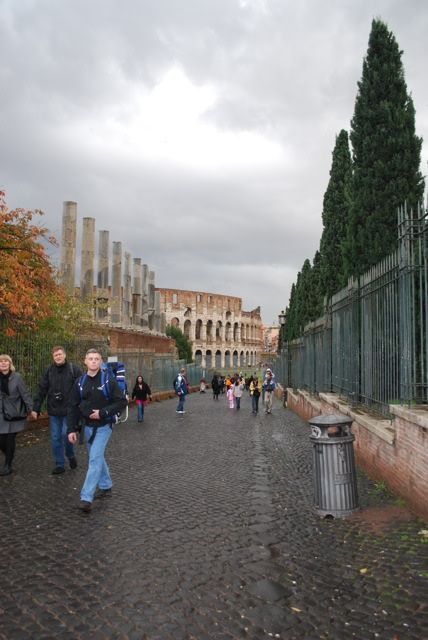 The Colosseum...isn't it amazing?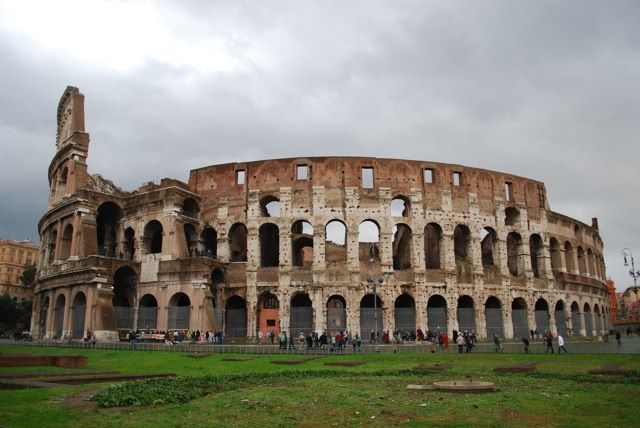 Now it was time to go in the Colosseum! One problem, it was 3:40 and it closed at 3:30. Curses!! You mean we bought tickets and not we couldn't go in? I just paid 12 euro to walk around the Forum?! Thankfully we came back the next day and were able to get in, so not all was lost, but I was feeling kind of bummed at the moment. So we headed up the street toward the huge building we had been seeing while up on Palatine Hill and wondering what it was. Then guess what, it started raining again. I was rather tired of getting wet and was getting a bit grumpy at the time. So I sought shelter under a porch overhang and waited it out. The scoop on the monumental building we were seeing. It is the Monumento Nazionale a Vittorio Emanuele II or a monument to Victor Emmanuel, the first king of unified Italy. I read that a lot of Italians do not like it and it has such nicknames as "the wedding cake", "the typewriter", and even "the urinal". I found it fascinating if not a bit overbearing.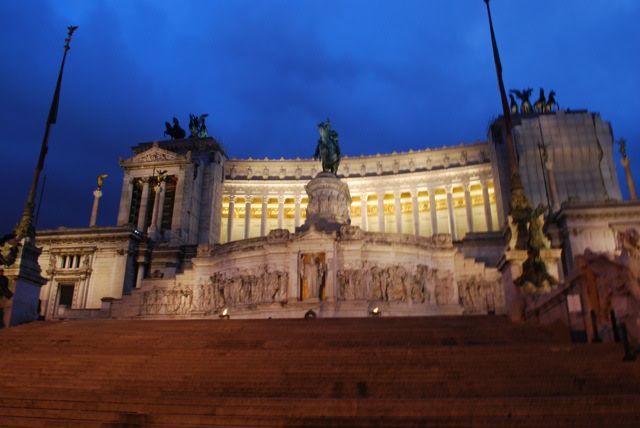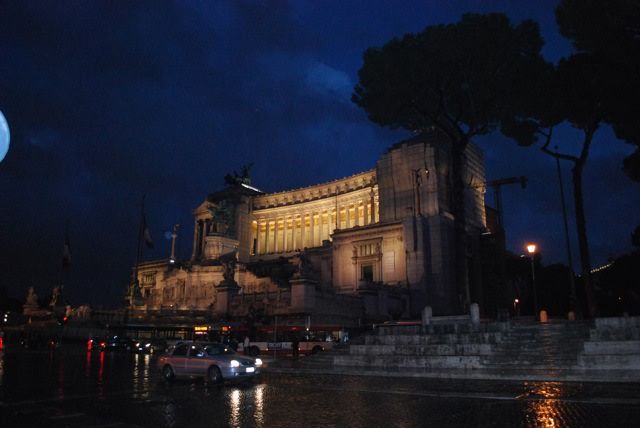 Our next stop, if we could find it, was the Trevi Fountain. And we did find it after taking the wrong street first. I don't mind just walking and not knowing where I am going as long as I'm not wet and cold. I was, however, wet and cold. Next time I got to Rome I'm keeping my umbrella! The Trevi fountain is quite a sight as well. What isn't quite a sight in Rome? It's full on ornate fountains, grand buildings, columns that reach to heaven, and glorious churches! Trevi Fountain is the largest of all the fountains. It was started in 1732 and finished in 1762.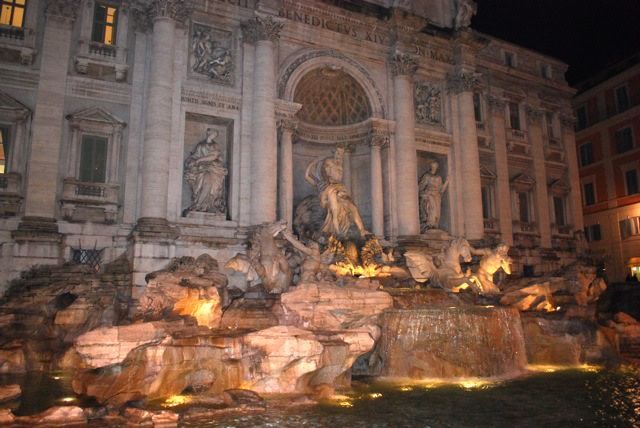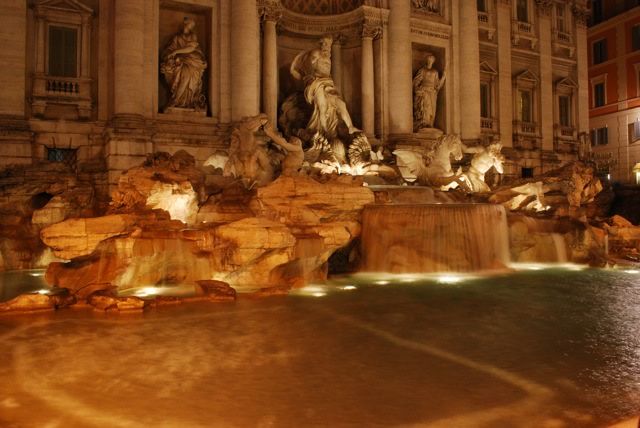 That was it for day 2 in Rome. I was wet and tired and just wanted to go back to the hotel and get warm. We had tentative plans to go to Pompeii the next day, but those didn't work out in the end. I could kick myself now for not just going. When will I ever have a chance again? I guess it just gives me another excuse to go back to Italy! Ciao!
Posted by oceanchild 05:45 Archived in Italy