The sweetness of doing nothing in Rome
26.11.2008 - 27.11.2008
When in Rome....that's how the saying goes. I'm not sure if I did as the Roman's do, but I am positive that I absolutely love the city of Rome. I found a quote by Herman Melville that speaks of Rome:
These marbles, the works of the dreamers and idealists of old, live on, leading and pointing to good. They are the works of visionaries and dreamers, but they are realizations of soul, the representations of the ideal. They are grand, beautiful, and true, and they speak with a voice that echoes through the ages. Governments have changed; empires have fallen; nations have passed away; but these mute marbles remain—the oracles of time, the perfection of art.
There is so much there that lives on. It seems every corner you turn you are confronted with some grand building, a wondrous fountain, or random ancient ruins. It is a city thank can certainly keep you in awe. I found it cleaner and somehow fresher than Athens. Seems odd. But true. Athens somehow has an identity crisis. She has been through a lot and is not sure what defines her. The ancient past or the recent past. With Rome it is clear that history never passed it by. The ancient blends with the medieval with hardly a seam to be seen. At any rate, four measly days are hardly enough to experience Rome to the fullest. But I did my darndest with my travel companion Samantha.
We arrived in Rome on a Wednesday evening and caught the "Leonardo Express" from the airport to Roma Termini (central station). Roma Termini is quite large and once we exited and walked along the street we thought it would never end. I found out how deceiving maps can be, or at least appear to be when you have no idea where you are going in a dark and strange city. The hotel I had booked appeared to be a short walk from Termini. I didn't time the walk but it certainly seemed to be longer than 10-15 minutes. Needless to say we passed by our hotel in the dark once but finally found it. The Hotel Emona Aquaeductus is located right next to Nero's Aqueduct. It's a rather out of the way section but was at least quiet. Almost too quiet when it came to finding dinner! The hotel owner was quiet helpful and gave us the names and directions to several eateries. We finally found Rome Antica and I had a lovely dinner of linguine with porcini mushrooms.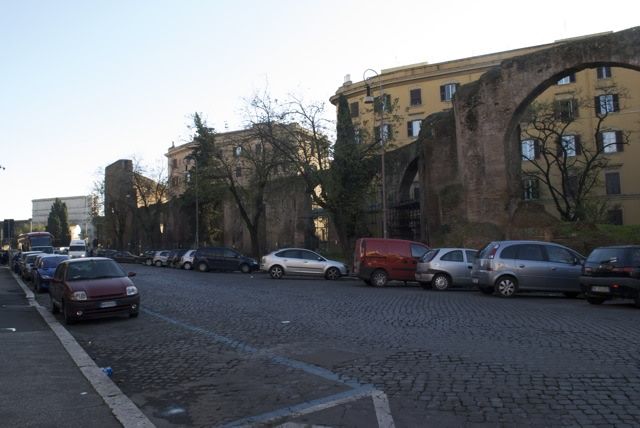 Thanksgiving Day dawned bright and sunny at least. I had purchased advance tickets to see the Vatican museums on the advice of several people so we were tied into an itinerary on that day. In hindsite it would have been a better day to see the Colosseum and Forum Roma, but we had planned to go to Naples and Pompeii on Friday. That never happened for various reasons. We took the metro to the stop closest to St. Peter's and the Vatican, got off, exited and stood there like lost souls wondering which way to go. It's often disorienting coming out of a metro station. We finally followed the sea of "tour guides" harassing us to take a tour of the site. I finally started answering them with a sound "Οχι!" when they asked if I spoke English. Between them and the signs we made our way to St. Peter's square. We didn't enter through the front, but through the side, so it was a little anti-climatic, but once I was in the square I had goosebumps.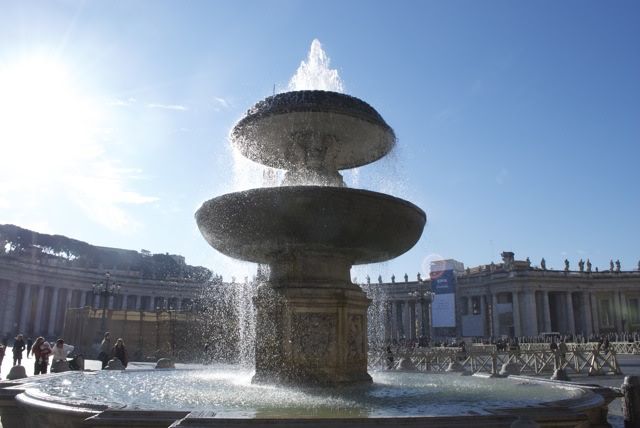 The line was pretty long to go inside St. Peter's so we headed to a coffee shop to have something warm before our ticket time at the Vatican museum. It was a bit brisk in Rome that morning and a nice warm cappuccino did the trick! A walk along the street out of St. Peter's was filled with shops selling "Papal" souvenirs and such. I couldn't resist the "bambinos" in the window!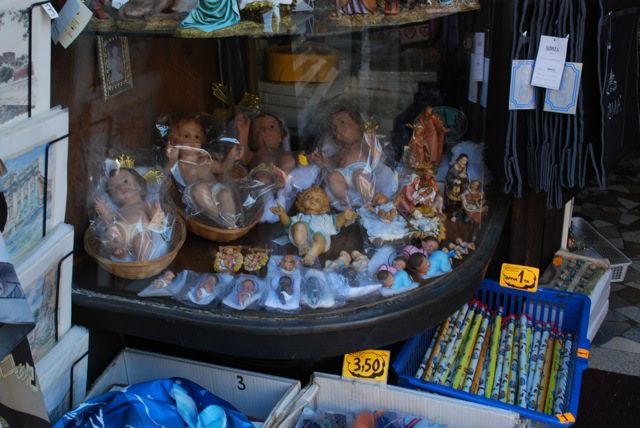 I expected long lines at the Vatican museum, but there was not a line to be had. Walked right up to the ticket booth and got my tickets before the time I had reserved them for. I didn't take many photos at the Vatican museums because it was too dark in many of the rooms. One of the main reasons we went there was to see the Sistine Chapel. In order to get to the Sistine Chapel you have to follow a labyrinth of galleries to get to there. Turn a corner and see a sign that says "Sistine Chapel ---->" and you think it is right around the corner. But no! It's another gallery! Shortly after there is another sign, then another gallery, sign, gallery, sign, gallery. Some of the sights along the way....
The mummy!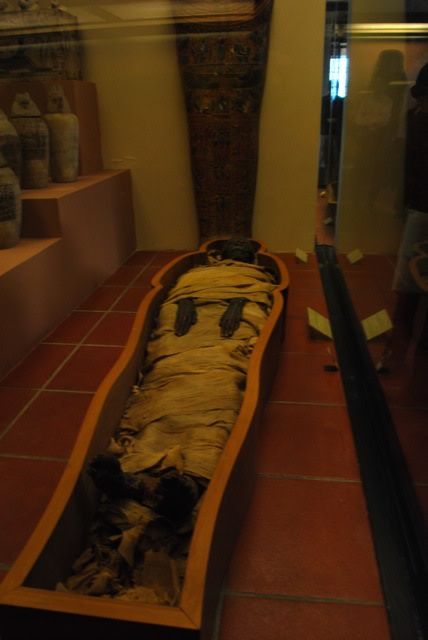 The Octagonal Courtyard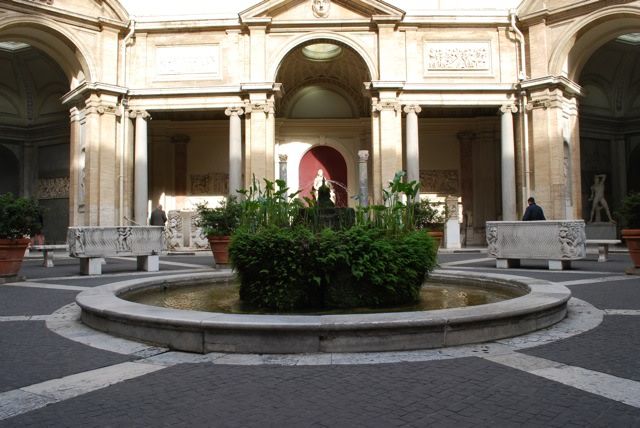 Laocoon and sons
The BIG toe...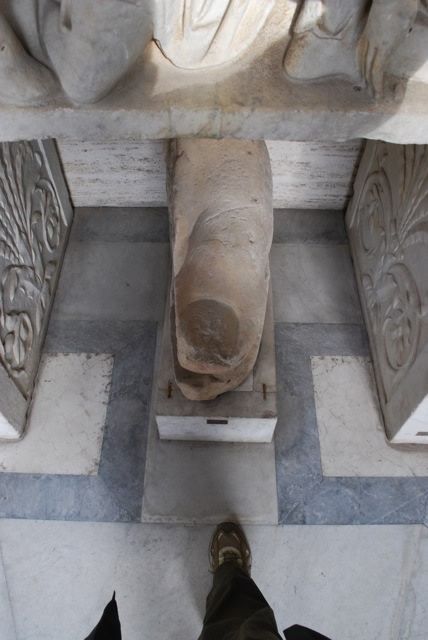 Dome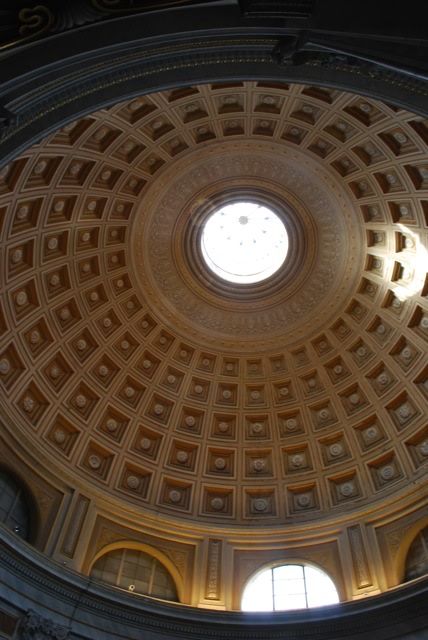 Random statue. Note the fig leaf. Many of these fig leaves were added under certain Pope's because they felt the nude body was shameful. I think they just look silly...fig leaves that is, not nude bodies..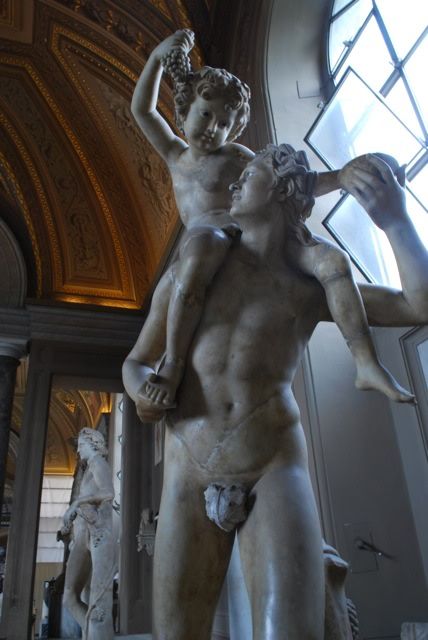 The tapestries were enormous. I wish I had something to show the scale....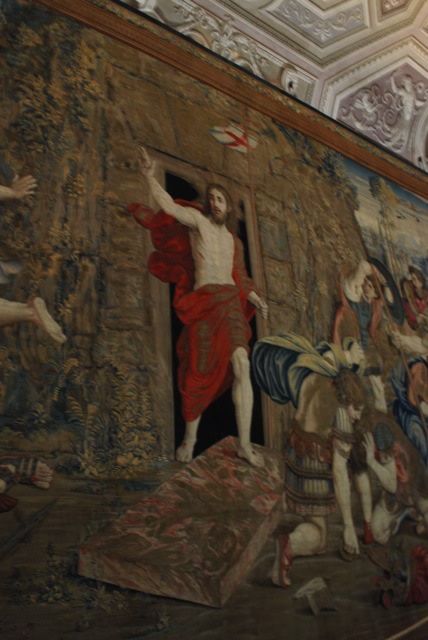 Gilded ceiling...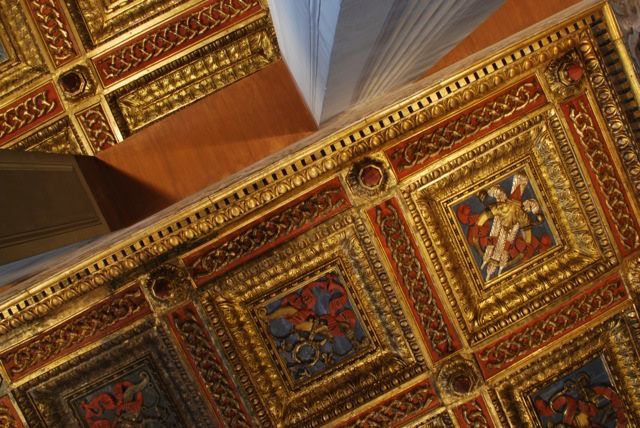 Paintings...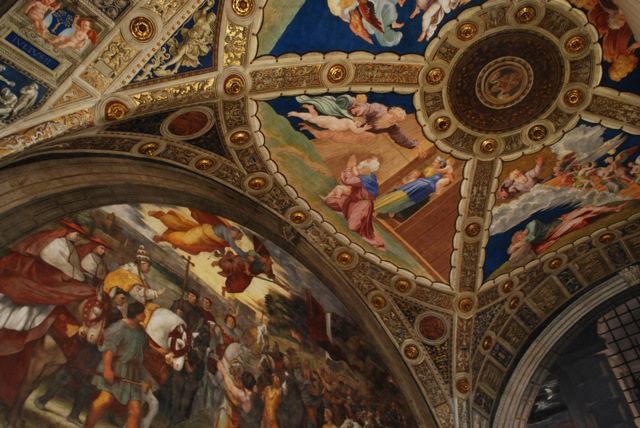 Raphael's "School of Athens"
And then finally...the Sistine Chapel!! The masterpiece of Michelangelo!! Sorry, no photos. Here it wasn't even no flash, but no photos period. What a let down for the photographer in me. But let me assure you, it was amazing and neck craning! I could have just stood there all day basking in the wonderful color and glory of this work. It is so much to take in. That's Rome in a nutshell actually. So much to take in!
I can tell you that the Vatican is overwhelming. Even once you leave the Sistine Chapel you walk through hall after hall of opulence and grandeur. After a while it's just sensory overload. So we exited and sought out lunch. FYI, the stair case to exit was pretty awesome as well...
Lunch was a bowl of minestrone soup and a glass of wine at a dive of a sidewalk place not far from the Vatican. Can't complain though. The wine was on the house. However, we did order desert (panne cotta) and noticed that the waiter pulled what looked like "pudding cups" from the fridge and shortly after came with a beautiful display of this baked custard similar to flan. We just had to laugh knowing it was pre-made pudding cup panne cotta. It wasn't bad and the soup was perfect for a chilly day. Wine is always good....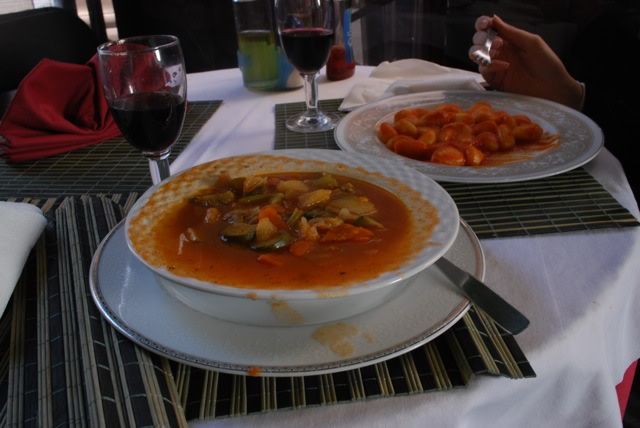 Bellies full it was on to St. Peter's with hopes that the line would not be too long. Thankfully it wasn't and we made it through the security check within 15 minutes easy. St. Peter's is another bit of "overwhelm". It's just huge and ornate and beautiful. We were lucky to be inside when they were doing some sort of commemorative service, thus we heard the organ played and later some singing. The acoustics are amazing! I also got to pray in the chapel they have set aside just for that purpose. In all its grandeur and touristic appeal, St. Peter's can be quite serene.
The outside of St. Peter's
Yes, I'm really there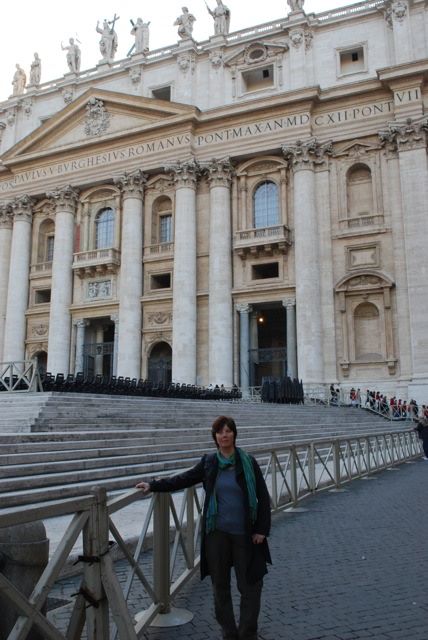 The papal balcony!!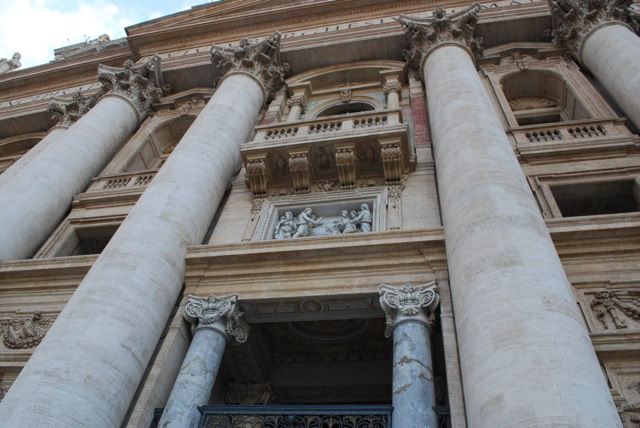 As the sun sets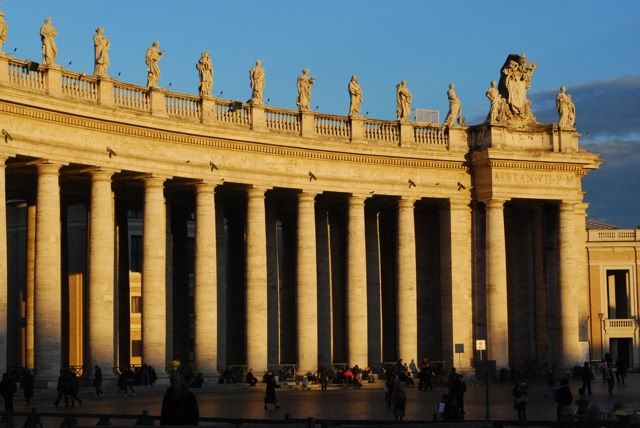 First look inside....wow!!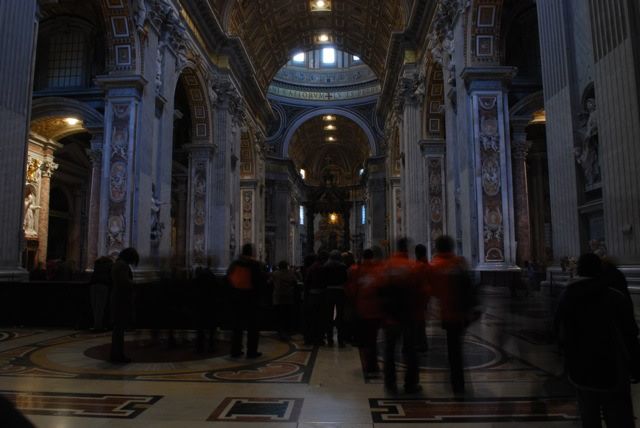 The floors are beautiful
As are the ceilings. That's Greek in that second photo by the way. No I won't translate it for you (because I can't)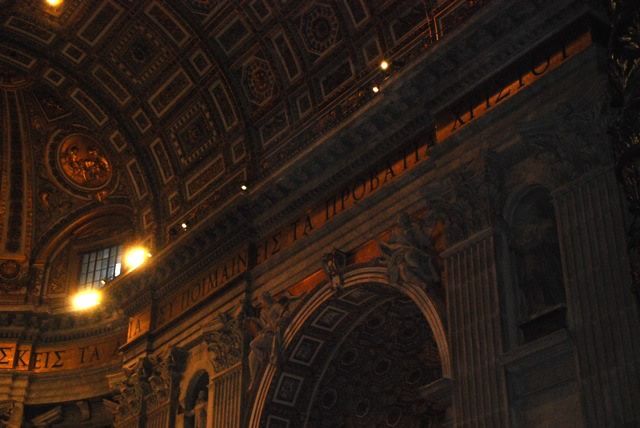 St. Andrew sculpture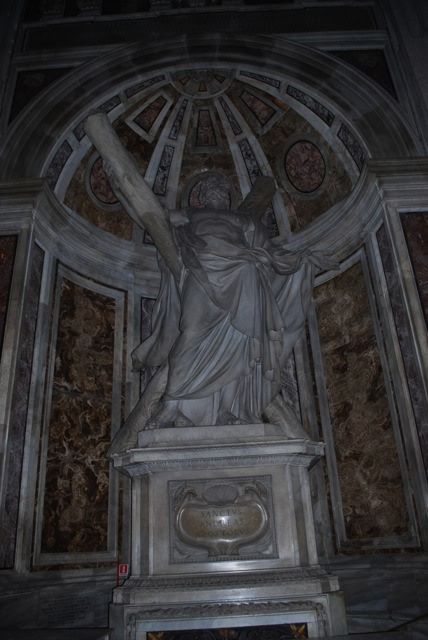 Can you believe this is a mosaic?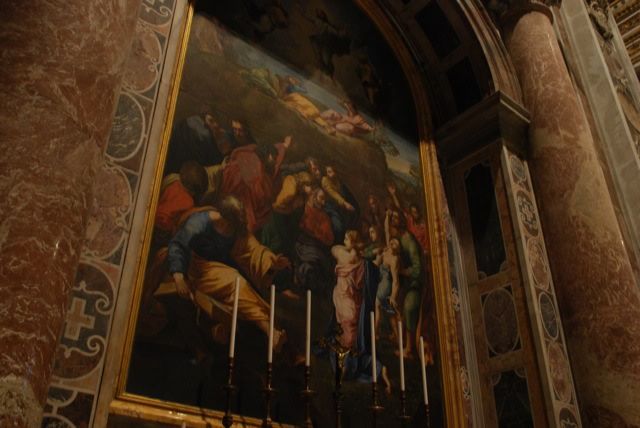 Michelangelo's Pieta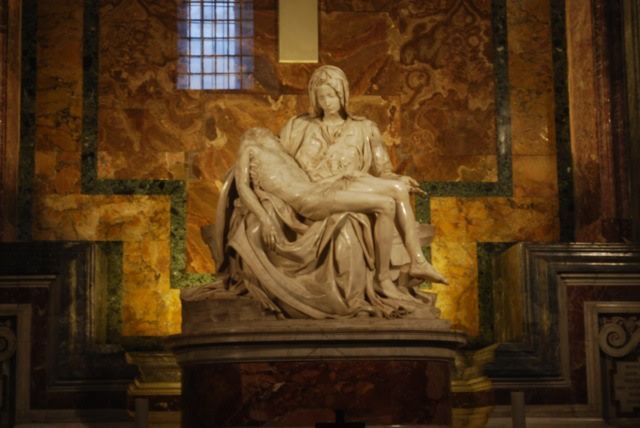 Darkness had fallen by the time we exited St. Peter's. Everything was just as beautiful, if not more so.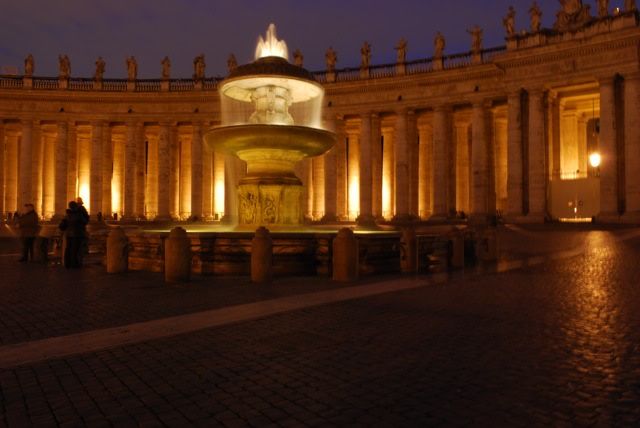 I didn't want to leave St. Peter's behind. But it was Thanksgiving and Sam and I had a date with some pizza for dinner. We made our way down by St. Angelo's Castle, hoping to go in, but opted out when we found it cost 11 euro to enter. Rome can be a bit pricey. The Tiber River was beautiful at night though...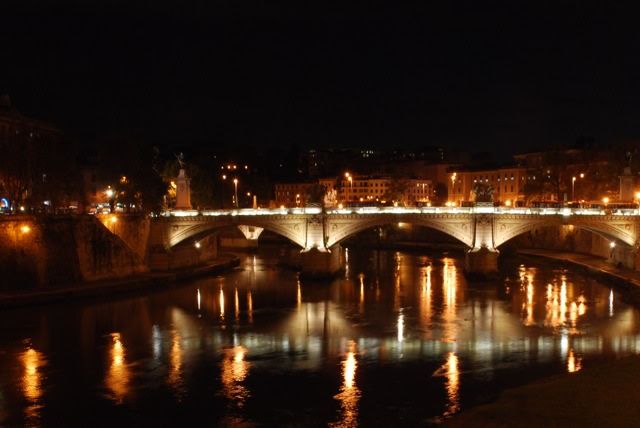 I somehow managed to navigate us back to a metro station so we could get back to our "neighborhood" and find some pizza. So we didn't have pizza in a quaint little pizzeria but we did get some pretty darn good Roman pizza at a little take out place. They made your pizza right then and there when you order. Can you say thin crust? These things were done in about 5 minutes tops. Much different from American pizza. Simplicity at it's best.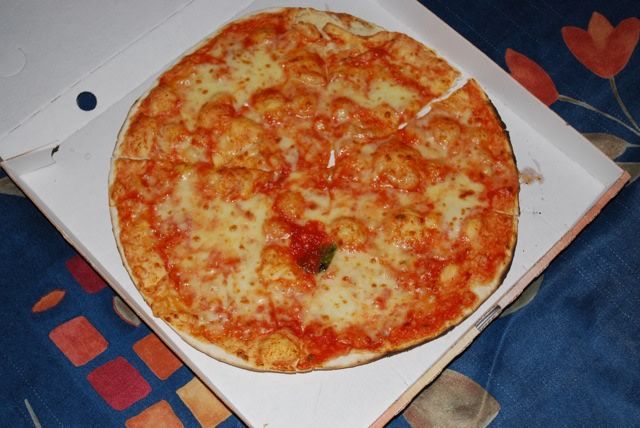 Posted by oceanchild 10:42 Archived in Italy