07.09.2008 - 07.09.2008
35 °C
Here I am! I made it and none worse for the wear. The flights were a bit bumpy due to tropical storm Hannah, but nothing to make me white knuckled. I can't say that about a few other passengers I took note of.
So here begins the beginning of a new journey in life. The overwhelm is, well, looming large. After arriving to the airport I got my bags with no trouble. There were two other students on the same flight with me, so I wasn't entirely alone. We made a phone call to let the director of the program know we were here and we heading toward our apartments. It was then into a cab and on the way to my apartment. I was utterly alone in that endeavor! I'll have to say the cab ride was not nearly as interesting as an Istanbul cab ride and only cost me 35 Euros. I guess 35 Euros is worth it to get me to my destination safe and sound. Unfortunately there was nobody here to let me in. I rang. No answer. I rang again. No answer. I forgot to write down the country code for Greece before I left so calling someone at the center was out. Thank goodness my dear husband answered the phone at home and looked up the code for me. It was only about 3 AM back in the states. He is truly a gem. I was then able to call the center and get someone to head over to let me in. My welcome was warm and comforting after sitting out front, bags in tow, passing time reading a book, trying to look normal and not feeling so normal.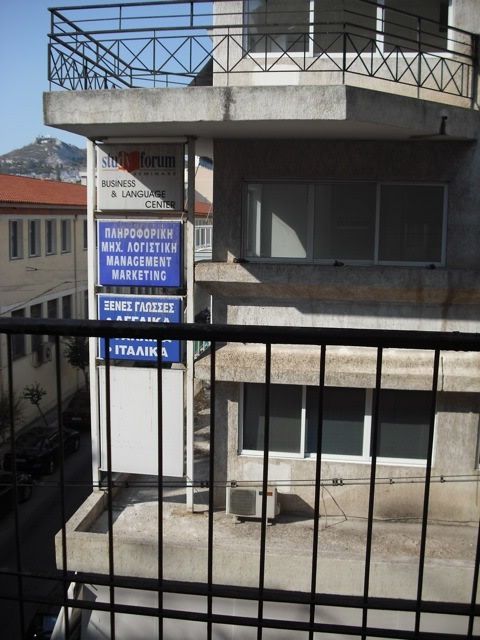 A view from my room
I've since had a shower, discovered Greek plumbing is an interesting thing, opened all the windows, learned of the Greek "quiet time" between 2:30and 5:30 that isn't always so quiet, been reluctant to venture out, read some more of my book, pondered over the sign in the toilet that says "Please do not flush any toilet paper or hygiene products down the toilet, overheard a few loud conversations in Greek, wondered just how many scooters and motorcycles there are in this city, hoped a pigeon wouldn't fly into my open window, took a second nap, got confused over the time change, wondered what the heck I was doing here, and pretty much loved every minute of it!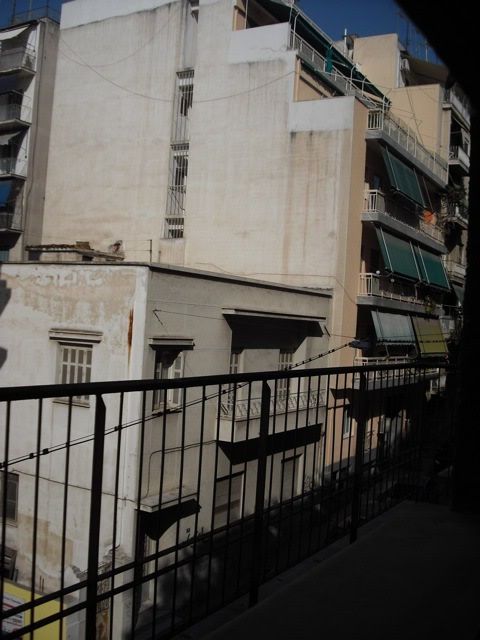 A second view from my room
I am now waiting for my roommates to arrive and the center will serve us dinner at 8. Seems the Greek people rarely eat dinner before 8. I wonder what all those American gastroenterologists would say about that. I wonder if the Greeks have less trouble with acid reflux. I wonder if the 2:30-5:30 quiet time should be implemented in the US and if we would all be healthier for doing it.
That is the first half of my first day in Athens. This should be an interesting experience!
Posted by oceanchild 07:19 Archived in Greece Tagged living_abroad