and that can be taken several different ways
14.11.2008 - 15.11.2008
This past weekend I did something I usually do not do. I made a spur of the moment decision to take a trip to Kalabaka to visit the monasteries of Meteora. Now don't get me wrong, I can be totally spontaneous at times. A last minute decision to take this road instead of the planned route is something I often do. But going somewhere on a train, with no accommodations made just takes me a bit out of my comfort zone! Thankfully several of my classmates urged me to just go, so I did. I have to say it was probably one of the best decisions I made while being in Greece (outside of deciding to go to Turkiye that is). So Thursday afternoon I call Bri and tell her to buy me a ticket. There, I was committed or else I was out 16 euro. So I packed my bags and got ready to jump on a train last Friday morning to head north into wild Greek territory. What fun!!
Kalabaka (Καλαμπακα in Greek) is about a 4 hour train ride from Athens. We were fortunate enough to have reserved seats in first class, because that was all that was left when the tickets were purchased. I like train travel. It's comfortable, quick and cheap in Greece, even if figuring out which car to get on is confusing! The scenery was quite beautiful on the way up. Leaving the city behind was refreshing. At one point the train hugged a mountainside with spectacular views down into the valley. It almost felt as if we were flying instead of on a train, it was that precarious!
After 4+ hours we arrived in Kalabaka and headed into town to find a hotel. After what seemed like a long walk lugging my heave backpack (yes, I tend to overpack these days) we arrived at the Alsos House and had a bit of a disagreement over whether we should stay there or Koka Roka. I preferred Alsos House myself because Koka Roka, well....at any rate, we decided on Alsos House and for 20 euro a night (per person) we had a bed, shower and simple breakfast. Besides, we were there to see Meteora!! What a sight this place is. It is beyond words.
The name Meteora means "suspended in air" and one look at the area convinces you why it's called that. Massive rock columns with sheer cliffs jut out of the earth and ascend into the sky as if they were put their by massive giants. What makes it even more impressive is the number of monasteries that have been built on top of these rock columns. I've always known monks were dedicated, but this proves it. To live in a monastery perched up in the sky takes dedication but the closeness to heaven is apparent and you realize why this place was chosen. I could easily seek solitude here. The climb up the footpath, getting soaked in the rain, freezing, walking kilometer after kilometer, it was all worth it. I'll let the pictures tell the rest of the story.
The view from our hotel....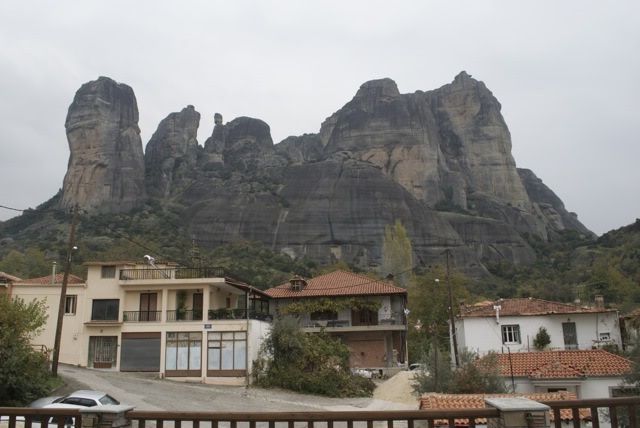 Town of Kalabaka from above...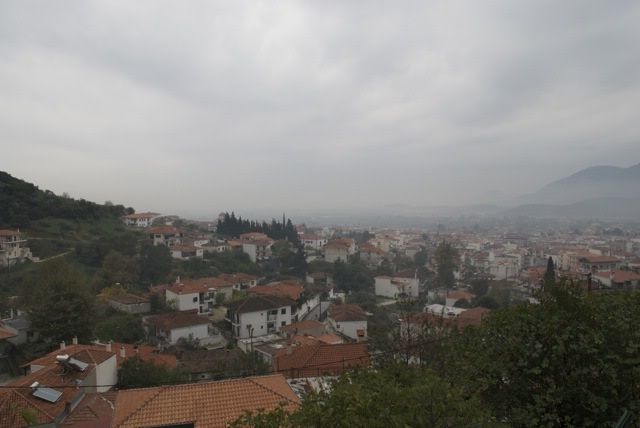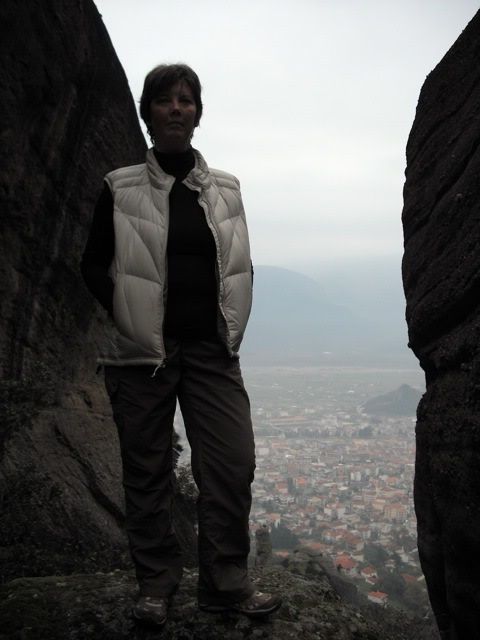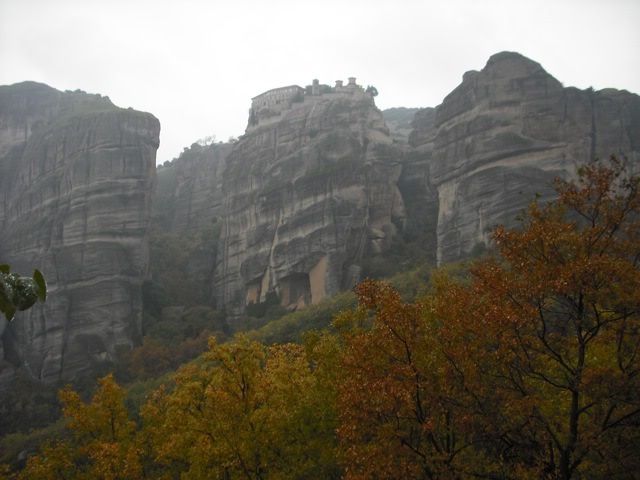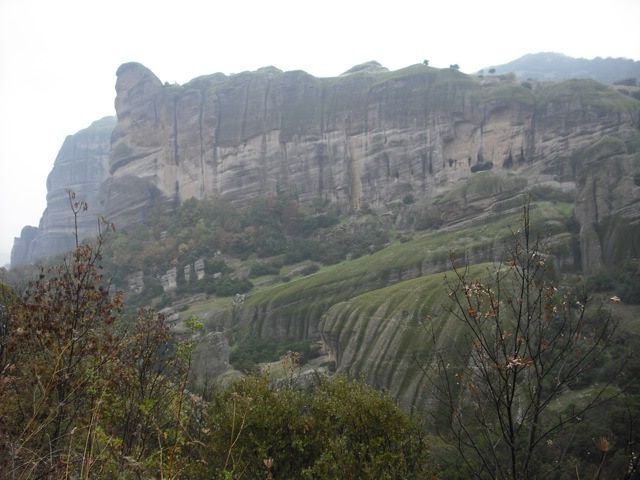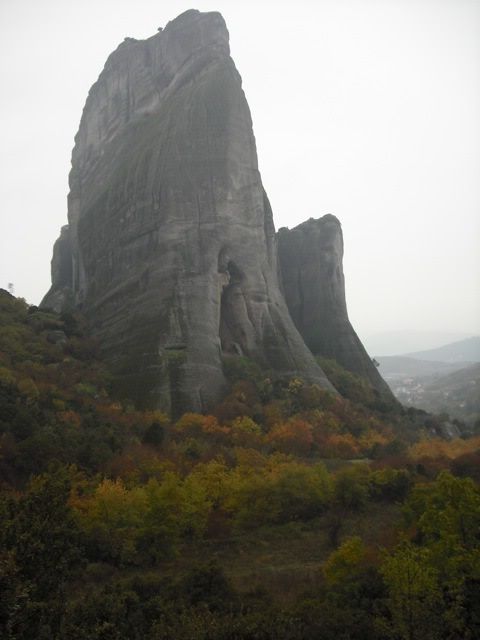 No pantaloons please....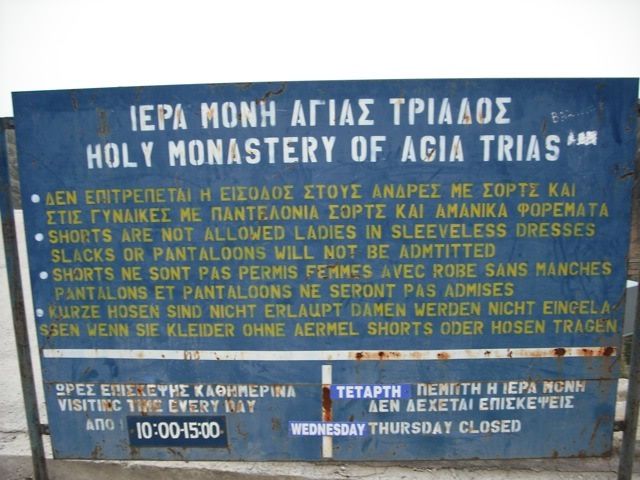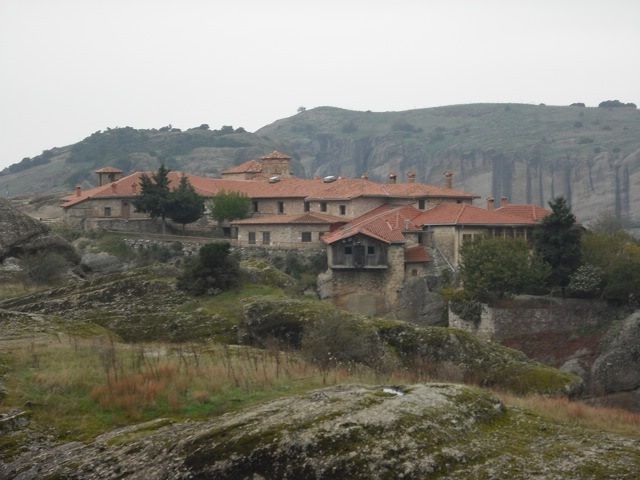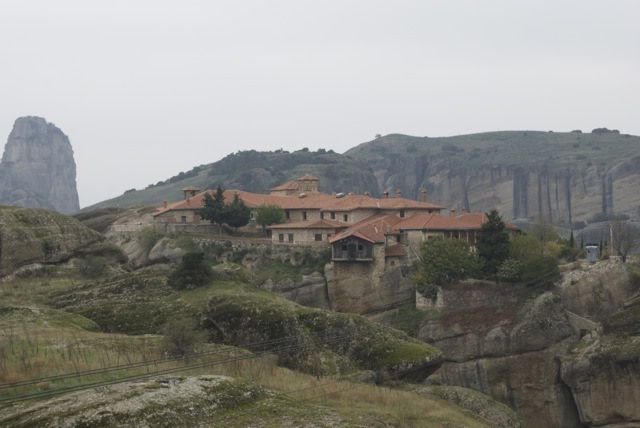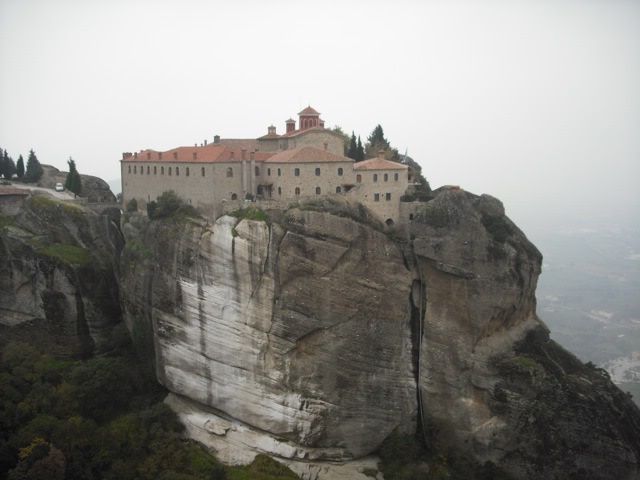 The fog eventually started to close in....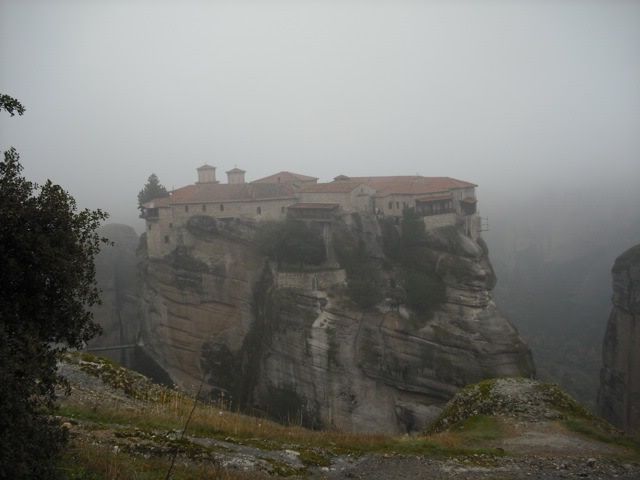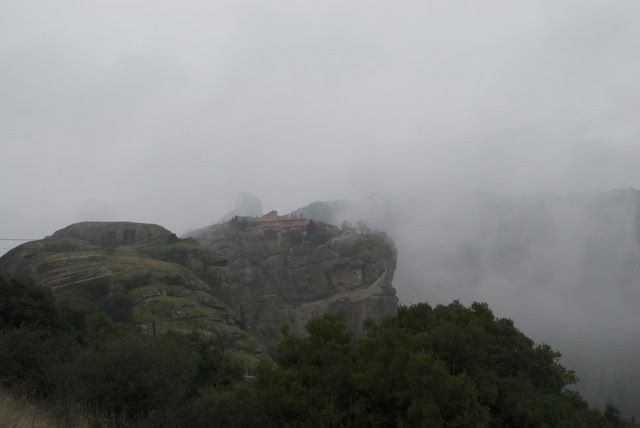 One of the monastery cats...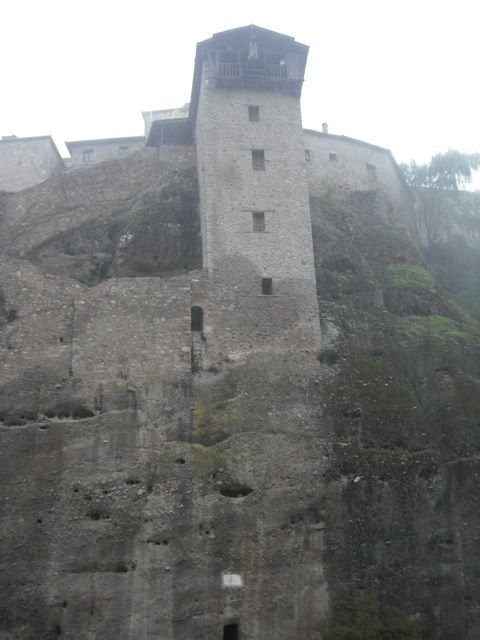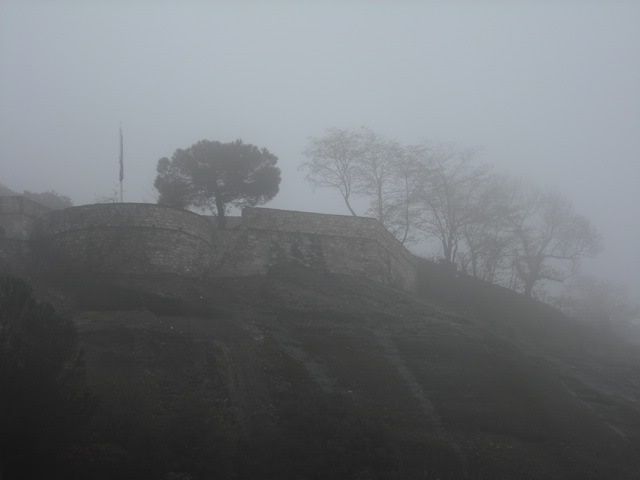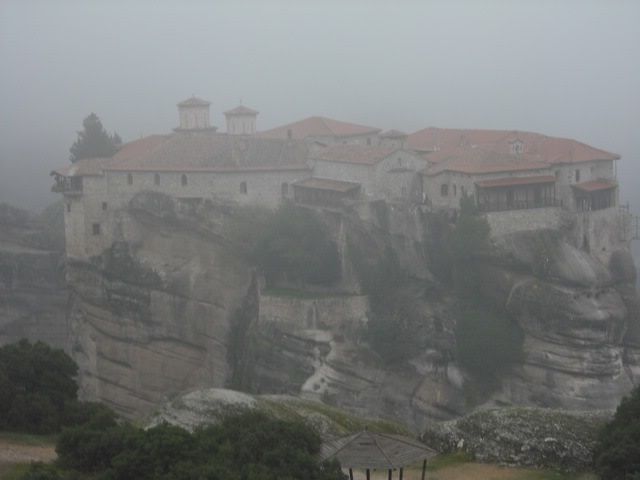 We eventually walked through some Tolkienesque woods....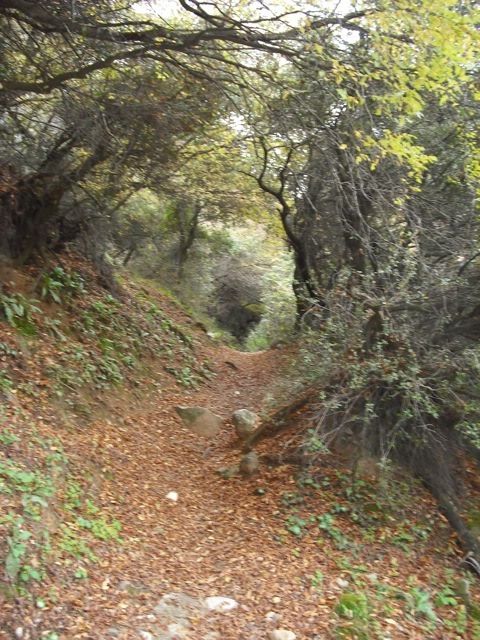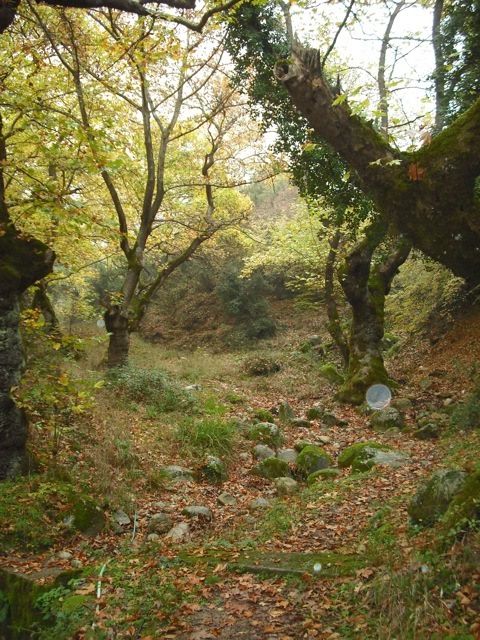 The road goes ever on and on....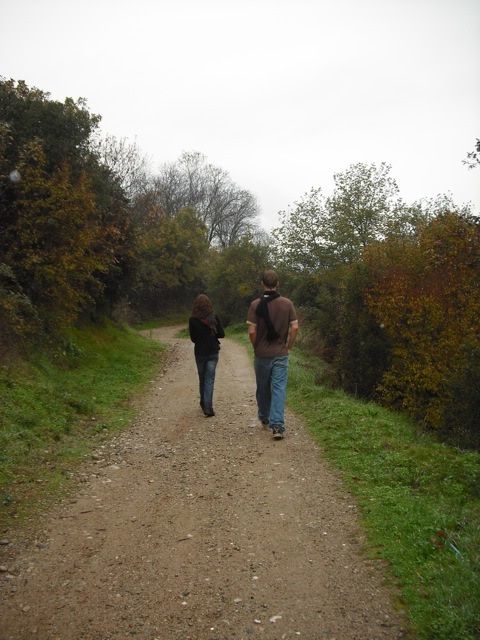 More monastery kitties...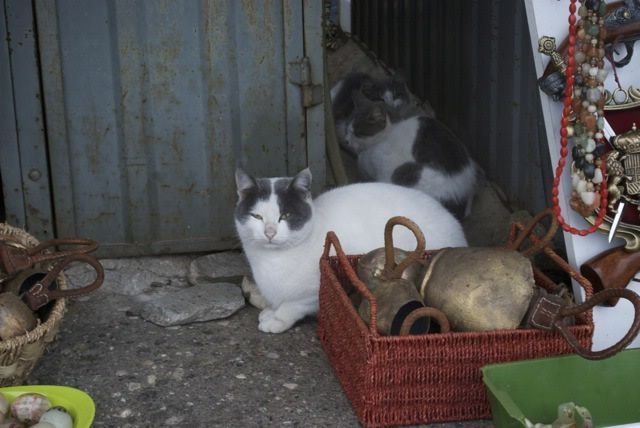 Are we almost there? We were making our way to Kastraki. Cold. Wet. Hungry.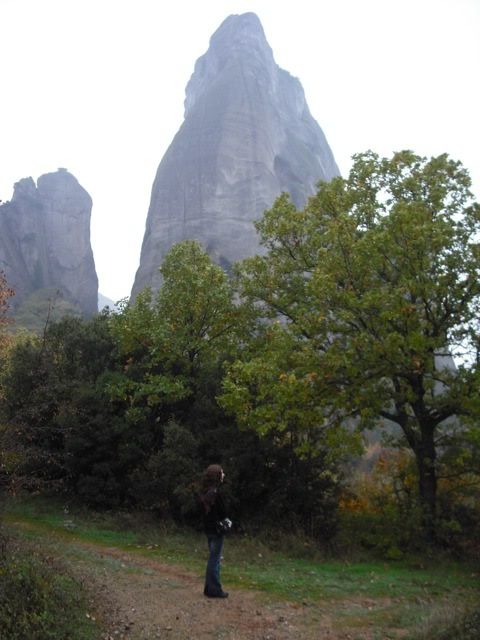 We finally made it into Kastraki. Pastitsio and local red wine has never been so welcome!!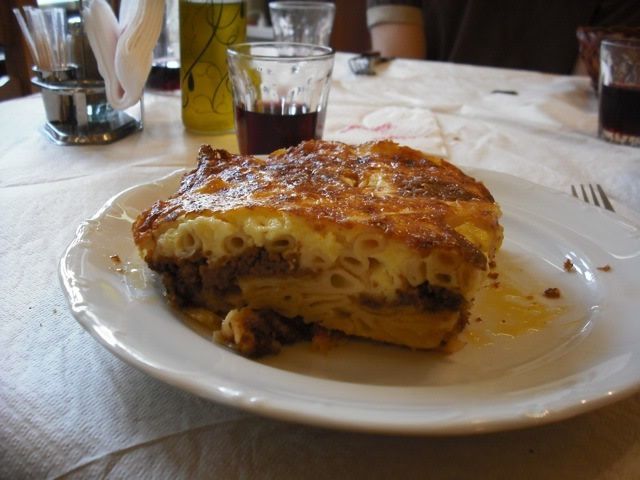 Posted by oceanchild 11:42 Archived in Greece