The greatness of the Hagia Sophia and other sights
29.10.2008 - 29.10.2008
My last day in İstanbul. It's sad that I have to leave this wonderful city again, only after three days. But thankfully I had the whole day ahead of me since I booked my return flight to Athens at 9 PM. I wouldn't have to leave the hotel until 6:30 and the desk had already told me they would call a cab at 6:30. Thankfully the hotel had luggage storage so I was free to leave my luggage there until I had to leave. I was worry free!! Except I had to go find another suitcase, because my backpack wasn't working for me with the extra stuff I had bought. So my first quest was finding an inexpensive piece of luggage with wheels. The gentleman at the hotel sent met down one street where he said I would find the cheapest. Not so, unless 180 YTL was the cheapest. I was sure I could find something cheaper in the bazaar. I found disappointment as I went to the bazaar though. I had actually planned to do some more shopping before I left, but alas, it was closed for Republic Day! Thankfully some of the street vendors were open and I was able to bargain for a suitcase for 25 euro. Suitcase in tow I headed back to the hotel to pack up and store my luggage. First stop after that, the Hagia Sophia.
I think the Hagia Sophia, or Church of Holy Wisdom, is one thing most people think of when they think of Istanbul. It is a wonder, that is for sure. The site itself is replete with history. It is believed that a pagan temple once stood on the site. The first church built there was done so by the emperor Constantius, son of Constantine (and we all know Constantinople was named for Constantine, don't we?) in 360 CE. It was burned, apparently by a mob, and was rebuilt by Theodosius II in 415 CE. Once again the church was destroyed during the Nika Revolt and rebuit by the Emperor Justinian who wanted to built the largest grandest basilica in all the Christian world. His work started in 532 and the church was finished in 537. It was designed by the architects Isidoros from Miletos and Anthemios of Tralles and marble and stone was imported from all various places in Anatolia to build the grand basilica. When the Ottomans took over the Empire in 1453 the Hagia Sophia was converted to the Ayasofya Camii (mosque) and the minarets were added to the outside architecture, while the inside received a niche facing the direction of Mecca and the rounded plaques with Arabic calligraphy. After the fall of the Ottoman Empire and the founding of the Turkish Republic under Ataturk, the mosque was converted to a museum in 1935.
No doubt the Hagia Sophia is grand. Just looking at it from afar is awe inspiring.
I probably didn't pick the best day to visit. Being Republic Day every place was crowded. I'm sure it's not nearly as bad as during the high tourist season though. The building was also decked out in huge Turkish flags.
The entrance to the Hagia Sofia...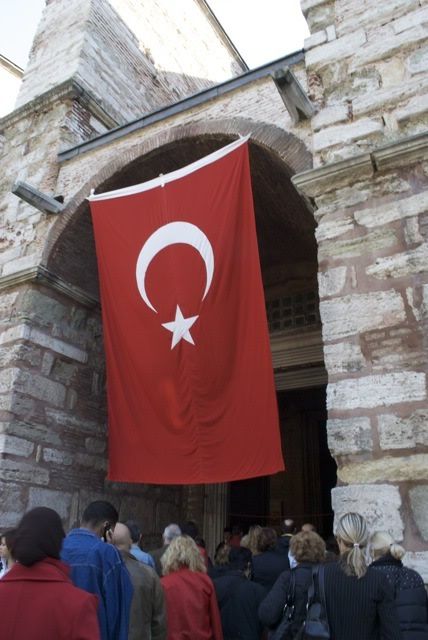 I love to take photos without people in them, but at least with people you get an idea of the scale of the building. These are taken on the lower gallery. The lighting falling from the windows way above lends a mystical and heavenly feel to the place. This was the intent, to bring one a bit closer to heaven. I think it worked...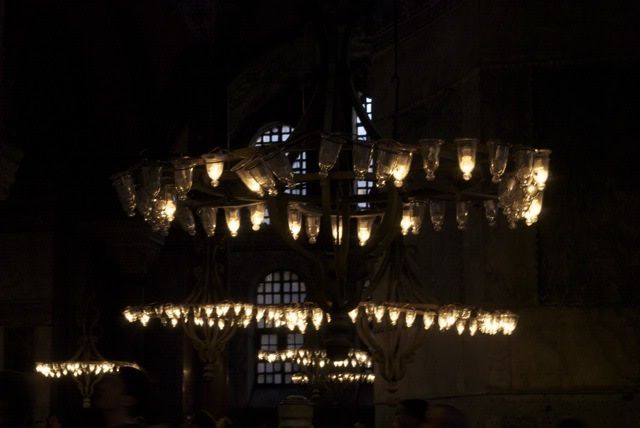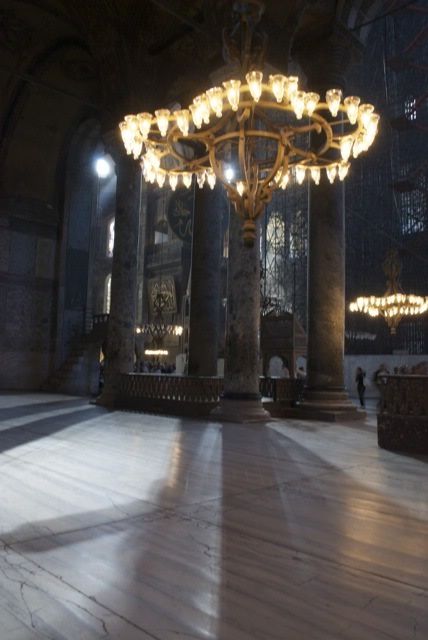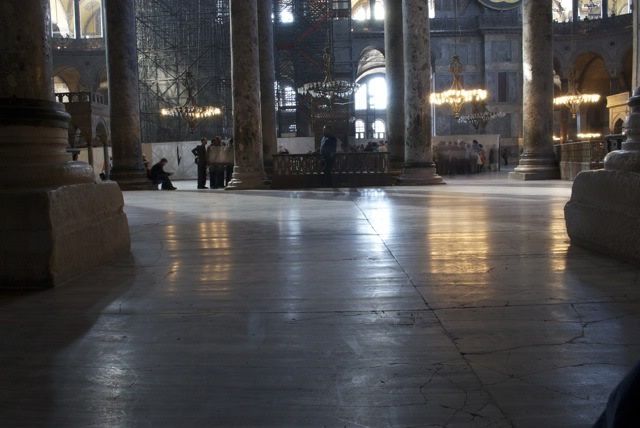 The niche, or mihrab, that was added when it was converted to a mosque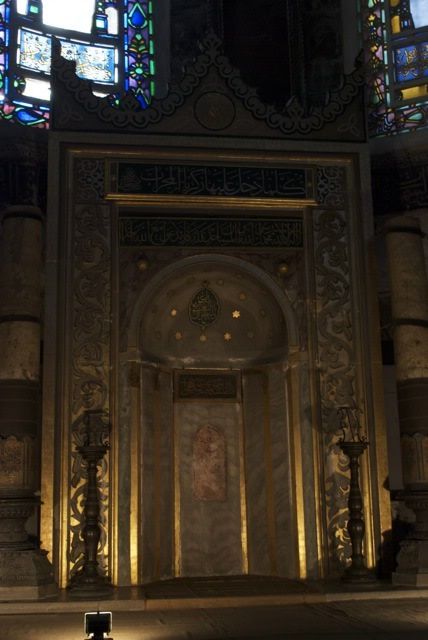 Windows facing east...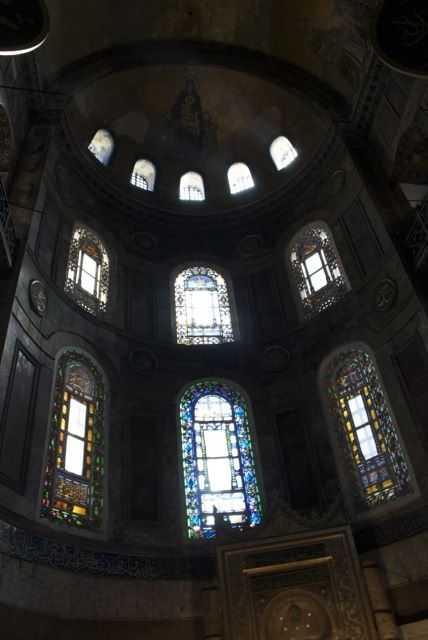 Large marble jar...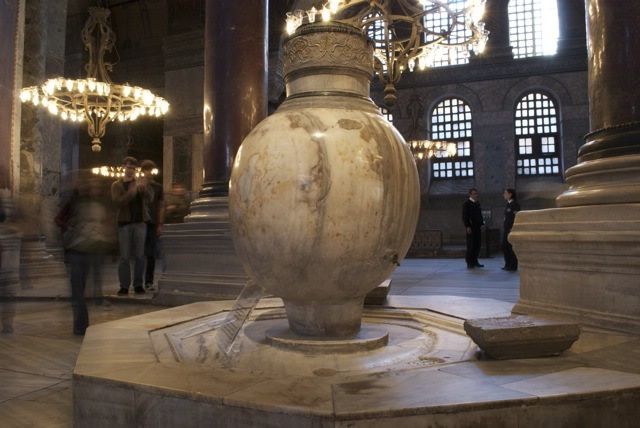 The domes. The scaffolding reaching up to the central dome is immense. The height of this dome is 54 meters and the diameter is 33 meters. It is supported by four massive columns.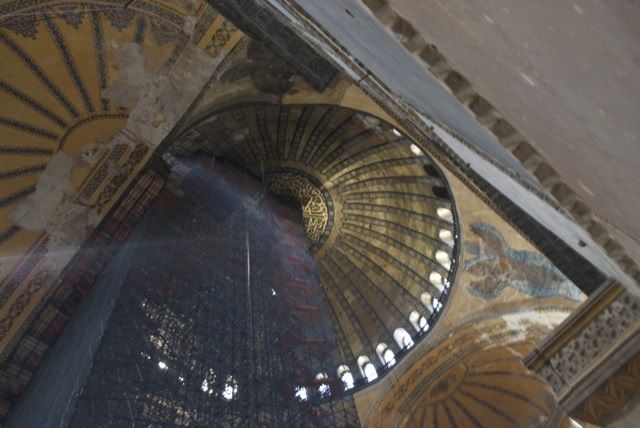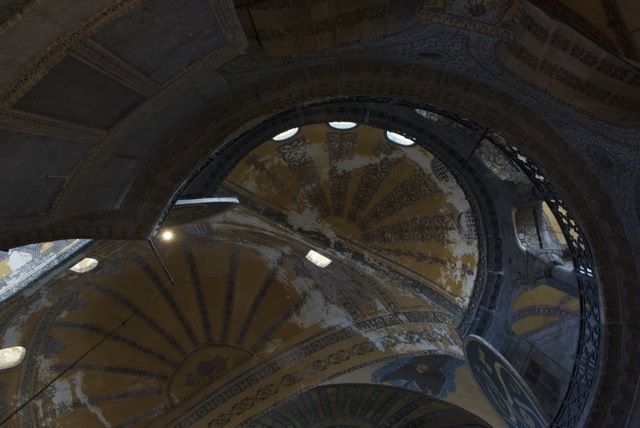 Marble facing on the walls...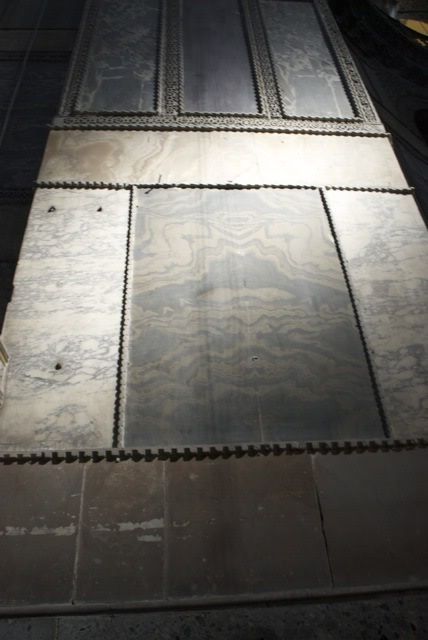 and some beautiful tile work with Arabic calligraphy in the background...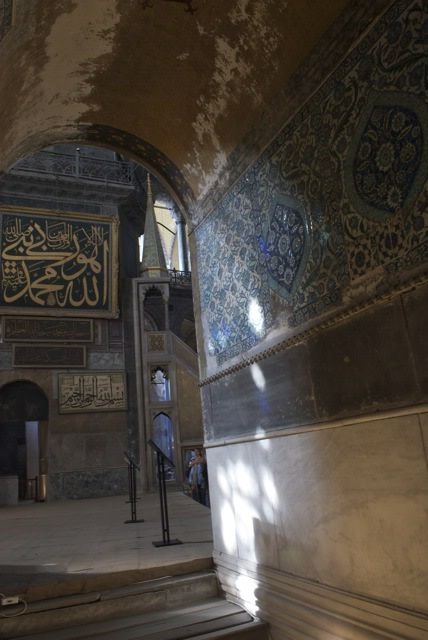 Moving to the upper gallery gives you some great views of below and an idea of the vastness. I can only imaging how wonderful it is without the scaffolding!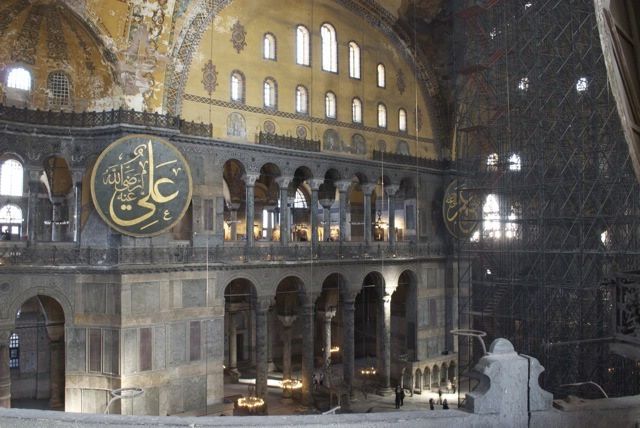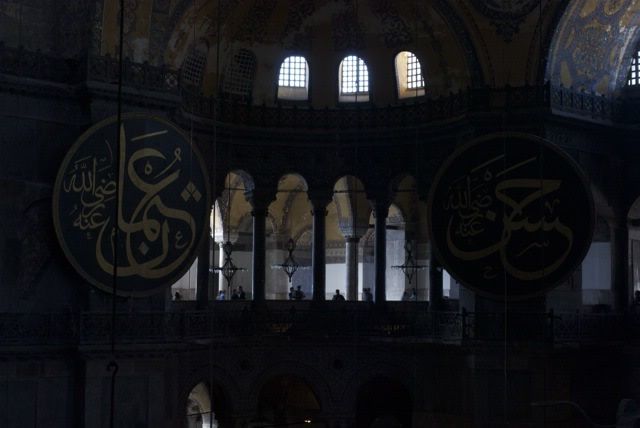 You also get some wonderful lighting. It took patience to get these without people in them!
The ceiling of the upper gallery and the detail on the columns...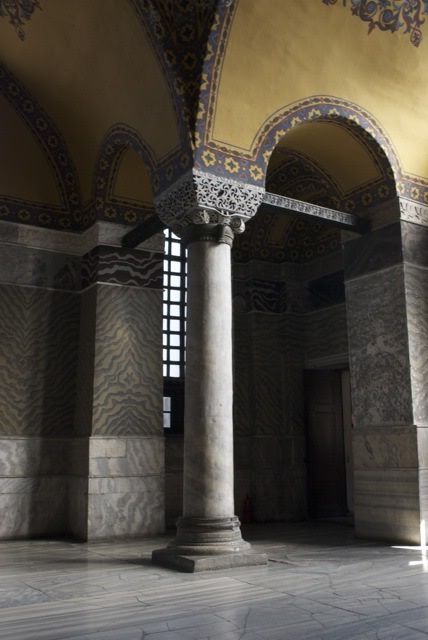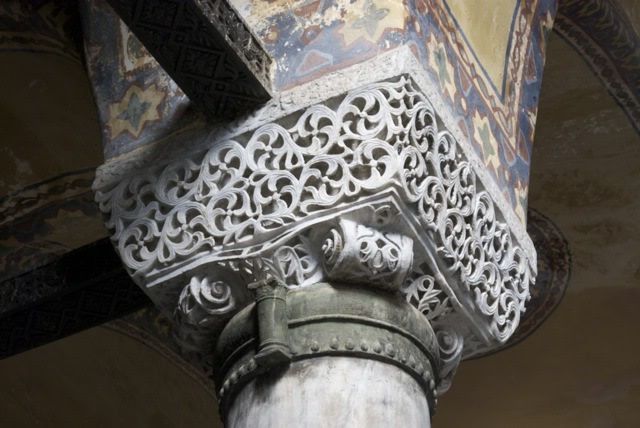 Some graffiti....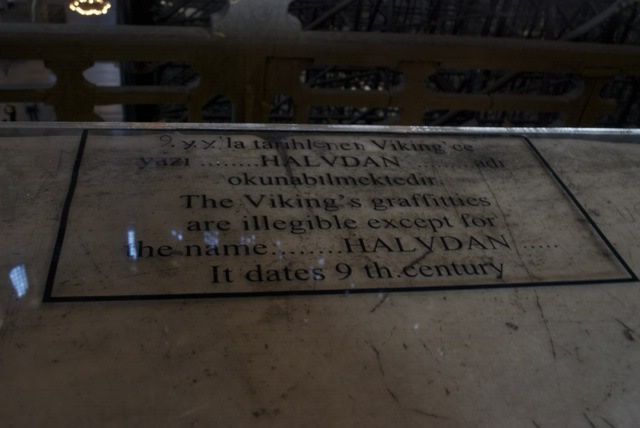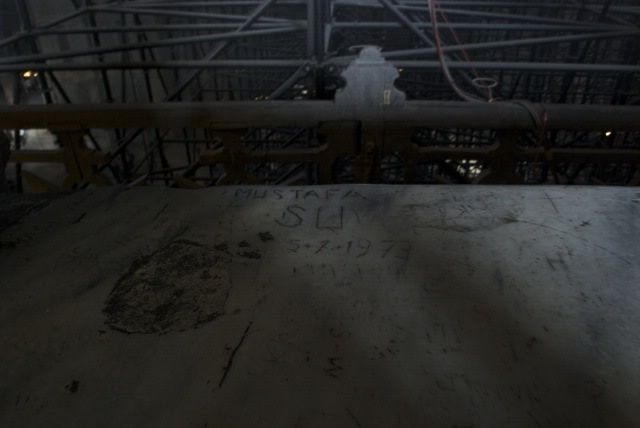 and finally the famous Deësis mosaic. Fascinating, beautiful, and eerie at the same time. His eyes follow you no matter where you go....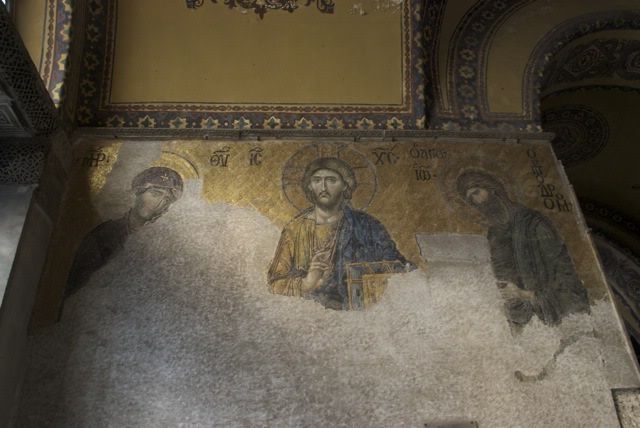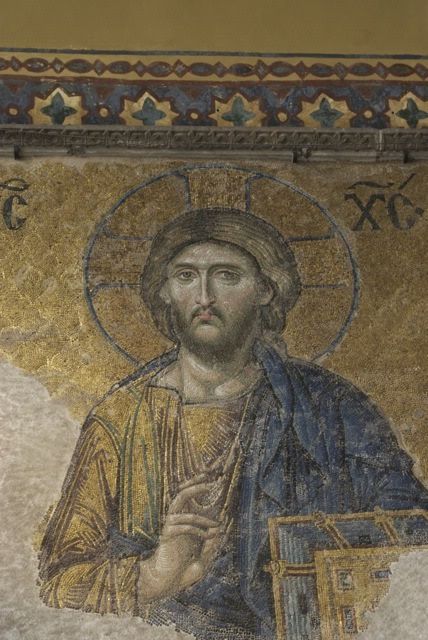 I was pretty satisfied. Two trips to the Hagia Sophia in one year, hundreds of photos, a life time of memories.
My next stop was the Basilica Cistern. It is another site that I had already been to, but I was so fascinated with I had to go again. It was also built during the reign of Justinian in the 6th century and was used to store water brought into the city via the aqueducts.There are 336 columns for support. The bases of some of the columns were recycled Medusa heads. The rest are mostly Corinthian and Ionic. The cistern could hold 80,000 cubic meters of water.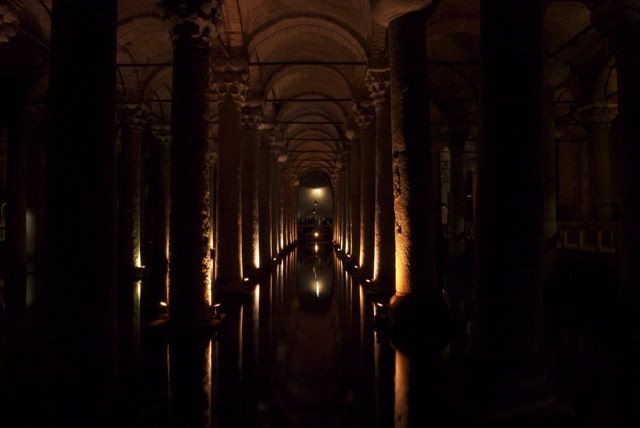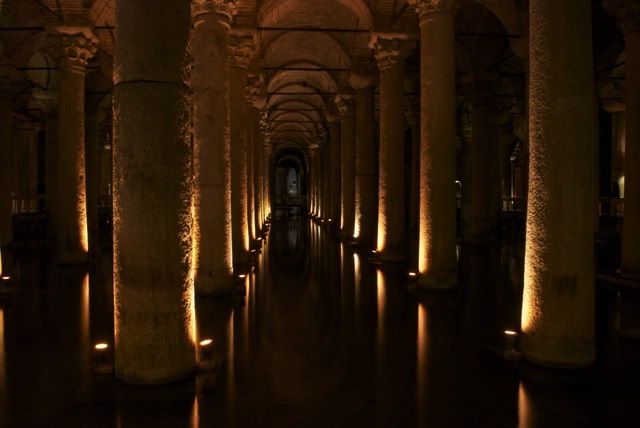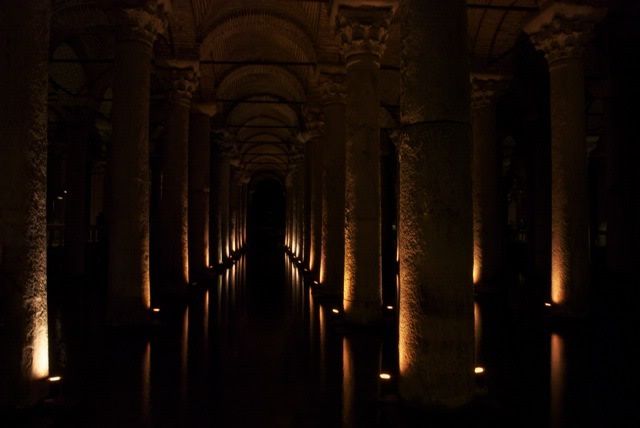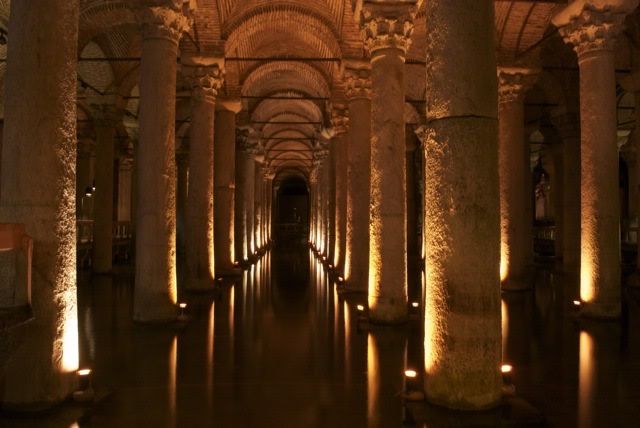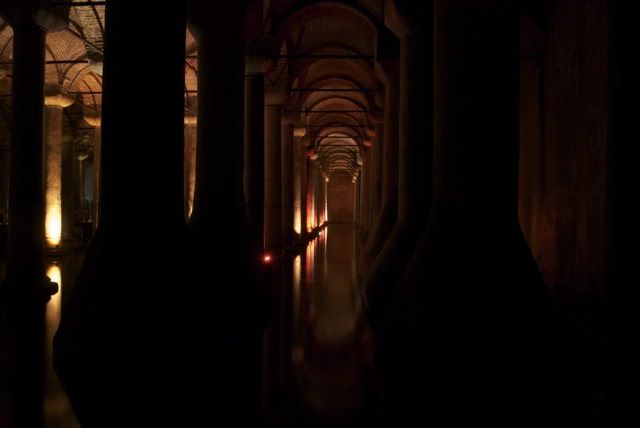 Medusa!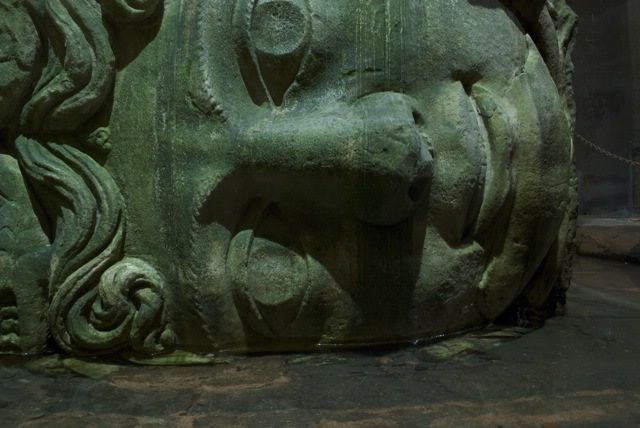 The rest of the day I just spent walking around Sultanahmet, the Arasta Bazaar, up toward the Grand Bazaar. As I sat in Sultan Ahmet square I was engaged in conversation by a gentleman named Domus, who owned....you guessed it...a carpet shop. We chatted for a while and then I decided to walk on but that wasn't the last of Domus. I ran into him two more times that day. Yes, three. At one point I was sure he was following me around! The second time I ran into him he was with a friend, who's nameI cannot remember, but I do recall he was a tour guide. Knowing what I know about tour guides I asked him to show me his badge, and he did. They were going to lunch and invited me, so I accepted. We had döner, I talked a lot, the tour guide talked almost as much, and Domus said little. The lunch was delicious and when we left I took out my money to pay but they had already paid for me! Domus then insisted on showing me his shop, the Arasta bazaar, bought me tea, directed me to the mosaics museum and was very polite.
Domus' carpet shop is on the corner here...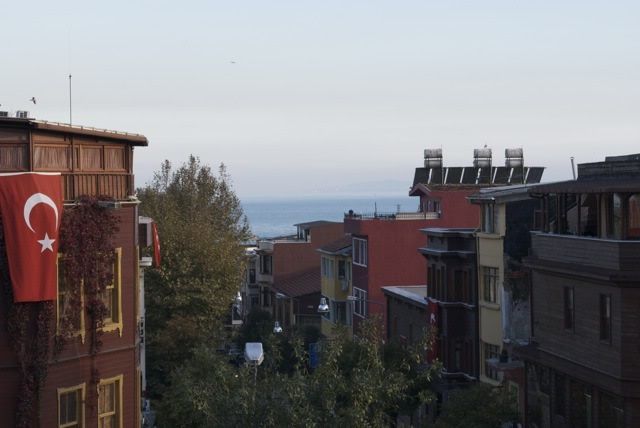 Cafe were I had tea...
Arasta Bazaar....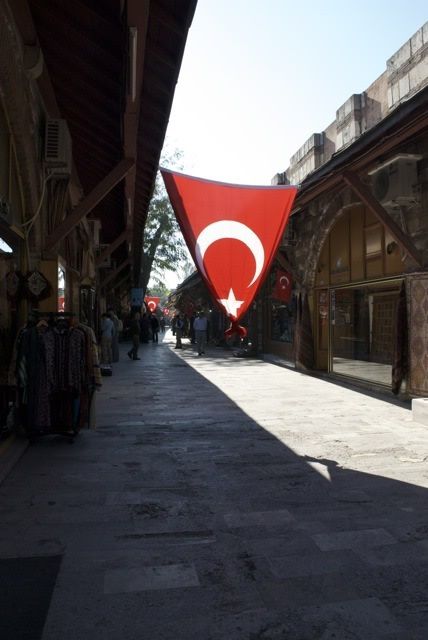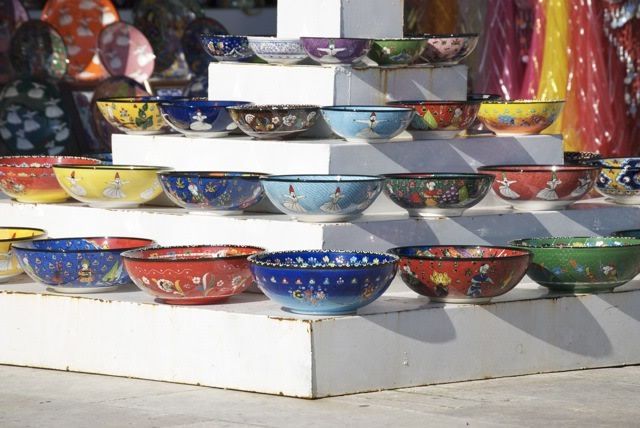 That wasn't the last though. I ran into him one more time and he seemed just a little over zealous about spending time with me, so I told him I really had to get back to my hotel and pack for my flight home. He acquiesced, told me he was pleased to meet me and went on his way.
I didn't really have to go back to my hotel. I just preferred to spend the rest of my time wandering and taking my last few hours in solitude. I really did not want to leave this city. It does and will always have a special place in my heart as will the entire country of Turkiye. People have asked me to explain why I love it so much and I cannot put my finger on it. It is my spiritual place in a way that no other place has ever been.
I took one last walk up toward the bazaar quarter, taking in the sights and sounds, and smells...roasting kestane, nargile, sweets baking, coal burning. One thing I love seeing is all the beautiful headscarves the women wear. It's a touchy issue, teh headscarf. Some think these young women are forced to wear these, but I don't see that. I saw many of them, mostly being worn by young girls. They all look like they are enjoying life to the fullest, whether sitting with a lover in Gulhane Park (which seems to be a haven for young couples) or walking arm in arm down the street. They don't look oppressed to me. I say if they choose to wear this what difference is it from a young American girl choosing to wear the latest "in" fashions? This is not about fanaticism, it is a choice.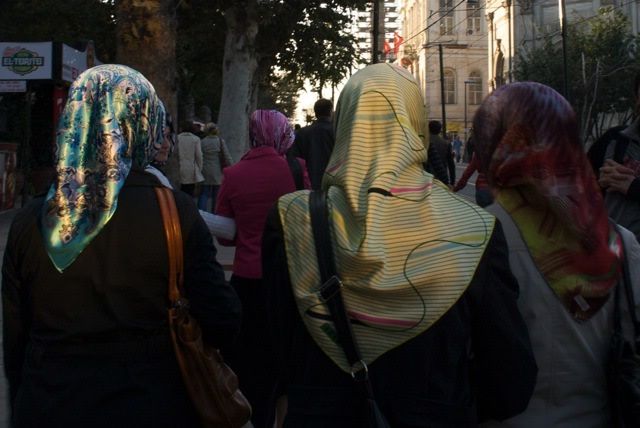 I'll leave you with just a few evening street scenes.....evening is the best time in Istanbul, especially when the weather is cool....it's an easy time to take it all in....it brings a sense of nostalgia to me. I will be back, my Istanbul!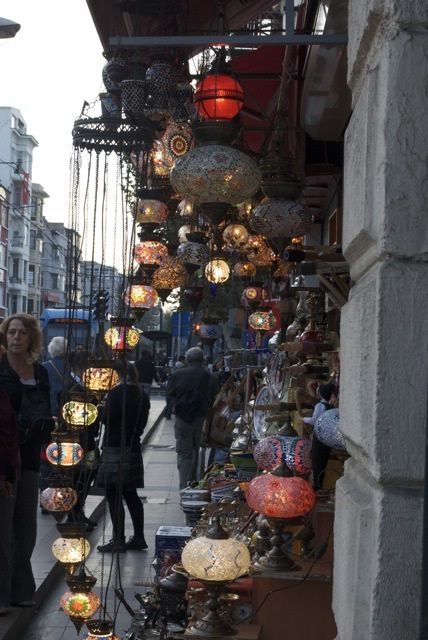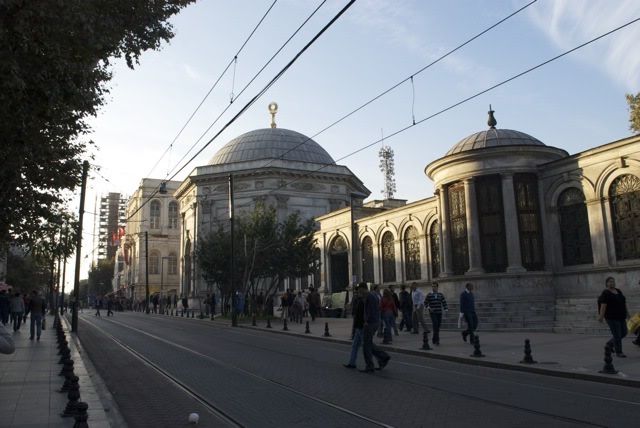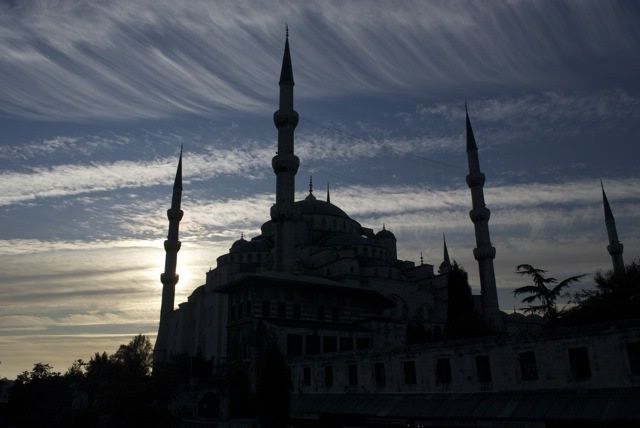 Posted by oceanchild 08:39 Archived in Turkey