So much to do in this wonderful city!
28.10.2008 - 28.10.2008
Where did I leave off? I think I was down near the Golden Horn, on a beautiful, crisp, clear, sunny day. One of the things that I love so much about being in Turkiye is hearing the call to prayer. Whether it is across the hilly countryside or amongst the hustle and bustle of İstanbul, it moves me when I hear it. As I walked down toward the water I was blessed to be right next to a mosque when call to prayer started. It is quite loud when you are that close, but I still find it beautiful to my ears even if it does leave them ringing for a while afterward. I have heard others refer to the call to prayer as an assault on the ears. I am not sure what they are hearing, because to me it is anything but. That said, I would love just once to hear and actual live muzzein do the call to prayer rather than hearing it broadcast over a loudspeaker.
I simply stood there, probably looking like an idiot to all the locals, enjoying the moment....
After enjoying that I walked on down to the Golden Horn. It was quite crowded that day. The balik ekmek boats seemed to be doing a brisk business. I would have to come back and check them out when I was hungry.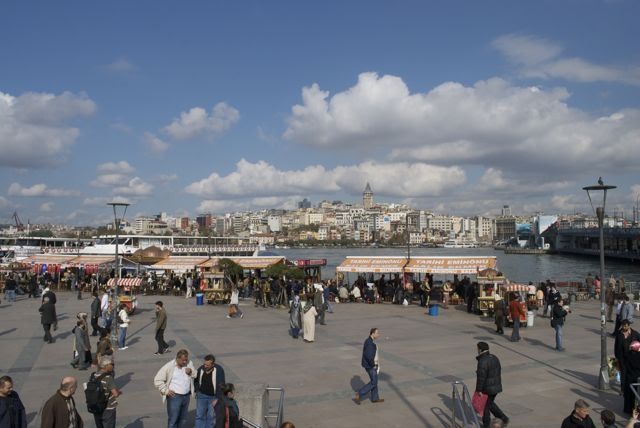 In the mean time I decided to walk across the Galata Bridge, after a got a few shots in of the view from the Eminonu side. You can see the Galata tower that sits above everything.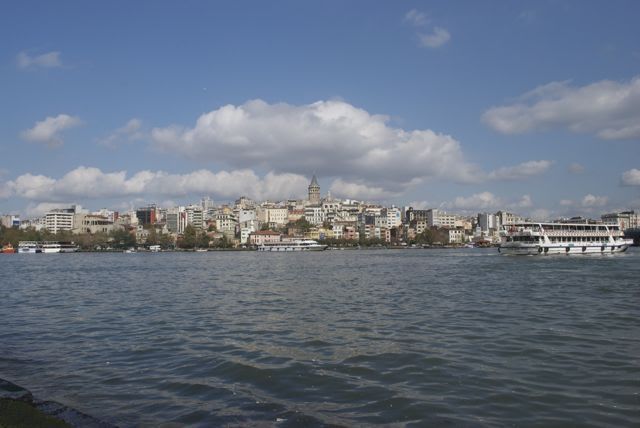 The number of fishers on the bridge is quite a site. Fishing poles dangle one beside another all the way across on both sides. Not sure if people fish for food or fun, but there sure are a lot of them!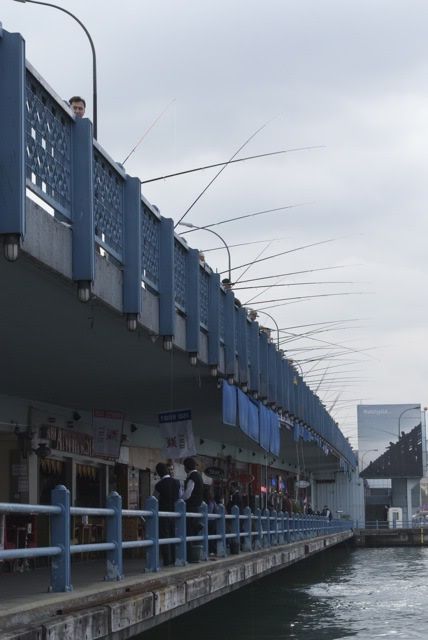 I got across the bridge and wasn't quite sure where to go or what to do, so I found a little square with benches and rested for a while. I thought about walking to the Galata tower, but decided my feet weren't up to it at the moment. One of these days I will get to the Galata tower. I did get some amazing views of it from the middle of the Galata bridge.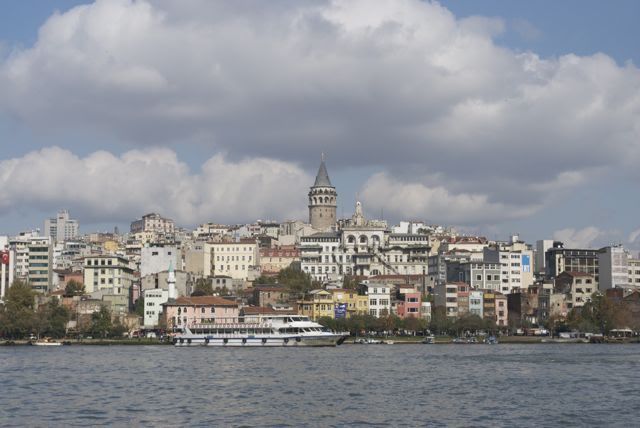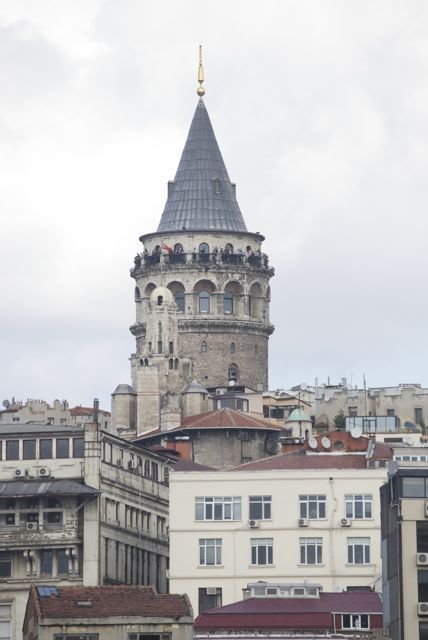 Besides, I was getting hungry and wanted to head back across for some of that balik ekmek! So I walked back across on the other side of the bridge, the side facing toward Asia. Yep, that's a whole 'nother continent over there! One of these days I will explore the Asian side of Istanbul maybe.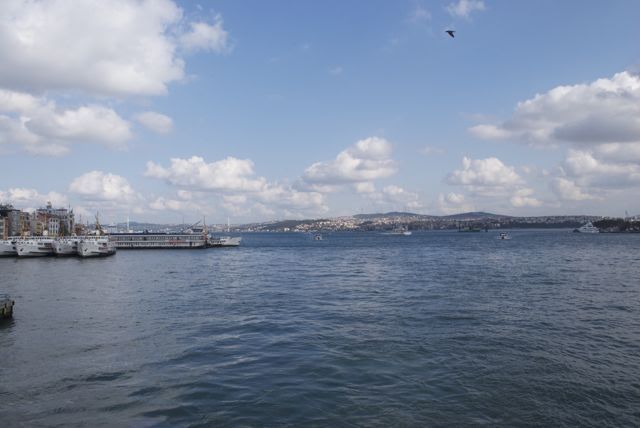 Back to that balik ekmek. What fun it is to watch the men cook the fish, yell their line "balik ekmek! Buyrun!" People seem to flock to the boats to get such a simple meal. A piece of fried fish carelessly slapped into about half a loaf of bread with lettuce, tomato, and onion. The tiny tables you sit at provide the condiments - lemon juice and salt. Not a bad meal for 5 YTL and it's something you just have to do when in Istanbul. Various vendors are set up around the boats selling the traditional salgam, otherwise known as pickle juice. It is the juice from a turnip and has an interesting taste to say the least. I tried in on my last trip in Southern Turkiye. I have to say I haven't drank it since. I'll stick to seftali (peach juice) or visne su (cherry juice). I stat there right by the water and enjoyed my balik ekmek. This is the life!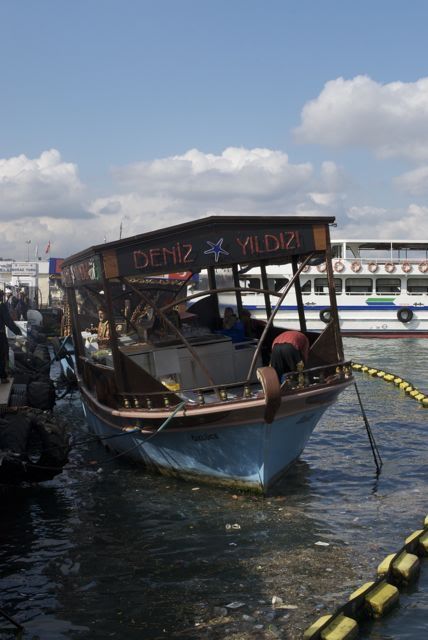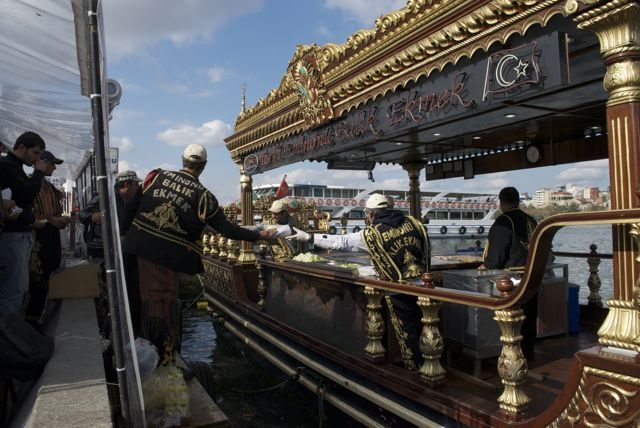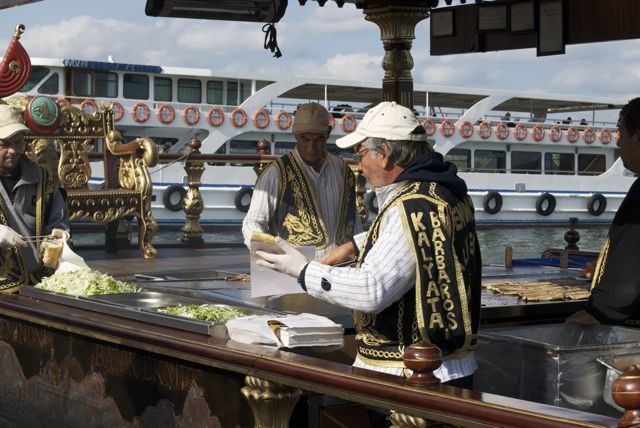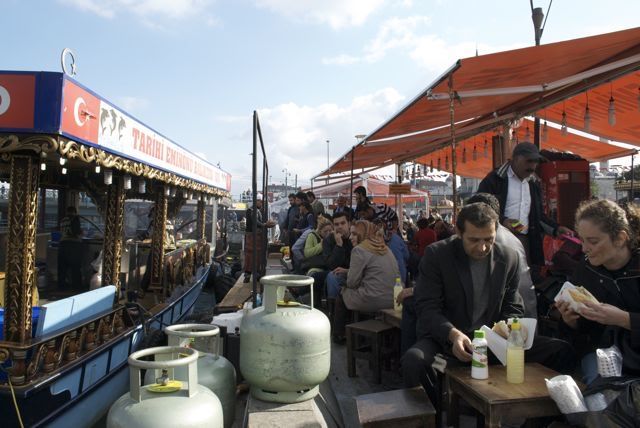 Yum....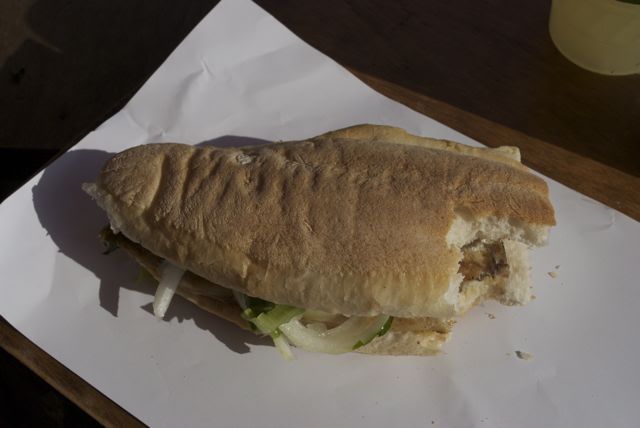 Tummy full I passed up all the other wonderful treats being sold down by the water. You surely won't go hungry in Istanbul if you have a couple of lira in your pocket!
Roasted corn....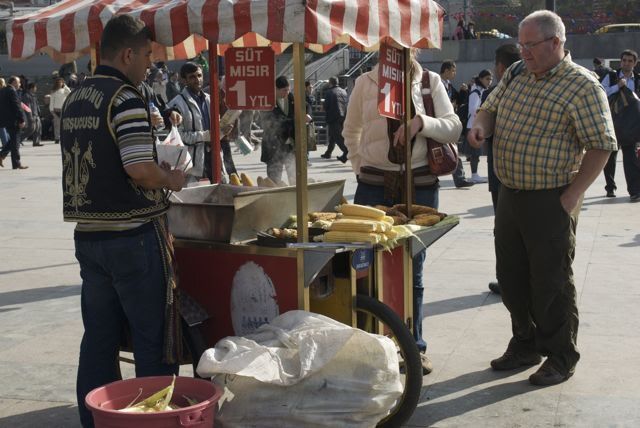 Kestane...or chestnuts as we call them....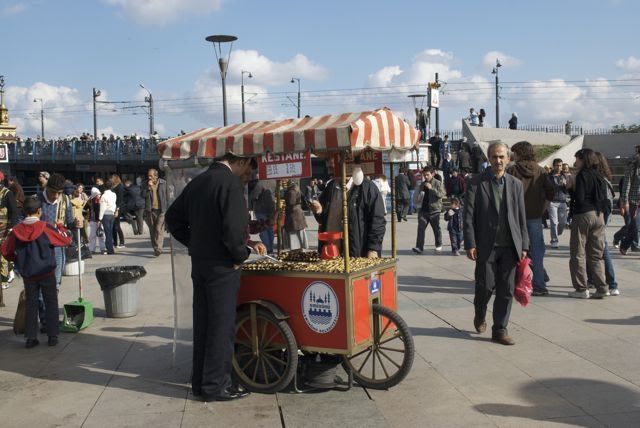 Simit, round bread covered with sesame seeds. Very similar to the Greek koulouri...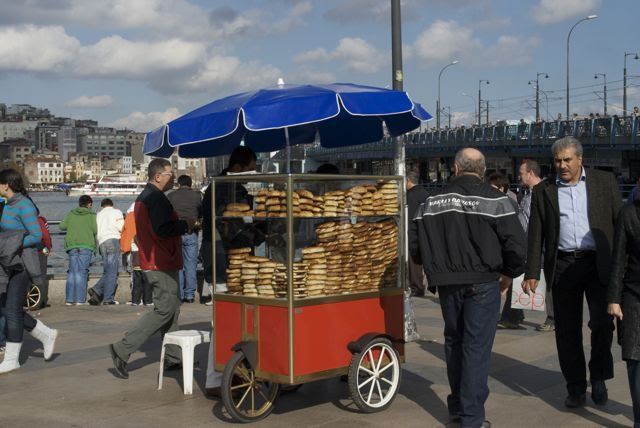 and of course, pickle juice...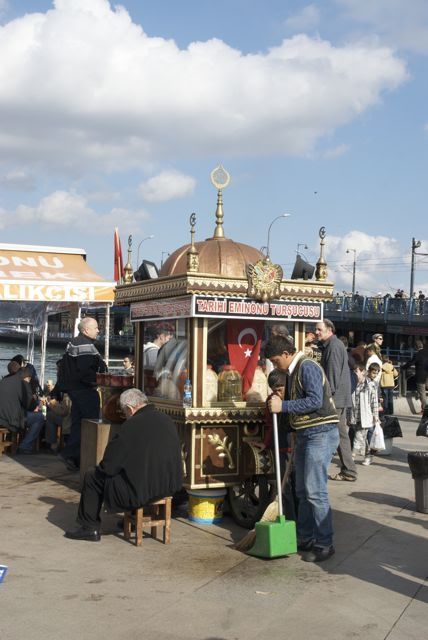 It was time to head off in a direction I had never walked. I stayed along the water thinking it would probably take me somewhere near Topkapi palace. I had planned on going to the Archaeological museum, so that was an ideal direction to head. I got a different angle of the Yeni Camii, or New Mosque. I can't believe I didn't even think to go inside this one! Twice I've passed that opportunity! The second photo is taken from the other side of the street.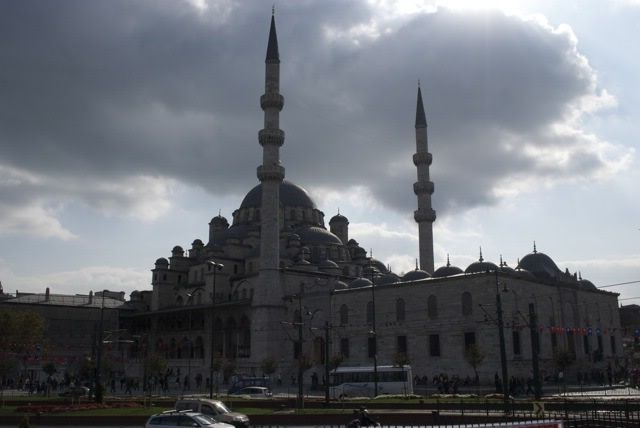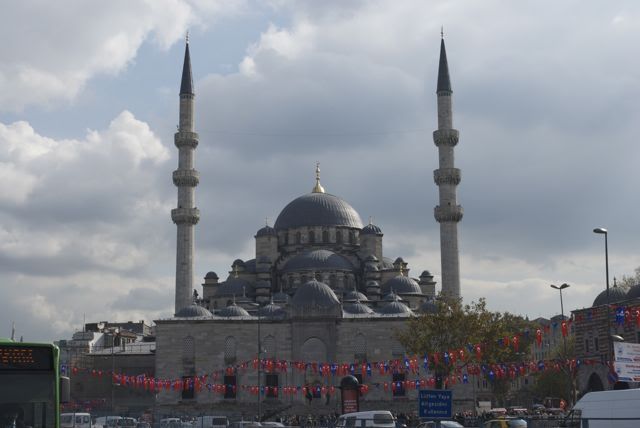 Further on up the road as it rose above the water I crossed over to Gulhane Park. I bit further up I could see the Bosphorus Bridge that connects Asia to Europe. Oh how well I remember crossing that bridge with Yucel at the helm back in January. Mehmet playing Billy Jean by Michael Jackson. Strange, I know, but he didn't have Istanbul on his iPod.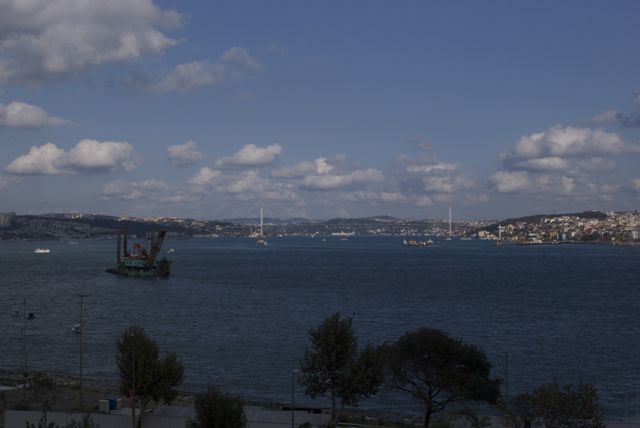 Gulhane Park is a very pleasant spot in the midst of a busy city. It's quiet and green and seemed to be full of young couples in love the day I walked through there. It sits right next to Topkapi Palace and is quite a large space. I sat for a while visiting with a cat before I decided to find the entrance to the Archaeological Museum.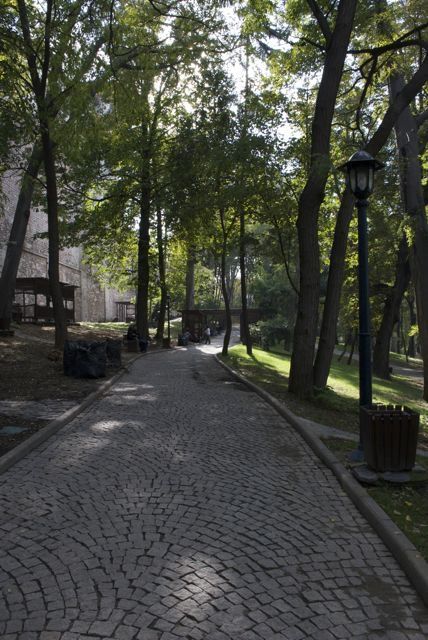 The Archaeological Museum is quite extensive and one could spend hours in there if they wanted. I think I must have spent at least 2, if not more. I won't bore you with the myriad of photos I took while in there, but one of the more famous pieces is the Alexander Sarcophogus. It is quite a work of art! It features a relief sculpture of the Battle of Issos which was won by Alexander the Great. The sarcophogus dates to the 4th century BCE.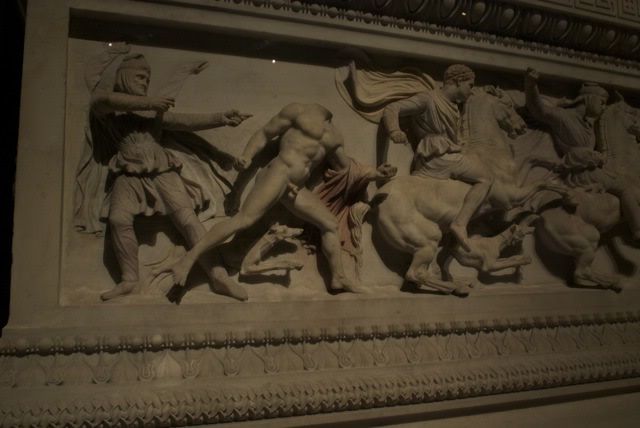 When I emerged from amongst the wonderful sculptures, sarcophagi and other artifacts I noticed a plethora of cats gathered in the courtyard. One young kitten took quite a liking to me and I was sure he was going to ride my shoulders home! He was quite the cute!
Of course he changed his mind as soon as one of the workers showed up and started talking to the cats. I'm guessing they must care for them. That's good, at least someone does. I'm sure the cats keep vermin down at the museum as well.
Going to feed the cats....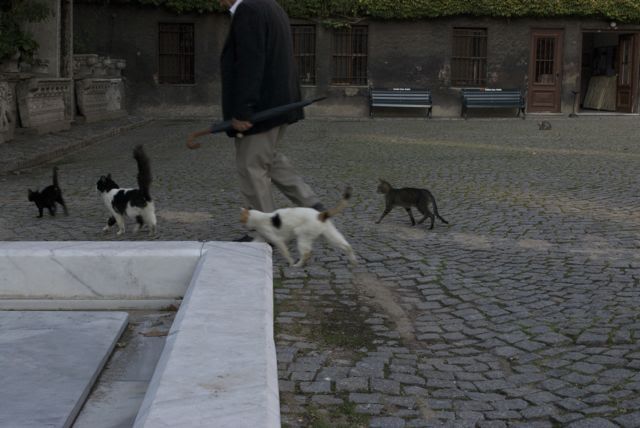 I left the museum and walked up the street toward Hagia Sophia because I had seen some shops there earlier and what happens? I get sidetracked by a curious carpet salesman, who of course wants to sell me a carpet! He was very nice though, invited me into his shop even after I told him I couldn't buy a carpet, and gave me tea. We chatted for quite a while as he tried to convince me to buy a carpet. The shopkeepers seem a bit more desperate this time than they did earlier in the year. Several had told me that the economic crisis had hurt their business over the summer. It's a shame. I can't remember his name, I have it written somewhere because of course he gave me his card so I could buy a carpet next time I come back!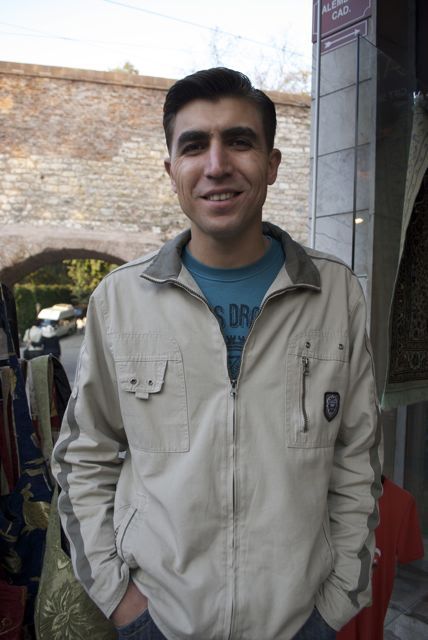 I did walk up to the Sultan Ahmet square so I could get a photo of the Hagia Sophia in the sunset. Notice it is adorned with huge Turkish flags. This is in preparation for Republic Day, which would be celebrated the next day.
With my walking done for the day I headed back to my hotel because I had plans for the evening. I was going to go treat myself to the full blown service of one of the Turkish baths! Last time I went to the Cağaloğlu Hamami, which is on the list of 1000 places you must see before you die. This time I decided to give Çemberlitaş Hamami a try. It's best to do a Turkish bath at the end of the day, because afterward you are worthless. Just what is a Turkish bath? Heaven! Ok, it's not for the shy, or those who are bothered by seeing strangers in all their naked glory. Once you have chosen the service, you can choose from self service (just the use of the facility), one massage (they basically exfoliate you) or the full treatment. I chose the full treatment. This involved getting undressed, wrapping yourself in a linen towel and heading to a large room that has a round heated marble slab in the middle surrounded by many fountains with running hot and cold water. This is called the warm room. You lie on the slab, relaxing until your attendant is ready to scrub you down. The first scrub is exfoliating. The attendant uses a mitt to scrub your body, getting rid of all that dead skin. Gross isn't it? She then rinses you with warm water. During all this time you are on the heated marble slab. Once she has rinsed you she takes this pillowcase (that's what it looks like anyway) and dips it in soapy water, then fills it with air and squeezes it so that a wondrous amount of soapy suds envelops you! She then massages you from head to toe, redoing the suds ritual as needed. When I say head to toe, I mean head to toe. Almost. It isn't until she is finished with this that she leads you to one of the basins where you are instructed to sit and she washes your hair and does your shoulders. Once you are done here she leads you out for the oil massage. When I went to Cağaloğlu they did this right there in the bath, but at Çemberlitaş they have a separate room for the oil massage. And was it wonderful!! Once you are done with the oil massage you can go back into the warm room to lie on the slab or bath if you choose. You are free to stay as long as you like. Once I was done, I was totally worthless. But I must have looked relaxed because on my way back to the hotel a shopkeeper stopped me and said "you've been to the hamam!"
Yes I had..and it was every bit as wonderful as I remember. I think I slept better than night than I had in a long time! One more day left in Istanbul.
Posted by oceanchild 09:33 Archived in Turkey