Just wandering the city
28.10.2008 - 28.10.2008
If you want to know what I liked best about my hotel in İstanbul I would have to say it was the fluffy down comforters. Ahhhh….it makes a 3 star hotel seem like a 5 star joint! What luxury to cuddle under fluffy comforters after a cool raining evening walk in the city. Sweet dreams indeed!
My second day dawned bright and promising. There is so much to do and see here. Of course I had seen much of it the last time so I wanted to choose wisely and venture out a bit more this time. I made the choice to just see where my feet would take me and save the sights around Sultanahmet for Wednesday. It wouldn't matter how far I ventured or what time I got back like it would on Wednesday.
My first stop was the Sultan Ahmet Mosque, often called the Blue Mosque because of the beautiful blue Iznik tiles that make up a large part of its decor. This is probably one of the most well known mosques in the world. I think the Hagia Sophia often overshadows it in visitor's eyes - it never seems to be quite so busy - but the Blue Mosque certainly is no less of an architectural wonder. Sitting across Sultanahmet square from Hagia Sophia the two seem to rival each other. There is nothing like standing there between the two, gazing back toward each other as symbols of the history of İstanbul, the glory of the Byzantine Empire and the rise of the Ottoman Empire.
The Blue Mosque was built between 1609-1616, commissioned by Sultan Ahmet I. It was a controversial project because of its six minarets, which rivaled the architecture of Mecca. No doubt it is a sight to behold both inside and out.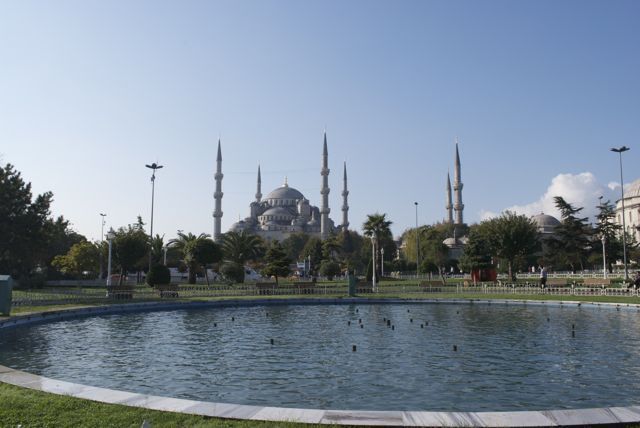 Viewing the domes from the courtyard below (taken later that evening)….
In the evening sun…..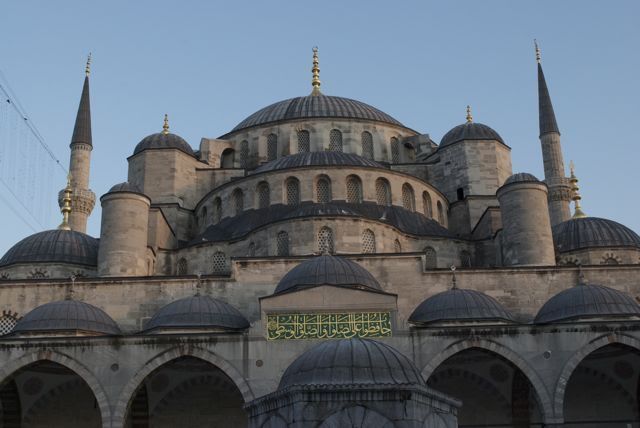 The entrance from the Hippodrome side...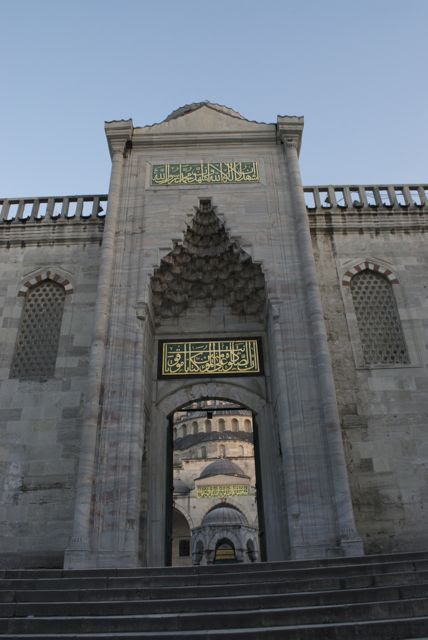 Covered walkway around the courtyard…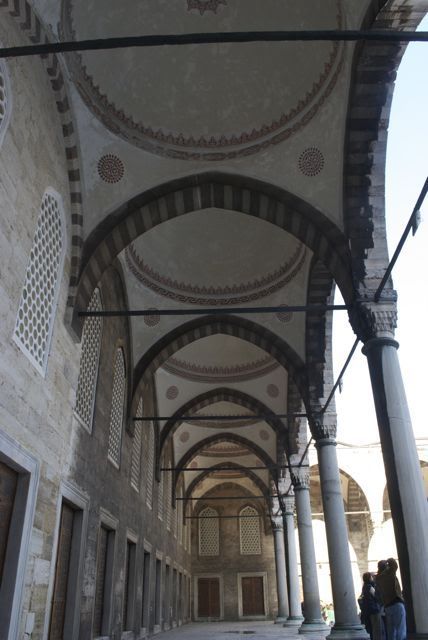 When entering mosques it is a must to remove your shoes. Here they give you a plastic bag in which you can place your shoes and carry them with you since the entrance and exit are on opposite sides of the prayer room. It is requested that women cover their head, although many visitors apparently do not care about this request. The day I visited I was the only woman with her head covered out of about 100 tourists – at least half of those women. I'm also surprised the people talk as loudly as they do in these glorious places of worship. People were praying, yet the tourists act as if this is an attraction at Disney World or something. I always feel it appropriate to respect the customs of a culture myself. I suppose much of the world does not agree with me. Needless to say, it is still a magical place on the inside. The beauty does astound you.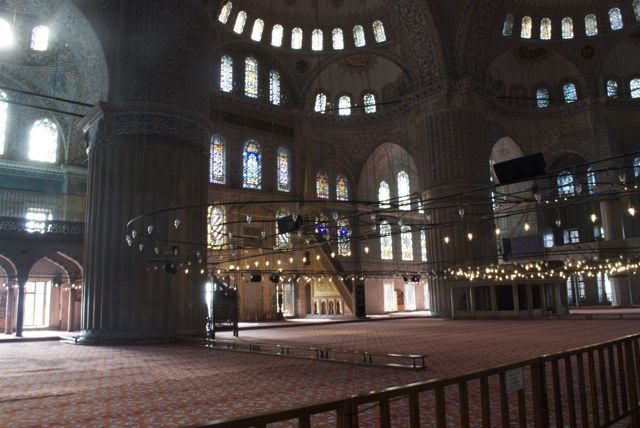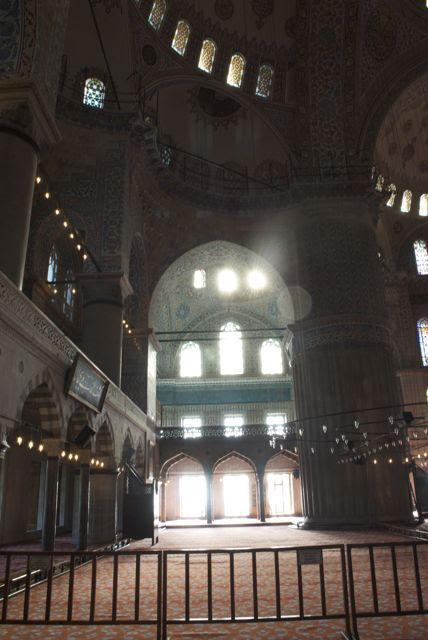 Look at the size of the columns. These are required to hold up the massive domes.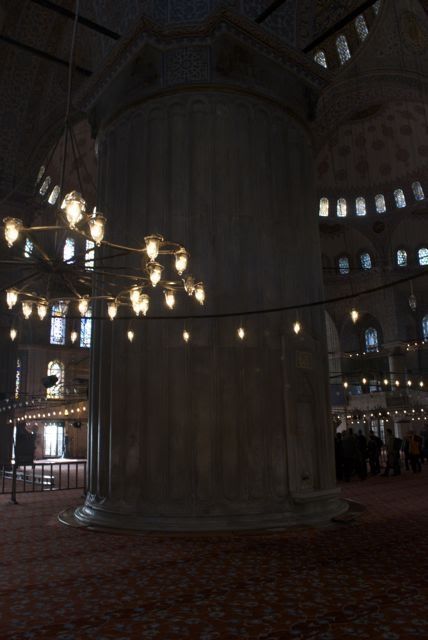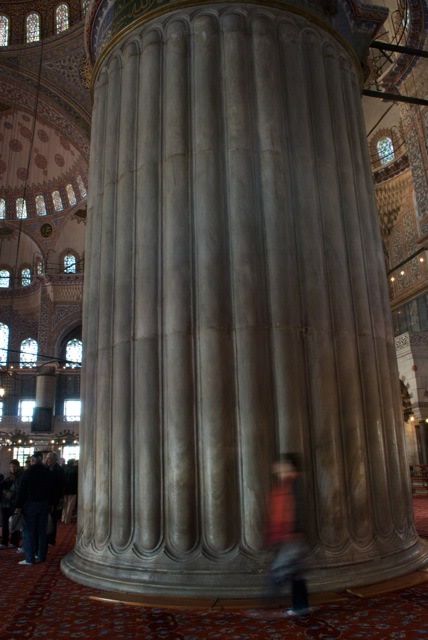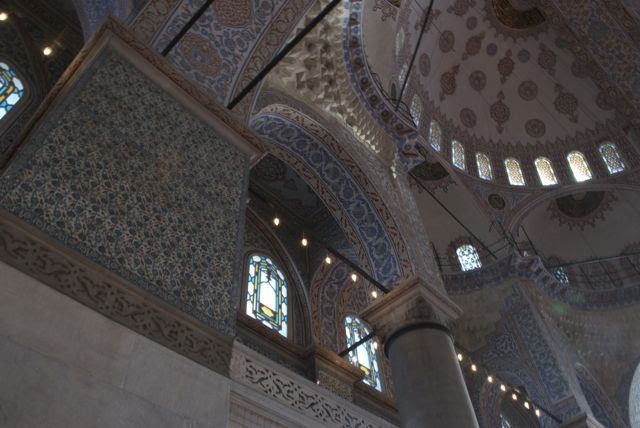 The blue Iznik tiles that give the mosque its popular name…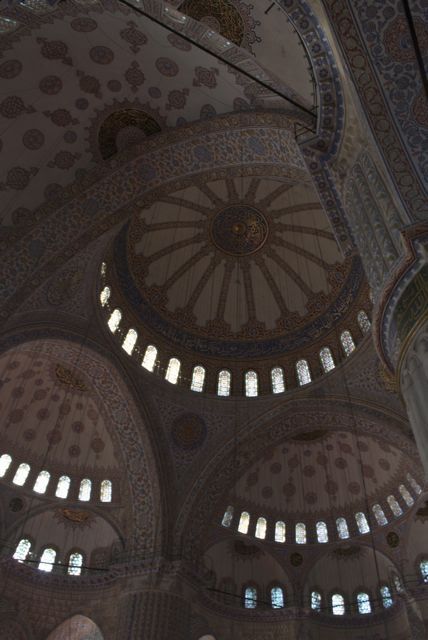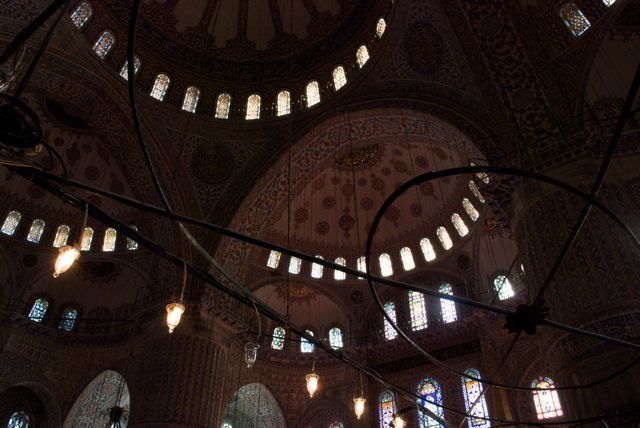 I will always be astounded by these architectural wonders! I left Sultanahmet and headed up toward the Bazaar quarter. I am not sure I had a destination in mind, but I did want to seek out Constantine's Column. So I headed up Divan Yolu Cadessi (street) toward the bazaar quarter. I'd say this was one of the main "tourist" streets in the area. It is filled with shops and cafes that seem to cater to tourists, including the famous Pudding Shop Lale Restaurant. Opened in 1957, it was the one place in the area that tourists could congregate to find information on traveling within Turkiye and to Asia. The Pudding Shop had its heyday in the 60's and 70's I believe and was a must visit for the hippie crowd. I had planned to eat there but was never hungry when I passed it. Never fear, we dined at the Pudding Shop in January, so I haven't missed out.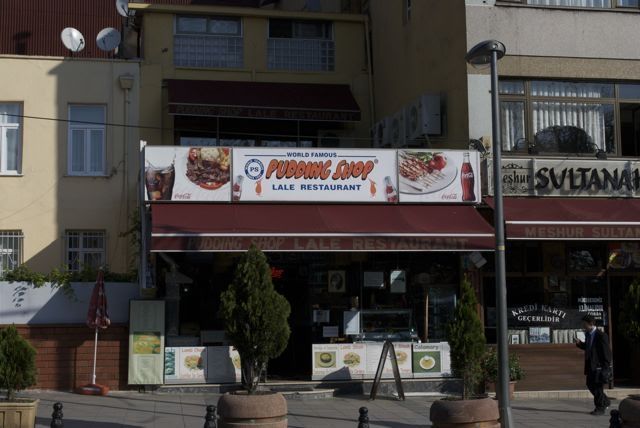 A short walk up and you find a few American names in eateries. None other than McDonalds and Starbucks. For some reason now I desire to call soft serve ice cream from McDonalds "McDondurma", such a catchy name. No, I didn't stop and have McDondurma or Starbucks coffee (sorry Linda, I should have had one in your honor).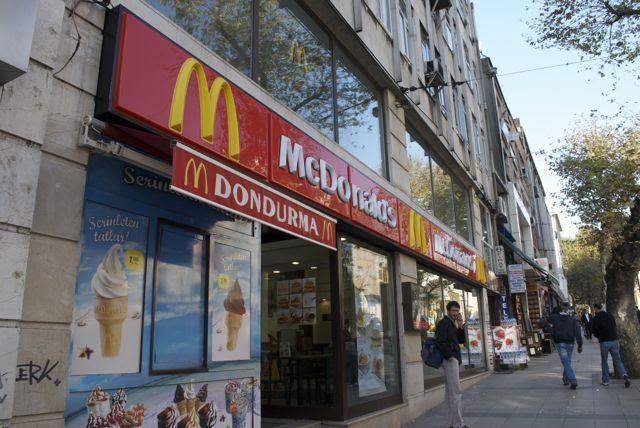 I finally made it to where the map said Constantine's Column was located. But where was it? I know I had been by here a dozen times it seems and I never saw it? How could I miss it? Easy, it is completely obliterated from sight by massive amounts of scaffolding. The column was erected in 330 by Constantine the Great, you know, the guy Constantinople was named after, so it has been around for a while. It was the centerpiece of the Forum of Constantine's and a large statue of Constantine stood atop the column. The statue was toppled during a hurricane in 1106 and subsequently replaced by a large cross. The cross was removed during Ottoman reign. A fire in 1776 scorched the column and earned it it's current name "Çemberlitas", meaning burnt stone. Wow, a lot of information for something I can't even show you!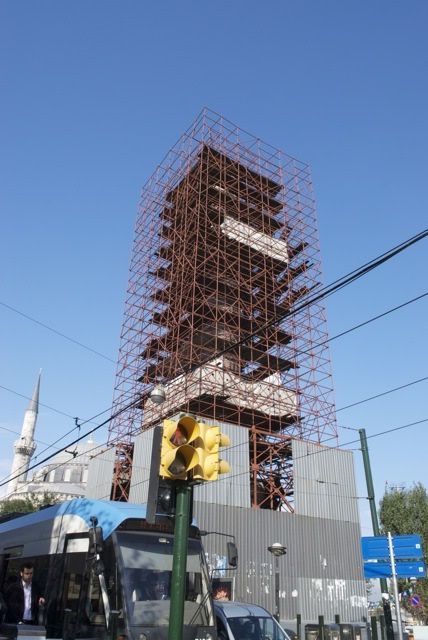 Çemberlitas Hamami is located right next to the column. A hamam is a Turkish bath and there are several in the city. It is one thing that I say you cannot miss when visiting. More on that later though. I passed on by the column and continued up the street toward the university. One thing I like about Istanbul is you meet people. People talk to you, mostly because they hope you are going to buy something from them, but I also think they are curious. My experience in Istanbul brought many conversations with shop owners, always men, who were intrigued by a woman in her 40's going back to school and traveling alone. But some of them just seem to want their photo taken. I walked by an indoor mall of sorts and decided to check it out. I had been looking for a pair of boots and thought maybe I would find some. As usual one of the shop keepers said hello and when he saw my camera asked me if I would take his picture. Of course I asked him if he would mind if I put it on the internet. He laughed and said sure, maybe he would become famous! So, I took his photo and another shop keeper that he kept joking about being too fat. He said "put his fat belly on the internet!" What characters!
It wasn't long after I left the "mall" that I had an old gentleman stop me and say hello. He then asked me if I would come back with him to his sons shop for tea. You know, a lot goes through your mind at this point. Like "is he trying to possibly find a wife for his son?" and "why me? Why does he want me to go back to his son's shop?" "Do I look like I can buy lots of things?" Maybe it's my camera. I surely an afford lots of carpets if I can afford my Nikon. I'm sure his son sold carpets. I'd bet 100YTL on it! I told him I was sorry, I had too many places to go and couldn't have tea at the moment. He was kind enough to let me snap a photo however.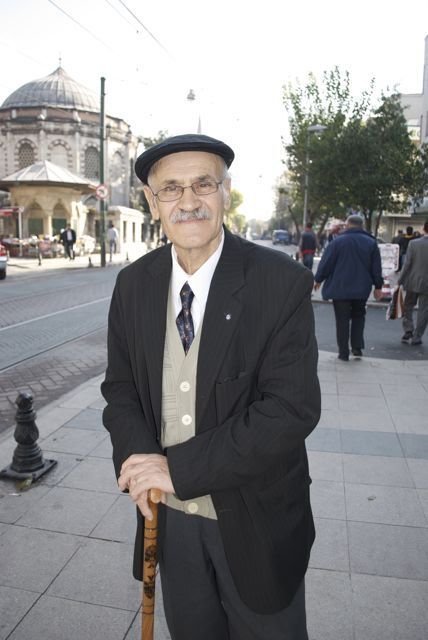 I was getting a bit tired so I stopped and sat down on a curb near the university. There was a really precious cat there that soaked up every bit of attention I could give it. Cat you say? You saw cats in Istanbul? Where are their photos? Yes, I saw cats in Istanbul, lots of cats. There photos are plentiful enough to fill a blog entry devoted just to cats. So fear not, I have plenty of cats! As I sat there and played with this cat a young man came and sat next to me. I am not sure but I think his English was limited to "thank you" because he kept repeating the phrase over and over as he smiled at me. At one point he even pinched my cheek, a bit too hard at that! He played with the cat and said thank you many times over. I finally had to capture the moment and he was gracious enough to oblige. He did know goodbye, because he said it when I left, along with thank you.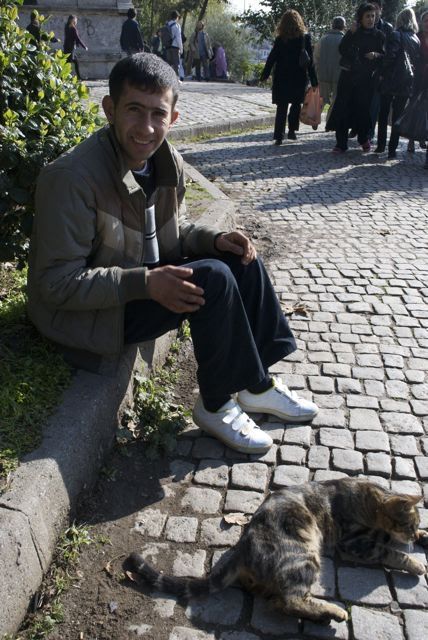 I stopped and looked at the map and noticed that it really was not that far to walk to the Süleymaniye Camii, or Suleyman Mosque. In January it was undergoing renovations and I was curious what headway had been made. Maybe I could see the inside this time! So I headed in that general direction. Couldn't help but think of Joanna along the way when I saw a Papadapoulos in Turkiye!!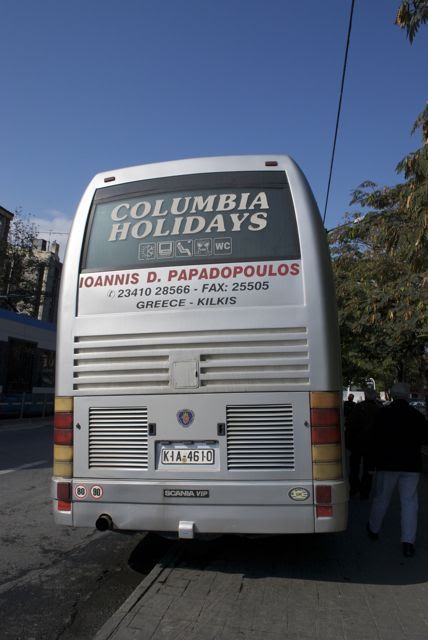 I made my way through back streets and alley ways, around the university, across torn up sidewalks being repaired, to dead ends and back tracks! Going off the beaten path always yields something of a treasure though. I just happened upon the Kalenderhane Camii. Once an Eastern Orthodox church, Kalenderhane was converted to a mosque under Ottoman rule. It was so named because it was used by the Kalenderi Dervish sect.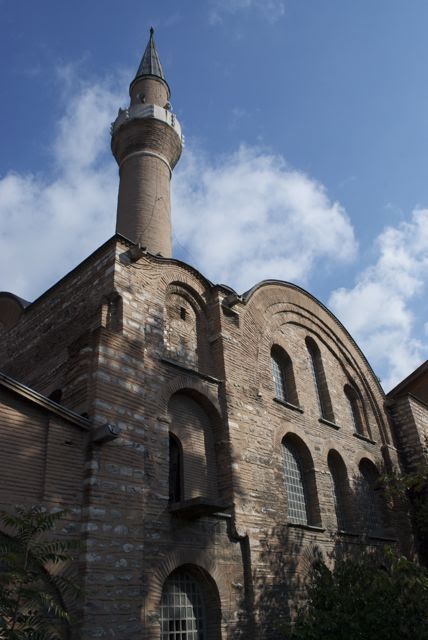 Leaving Kalenderhane mosque you can walk through the eastern most section of the Valens Aqueduct. This section of the aqueduct, however, does not do the structure justice. Much of the original structure still stands after 15 centuries! The best section is viewed via Atatürk Bulvarı, a highway that passes through the arches. I thought I had a photo from my last trip, but alas I don't seem to have it. Google Valens Aqueduct and choose images. You won't be disappointed. Unfortunately getting to it on foot was not feasible for me, so I can't share it personally. Except for the small bit that sits near Kalenderhane.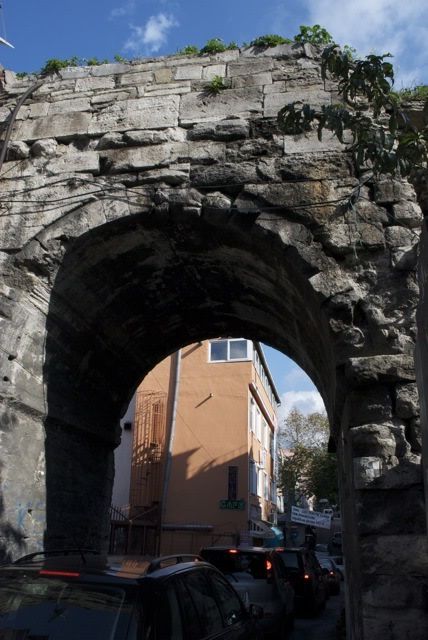 A bit of a walk up this street and you see Suleyman Mosque looming over the landscape!
As I get closer I can clearly see that it is still under renovation. I understand the project is extensive. Unfortunately it is still not completely open as the inside renovations are still underway. I did explore around it and into the tomb of Suleyman the Magnificent. The mosque was designed by an architect named Minar Sinan and is considered Istanbul's greatest Mosque, although the Blue Mosque seems to overshadow it simply because of it's proximity to the Hagia Sophia. Suleyman Mosque was built in 1557. Next to the mosque you will find the tombs of Suleyman and his sultana Roxelana. The courtyard is a very relaxing and peaceful place when construction is not going on.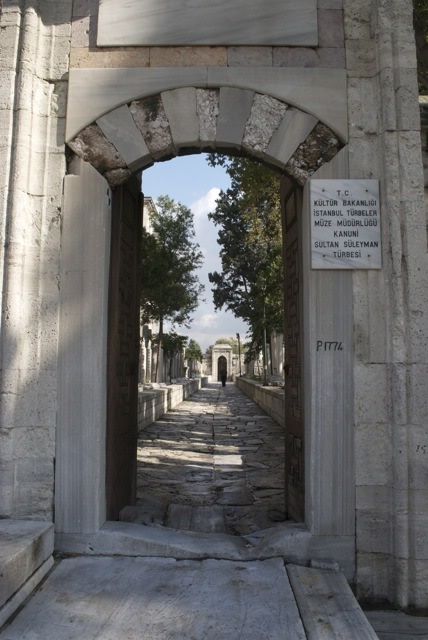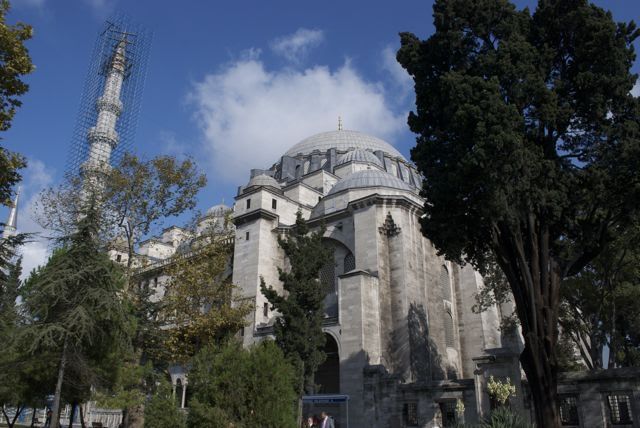 Covered walkway around Suleyman's tomb...
The tombs...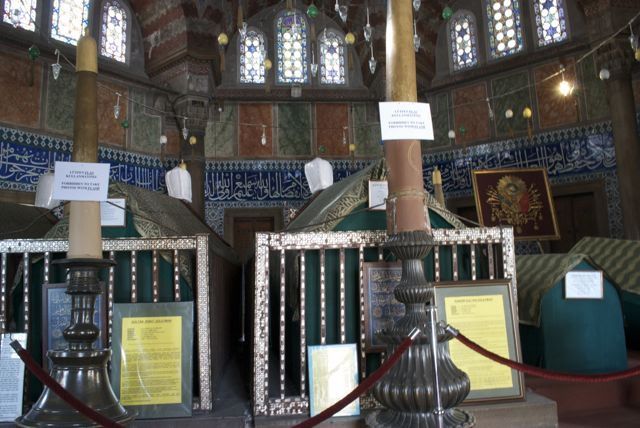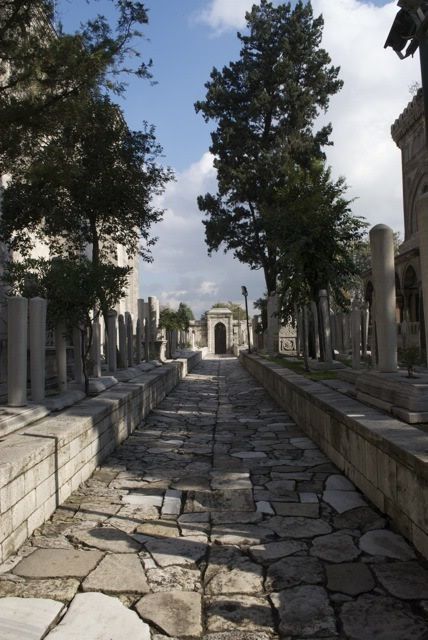 The buildings that surround the mosque were once various medreses (theological schools), soup kitchens, caravansarai, and hamams. One soup kitchen is not a restaurant that serves Ottoman cuisine and of course Turkish tea! I sat and had a couple myself as it was a cool day with a slight breeze. Tea is the answer to most anything, especially Turkish tea. Two lumps of sugar please!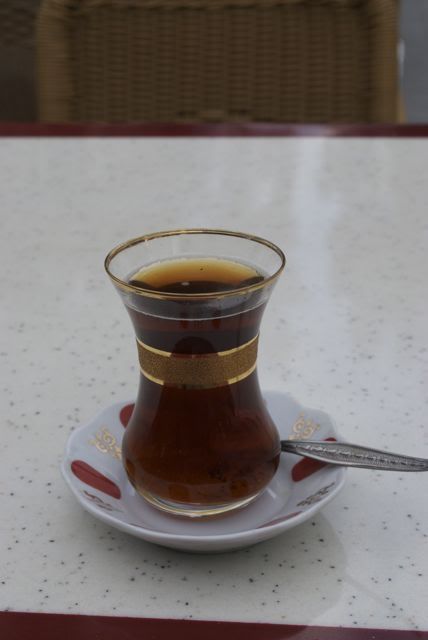 Filled with my tea I walked around the other side of the mosque to discover some more of the architecture.
The streets around Suleyman become narrow and hilly since it is located on one of the seven hills of Istanbul. I knew walking downward to the north would bring me to the Eminönü district of the city and the Golden Horn. You can always count on Eminönü to be bustling. It is full of life no matter what the weather. Breaking out from small winding streets onto the main street that runs through the Eminönü district.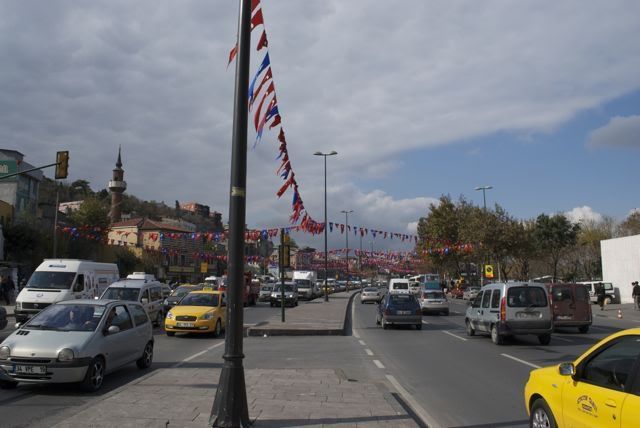 There is a lot to see and do down here. It is a major center for transportation with ferry docks, trains, trams and plenty of cars. The Spice Bazaar is situated here as well as the Yeni Camii, Rüstem Pasha Camii. By now you probably realize that camii means mosque. It has been a center for shopping since Byzantine times and not much has changed. Again it was apparent that celebration was eminent with all the flags flapping in the wind. I had spotted many larger than life flags hanging all over the city, some with Mustafa Kemal Ataturk's imposing image looking down upon what he created. Mustafa Kemel Ataturk is the father of the modern Turkish Republic. From the BBC History website:
He launched a programme of revolutionary social and political reform to modernise Turkey. These reforms included the emancipation of women, the abolition of all Islamic institutions and the introduction of Western legal codes, dress, calendar and alphabet, replacing the Arabic script with a Latin one. Abroad he pursued a policy of neutrality, establishing friendly relations with Turkey's neighbours.
In 1935, when surnames were introduced in Turkey, he was given the name Atatürk, meaning 'Father of the Turks'. He died on 10 November 1938.
The subject of Ataturk is an interesting one to say the least. He is revered throughout all the country. You see images of him everywhere, from statues to money. It is apparently illegal to insult Ataturk and as an interesting aside YouTube is now banned in Turkiye as a result of some insulting videos that were allegedly put on the site by Greeks. I can attest to the fact that YouTube is banned because I tried to look at a video someone posted and got a message in Turkish that says "Access to this site has been denied by court order" Sometimes I wish we could all just get along, and I think if it were up to the majority we would. It is a minority few who ruin it for everyone. I have seen the bickering and squabbling on YouTube between Greeks and Turks and it is ridiculous and childish. As a whole though, I think the two countries have made progress in their relations with one another.
Just a couple of the Ataturk flags I spotted...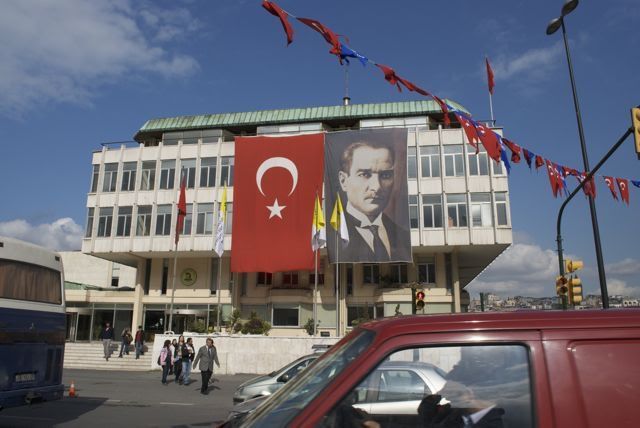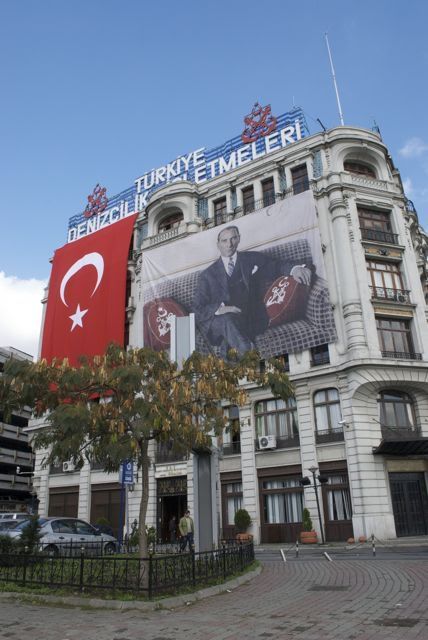 Now I realize this blog entry has went on for a quite lengthy bit. My passion and obsession for Turkiye knows no bounds. I could go on and on and on. There is much more to post, so many more photos and experiences and I'm still not even halfway through one day! Let me break this one up into two separate entries. I promise there is more to come. Stay tuned for ekmek balik, the Galata Bridge, Gulhane Park, another Turkish carpet salesman, the archaeological museum, and finally the hamam!!
Posted by oceanchild 03:03 Archived in Turkey