How I love this city even more!
27.10.2008 - 27.10.2008
Mehmet tells me that İstanbul is not Türkiye. Judging Türkiye on İstanbul alone is like judging the US on New York alone. There are so many more facets to this wonderful nation than İstanbul, I agree. Yet İstanbul has a place in my heart that will always be there I believe. It is a wondrous city fully of sights, sounds, smells, and experiences that overwhelm and excite the visitor. It is old and new, dirty and clean, bright and dull, colorful and gray, serene and hectic. It is full of contradictions!
In a word, it is magical.
I love İstanbul and to be back again I have to say was the climax of my entire semester abroad. I know many might find it strange that I chose to study in Greece, when Türkiye was where I really wanted to be. The logistics behind doing a semester in Türkiye were more than I wanted to deal with, however, so I chose the next best thing (and the next closest place).
Monday morning I woke up early to shower and catch my minibus to the airport in Izmir. I was so lucky that Fisun handled my reservation for the bus. I had nothing to do but walk to the stop, which happened to be right next to my hotel, tell the drive my name, board and we were on our way. The early morning light crept over horizon as I headed out of Kuşadasi toward Izmir. I love this quiet part of the morning. The Turkish landscape bathed in the soft morning light. Sage green of olives with gray rocks being illuminated by the soft morning sun. Minarets jutting above the small towns, sun glinting off their spires. Beautiful.
We arrived at the airport in ample time. Check in with Turkish Airlines seemed to go much smoother than with Olympic. Faster too. The flight even left on time! We were even served food, imagine that! Landing in İstanbul I saw that rain was falling outside. It reminded me of my last day here in January. I have to say I love the city even under gray skies! I had thought I would try to use the metro to get to Sirkeci, where my hotel was located, but in the end decided a taxi was easier and less stressful, although more expensive. I have to tell you that during this ride I felt like I needed to pinch myself. I couldn't believe I was actually back in İstanbul! There were the city walls, the giant Turkish flag, everything I remember. I was too stupefied with glee to even bother taking photos! I was pleased with my hotel location and the taxi ride only cost me about 35 YTL. Much cheaper than an Athens taxi ride.
This is familiar territory. I remember the pub on the corner. The small convenient store across the street. The cafe where we bought gelato. All familiar. Admittedly this photo of my hotel was taken the last day I was there...almost an after thought!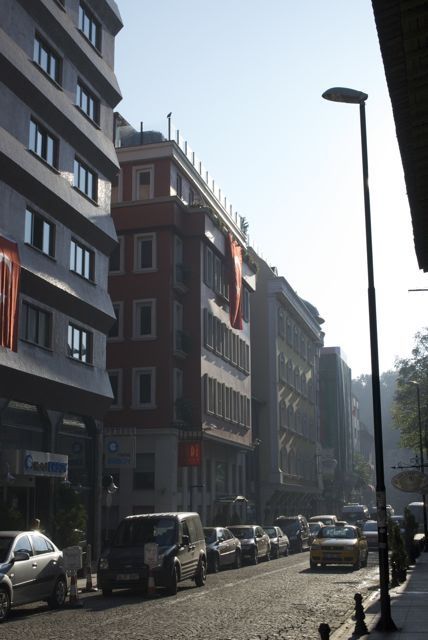 When I got checked in, unpacked, settled in I had a hard time deciding just what I wanted to do first. I had seen much of it before, so not a lot was "new" to me. I thought that I just wanted to walk around that first day and explore. Something I didn't get to do a lot of the last time I was here. After I called a sleepy husband back home (it was early) to let him know I made it, I headed out to see where my feet would take me. Of course I wanted to start somewhere familiar and work my way out, so I went toward Sultanahmet square. This square is located right in between the Sultan Ahmet Mosque and the Hagia Sophia. Right next to the Hippodrome. There is not much left of the ancient Hippodrome these days. The Hippodrome dates from the glory of the Byzantine Empire. It was the heart of political and sporting life at one time. It is now a park referred to as At Meydani. The use now is in great contrast to the days of the Byzantine and Ottoman Empires! Most visitors come to the Hippodrome to see the Obelisk of Theodosius, a 3500 year old Egyptian obelisk brought to Constantinople and erected by the emperor Theodosius of course. Imagine bringing this all the way from Egypt!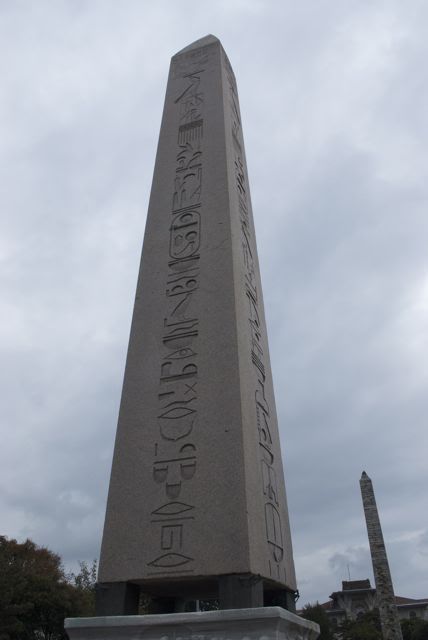 The base of the obelisk...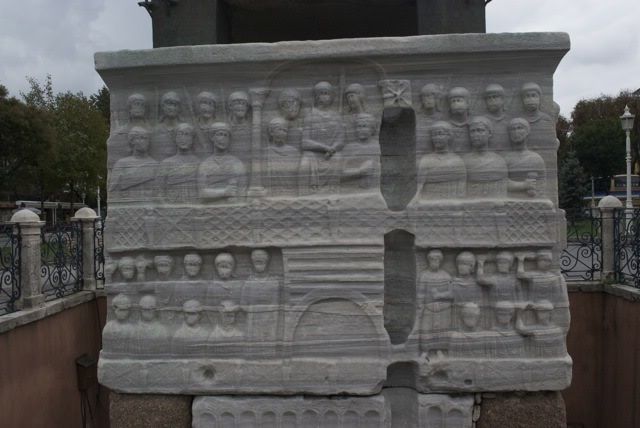 You will also find this beautiful fountain (and pigeons) in the park. The fountain was given as a gift to the city by Kaiser Wilhelm II of Germany in 1901. It is very elaborate!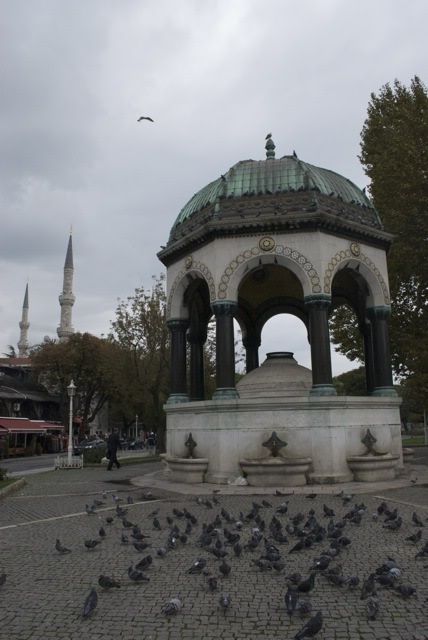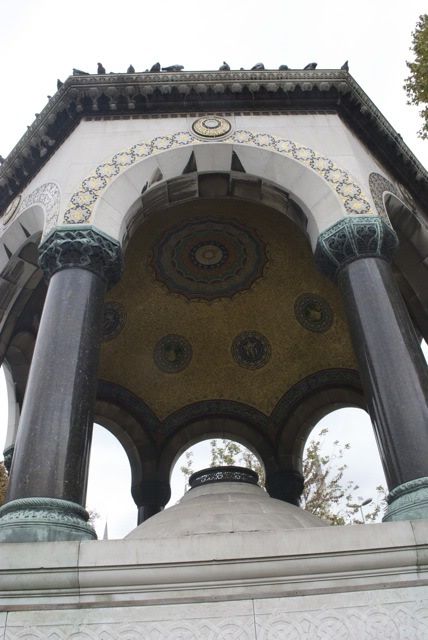 I made my way through the park and decided to head down a side street on the other side of Sultan Ahmet Mosque (commonly called the Blue Mosque by visitors). I wasn't disappointed. The cobbled streets let me to some shops and an interesting UPS man on the UPS building.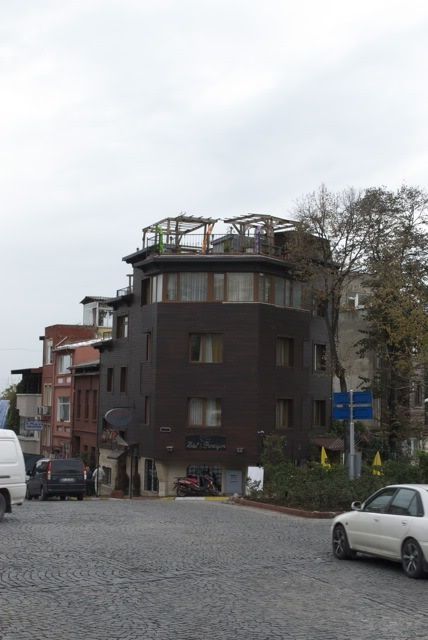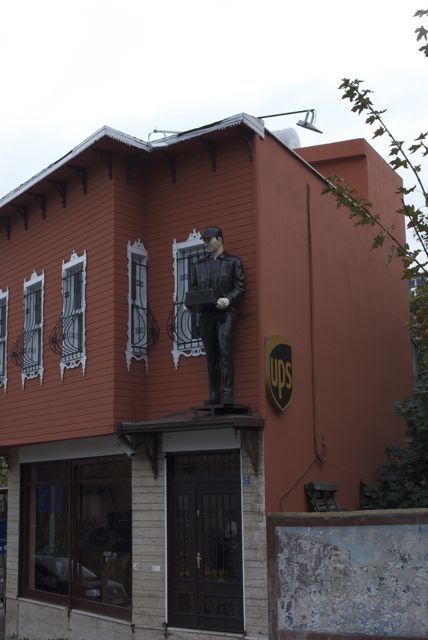 But that isn't the best part! The shop owner of the above shop came out and started to talk with me. He asked if I had seen the little Hagia Sophia mosque. If I hadn't been familiar with this mosque I might have been suspicious, but in fact, it was on my "must see" list. He offered to walk me to it and I took him up on the offer. His name was Philip and I am so disappointed I did not get a photograph of him. He was very nice and although I admit I was a bit hesitant to follow a strange Turkish man to an unknown location, my heart said I could trust him. Reminded me of the night in Kusadasi when a shop owner named Mehmet walked us to the fisherman's wharf and drank tea with us while playing backgammon. This is the true hospitality of the Turkish people. I think it is part of the reason I love the country so much. So Philip walked me to the Küçük Ayasofia Camii ( Küçük means little in Turkish and Camii means mosque) other wise known as the "Little" Hagia Sophia mosque. This was built by the emperor Justinian around 530 CE and was called Church of St. Sergius and Bacchus at the time. Because it resembled the Hagia Sophia, also built under Justinian, it was renamed this when converted to a mosque in the 1500's.
Not as grand as some mosques, it has it's charm. I understand it underwent some restoration last year, so it looks rather fresh and new both inside and out. Philip showed me all around inside the mosque and his wonder at the piece of architecture was evident. He finally told me he would leave me so I could take some photographs, but not before he asked me to stop back by his shop. Of course he hoped I would purchase something, but it didn't not diminish his hospitality in the least!
Just a few of the many photographs I took of this little treasure....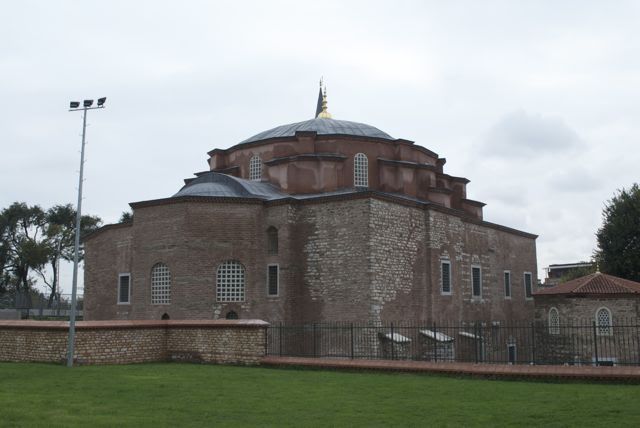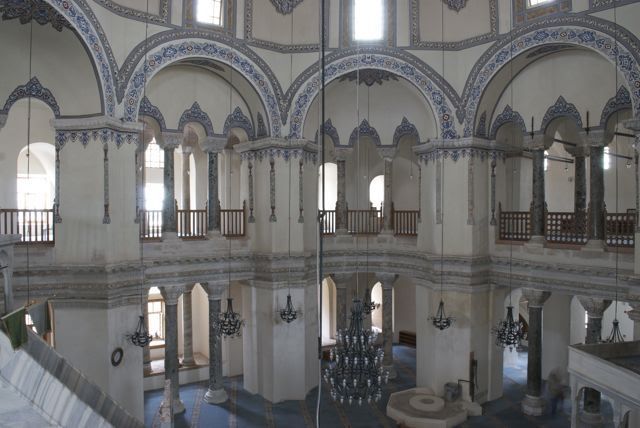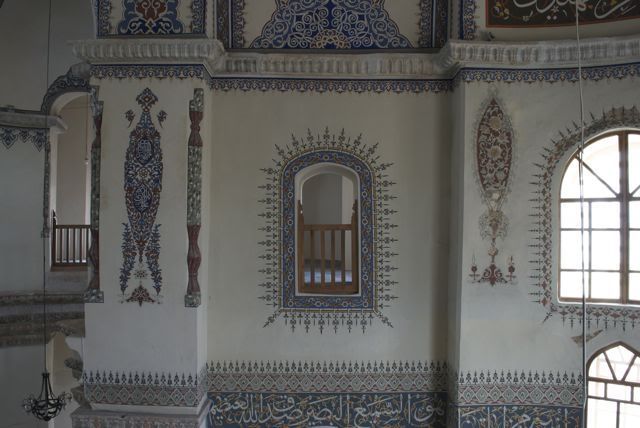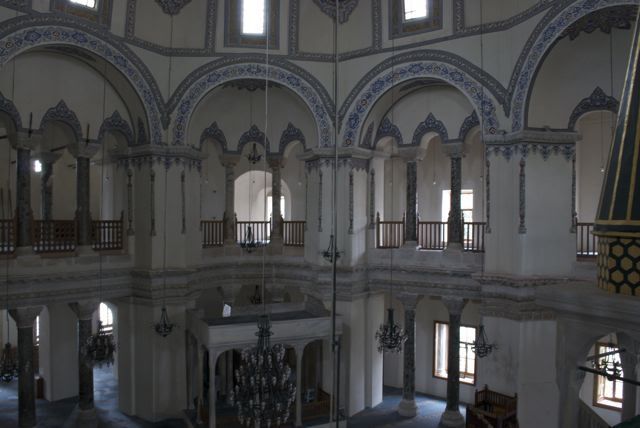 There were a lot of graves surrounding the mosque. A walkway took me around it so I could explore the graveyard. I love the headstones with Arabic script on them.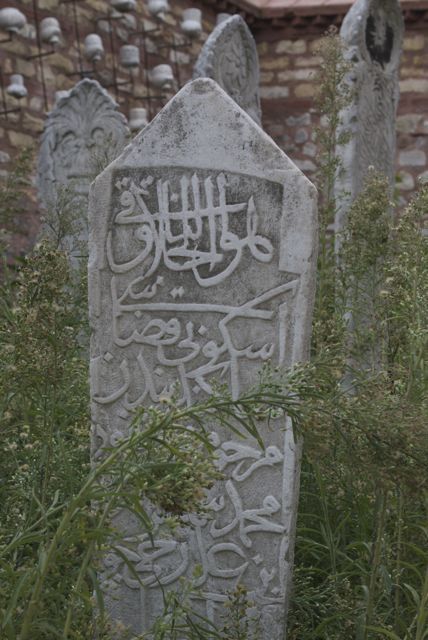 Yes, I did stop back by Philip's shop on my way back from the mosque. No, I didn't purchase anything. Much of what he sold was breakable and the truth is it was very similar to things I bought on my last visit. Pottery, tiles, lamps. I was trying to keep my purchase to a minimum. Not an easy quest when in İstanbul and you have the Grand Bazaar!
The overcast sky was darkening and rain seemed imminent. Best game plan in this case was to head indoors. But where do you go in İstanbul when the weather won't cooperate? Why the Bazaar of course! There is something about the hustle and bustle of the Bazaar that is both crazy and fun at the same time. Imagine thousands of shops under one roof. It is an overwhelming experience. There are so many avenues, so many shops, so many crazy shop owners trying to sell you their wares. A definite must when in İstanbul. The Bazaar was establish under Mehmet II in 1453. Quite an old mall by any standard I would say. It cannot be described. Nothing prepares you. You just have to see it to understand it. A madhouse would be putting it mildly. Those who know me know I don't like crowds. But I love this. It's so much better than the mall crowd at Christmas in the US. People aren't stressed or crazy. Everyone is having a good time. It's not unusual for a shop owner to offer you tea, or Turkish delight. Bargaining is essential. You never pay what an item is marked. Bargaining is half the fun!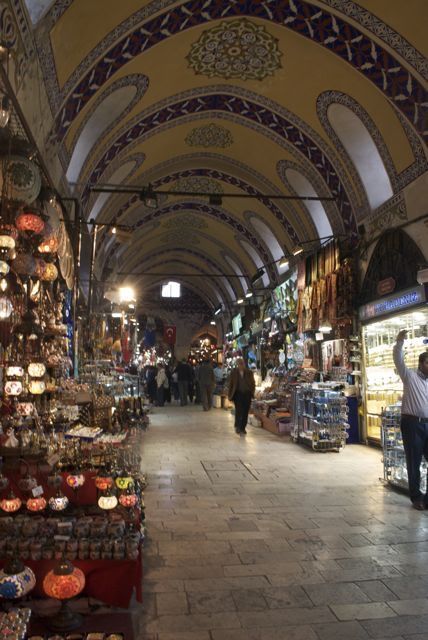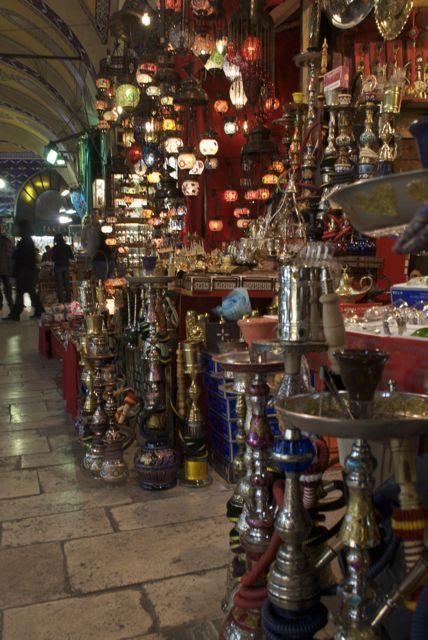 I probably spent at least an hour just wandering through the bazaar and did not see even half of it. It is quite easy to get lost, but you can always find your way to one of the gates and out. If you keep going down you will usually end up on one of the streets that leads down toward the spice bazaar. One street is filled with shops selling various cheeses, meats, nuts, fish, and produce.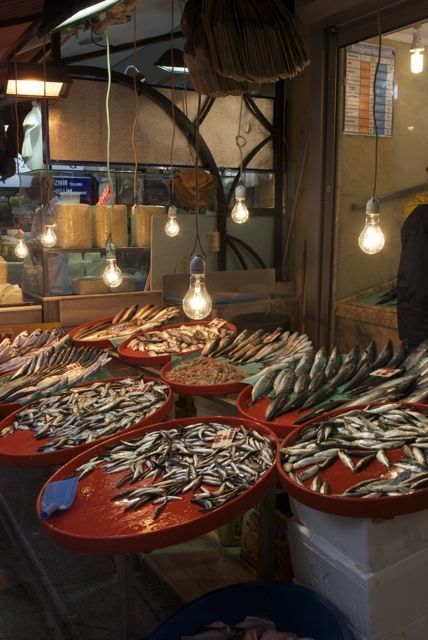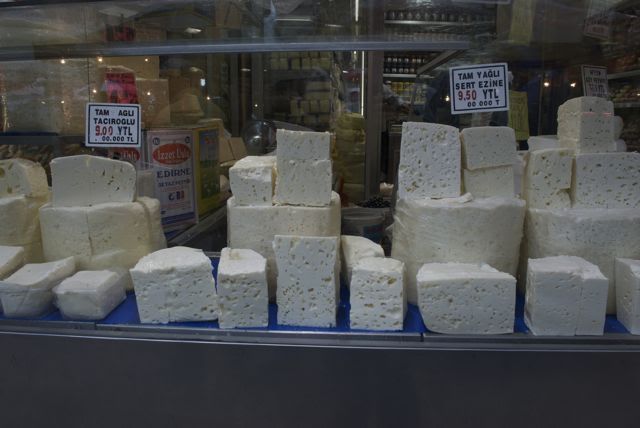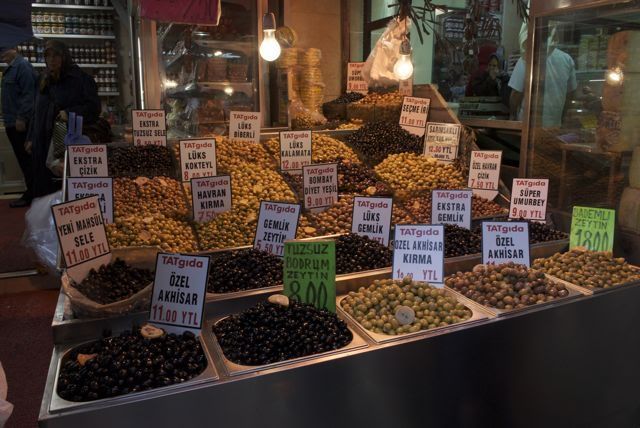 The spice bazaar fills your nose with the wonderful sent of spices. I was not fortunate enough to get into the actual spice bazaar this visit. It started to rain while I sat out in the square next to it and when I passed by it was quite crowded. My senses had been overwhelmed already so I decided to make my way back to the hotel to see if the rain would pass. Not before I noticed all the flags and celebratory decor in the square. It seems İstanbul was preparing for some sort of celebration and I was curious as to what it was. Using my minimal Turkish, my phrase book, and the trusty internet back at the hotel, I came to the conclusion that the coming Wednesday was Republic Day. This is the day Türkiye celebrates the anniversary of the founding of the Republic. October 29, 2008 would be its 85th birthday. How exciting to know I would be there for the celebration, although it wasn't clear just what the celebration would be.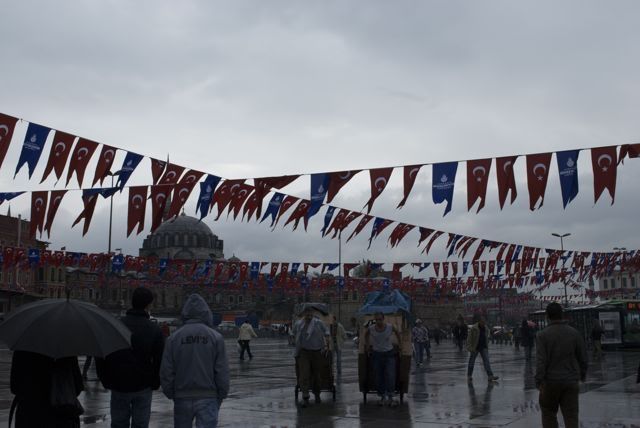 The rain finally eased up, so I headed back toward the Bazaar quarter to see what I could find and hopefully get some dinner. I can't tell you how happy I was to find a place that sold lamacun! Finally, some authentic lamacun once again.
Don't say it Laura!! Mmmmmm....lamacun!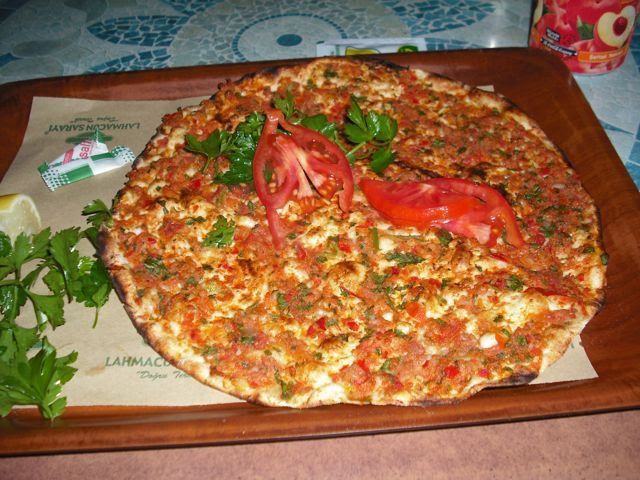 As I sat there and enjoyed my lamacun and şeftalı (peach juice) I noticed the waiter speaking Greek to another table. I couldn't help it, when I wanted my check I just had to ask how much in Greek. The waiter seemed to get a kick out of my Greek skills. In fact, I spoke more Greek there than I seem to do in Greece. A shop keeper in the Bazaar was going to give some other shoppers a good deal on Pashmina's because they were Greek, and good neighbors to Türkiye, so I told him I was living in Athens and wanted a good deal as well. It took some convincing, but he finally sold me a beautiful orange pashmina for 10 euro. I just wish I had bought more!
One day had come to an end in İstanbul. I think I was the happiest woman in the world for a few moments that day. Lamacun. Call to prayer. Bazaar time. Turkish hospitality. What more could you want?
Posted by oceanchild 01:49 Archived in Turkey