That's what you do when you can't find the bus stop!
26.10.2008 - 26.10.2008
I realized I forgot to post some photos from before. One was taken from my hotel room, and the other was taken from Mehmet and Fisun's place. The views were wonderful!! So we start this entry with sunset.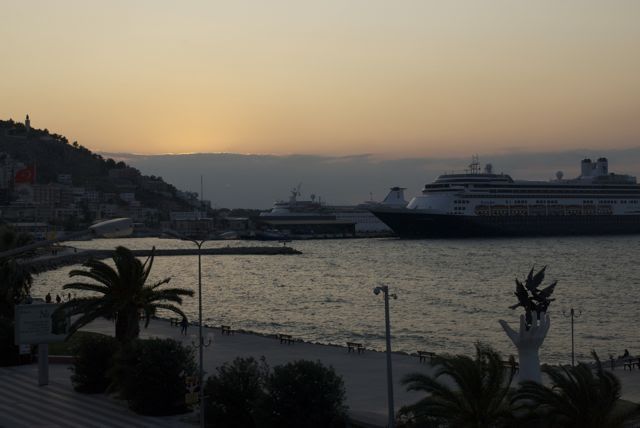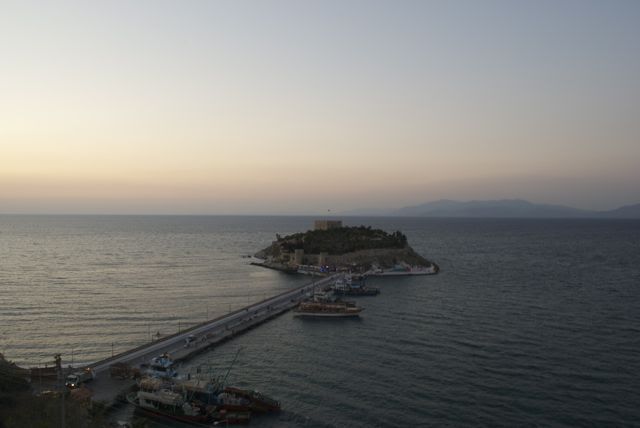 My second day in Kuşadasi I intended to get to the little town of Sirince. Fisun told me that I could take the minibus there and I planned on just spending the day out that way, maybe exploring Selcuk on the way. I ask the front desk at the hotel where the bus station is and she gives me a map with it all marked out. Herein lies the problem. Streets in Turkiye, as well as Greece, are not always marked in a highly visible way. So, I just had to try to count and hope I turned on the right street. Several turns later I realized I had not, because I could see no bus station anywhere. I kept seeing the minibuses and thought about just running after one to follow it. I didn't. Walking around allows you to see things you would otherwise miss.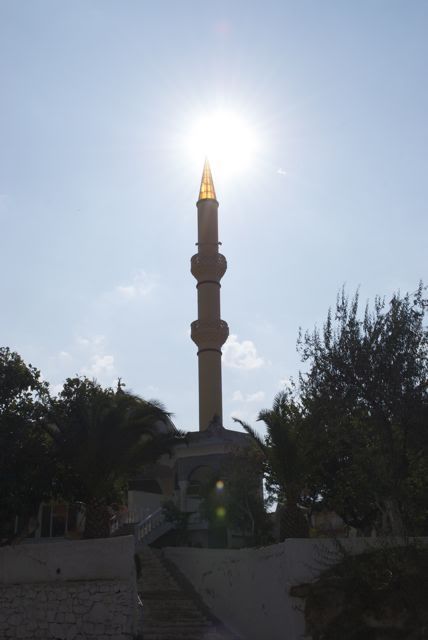 I was continually amazed at how graffiti free the town was. I'm sure part of it is due to the fact that it is a tourist town. But even the streets far away from the dock and tourist shopping were amazingly clean. And quiet.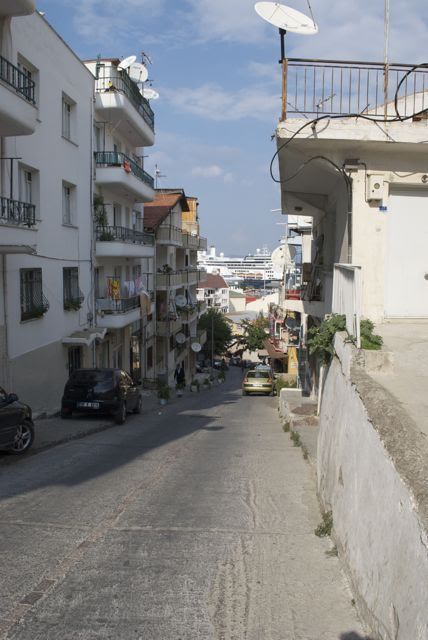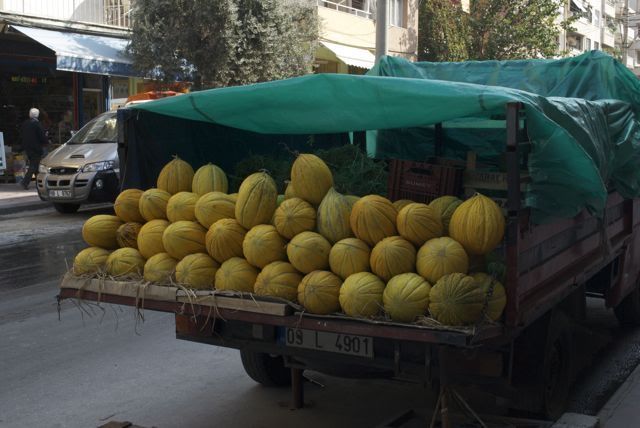 When I finally thought I found the bus station it was pushing close to 11, so I decided to forgo Sirince and just wander Kuşadasi. I knew there was a bazaar so I headed that way. Sure it's touristy, but it's still almost a fun game seeing how many times you can ignore the call of "hey, lady...'scuse me, lady..." I have to say I was a sucker and often stopped and chatted with shop owners. You know, it seems no matter how far you travel you can't escape American commercialism. BK and Century 21.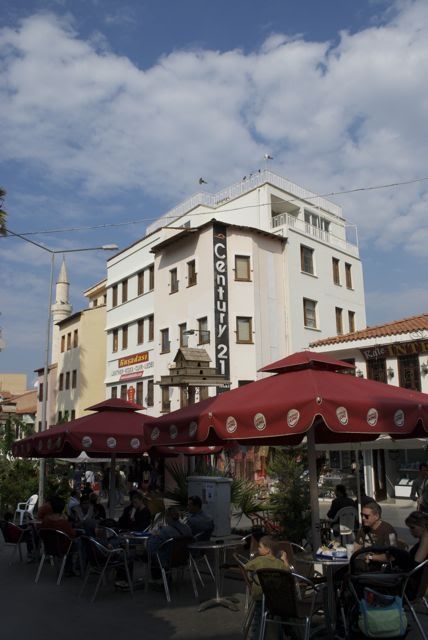 I did want to make my way over toward Pigeon Island. I had seen it when we sailed in and thought it would be a nice place to walk around. Thankfully there is a walkway to the island so it's easy to visit. The island has often attracted migrating birds and was once called Bird Island. In fact, the Ottomans gave the name to the town itself. Kuşadasi means "Bird Island." The name of the island, which was used by the military in the Ottoman era, was eventually changed to Pigeon Island. The castle that sits on the island is a Byzantine castle and because it was used as defense against pirates it is called Pirates Castle.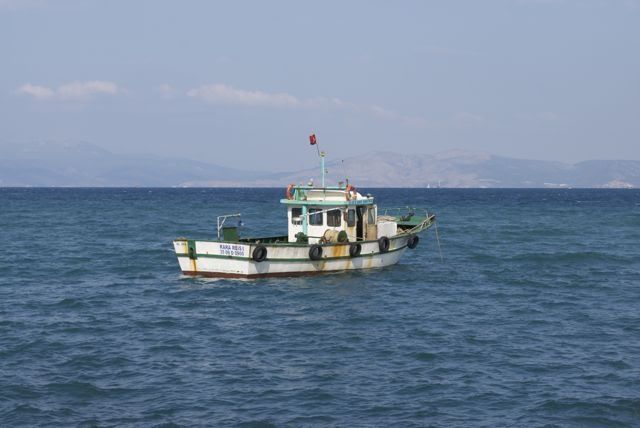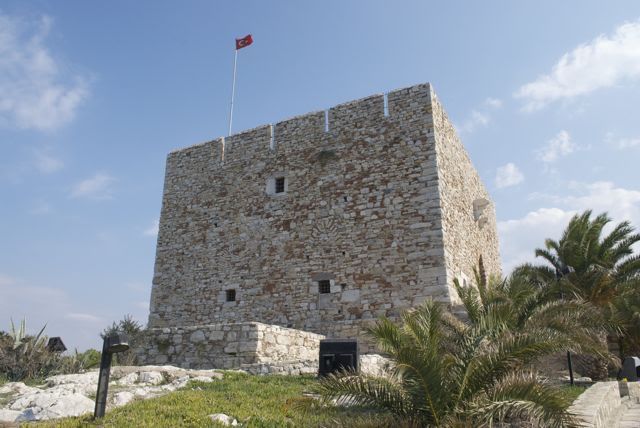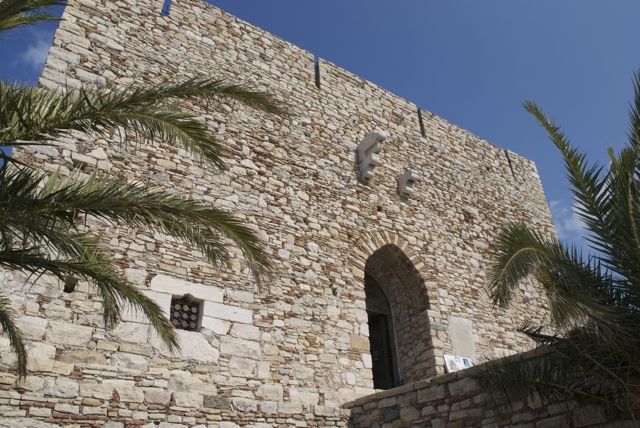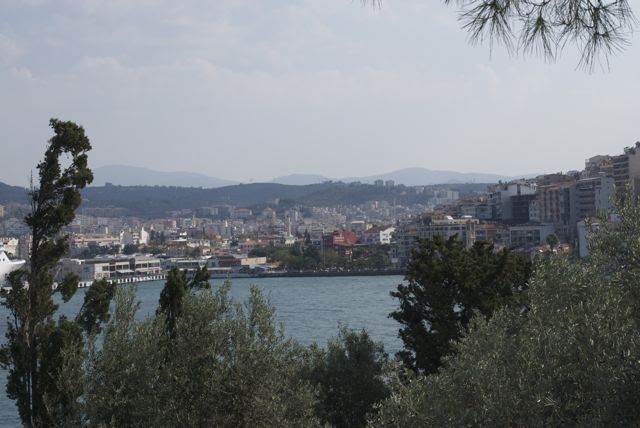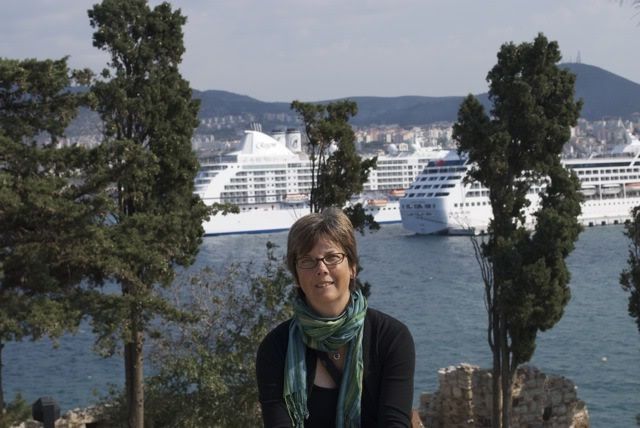 What is more appropriate on an island that use to be called Bird Island?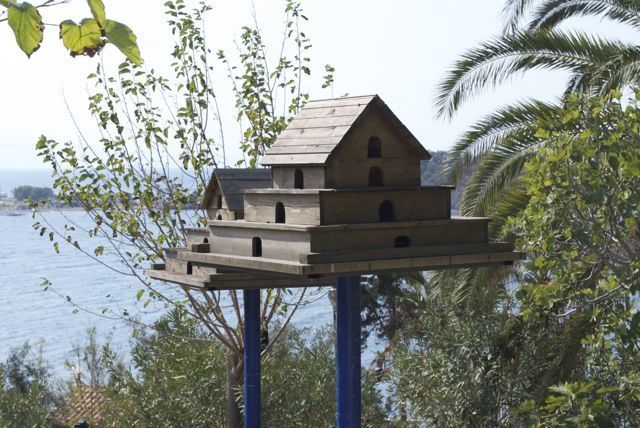 There were several prayer trees on the island. This one seemed to be the fullest of them. People write their prayers on a piece of paper and tie them to the branches in hopes that their prayers will be answered. I am not sure of the origin of the prayer trees and haven't researched it. You have know, feel free to contact me and let me know.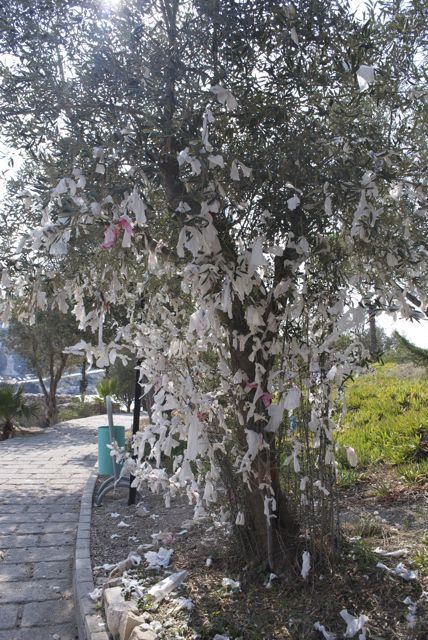 As I was leaving the island this older man selling soap and various sundry of course did his usual "hello,'scuse me, how are you" to which I love replying "merhaba!" because they just get thrilled when you speak their language. Next think I know he has me sitting on the wall next to him chatting about Bill Clinton. What is it about Bill Clinton? People here love Bill Clinton! I think they believe we should have kept Bill Clinton in power until he was no longer capable of leading. So we talked about Bill Clinton and various political issues. He showed me his soap for sale, tried to get me to come to the "ladies beach" (yes, there really is a beach called the ladies beach in Kuşadasi) to hear him play his music later. Then he gave me the story about how he lost his wife in the earthquake several years ago. I hate to be skeptical, I really do like to see the best in all humans, but I have heard too many sob stories of men losing their beloved here. Ok, his was only the second but it was a bit too familiar to Angelo's tragic loss and I started to believe Mr. Soap guy was trying to pick me up. But he did give me pumice foot scrubber and a hideously ugly as sin watch that I would not be caught wearing. And I bought some olive oil soap. He made a sale and got his picture taken, which they seem to like as well.
Finished with the soap guy and walked off with my pumice, soap, and ugly watch (Yes I do need to photograph it and show you) and headed back toward the bazaar. Little did I know Mr. Soapy would start a trend of being accosted by shop owners, talk of Bill Clinton, abortion, infertility, breastfeeding trends in America, Obama, McCain, religion, what an intriguing woman I am, and various other subjects. In Kuşadasi alone I must have chatted with half a dozen of them. Most were nice, a few were questionable. I think the younger men seem to have more charm and are less, well, questionable. Most seemed truly intrigued by a woman who is a student, photographer, married, in her 40's and traveling alone. So, it took me almost all day to make it around the bazaar. Much to their disappointment, I didn't buy. Ok, I bought some apple tea after chatting with the shop owner named Philip for an hour. He did make me tea and seemed genuinely interested in talk, not just sales. I regret I did not photograph every person I chatted with. The bazaar sells the usual wares you find in Turkiye. Pashmina's, lanterns, jewelry, leather, belly dance outfits, tea, nargile pipes, rugs. It's all very beautiful. I spent most of the day there just wandering and talking.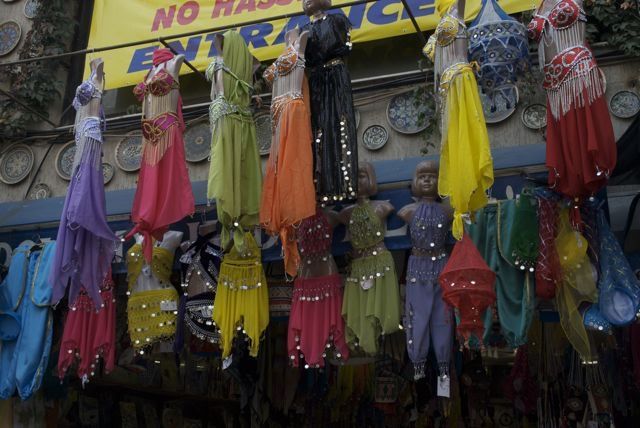 This guy. Now he was funny. He was trying to get me to do one of his tours but I had the pleasure of telling him I had been to every single place he showed me. He too wanted his picture taken and I think several of his friends thought it was funny. Either that or the joke was on me. It yielded probably the most hilarious photo yet. The two of us posing while someone holds a stool over our heads, a guy gives the finger, and a sign behind us the says "genuine fake watches." I wonder if this is where Mr. Soapy's watch came from.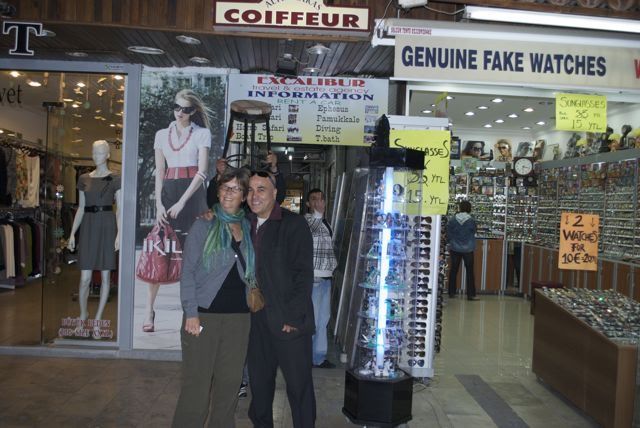 It was dark and I needed to get back to my hotel because Fisun was meeting me to give me my bus ticket for the next day. There were courtyards in the bazaar that were lit up in such a magical way it was hard to resist just sitting and having a drink, or coffee. In fact one shop owner wanted me to go to the Mamma Mia cafe. Nope, I wanted to sit under these lanterns and just take in the night air.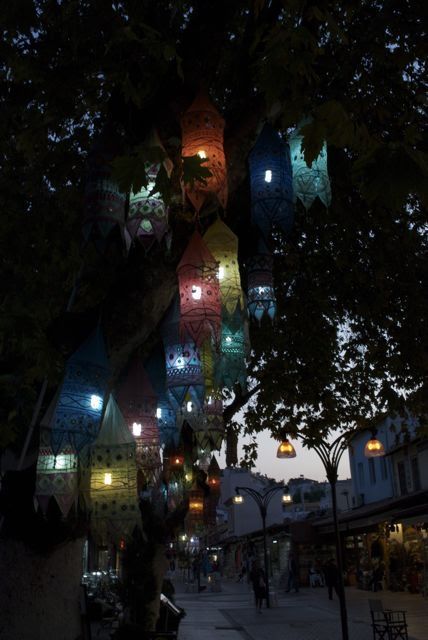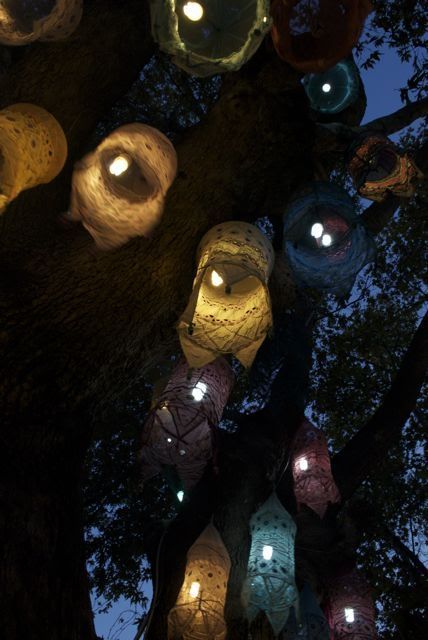 There is a magical feeling about Turkiye and I think it is evident nowhere stronger than in Istanbul....and that is where I was headed the next day. My excitement was palpable. I was downright giddy. I had the best pizza and beer that night at the Cimino cafe. Life is good. It was going to get even better!
Posted by oceanchild 09:28 Archived in Turkey