30.10.2008 -17 °C
You know I was thinking as I walked down the center to get internet that the Mastercard commercial fits really well with this whole adventure in Turkiye.
Cost of ferry ticket to Kusadasi: 30 euro
Gas to drive to and from Aphrodisias: 100 YTL
Having a private tour guide and solitude at Aphrodisias: Priceless
And it is so true. It was priceless. It was nice to have moments where I could just stand there and take it all in. Just me.
But back to the temple. Aphrodisias is of course named after the goddess Aphrodite. Most are familiar with Aphrodite as the goddess of love and beauty among other things. It was founded around the 1st century BC on a site that had long been considered sacred. It became and important city during Roman rule of the 1st through 6th centuries CE. Of course, as usual during Byzantine rule, the temple was converted to a church. The apse is still standing today. Much of what you see standing has been re-erected. Much of the excavations at Aphrodisias were led by an archaeologist named Kenan T. Erim, who happens to be buried on the site. He spent 30 years of his live working the site.
The temple as you see it approaching from the north....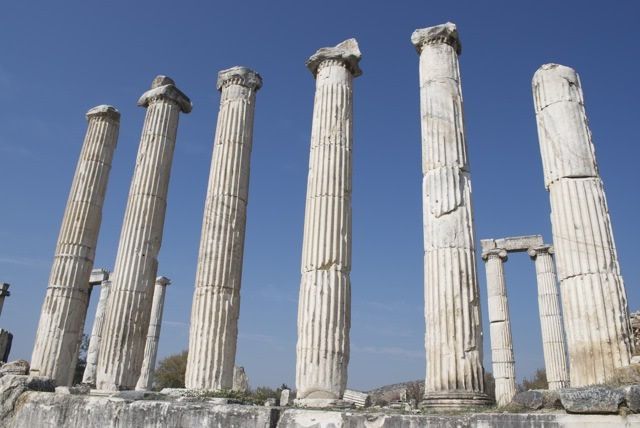 Standing inside the temple looking west. In ancient times you would enter from the east and there would be a cella about where am standing with the cult statue (see last entry). When converted to a church during Byzantine rule, you would have entered from the west.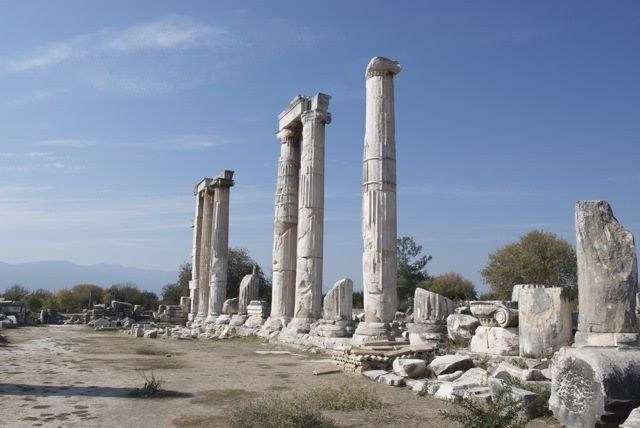 The apse that was added when the temple was converted to a church.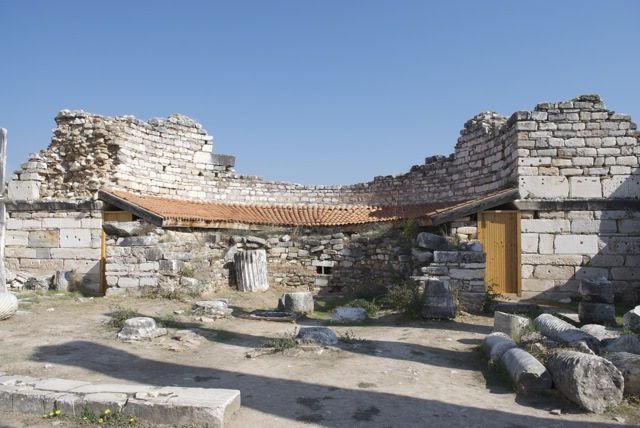 In the ancient days of the temple you would have entered through the gate that is called the tetrapylon. It too has been mostly re-erected in recent years. It has to be one of the most beautiful sanctuary gates I have seen.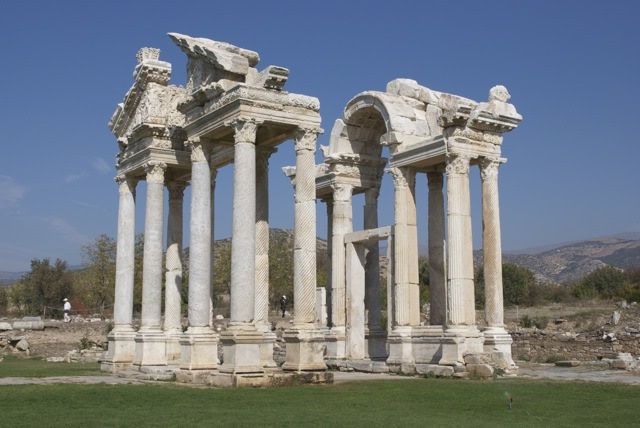 Just to give you an idea about excavation, you can see the depth of debris that had built up in this photo.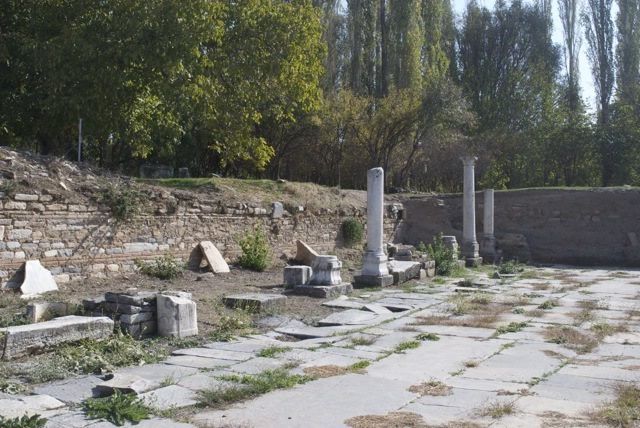 We left the temple and walked over to the stadium. It happens to be one of the best preserved stadiums around. The problem with photos is you don't get a good idea of the sheer size. I'm not sure how many this one could hold, but I do know the one at Olympia could hold 45,000 so I'm sure this one is comparable if not bigger. It has not been totally excavated. Unfortunately there just isn't a lot of money out there these days for full scale excavations, especially in Turkiye. Oh, what I wouldn't give to work on an excavation there!!
You would have entered the stadium through one of two tunnels on either end. This is not how you enter it now, however. They have excavated this so you get an idea of what it might have looked like.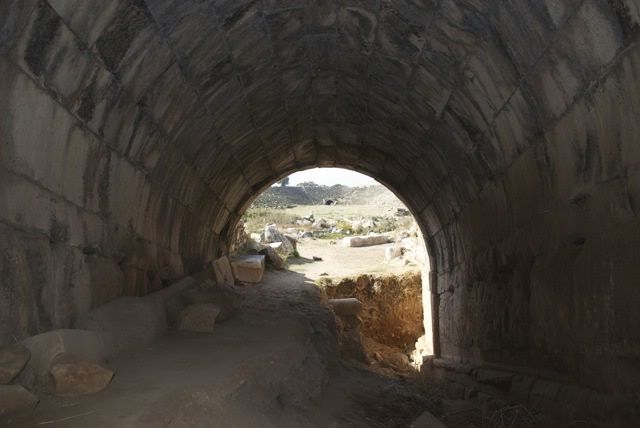 These are taken from on the ground looking west. You can see the other tunnel way down there. It gives you an idea of the size.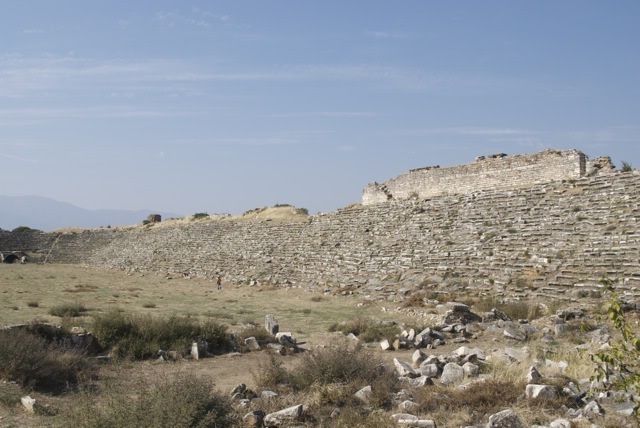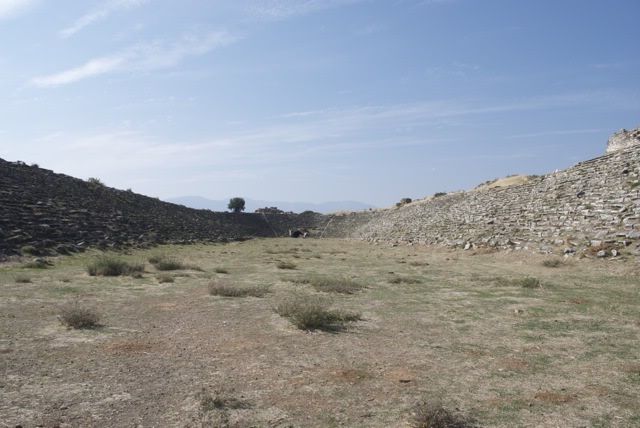 I'm still in awe of Aphrodisias. One more site in Turkiye to knock off my list!! One our way out I of course had to get a photo of the bull.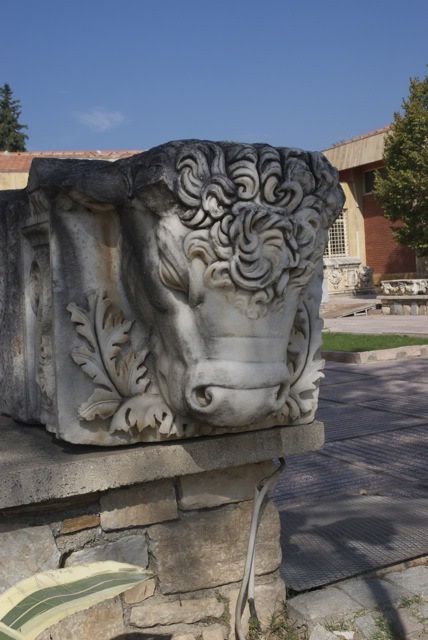 Mehmet wanted to play with my camera, so I let him. The result....I think it is a nice effect.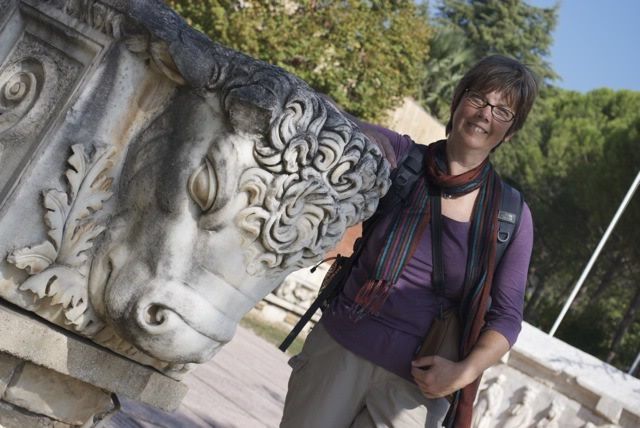 This face had donkey ears....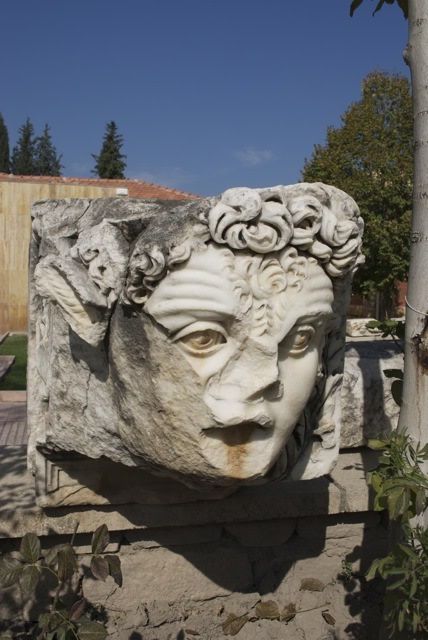 Then there were the ever present cats...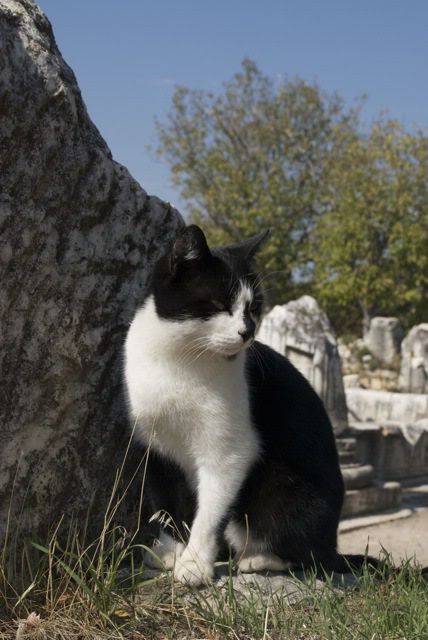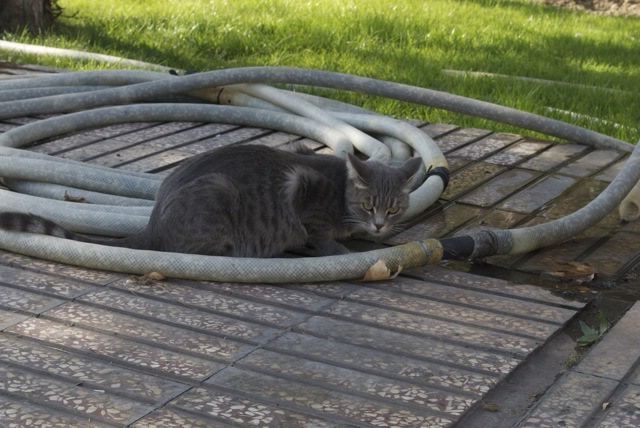 I didn't take too many photos of cats because we had planned to stop for lunch at a roadside restaurant. It was a very nice place in a beautiful setting. Mehmet had told me there was usually a man there playing the saz, a stringed Turkish/Middle Eastern instrument. What was funny was he was playing Ode to Joy! I let Mehmet order since he knows the food better than I do. We had pide, which is kind of like pizza, grilled mushrooms and cheese, and grilled meatballs. All very delicious!! As usual fruit was served for dessert.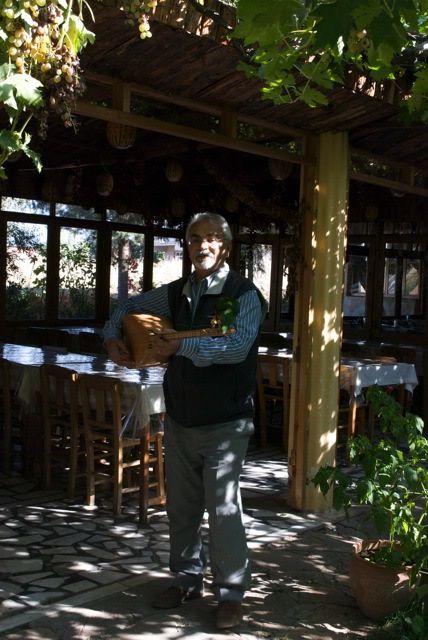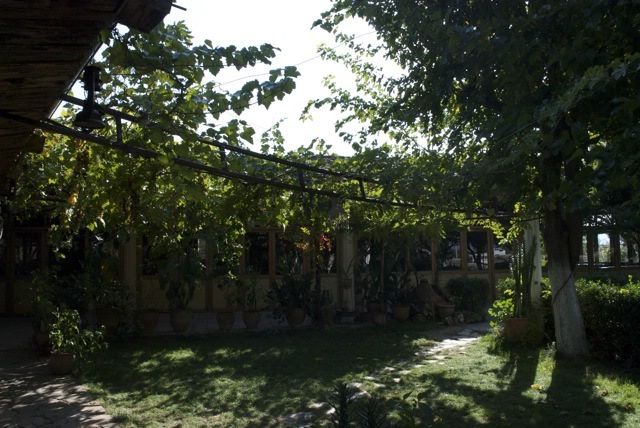 Ok, scold me. I forgot to take photos of my food because I was so hungry! We left the Anatolia restaurant to head back to Kusadasi with a stop for gas and Turkish tea. Most gas stations in Turkey seem to serve food or at least coffee and tea. This one had fresh squeezed orange and pomegranate juice as well. Very nice!! It was quite a shock to pay 100 YTL (which stands for Yeni Türk Lirasi or New Turkish Lira by the way). That works out to be about 60USD to fill the equivalent of a Yaris or Ford Focus. No complaints when I get back to the US. Imagine what we would say if we had to pay over $6 a gallon. I had to photograph this just for kicks and giggles...and memory sake!!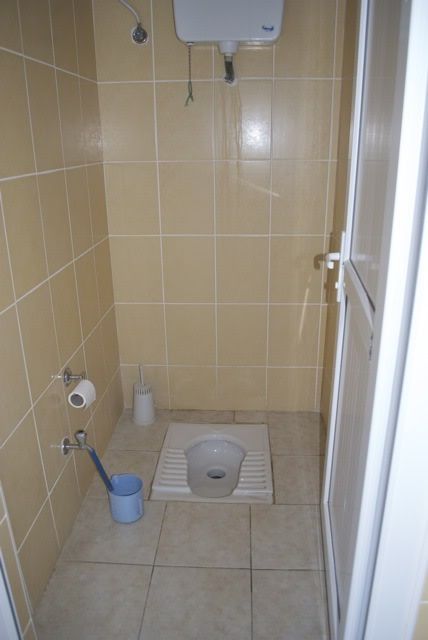 So, we are driving back and Mehmet asks me if I would mind him stopping in Aydin so he can look at a car at the Toyota dealership. Of course not!! After all he took time out of his day to take me way out of the way and show me around Aphrodisias. So we stopped at the Toyota dealership and looked at a few cars. Looks pretty much the same as US dealers, but with less cars and hardly any SUVs or big trucks. Mehmet tells me that Turkiye taxes gas guzzlers so much that you have to be very well off to afford one. That is one way to get the people into economical vehicles.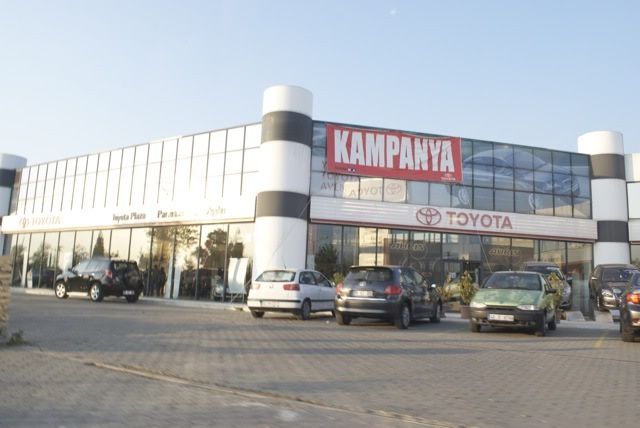 We did test drive one. It was quite fun driving down the road in Turkiye at almost 140 kph!! Better than a taxi ride at least!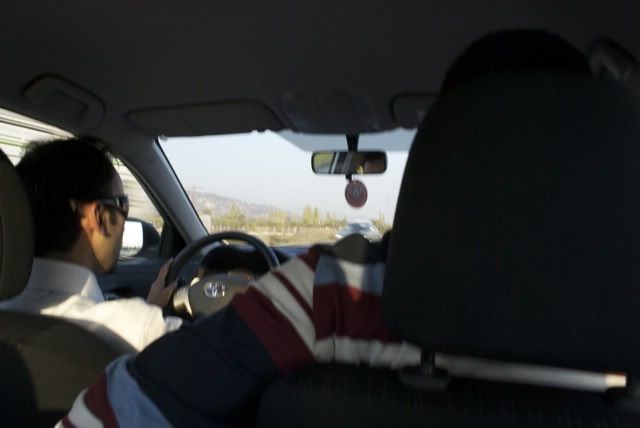 No, Mehmet did not buy a car. He tells me cars are very expensive there. But when you need one, you need one. He did invite me back to their home, where his wife and a friend fixed cheese fondue, served a variety of cheeses, some which were Turkish, fresh cukes and tomatoes and let me finally try retsina. Retsina is a Greek wine that is aged with pine resin on the corks. It gives it a distinctive flavor and no I haven't tried it in Greece! They couldn't believe it. We also had some great Turkish wine and wonderful conversation. It was the best night yet!! I am grateful for their wonderful hospitality.
Posted by oceanchild 07:57 Archived in Turkey