Aphrodite, here I come!
25.10.2008 - 25.10.2008
21 °C
I am very lucky to have friends in Turkiye. When I was here in January we had the most wonderful guide. Mehmet truly cared about sharing the wonders of his country with us and taught us so much. I think that is part of the reason why I love Turkiye so much. The people are so open and friendly. Hospitality seems to be second nature. Turkiye has my vote for most friendly country. No doubt about it.
When I decided I wanted to return I was a bit worried about traveling here alone. I expressed that worry to Jan, along with my strong desire to come back here (and if anyone understands that desire, it is Jan for certain) she was gracious enough to contact Mehmet's wife, Fisun, and ask her if she could possibly help me. Fisun went above and beyond to help make my stay here an amazing and worry free holiday. I will ever be grateful. She made most of the arrangements for me, including my hotel in Istanbul and Kusadasi, and was happy to answer any of my questions along the way. She met me at the port and walked me to my hotel. It felt like I had known her for years. Once I settled in we made plans for going to Aphrodisias the next day. We were to meet at 10 in the hotel lobby. She would drive, I would pay for the car and gas. Plans made, I decided to go find something to eat. The little cafe/bar/restaurant next to the hotel seemed good enough, if not a bit pricey. But I have to remember that 15YTL is really only about 9.5 USD. Still, it's tough to look at the price of a simple entree and see 15-20 next to it. In spite of it, I ordered the chicken kebap and tried to order an Efes or Efes dark. They only had Tubord and and Carlsburg. The tragedy. I bar in Kusadasi and it has no Efes? So close to Ephesus and no Efes? Pity. I would have loved one about them.
It is typical here that when you speak the language, the Turks respond with excitement. Sometimes that is hard to gauge. My waiter was thrilled that I was using my Turkish. I'm not quite sure what to think of some of his remarks though. For instance "what are you doing after you eat dinner here? You go out? You go to sleep?" He kept asking in some form or another. And when I told him "go to sleep" he proceeded to ask "what you do tomorrow night?" When I left he said "I see you tomorrow I hope" I will admit, I am enamoured by the broken English. Flattered by the attention somewhat. But I have to question the age of some of these men. Surely I am almost old enough to be their mother! Flattering low light or the glow of the Mediterranean sun? It's anyone's guess.
Sleep came to me that night in spite of the loud music at the bar just below me. But it came and was welcome. For some reason I felt much more at home there than on Samos, or Kalavrita, or Olympia. Don't ask me to explain, I can't. I feel at home in Turkiye. I still feel like a foreigner in Greece much of the time.
Saturday morning I had my breakfast of bread, honey, jam, olives, cukes, tomatoes and cheese all washed down with plenty of Turkish tea. I sat there waiting for Fisun to get there at 9. She had called the hotel the night before and said to meet at 9 instead of 10. An extra hour is always good. I happen to look up from my plate and guess who is walking through the door? Mehmet! Fisun had things to do at home and Mehmet happened to be free, so he was taking me to Aphrodisias. I was thrilled because I wasn't sure I would get to see him while in Kusadasi. The drive would be a long one, and I was hoping worth it. We headed out through the Meander valley and things started to look familiar to me. We had come this way in January. I'm still amazed at how much I took in back then! We stopped on the way for fresh squeezed orange (portakal) and pomegranate (nar) juice. It is like the nectar of the gods. If you have never had it, you are missing a piece of heaven.
Mehmet and I talked of politics, history, languages, religion, you name it, on our drive. It was great to just chat. We finally arrived at Aphrodisias. Mehmet kept telling me I would be amazed at this place. It's very far removed and parts of it are well preserved because of that. Aphrodisias is the site of an ancient sanctuary dedicated to Aphrodite. It is said that the site had been a shrine to the Mother Goddess of Fertility since 5800 BCE, but the actual sanctuary was not build until around 74 BCE. Aphrodite, as many may recall, is the goddess of love.
There were several tour groups there so we hit the museum first. There was a fairly new display of sculpture from the Sebasteion. Many of these looked as if they were just sculpted yesterday. Like this detail of Prometheus from a scene where Herakles releases him from bondage and torture. The details are nice.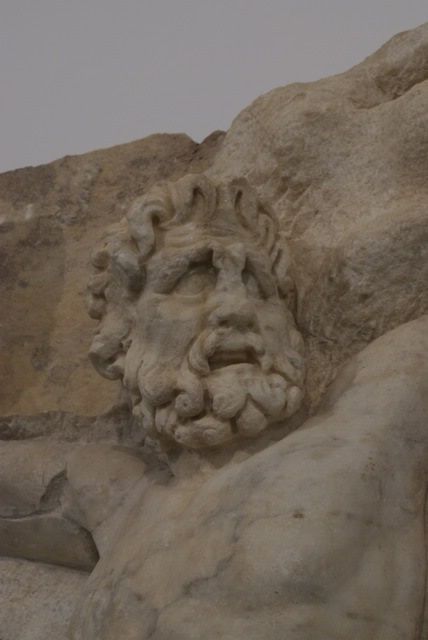 Thankfully the cult statue from the temple has been preserved as well. I've always wanted to see a cult statue.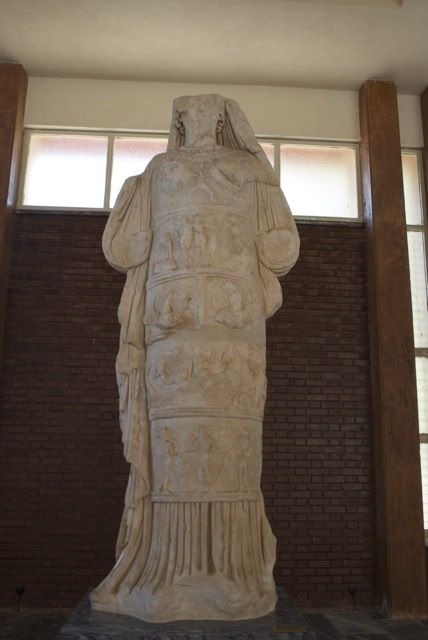 From the museum we walked the foot path around the entire complex. Mehmet kept telling me there were hundreds of faces carved for the theatre decor. I thought he was exaggerating, but he wasn't. There were theatre masks everywhere you turned! No two appeared to be alike.
I was lucky enough to have the theatre to myself for about 5 minutes. Mehmet had to go make a phone call and turned me lose to explore as I wished. I got ahead of a big tour group and walked down into the theatre while it was deserted. This is where solitude is a good thing. Even after all the ancient theatres I have seen, I'm still in awe of them. The perfection astounds me. I only wish we could create such wonders now.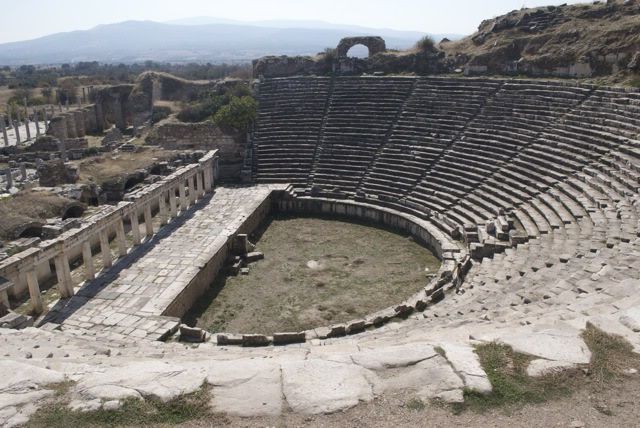 Then the tour group showed up and my solitude was lost. So I left the theatre to head down toward the baths of Hadrian. Here again was a moment when solitude was appreciated. Call to prayer echoing over the countryside has to be one of the most beautiful things I have ever experienced. Just to stand there taking in all of the beauty while listening to the call to prayer has to be one of my best moments.
Mehmet finally caught back up to when I got down toward the baths of Hardian. The retro look was in even back then!!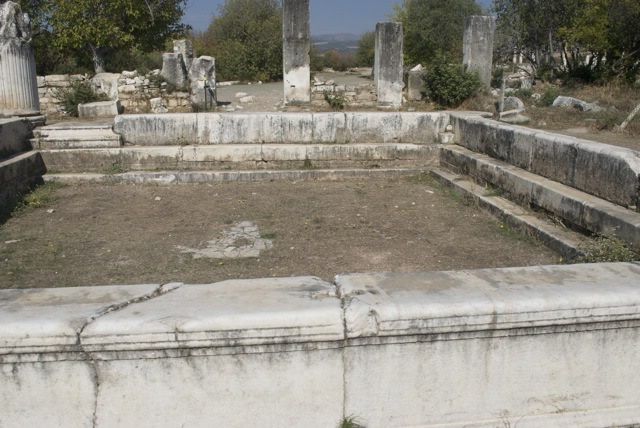 See, in Turkiye you can even touch the ancient ruins!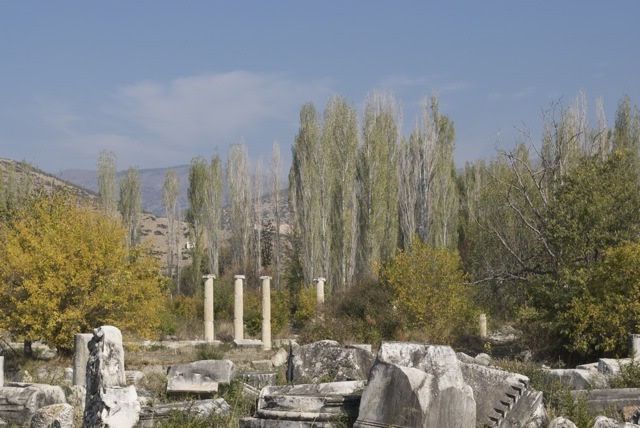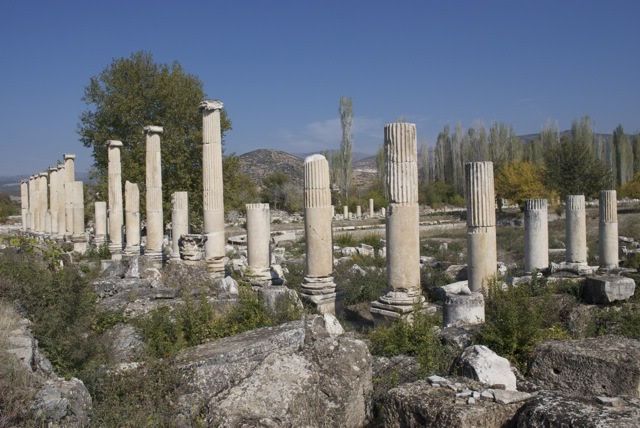 From the bath and pool we headed over the the bouleuterion, or parliment house. This is one of the best preserved becuase nobody reclaimed the marble facing on the seats.
The chairs on the upper tier of rows were carved with dolphins....and me....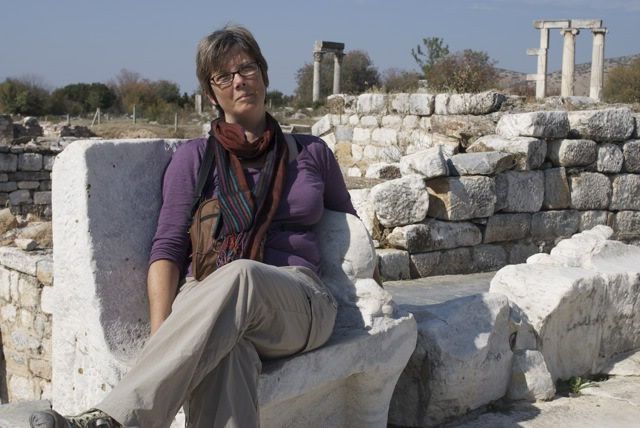 After the bouleuterion it was to the temple! I'm going to continue in a second entry, mainly because I'm tired and want to get up early tomorrow to catch breakfast and take in everything I can, but also because there is a lot to share.
Posted by oceanchild 11:34 Archived in Turkey