much to my feet's dismay
24.10.2008 - 24.10.2008
20 °C
I can tell you from the start that my trip to Samos and then on to Kusadasi, Turkey was a big step out of the box we call a comfort zone. I am accustomed to traveling alone within the US borders, but other than my flight to Athens I have have never traveled alone internationally. That might not seem like a big deal to some, but it was a big deal to me. It gave me a boost in my confidence, not that one was really needed, but every little bit helps. I have to say it was nerve wrecking on occasion, wondering if I would not find the right gate at the airport, not be able to get a taxi in Pythagorio, miss the ferry to Kusadasi. Other than the bumpy landing and the rocky ferry ride everything went smoothly. Here I am, in Türkiye! Given my choice I'd stay here and not go back to Athens. Don't get me wrong, I do like Athens, but Athens can frustrate me. When I stepped off the ferry here thought, I felt all frustration and stress just melt away. It felt kind of like being home. Later when I heard the call to prayer echoing off in the distance it just sealed it for me. I think it was Joanna that said this was my "spiritual place" and I believe she is right.
But back to Samos since I have a plethora of photos to share! The airport on Samos is near Pythagorio, but silly me booked a hotel in Vathy. Either way I would have had to take a taxi, or at least a bus, but if I had stayed in Pythagorio I would have had a better opportunity to see the Temple of Hera. Legend has it that Hera, who is Zeus' mother, was born on Samos. I don't know about that, but I do know Samos, like many of the islands, has some pretty rugged terrain. Unfortunately I did not get to see a lot of it. It was really a stopping place for me on my way to Turkey. The hotel I stayed in, while not in Pythagorio, was called the Pythagorean Hotel. Are you seeing a theme here? Pythagoras, the famous mathematician who came up with the Pythagorean theorem (good thing I paid attention in math class!) was also born on Samos. Don't remember the Pythagorean Theorem? Let me refresh your memory. a² + b² = c²
But enough mathematics. Here is the famous Pythagoras Hotel in Vathy.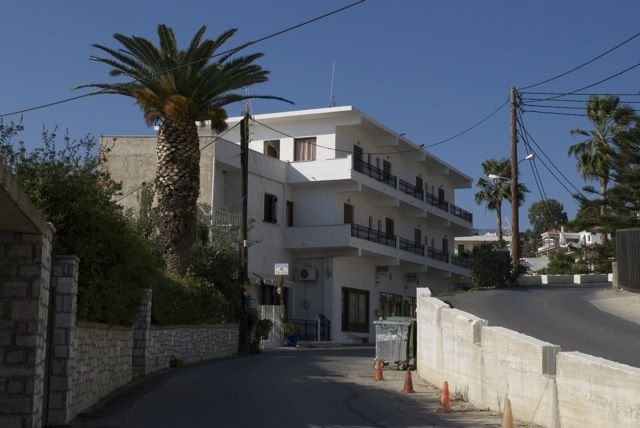 It's pretty basic. Nice proprietor who speaks English and was very helpful to me, including storing my luggage there while I explored Vathy. It's clean, it's fairly quiet (at least compared to Athens and my hotel here in Kusadasi). No breakfast was included, but it was only 20 euros for the night.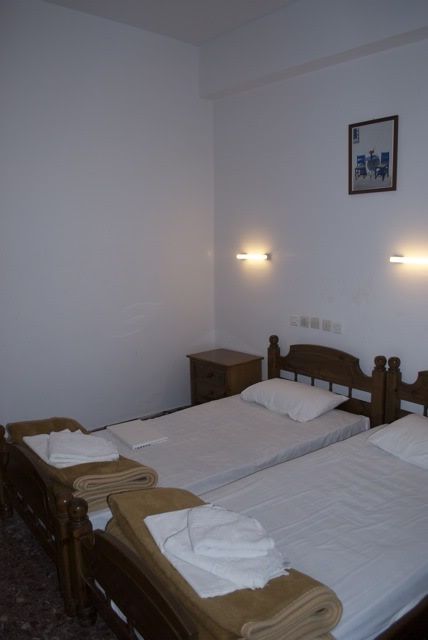 After a fairly good night sleep I got up and headed into Vathy to see what I could find. My intention was to take the bus to Pythagorio and get to the Temple of Hera, but alas, by the time I moseyed around to the bus station the next bus was after noon. I figured I better not risk missing my ferry. I had already bought the ticket and my guide here, Fisun, was expecting me. While I was moseying, before I found the bus stop I found some great views....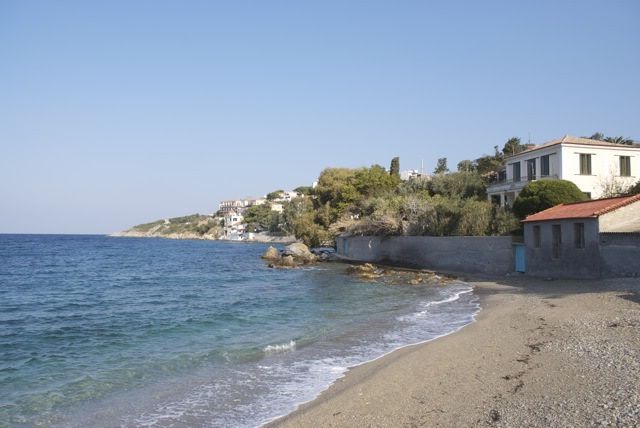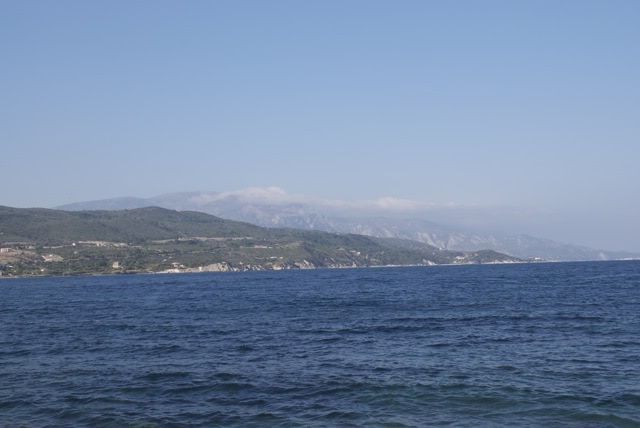 a cat...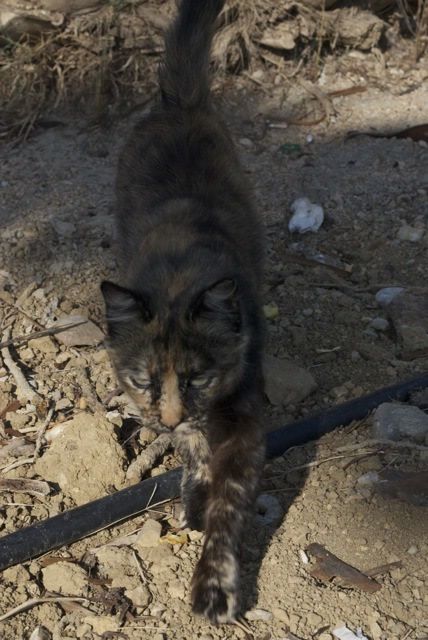 a beautiful church.....
and the laiki....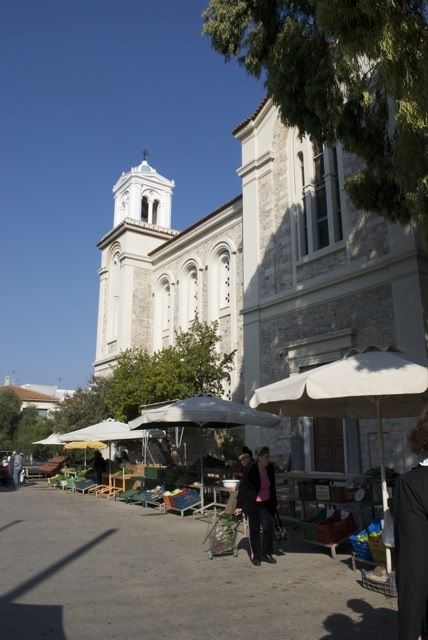 where I bought some grapes. A much smaller laiki than the one in Athens of course, but plenty of older Greek ladies with their wheeled carts were in attendance. As I walked through I saw the tiniest little kitten just crouched in the middle of the street. This kitten was mewling as if it were hungry, looked very unwell, cold, and downright pitiful. It took everything in my power to keep from scooping it up in my arms and carrying it away.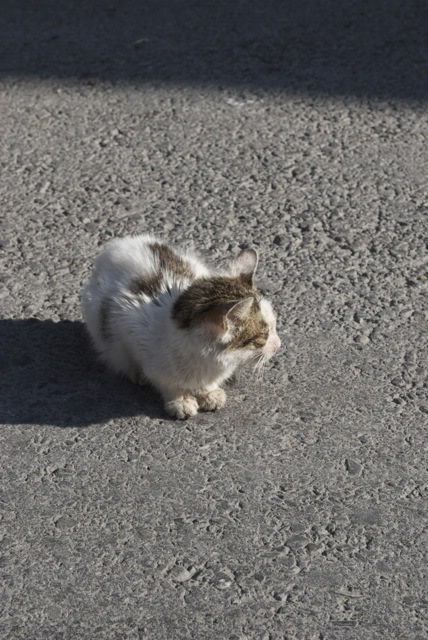 Yet I managed to walk on by.
I did come back for grapes, and to have one more look at the kitten and see if it was OK. What else could I do? I can't save all animals....I wish I could.
It was after this that I found the bus stop and when I realized I probably missed my window of opportunity I decided to just walk. I ended up on a road that went to nowhere, out away from town. I had no idea where this road would take me but I took it anway.
Unfortunately it lead to nowhere in particular. In fact, after a while it just kind of dropped out of existence. I did find some interesting things growing along the way. Like pomegranates.
And blackberries....
I turned around and then headed up a footpath. Interesting things growing and creeping along it as well. I saw goats and beehives. Olives......and yes, I was tempted to pick on just to see what it tastes like straight off the tree. But I didn't.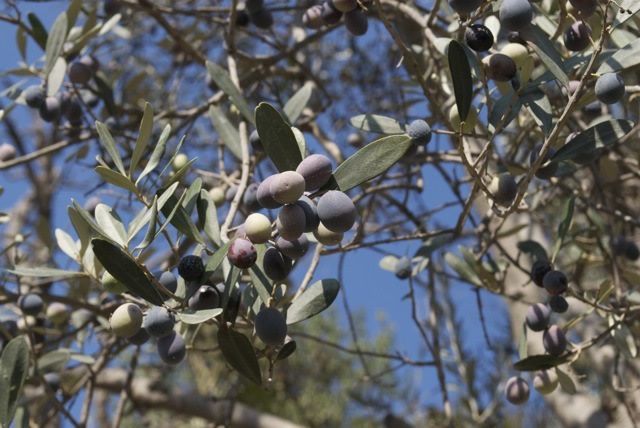 I caught this lizard scurrying up the wall of an abandoned building. He was a pretty good sized lizard. Maybe a foot long or so.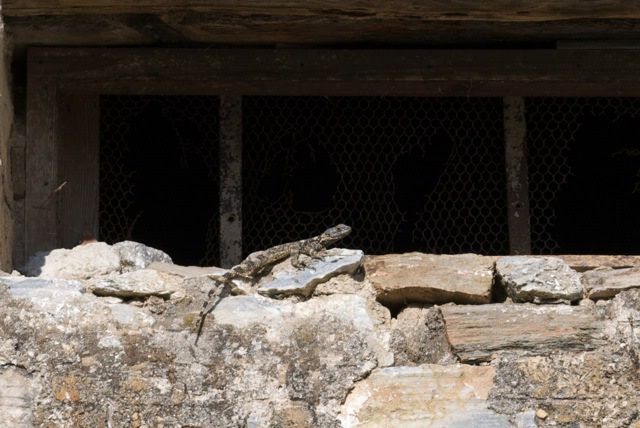 I kept walking up the footpath because I wanted to get as high on the island as possible to see what sort of views I could find. I did find a few, but most were blocked by houses and such.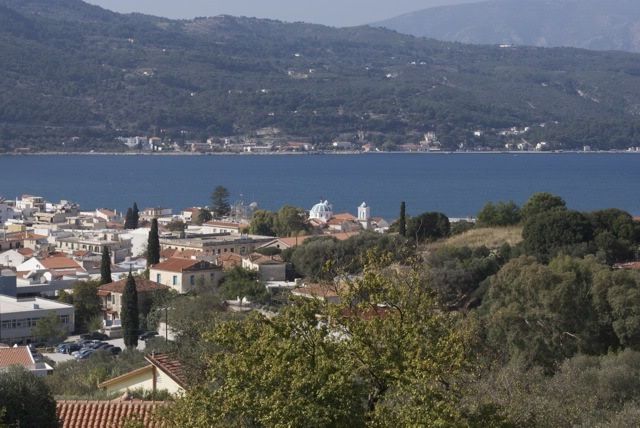 I did find some land for sale....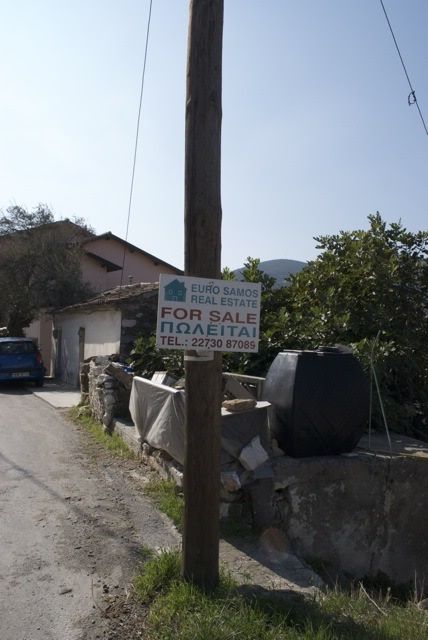 and these two little kittens basking in the sun....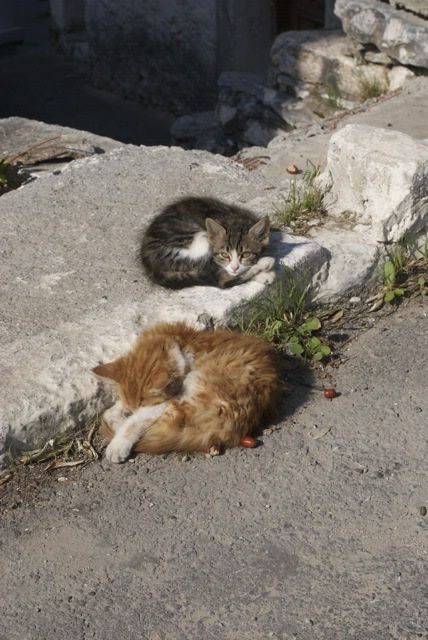 I saw this hotel and wondered why I didn't stay there. Probably because it wasn't listed in my Lonely Planet guidebook to the Greek Islands. Shameless plug.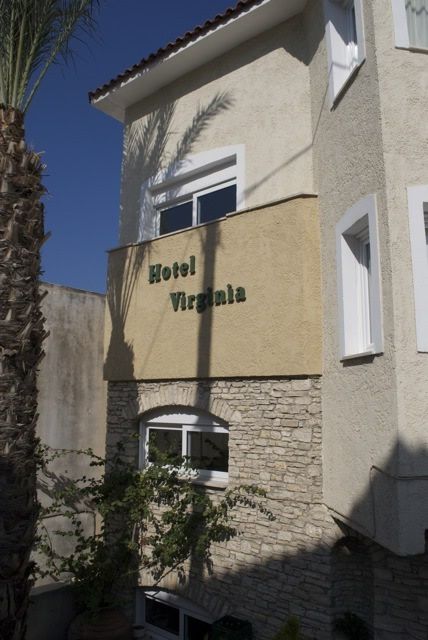 Made me a little homesick though. Solitude can be a good think, but sometimes just being so far away, so alone, having nobody that speaks the language you speak, and feeling like such a stranger can make solitude a not so good thing. Thankfully those thoughts are fleeting. There is just too much to enjoy and too many adventures to worry about being alone.
I finally made my way back down and found the archaeological museum. I was told Samos had a fine archaeological museum and am sure that is correct, however a large part of it was closed for restoration, so I wasn't able to see it in all its apparent glory. I went ahead and paid the 3 euro anyway, because I was hoping I would see the colossal kouros I had been reading about. The kouros are statues of males that were given as dedications at the sanctuaries in the Greek archaic period. This was my lucky day. The colossal kouros was actually housed in the part of the museum that was open. It is an amazing sculpture, just because of the size of it. I am use to hearing about large cult statues of gods and goddesses, but a dedication of this size must have been given by someone who was doing very well! This one was found at the Temple of Hera of course. The size is fascinating yet I'm not sure why. We have plenty of large statues and monuments hanging our these days. But here he is....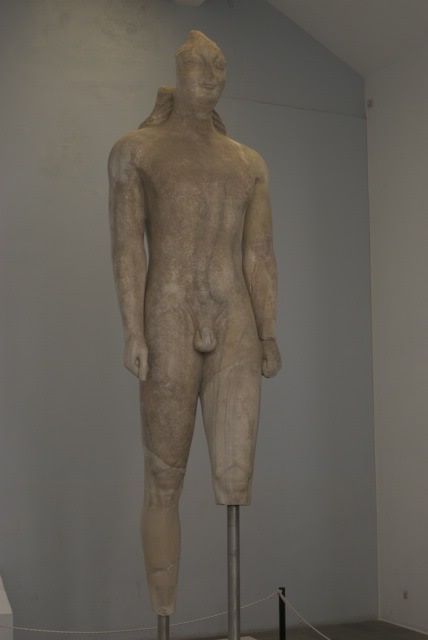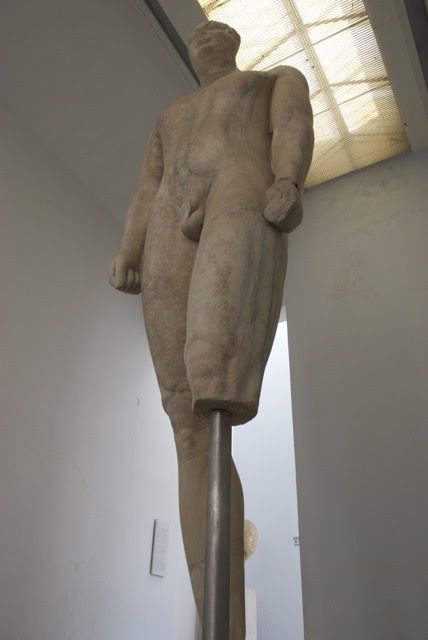 I was happy. I got to see my colossal statue. Time to check out the municipal gardens. On the way in I saw these three cats. As with most Greek cats I have met, they were pretty skittish if I tried to get too close. So I sat on the steps and and tried to convince them that I meant no harm. Thankfully these cats seemed to be and much better shape that the tiny kitten that broke my heart earlier.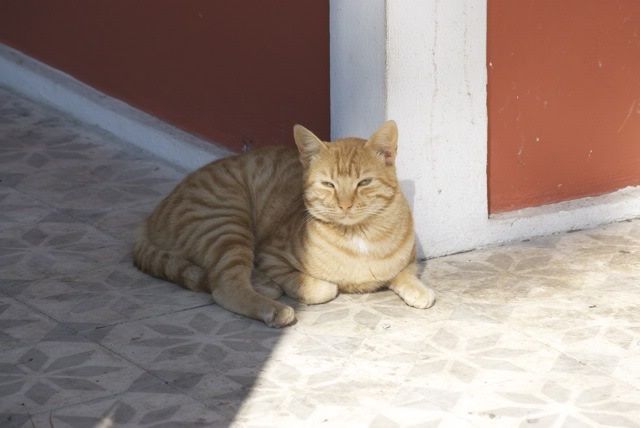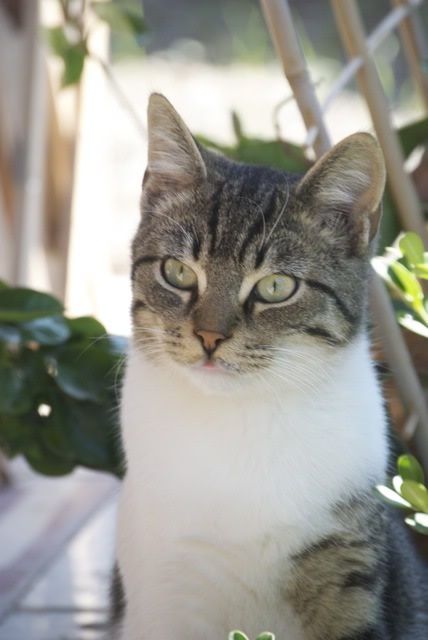 I must have taken 3 dozen photos of just these cats because they were so photogenic! I think they were finally glad when I packed up and walked away.
The municipal gardens of Vathy is a nice quite green space to sit and do nothing. There is a cafe there if one chooses to have a frappe or a snack. They have done a good job of planting flowering and green plants. It was a wonder respite from cityscapes. I think maybe this is why those cats seemed more content. What a great space!
By this time I still had several hours to waste before my ferry left, so I walked through a small street that runs parallel to the main street in Vathy. It was full of various shops, people shopping, cafes, and tavernas. I was hoping to find some shops that sold goods that were unique to the island, but didn't. OK, I suppose I could have bought some wine, retsina, ouzo or something, but there is only so much alcohol I can carry back to the states with me. I don't want to look like a lush. So I settled for having some lunch at a small cafe that was on the main street. The waiter spoke English but was thrilled when he found out I spoke Greek. Maybe it was flattery, but he said he couldn't believe I was from the states because my Greek was good. Ok, so it was flattery, my Greek isn't that good. But it gave me a smile. So did the saganaki.
Saganaki is fried cheese in all its artery clogging glory. I don't recommend trying to eat all of this if you are by yourself. Share it. Along with your clogged arteries.
I rolled out of the taverna and took a walk to Plateia Pythagorou, or Pythagoras Square. It's really different from the plateia seen in Athens. Wide open and clean, but still full of pigeons. Pigeons are everywhere in Greece. I think the multiply like Gremlins thrown in a pool of water.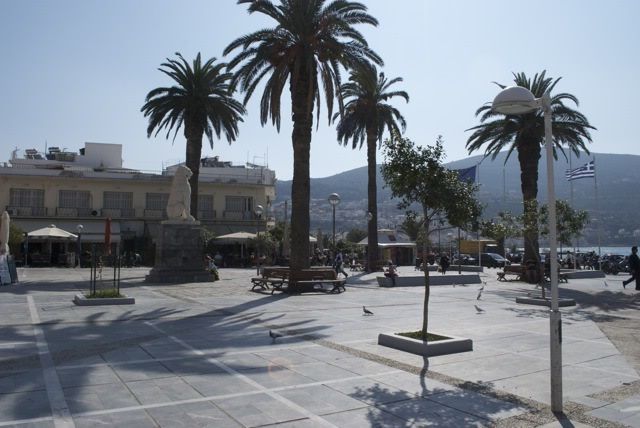 The view from the dock was particular nice and unobstructed. Very Greek....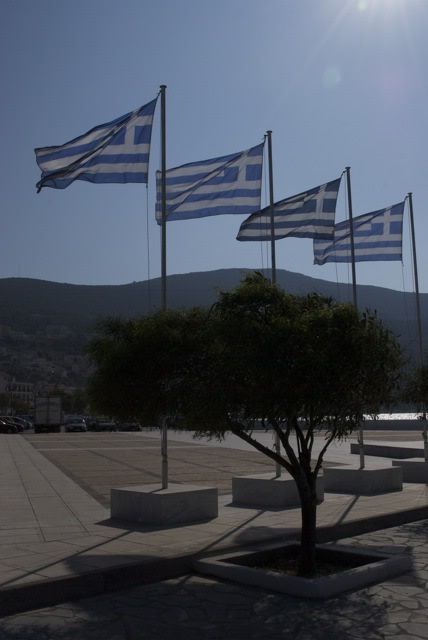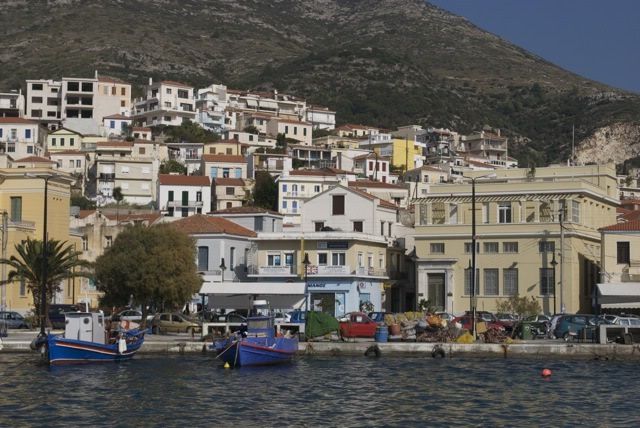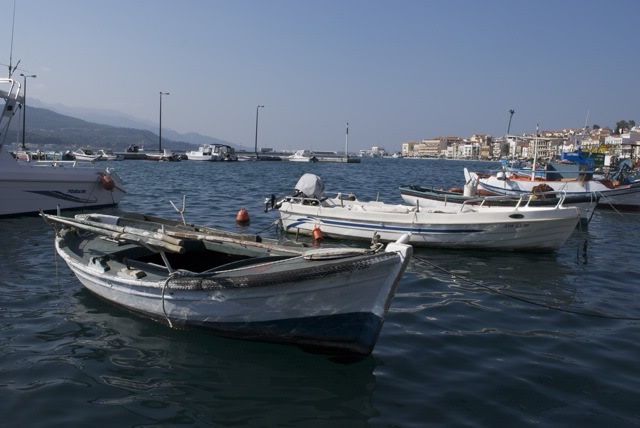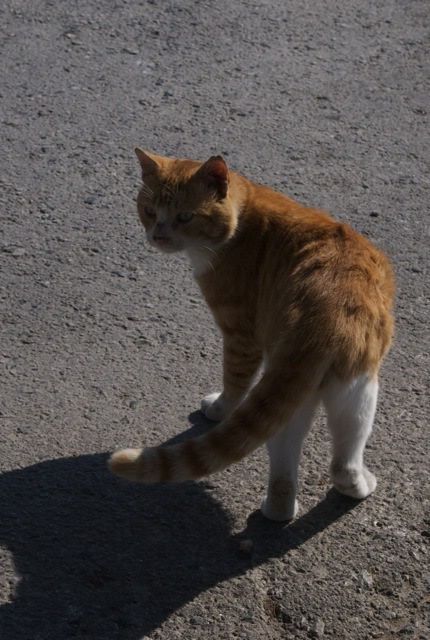 I walked along a little pebble beach on my way back to my hotel and found a wonderful spot that I wish I had found earlier. I could have sat here for hours listening to the waves and enjoying the scenery....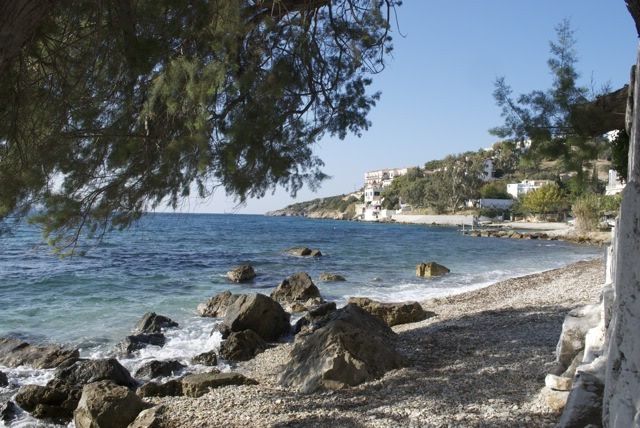 I retrieved my luggage from the hotel and then headed to the port to wait for them to open customs and passport control so I could board my ferry. I really could not believe that I was headed to Turkiye!! But there it was, a ferry bearing the beautiful Turkish flag...waiting to take me to my land of dreams. Ok, I know I wax nostalgic about Turkiye way to often. Don't expect it to end any time soon. It has more than met my expectations the second time around. Goodness, I sound like I'm talking about a lover don't I? Maybe I lived in a harem in an Ottoman palace at one time. Not sure why I would think of that as a positive thing though. Enough of that, back to the ferry.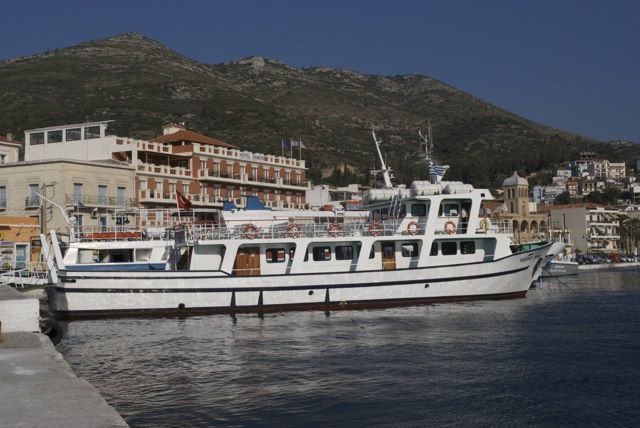 In typical Greek fashion, passport control opens after it was suppose to, but only by 5 minutes. I got in line, got my boarding pass, gave my passport to the guy at the counter after having made it didn't automatically fall open to my Greek visa page. Too late, he found it. "Are you coming back in?" he asks. "No," I reply. He then goes on to ask me why I needed this visa for such a short visit, to which I calmly and coolly reply "I changed my travel plans", thinking I'm doing good under pressure. Of course he had to get in the last dig by saying "just wanted to make sure you know, one entry, one exit"...sure thing!! Does it stop me? No...Turkiye is waiting and I have a date with some Turkish tea, lamacun, Aphrodite, and who knows what other culinary delights and ancient ruins!! So I boarded and across some wavy seas I headed to my beloved Turkiye. Thank goodness this fishing vessel finally got out of our way, but not after many honks of the horn!
Turkiye or bust!! (all the while praying to the gods that they will let me back into Greece)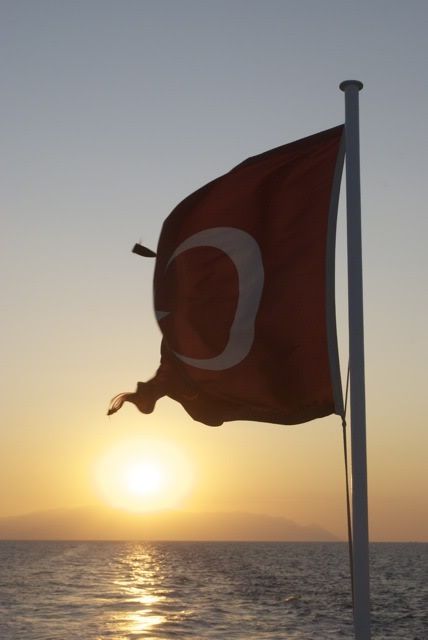 The sun was setting as we pulled into Kusadasi...how beautiful. Right then and there all that tension and worry about visas and borders and school and everything melted away.....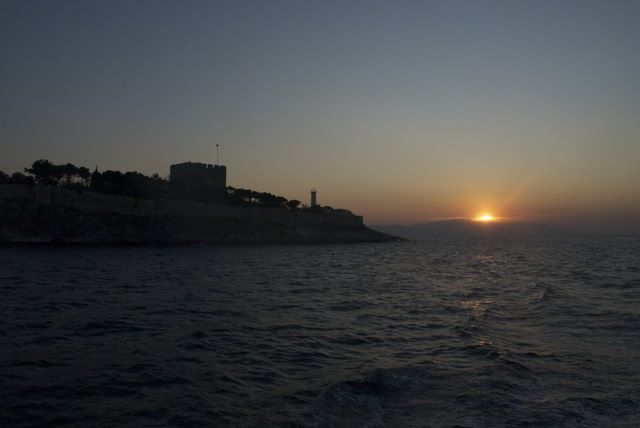 Posted by oceanchild 13:29 Archived in Turkey