I promise to continue my Peloponnese adventures ASAP
22.10.2008 - 22.10.2008
I've been busy today getting packed for my trip to Samos and Turkiye. I'm so excited! I'll be sure to keep you updated on that when I have internet. I think my hotel in Samos has internet but I don't expect much for 20 Euro a night.
Today after I did some shopping (did I ever tell you I love H&M? Great basics for little cost) I met Cordelia Madden who volunteers with a group called Nine Lives Greece. We have been trying get together for almost a month now but our schedules never seemed to work. Nine Lives Greece feeds and provides care several colonies of cats in Athens. Tonight we walked to Plaka so I could meet the Plaka colony that they care for. Cordelia told me that she has been told the average Athens cat has a life span of 18 months. It's a sad situation, but Nine Lives is doing the best they can to give these cats a better live. Once I have returned from my trip I am going to be feeding the Plaka cats at least once a week so they can have a night off. I hope to also help catch the cats so they can be spayed or neutered. These are beautiful creatures and deserve all the help they can get. If I can make a difference in one cats life, then I've done good. Too bad I couldn't take them all home with me! (don't tempt me)
Sorry if some of the photos are not up to par. I didn't have my Nikon with me. That is going to be another project with Nine Lives, doing some photography of the cats. If they will stay still long enough!
This one reminded me of Cricket in her younger more slender days....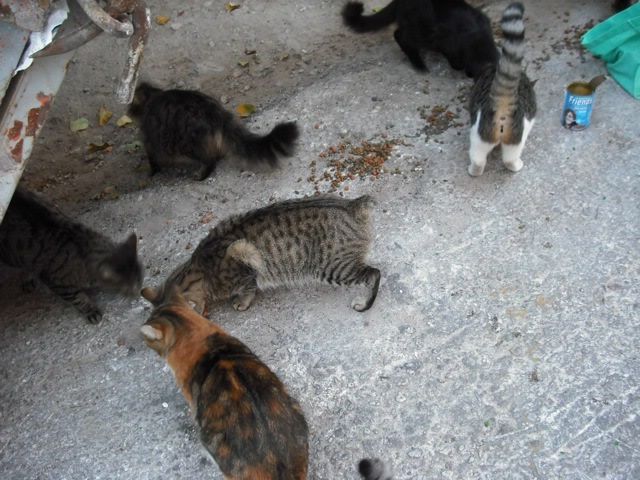 Posted by oceanchild 11:58 Archived in Greece Tagged animal