(a walk through Anafiotika)
29.09.2008 - 29.09.2008
So here it is and I have failed to post an entry for two weeks. Forgive me for being so inattentive. I hope you have not all abandoned me. Life got busy with school, walks around Athens, trips to Ancient Olympia. Don't even get me started on lack of reliable internet here. It's up. It's down. It's up again. You just never know.
The Greek Key is a class we are required to take in order to learn more about the Greek culture and way of life. It is not structured in a classroom setting. It is comprised of an individual project that can include volunteer work or independent study on some aspect of Greek life, various walks around Athens, a few individual "Athoriginal" walks, and posting responses to these walks on the board for the class. I've had two walks thus far and have decided to volunteer for a cat rescue society here for my project. The group I will hopefully be working with is called Nine Lives( http://www.ninelivesgreece.com/ ). I hope to help feed the stray colonies and possibly do some photography for them. If all works well, I will have my first meeting with them next week. Wish me luck. It will be heartbreaking work for me I'm sure. I wish every cat had the loving home and care that my cats receive.
My first walk was in a neighborhood called Anafiotika. Anafiotika is more reminiscent of the Greek islands than it is of Athens. Narrow winding pathways take you up through the neighborhood among whitewashed houses. It was built by those who came to Athens from the island of Anafi just after the Greek revolution in 1830. It is said that laws were put in place at the time to prevent people from building in order to claim property rights. A loophole existed, however, that said if one could put up 4 walls and a roof in 24 hours the land would be theirs. The construction workers of Anafi managed to build and roof these houses overnight thus claiming the property. I enjoyed the solitude of Anafiotika. It feels far removed from Athens, but like Athens it is an up and down walk!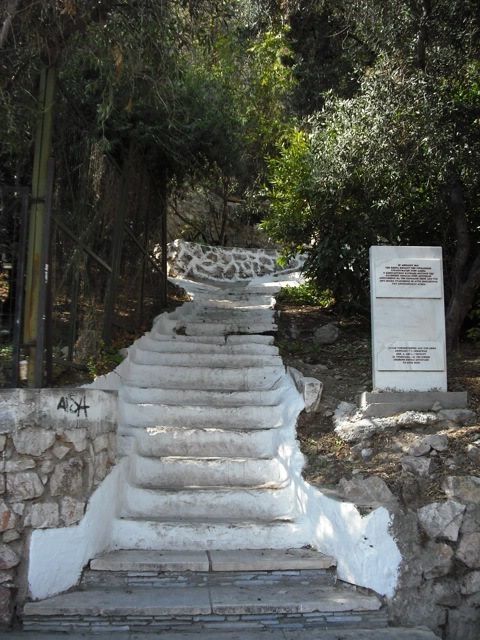 Stairs entering the neighborhood of Anafiotika.
The view from the top, just under the shadow of the Acropolis is amazing!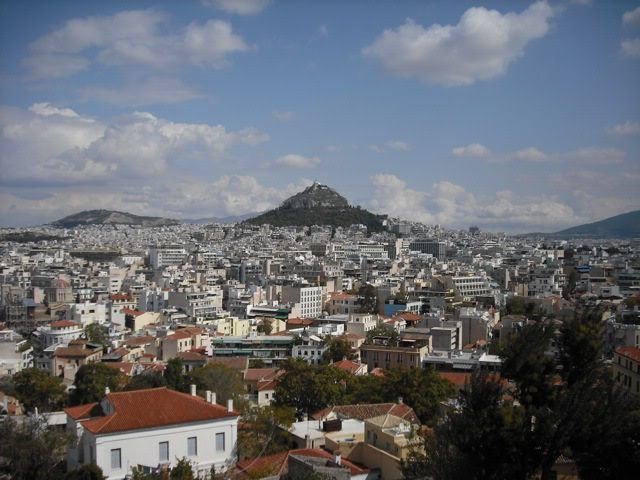 I found many cats to live there. It seems they have a better existence than a lot of cats in Athens. Far removed from traffic they seemed healthy and content. The orange cat lounging on the stairs was particularly content in his life. That is how I like to see a cat. Warming in the sun, pleased with its surroundings. As you can see in the photo with the two cats curled up sleeping, people feed the animals a variety of foods that most of us would never dream feeding them, such as bread. Far form nutritionally sufficient for a cat I guess it is better than starving. I can only hope they get scraps of meat as well.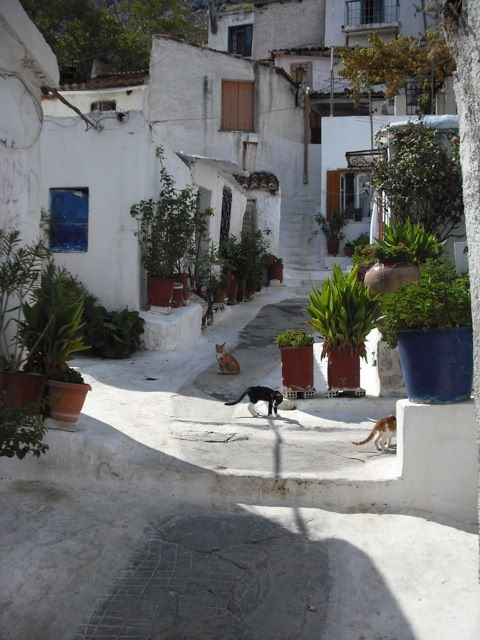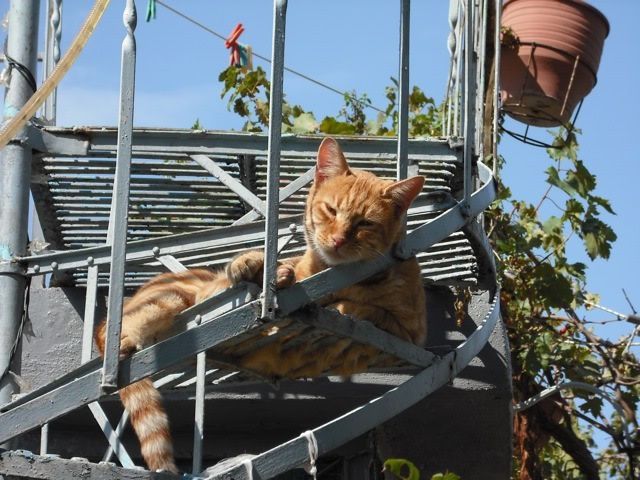 Another common feature of Athens, and Anafiotika is no exception, is of course graffiti. I found these particularly interesting and inspiring. Statements or just random? Your guess is as good as mine.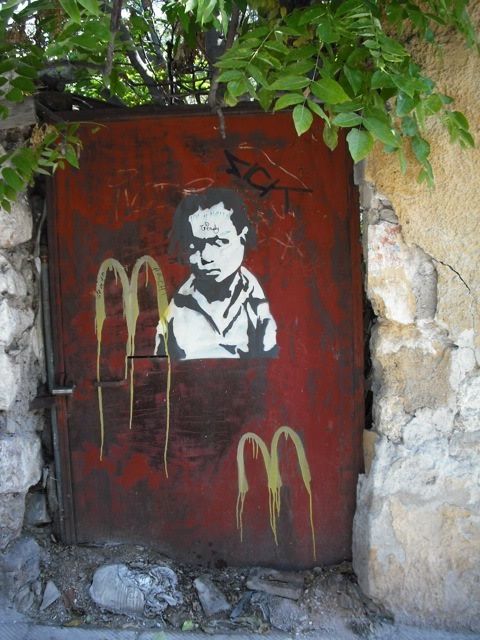 What are you hungry for?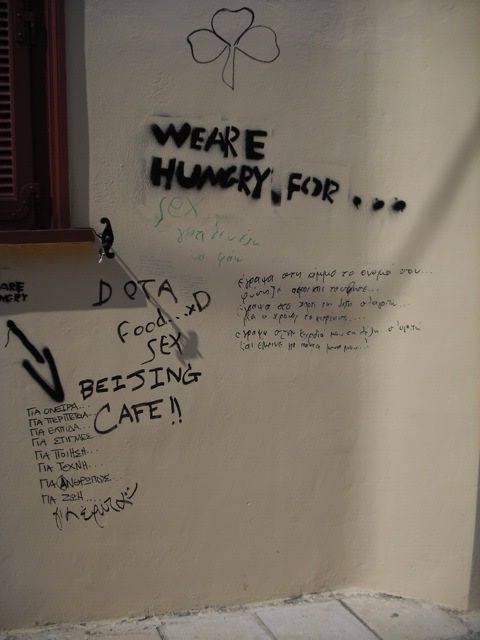 This was the site of one of the mosques that use to exist in Athens dating from Ottoman rule. Unfortunately no active mosques exist today in Athens. There have been plans for one to be built, but I understand there is some opposition to it by the Orthodox Church. On one hand I can understand, given the duration of Ottoman rule over Greece. On the other hand, why can't we all just get along?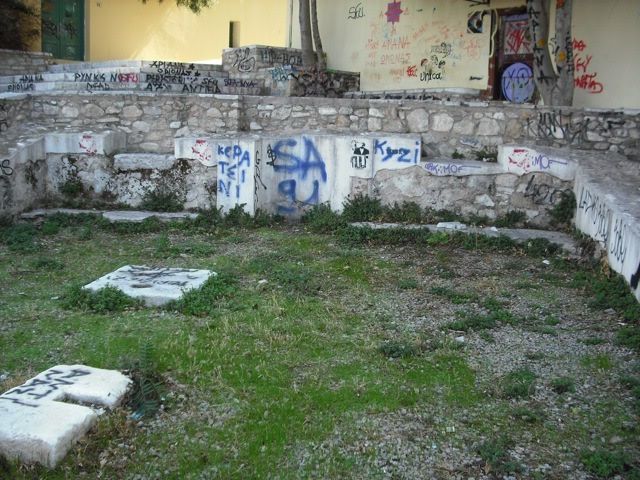 With our walk finished, I'll leave you with this. The new Acropolis museum. Controversy surrounds it in more than one way. Some say the architecture should not be so modern. But I found the idea of having it reflect the Acropolis in its sleek modern glass front brilliant. Yet capitalism rears its ugly head. A beautiful historical building that sits in front of the museum is in danger of being torn down because it blocks the view of the Acropolis from the coffee shop of the museum. Needless to say I signed the petition to save the building. I think it is a ridiculous reason to tear down a historical building. The other big controversy that surrounds the museum is the Elgin Marbles. For those unfamiliar with the marbles the consist of some of the sculptures from the Parthenon friezes that were disastrously removed by Lord Elgin when Greece was under Turkish rule. Taken by Elgin to Britain they remain to this day in a British museum. Greece wants them back, in fact insists that they were taken wrongly and belong to Greece. It is a subject of much debate among historians and archaeologists. Arguments abound on both sides of the issue. Me? I say give them back to Greece. The belong beside the Parthenon. I think it is only in their true environment that they can be appreciated. That said, I must do a response paper after some reading on this and who knows what my stance will be after that. I'll keep you updated.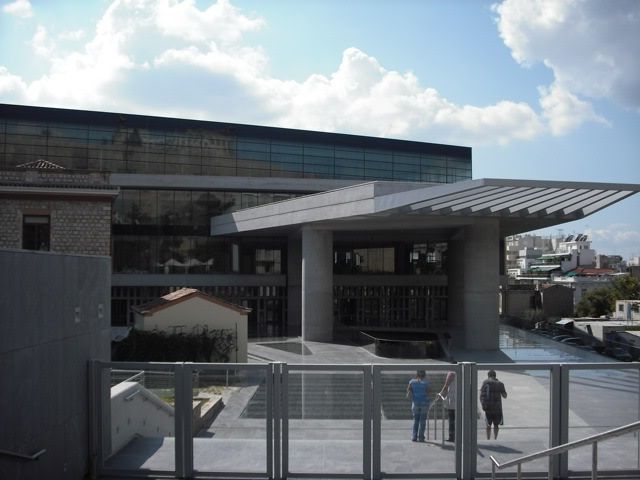 Finally, the colors of Plaka and Monastiraki.......no controversy here. These simply make me happy.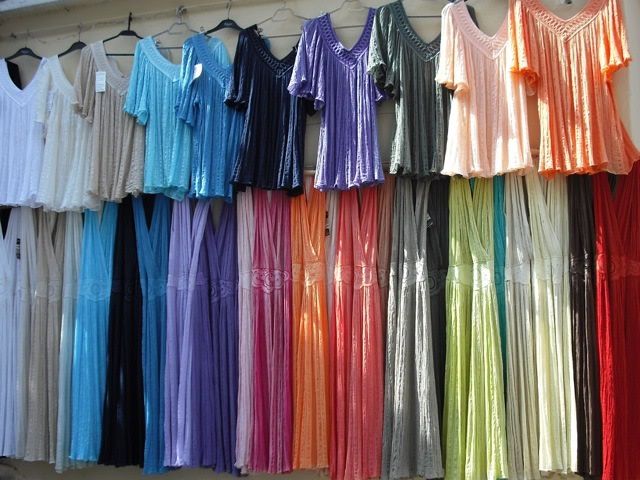 Posted by oceanchild 11:06 Archived in Greece Tagged living_abroad