Apparently a lot
27.09.2008 - 27.09.2008
18 °C
Shopping in Athens can be an interesting experience to say the least. I'm guessing the economy here must not be as bad as in the US? People seem to be doing a lot of shopping. The stores on a Saturday afternoon are as crowded as Christmas in the US. It's shoulder-to-shoulder people at the check out. Then again I was amazed at those who were just window-shopping. You would think people had never seen shoes before!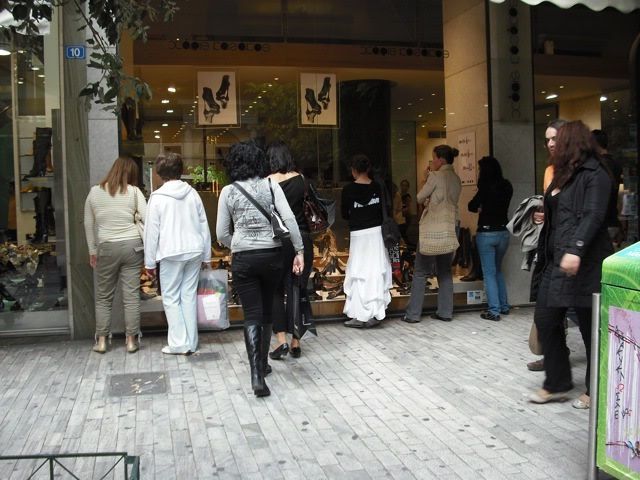 Walking down Ermou in Syntagma Square brings some interesting sites. I already showed you the interesting lingerie displays in a previous entry. I thought these Christmas caroler wannabes (well, they reminded me of Christmas carolers) mannequins fit the bill for interesting though. Love the day-glo hair.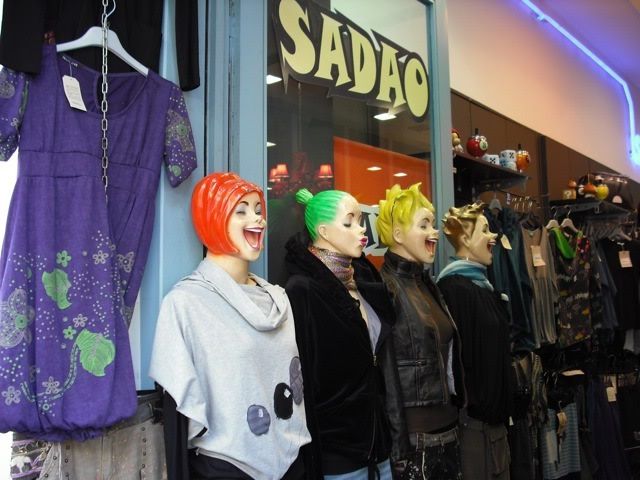 You can find all sorts of food to eat. Cafés, McDonalds, Everest….and street vendors such as those selling delicious baked goods. I have to find out what these are called, but the varieties were tomato and cheese, chocolate, and cheese. If I hadn't just eaten a chocolate croissant, which was delightful I might add, I certainly would have indulged in one of these.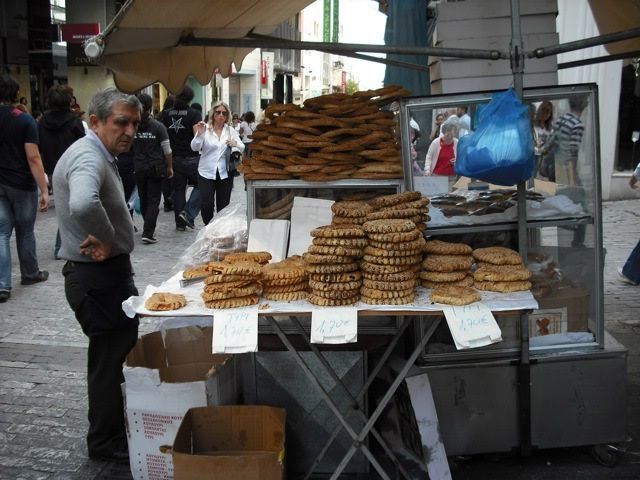 Roasted corn seems to be popular as well. I might just give it a try one day.
Shopping is as varied as it gets here. From the 3 Euro clothing store to Sephora, you can find it in Syntagma.
Walk a bit further and you end up in the flea market. Wow, two trips to the flea market in one week. I'm showing my true colors aren't I? But Samantha wanted to check it out and I had nothing better to do, so why not? Besides, you find some interesting items at the flea market. Like a totally naked Dopey doll. Yes, Dopey the Dwarf is sans his typical oversized green tunic. Pitiful isn't it?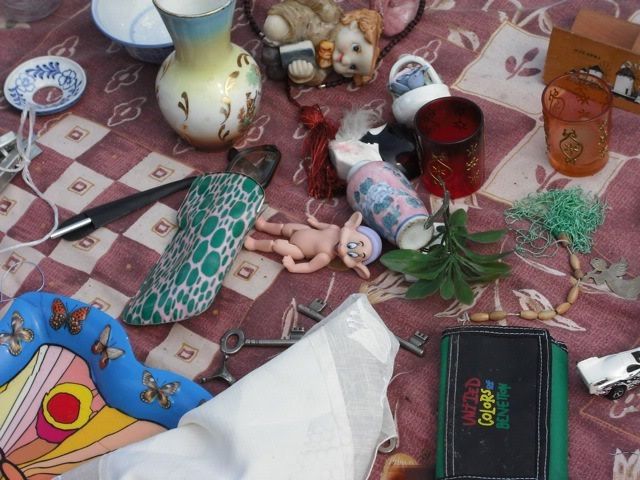 Interesting replicas of some Nazi daggers.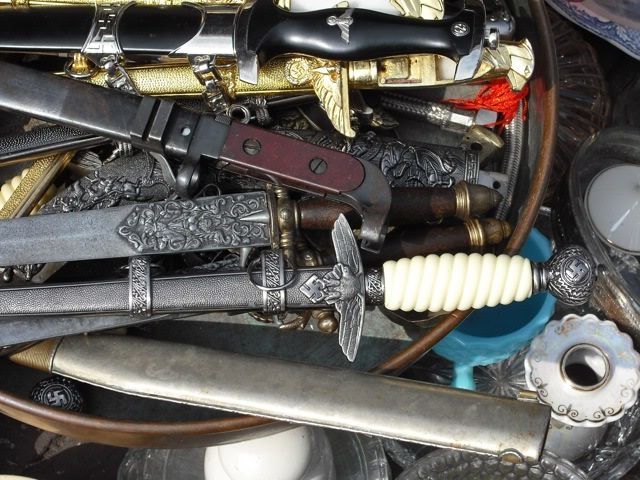 Sam found this sword and was just drooling over it, until she asked the price. A mere 500 Euros is what the vendor wanted. I'm not entirely sure I'd have such a pricey item just lying there without much security. Maybe it isn't worth all that much and he just thought he would take some naïve Americans. Didn't work.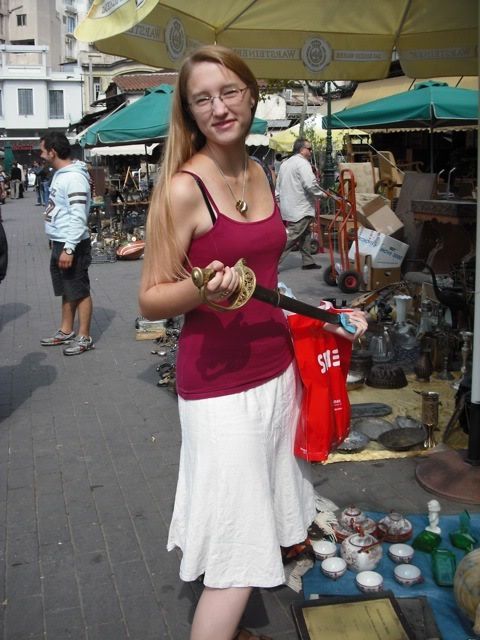 Gotta love the phallic obsession here. Phallic bottle openers. What will they think of next? Goes well with the nice little Satyr statue. I keep wondering for whom back home this would make a nice gift? Any takers?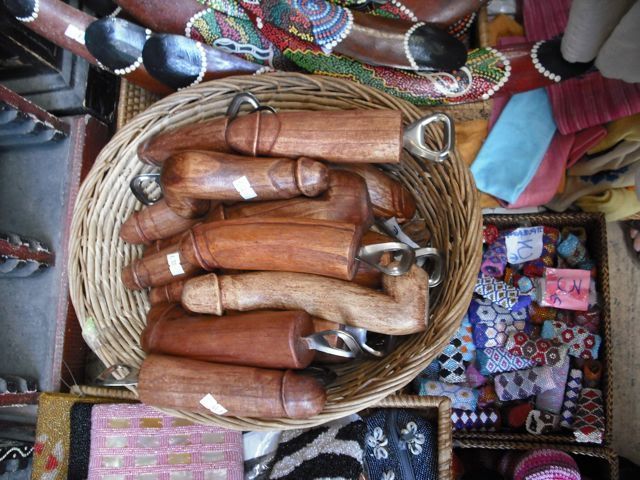 Philosophers and Sinatra…a natural combination?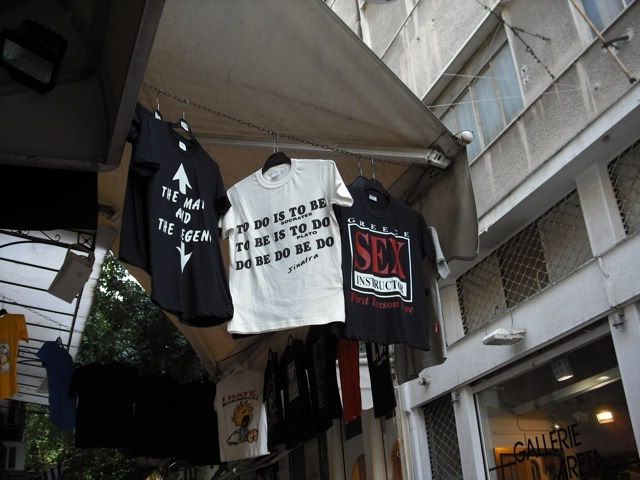 We finally escaped the masses of Monastiraki and made it back to Syntagma. On the way he walked by the Stoa of Attilus in the Ancient Agora. King Attalos of Pergamon who ruled from 159-138 BCE originally founded it. It burnt in 267 CE and was reconstructed in the 1950's using the original foundation and ancient materials and now houses a museum.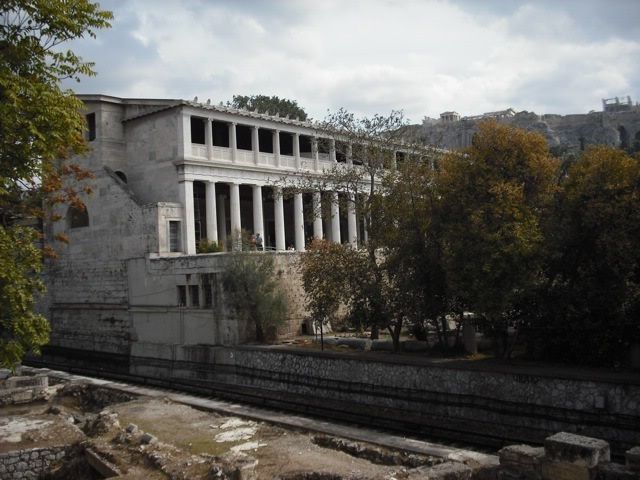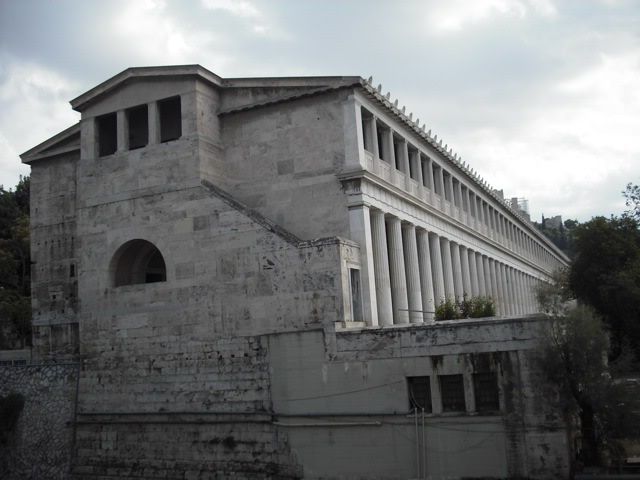 Back toward Syntagma we happened upon the cathedral of Mitropoli. With the cornerstone laid in 1812 it took another 20 years to complete. It appeared to be under restoration, so I wasn't able to get any good full view photos. When I have more time I certainly want to go explore it a bit closer. It is open to the public but we opted not to go inside.
It was just another typical day of walking around Plaka, Monistiraki, and Syntagma. Sam and I finished it off by sitting in a little café in Plaiteia Varnarva and having coffee drinks. We had a challenge given to us when we first came here to sit in a café and out last a group of Greeks. We did it! We outlasted two groups. Does that mean we are catching on to the Greek spirit? I hope so.
Oh…what would an entry be without a few felines? Some of them are not being very cooperative, but this little black one was so sweet. I want to take them all home.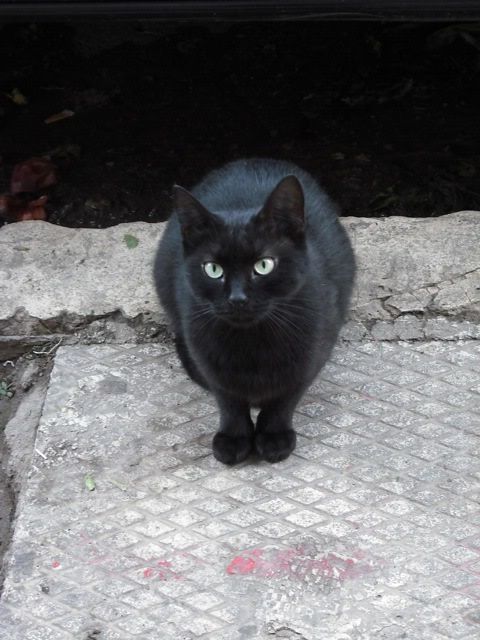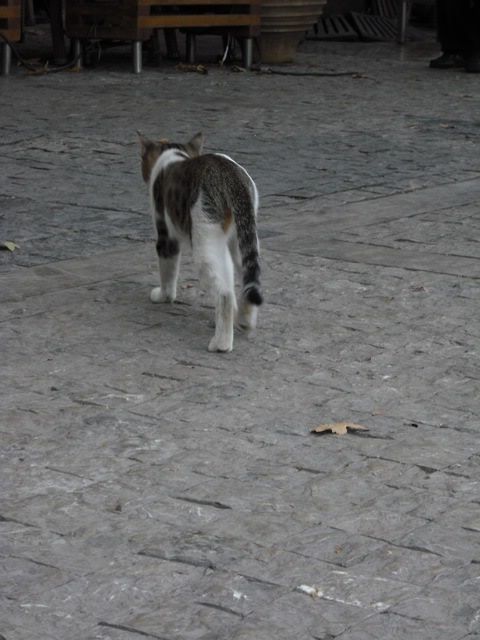 Posted by oceanchild 13:40 Archived in Greece Tagged shopping