Just chillin' at Sounio
26.09.2008 - 26.09.2008
26 °C
Temple of Poseidon
I was really wowed today. Wowed like I would have expected to be by the Parthenon. I guess maybe Poseidon is my god? Today we took a trip down to Lavrio to visit the Technology Culture Park, and then on to Sounio to visit the Temple of Poseidon. The Technology Culture Park focused mainly on the mining culture in the area. It was neat to see, but our guide was difficult to hear because we had such a large group. I honestly can't say I learned much there because of that. So I'll skip on by and go on to Sounio. Sounio is located at the southern most tip of the mainland. The drive from Lavrio to Sounio gave us some great views of the sea and finally some real green foliage. So far most of the foliage has been a rather drab, dusty, sage green. Not that I don't like olive trees, but the brighter green was a welcome sight. We arrived at the Temple and thankfully the temperatures were cooler than expected. It was quite breezy as well. The Temple was built in 444 BCE. It sits high on a promontory that juts out into the sea. It is said that the temple was the first thing that mariners would glinting in the sun when sailing toward the land. I do have to say it is quite an amazing site sitting up there above it all.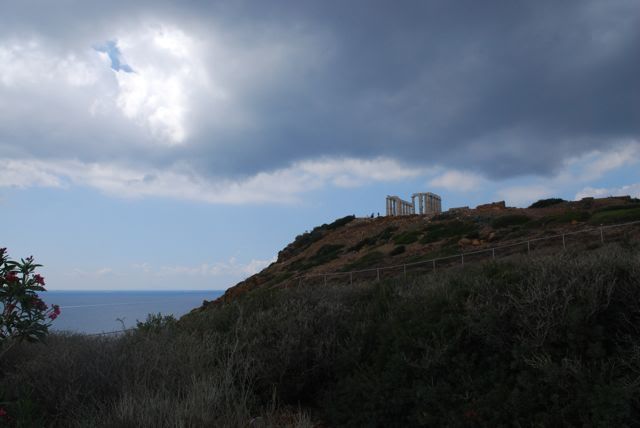 I think I did go a bit overboard, taking photos at every angle, going for the monumental look (it wasn't hard), finding the best light. I just love this part of being here though. This is really why I'm here.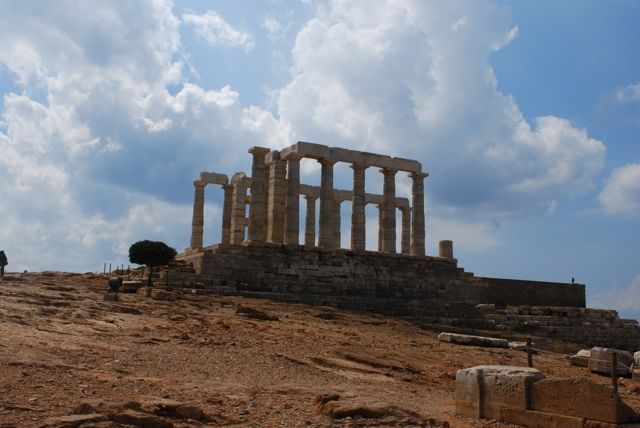 It's dramatic.
The columns of the Temple of Poseidon are of the Doric order. The columns have only 16 flutings instead of the usual 20, which has helped with erosion over the years.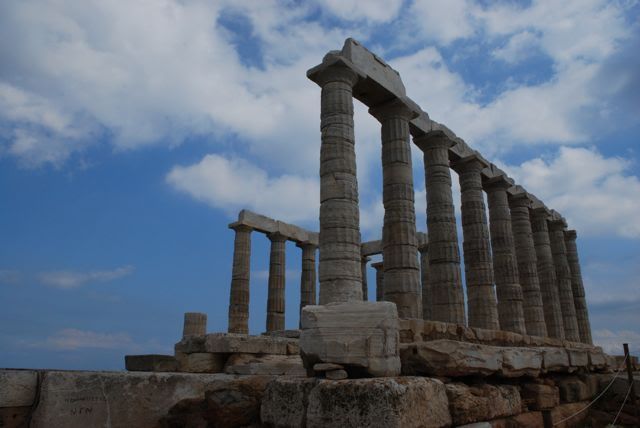 But time, weather, and humans all play a role in the eroding of these great monuments. Most of Greeks monuments are roped off from the public. Sad but necessary. It wasn't the case in 1810 when Lord Byron visited this temple. He carved his name on one of the ante and it remains there today.
There is Lord Byron's graffiti. Second block up from the bottom, The lighter area just above the seam.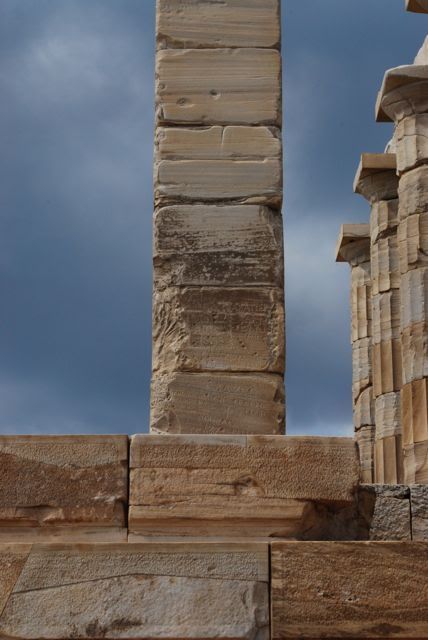 Ok, here it is a bit closer. You can make out the name Byron if you look closely.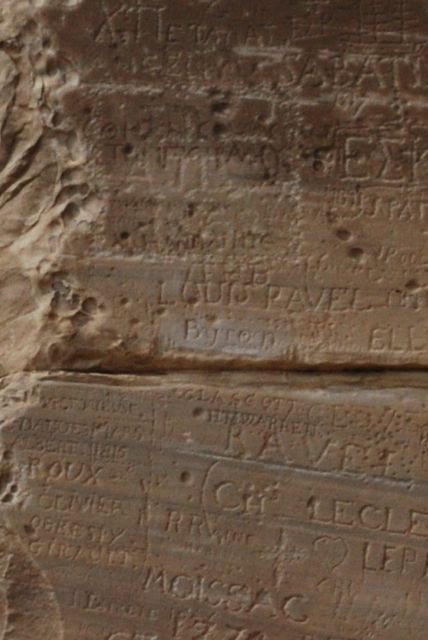 Unfortunately many others followed Byron's example. I'm sure people would still be doing it if it weren't roped off from human contact.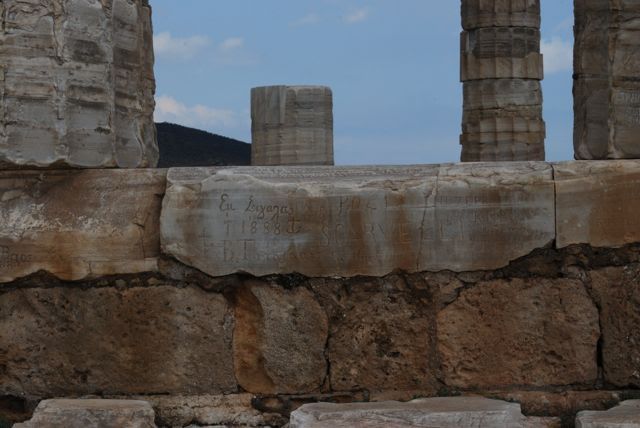 The views from up on the hill were quite spectacular. I have heard mention of the "Greek light." The light is differnet, making things look extraordinary. I think today I understood.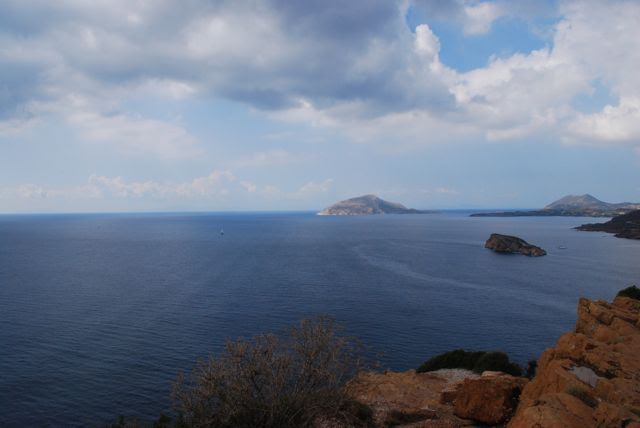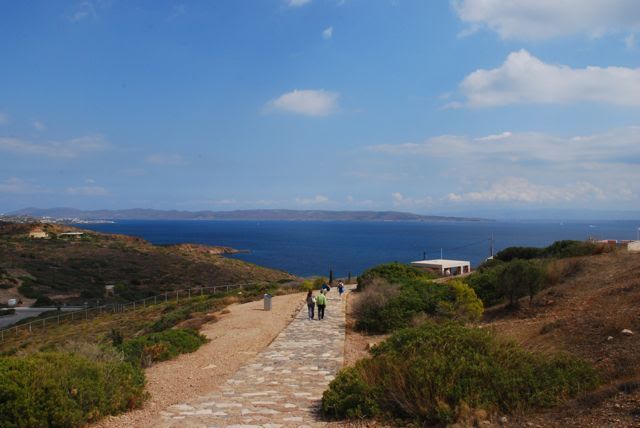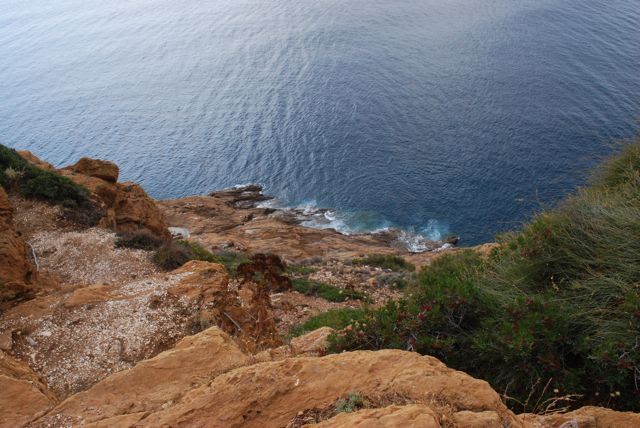 Simply beautiful.
While walking around the temple I kept hearing some sort of bird calling. Then I saw it. In the temple at first and later on the ground around it. I'm not quite sure what kind of bird it is. If anyone has an idea let me know. It looks almost related to the partridge? I'm not sure and I'm too lazy to research it right now. It was a beautiful bird none the less.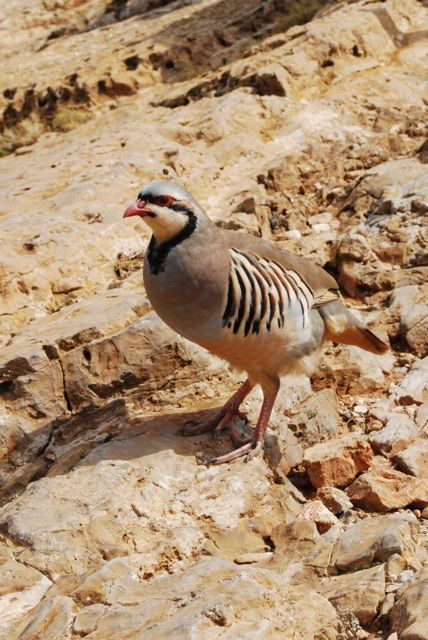 We left the Temple of Poseidon and headed down to the beach to find some lunch, swim, walk around, do whatever. I had the fava, along with a Greek salad. The fava is amazing, sort of like lentil soup, even down to putting the lemon on it. I have to learn to make the fava. I could almost eat it daily!
Other than lunch and chatting I didn't do much on the beach. It was a bit cool for a swim in my opinion. Besides, my second towel was stolen when we were on Kea and I haven't replaced it. I didn't bring a change of clothes and did not want to ride back to Athens wet. So I just took a few photos and enjoyed the beautiful weather.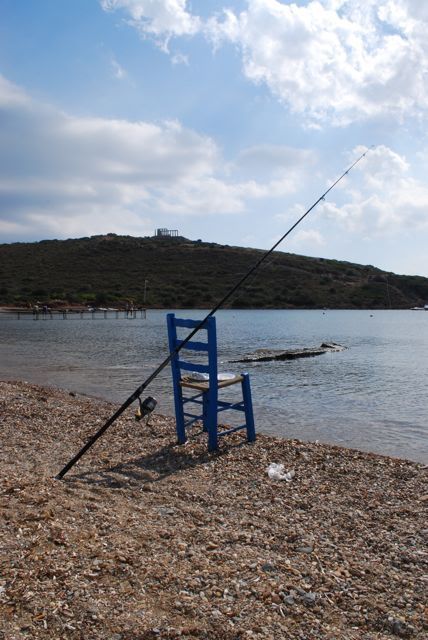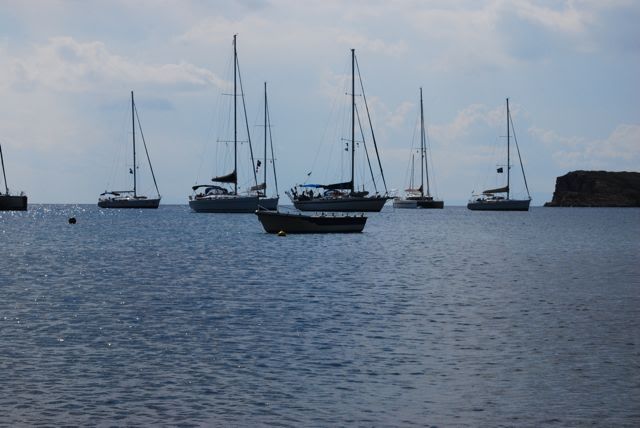 One of the Greek language teachers, Apostolos, brought his niece on the trip today. She was simply adorable. He said she loved to take photos and she was pretty interested in my camera. You can tell she is quite the camera ham here!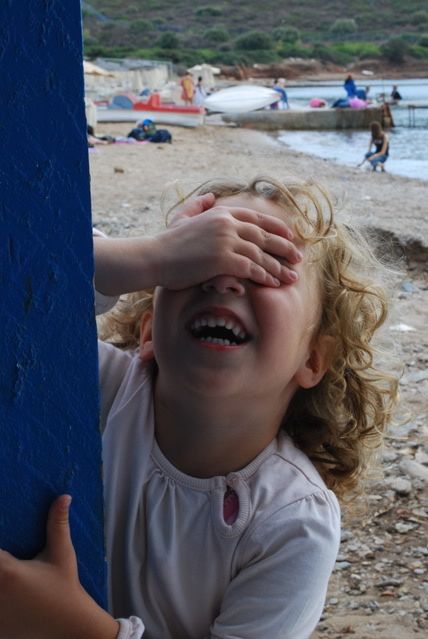 No cats today, but I did decide to finally photograph a dog. I prefer cats in my camera lens though. I haven't seen many cats at the sites though.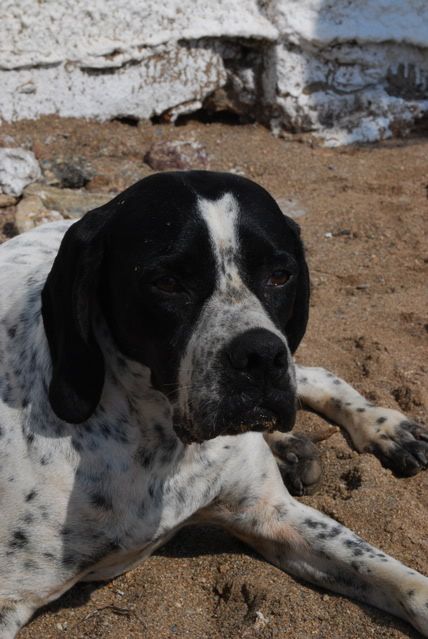 Now the sad part is I'm doing laundry on a Friday night. Some others went to the Odeon of Herodes Atticus to see the Alvin Ailey Dance Theater. I opted not to go. I'm kind of glad I didn't because guess what? It's raining in Athens again.
Posted by oceanchild 11:41 Archived in Greece Tagged tourist_sites