What better time to learn some Greek
23.09.2008 - 23.09.2008
21 °C
We had a wonderful thunderstorm last night. I do love a good thunderstorm if I can stay in and dry. I was going to head out toward the stadium to see if I could hear the music from the benefit concert (the benefit was for places burned by the fires in the Pelopenesse last year) but just about dark the sky opened up and the rain came down. I suppose Zeus was not very pleased because some lightening bolts were being thrown! So I stayed in and studied Greek. Speaking of Greek, I think it is about time I taught all my readers some of the basics. It's really not that hard. Even the Greek alphabet comes to you fairly easily after a while. You will catch on!
Here you will see Greek followed by a pronunciation and what it means in English. Syllables that receive accents are italicized. Accents are very important because a change in the accent can change the meaning of a word. Some pronunciations are a bit different from English. The CH in chero poli would be more like an H from the back of the throat, not like the sound in character. Give it a try!
Γεια σας – Ya-sus – Hello (formal)
Γεια σου – Ya-su - Hi
Χαιρω πολι – Che-ro po-li – Pleased to meet you
Καλημερα – Kali-me-ra – Good morning
Καλησπερα – Kali-sper-a – Good evening
Αντιο –a-di-o - Goodbye
Πως σε λενε; Pos se le-ne - What's your name?
Με λενε... – may-le-ne – My name is...
Τι κανεις; Ti ka-nes? How are you?
Καλα – Ka-la – Fine
Ετσι και ετσι – et-si k' et-si – so so
Ευχαριστω – Ef-ka-ri-sto – Thank you
Παρακαλω – par-a-ka-lo – Please/Your Welcome
Ναι –neh - no
Οχι – o-hi - yes
Συγνωμη –si-ghno-me – sorry/pardon
Those are the basics for simple conversation. Now you have no excuse for not speaking Greek to me.
Now, about that thunderstorm. I took my camera out on the balcony and tried to get some photos of the lightening, but it never happened. I guess Zeus was tossing them in the wrong direction. What I did get were some photos of the street, the rain, the sky, and Lykavittos hill. Exciting I know, but it's all I have to offer today.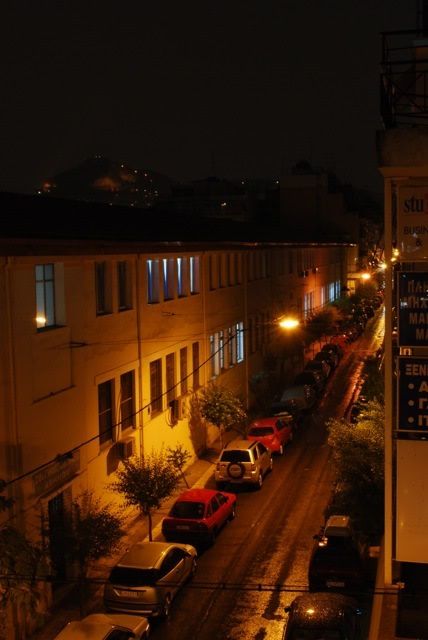 My street at night. Thank goodness for those shutters that block out the light. The building you see in the photo is some sort of school or recreation center, I'm not sure. But I am sure that it gets darn noisy at times!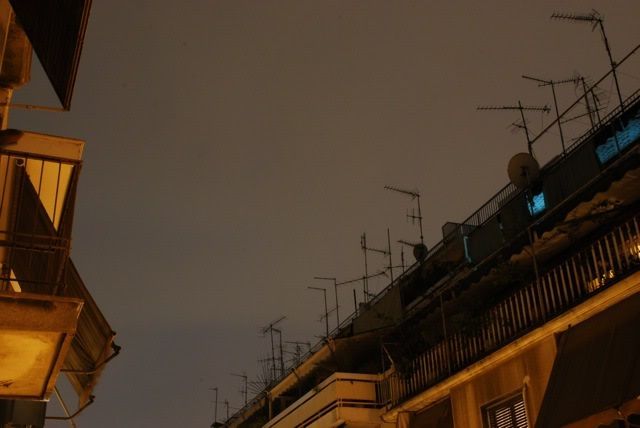 Where are those lightening bolts? Don't you love all the antennas?

It's raining again....(now I have Supertramp stuck in my head)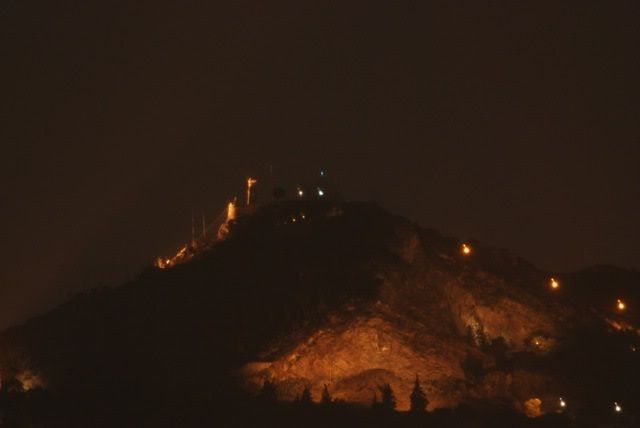 Lykavittos hill.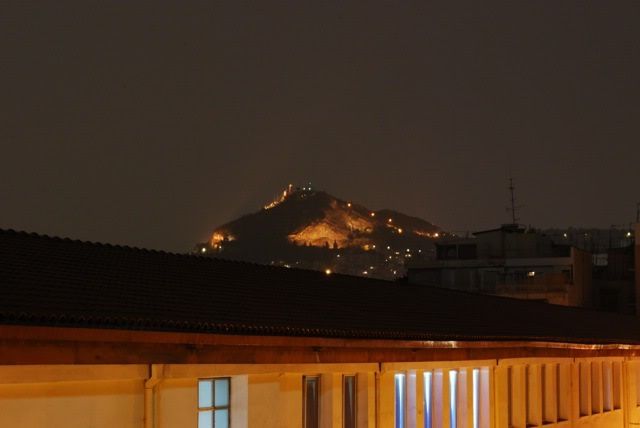 Lykavittos at night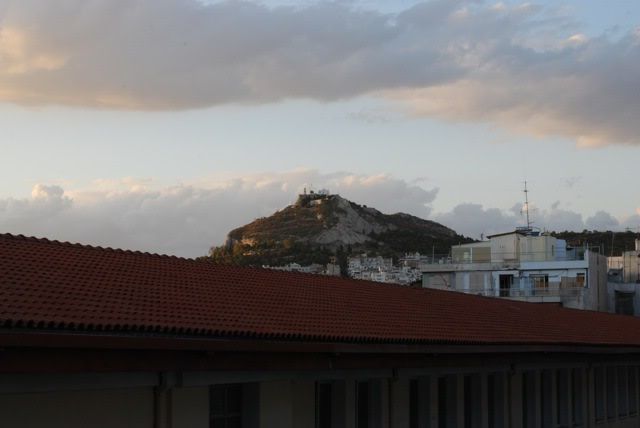 Lykavittos in daylight
One of these days I am going to get to the top of Lykoavittos Hill. I understand the views from there are phenomenal if you make it on a clear day or at sunset. Thankfully there is a funicular (a sort of trolley that goes up the hill) that will take you there. I'm not sure I am ready to tackle Lykavittos on foot yet. The weekdays are staying busy with school work. It's no where near overwhelming though, just helps keep me busy. Speaking of busy, I should do some more studying so I can ace that quiz tomorrow.
Adio!
Posted by oceanchild 08:01 Archived in Greece Tagged educational