20.09.2008 - 21.09.2008
20 °C
Rain. It was a welcome thing in Athens this weekend. It cooled the temperatures and settled the dust. After a busy day on Friday I was able to settle into my room on Saturday and get some work done. Work. Isn't that a dirty word? I suppose it is why I came here. To expand my knowledge. So like the academic geek I am, I went to the library, read and sat in my room later studying my Greek language material. I'm starting to catch on but I am not sure I will ever like conjugating verbs or declining nouns. I'll get by though. Ef-kar-e-sto! (thank you!)
Saturday night some of us got together and had dinner at one of the girl's apartments. It was cozy. The apartments aren't made for large gatherings but we had a good time. It seems like even the simplest foods here taste good. Pasta with olive oil and garlic, fresh salad with Greek dressing, and good crusty bread. Top it off with a bottle of wine from a vineyard in Santorini and it made for a very satisfying meal. With our bellies filled we headed out to Thissio via the Metro to see if we could find a music festival that we had heard chatter of. Not having specific directions we had no luck. Instead we ended up wandering the streets. A local saw us and told us there were no tourist places down one street. Head back to Plaka he said. But we didn't want to go to Plaka! We gave up trying to find the festival around 10:00 and finally stopped for gelato. I had pistachio. It was lovely. Sorry, I forgot my camera, so no gelato snapshots.
Sunday we decided to go shopping in Syntagma. What we didn't realize was that most shops are closed on Sundays. Now we know. Walking about Syntagma yields some interesting sights though, even though the stores were closed. My favorite was the display in this lingerie shop. The equivalent of Fredricks of Hollywoods I suppose?

Not sure about the zippers as masks. Weird.
There are some familiar sights as well. Applebees anyone?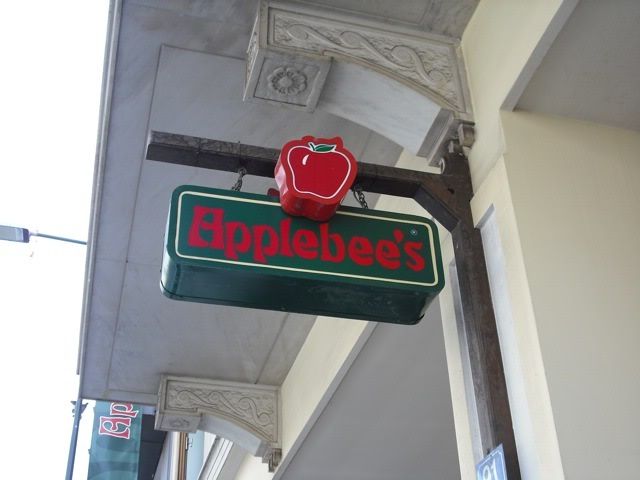 I know if I am every craving American food there is certainly no shortage of it in Athens. Pizza Hut, Dominos, McDonalds, Subway, TGIF can all be found nearby. I'll stick with Greek food as much as I can. McDonalds appears to be fairly popular with the local population though.
I found it rather odd to see three Native American's playing Native American music in Syntagma. They were selling CD's, but it seems an awful long way to come to sell a few CD's on the street. I'm guessing they were authentic Native Americans because of their appearance. Who knows, it may have just been a gimmick. But they seemed authentic.

The music was nice though. They were pretty good on those flutes.
While most of the stores were closed we did hit the 3 Euro clothing store, which happened to be open. Unfortunately I found that what is labeled an XL seems to fit only a Barbie doll sized person. Is this some statement about the size of Americans? Or are Europeans just living a dream? I haven't seen many obese people here, but not everyone is a size 5 either. I have a feeling any clothes I purchase here will have to be bought at pricier store.
Since the stores were closed I suggested we walk to Monastiraki and find the flea market I had read about in my guidebook. A short walk from Syntagma and we found the flea market, along with the crowds. The Athens flea market is very similar to flea markets in America. Some permanent shops lined the streets selling everything from clothes to knick-knacks while one street was reserved for vendors who put out their wares on the street.

A new facebook profile pic?
It was an interesting and eclectic mix of items. Very similar to what you would find in a US flea market. Greek LP's. Assorted musical instruments. Old phonogrpahs. Telephones with actual dials.Sheet music.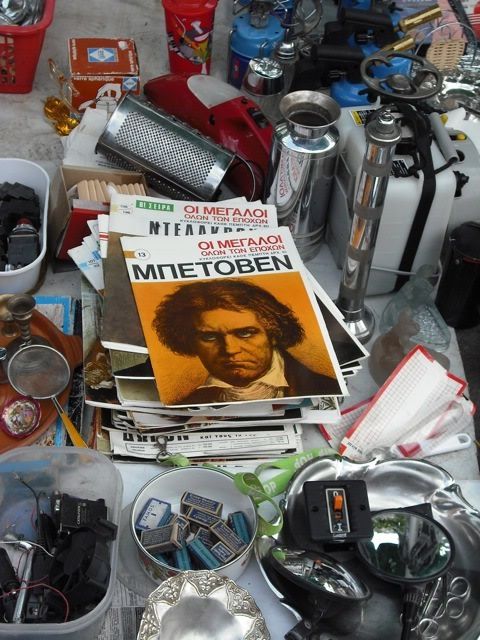 Yes, that says Beethoven. I have to remember that mu+pi makes a B sound. Maybe Beethoven will help.
Jewelry. Wall décor. Junk in general.
Hookas.
No, I don't think I've seen to many hookas in US flea markets. Now they have me wondering if there is a hooka bar anywhere in Athens. Maybe I'll have to wait for Istanbul. I know, strange for such an anti-smoker as myself. I don't get it either.
If anyone can tell me what "safe pants" are I'd appreciate it. I am guessing they are the equivalent to Depends? Keep you safe from accidents of incontinence? But "safe pants?" Couldn't they have thought of a better name?
Having explored the flea market we walked through the National Gardens on our way home. The Gardens are a nice respite from the hustle and bustle of Athens. It seems to be a family friendly place complete with balloon vendors and a children's library. Interesting that American characters are so prevalent here. Spongebob and Dora are universal I suppose.
I came home and did the afternoon quiet time. I think I'm getting too accustomed to the quiet time for naps. It just won't work when I come home. Too bad. I kind of like the break in the day. I spent Sunday night studying and finishing Greek language homework as well as "skyping" with a friend back home. Skype is a wonderful thing. Much better than the rates you pay for international cell phone service. Skype helps me keep in touch with my husband as well. Thanks to Skype and IM we have been able to be in touch at least daily. I've even skyped with my cat, Willow. I don't think she gets it though.
Last but not least, today is my daughter Bridget's 27th birthday. Happy Birthday Bridget! I miss you and love you! I'll leave you with a few Athens felines. Enjoy your day!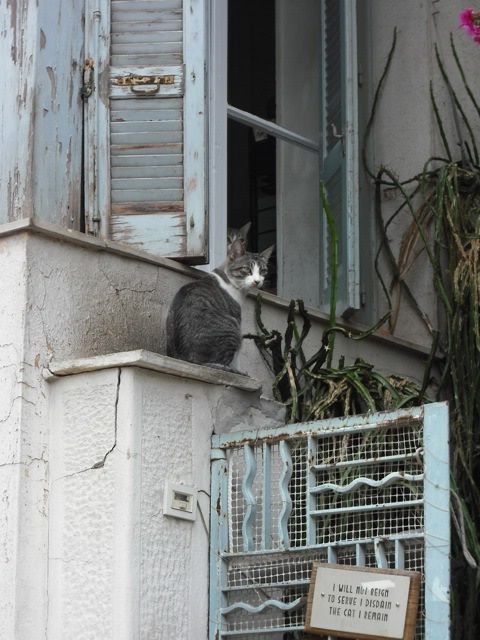 Posted by oceanchild 05:16 Archived in Greece Tagged shopping