Kea was hot but amazing!
12.09.2008 - 14.09.2008 34 °C
I'm back from Tzia/Kea. The island has two names. Pick one and it will be correct. I mostly saw Kea used on the island though. It was a beautiful place to spend the weekend, although a bit too hot for my comfort. I survived with lots of water. I was short on the sunscreen though and my neck got terrible sunburn. But let's concentrate on what was good! Kea is a small island about an hours ferry ride from Lavrio, which is an hour-long bus ride from Athens. Thank goodness the bus was air-conditioned and there was a good breeze on the ferry. Of course little did I know Kea's heat would be brutal! The ferry ride was rather cool though!

View leaving Lavrio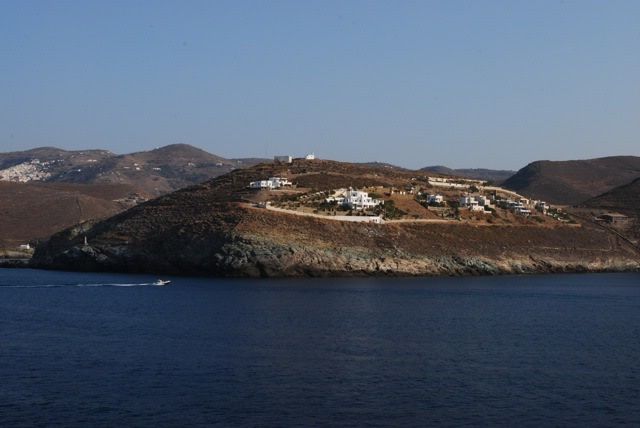 Coming up on Kea
We arrived on Kea around 5:30. The port town is really neat. A few shops, a church, cafes. Just a nice little town.

Karissia port
We were assigned rooms in several different hotels and then everyone scattered for the evening until the beach party that had been arranged for us at a beach bar. Everyone was pretty excited about the beach party. Me? It was ok, but not the highlight of my trip by any means. I did swim in the Mediterranean for the first time though. That was awesome and amazing and I would have done so again if someone did not steal my towel. A small group of us left the party around midnight but I'm sure it went on much longer into the night. I was tired and wanted to be refreshed for the walking I knew we would do the next day.
Saturday morning I had the pleasure of my husband Tim being my wake up call. I think I sounded rather groggy. I hope he doesn't think I was not excited to hear from him. That was the first time I truly felt the overwhelming feeling of being homesick. I think if someone would have offered me a ticket home Saturday morning I may very well have considered it. It took me a while to shake the homesick feeling. I think being in large groups (and we have a very large group) doesn't help me. In fact, I found that my homesick feeling finally subsided only when the large group broke down into much smaller groups.
After breakfast we took the bus to the village of Ioulida. Ioulida is one of those picture perfect quaint hillside villages comprised of whitewashed buildings and colorful shutters.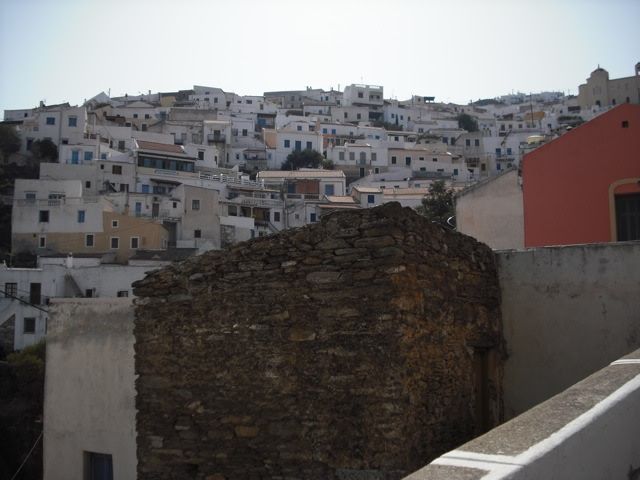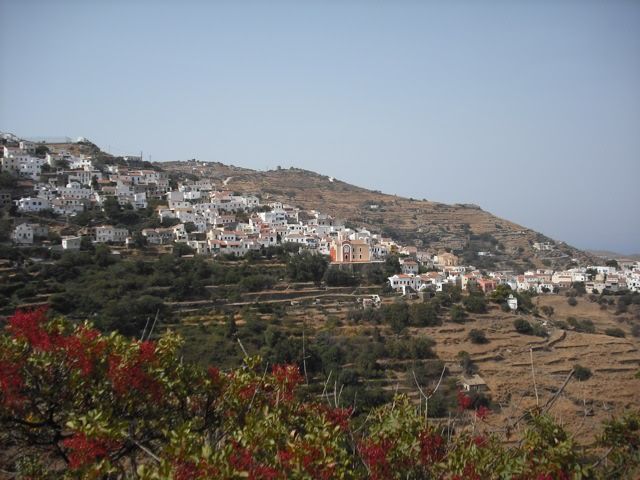 View of Loulida from the footpath
Getting a decent photo was difficult, however, because we have such a large group. Yet the walk was nice (and hot) and we ended up at what is considered a pretty old square far from the village. Water is available from a tap there and we all filled our bottles. Yes, we were assured it was drinkable. So far I have felt no ill effects. A local came up the footpath to give his donkey water. This is what I love to see! It's the real culture.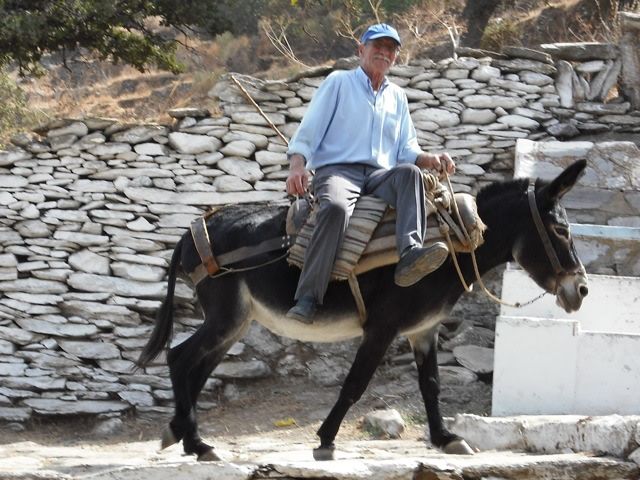 After a nice rest in the shade of a large tree (a tree that I tried to climb with Ryan but was unsuccessful. Ryan is determind I am going to climb a tree in Greece though), we headed back down so we could see the lion that had been carved into the bedrock. Again, good pictures were tough to come by because we had such a large group. The story behind the lion is pretty ambiguous. Nobody is sure when it was carved but it is believed to be from ancient times.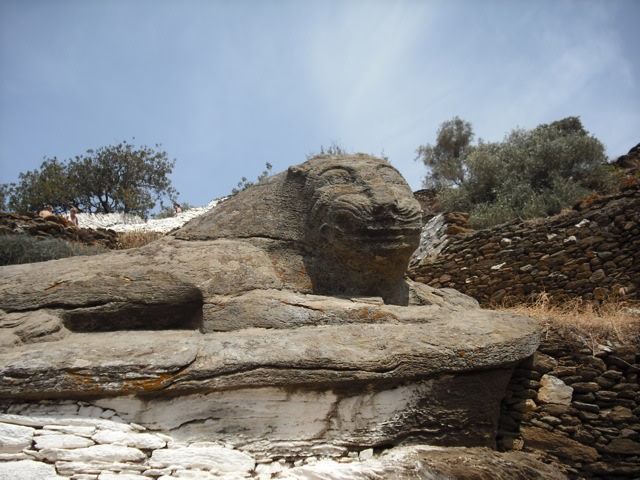 Back in the village we explored the exhibits at the archeological museum. I enjoyed those from the classical period best. All the artifacts had been excavated from Kea. We spent about 45 minutes at the museum and then everyone rushed to get the bus, so about ten of us decided to stay behind and eat lunch at one of the cafes. A good choice. We were in the shade and the breeze was welcome. It was a wonderful lunch! We ordered a local dish of fava beans, garlic, and olive oil to share. All I can say is it took me back to Turkiye and lentil soup! Delicious! I finally had a true Greek salad.
The best.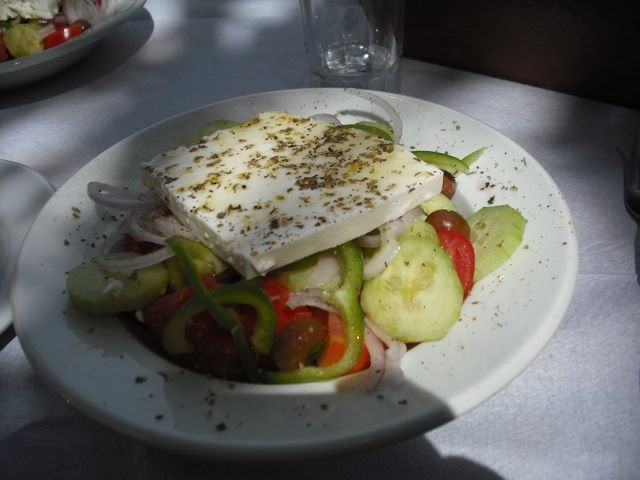 Louis Pappas watch out. You can't touch this.
The feta cheese here is amazing as are the olive oil, tomatoes, and cucumbers. We tried to order some of the local white cheese, ksino, but they never brought it and thankfully we weren't charged. Several cats kept us company while we dined. I feel so sad for cats begging the way they do. I want to take them all with me.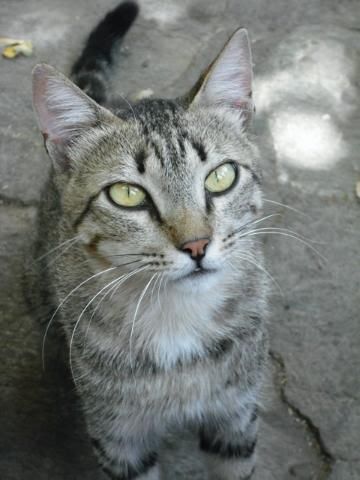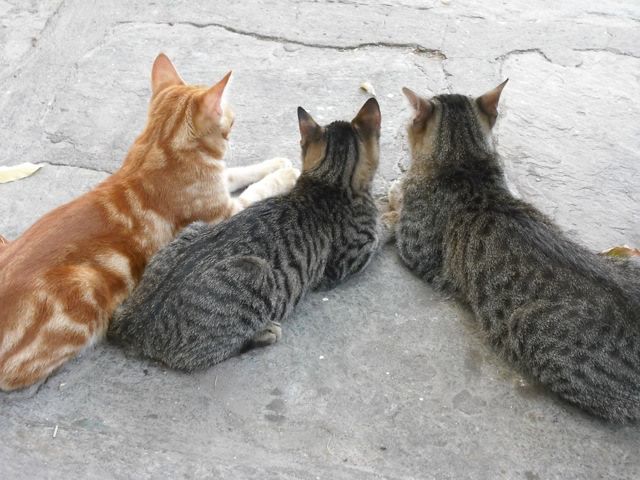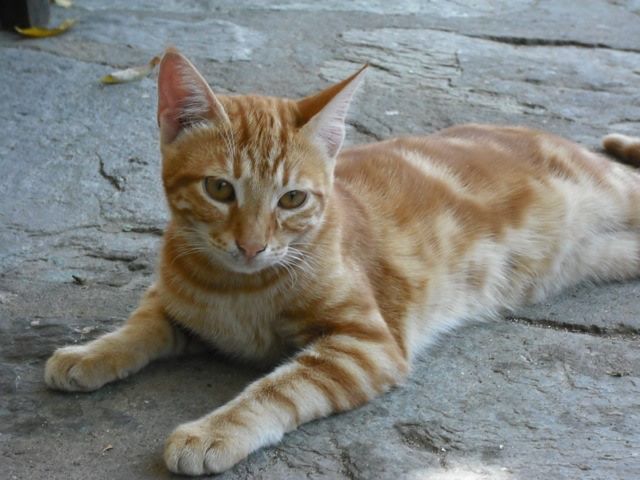 After our leisurely lunch we headed toward the bus stop. We waited. And waited. And waited. We eventually learned that one of the buses had broken down so they were running every two hours instead of one. It finally came and we hopped on and made our way down to Voukari and Ozias. Only three of us decided to go as far as Ozias. The adventurers we were. We ended up walking away from Ozias on a quest to find some caves. The caves never appeared but we did get some amazing views.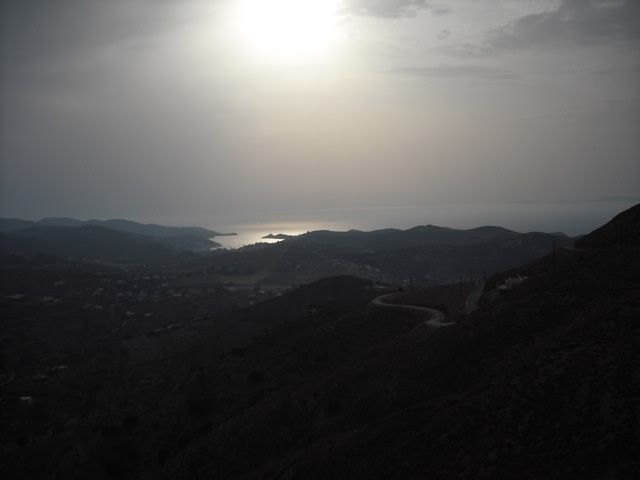 We also got hot, dehydrated, and I got blisters. Not sure if I want to even mention the garbage dump. I came to Greece to enjoy the beautiful sites, the ancient sites, the food, and the water, not the local landfill. But after deciding to take a dirt road that ran the coast back (my idea and I'm sure many of you aren't surprised if you know me) we discovered that it ran right through the landfill.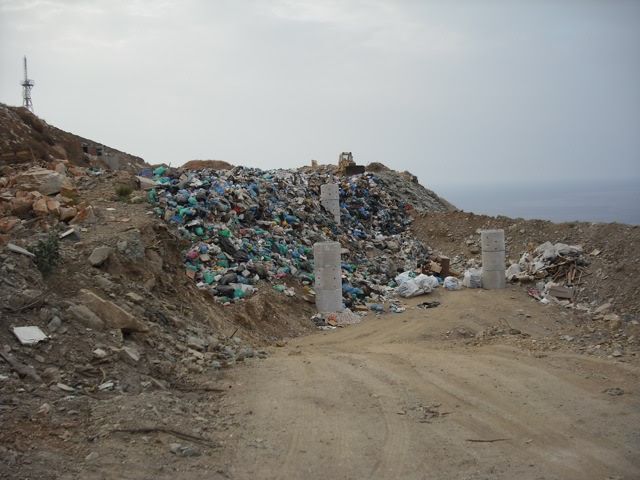 So that's what that sign meant? I guess I should learn more Greek. No matter, the views outside the landfill were gorgeous and we all had a good laugh.
We made it back to Voukari just in time for the sunset over the water and then grabbed some dinner at a café.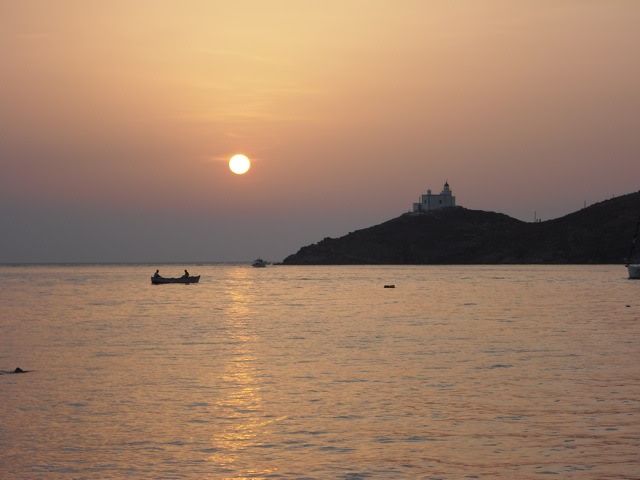 Dinner was followed by some wading at the beach and eventually back to the hotel to shower and get some sleep. My feet were hurting! A dip in the cool Mediterranean was just the ticket!
This morning we met for breakfast and then, probably against my better judgment, made the trek to the Karissia lighthouse.
I can't help it; I'm a lighthouse fanatic. It was a good 45-minute walk I'm sure. And it was hot. Brutally hot. I could have made tea in my water by the time I was finished. The view was almost worth it.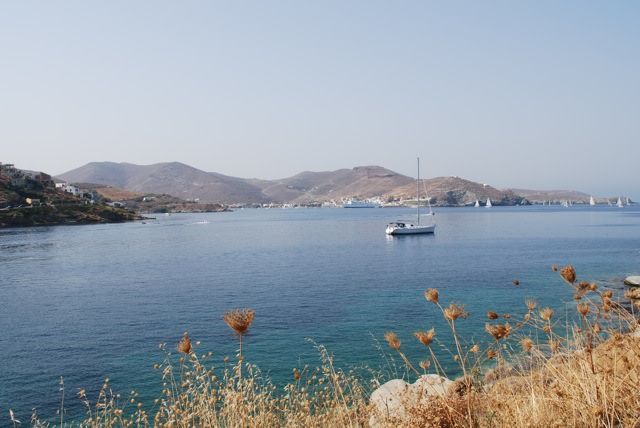 My feet disagree. I was glad to get back to the hotel and just sit, talk, drink water, and rest. I was even happier to board the ferry and feel the sea breeze.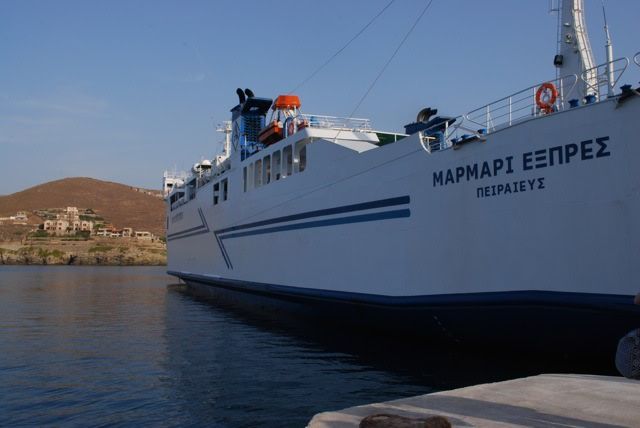 That says Marmari Express. Yes, I can read it. Even in Greek.
Being back at the apartment is welcome after a long hot weekend in the hot island sun. A cold shower was the best ending to the weekend. Now I have to gear myself up to start classes this week. I'm thinking "Classes? What did I get myself into?"
Posted by oceanchild 11:07 Archived in Greece Tagged living_abroad