A brief look at my daily life in Athens
11.09.2008 - 11.09.2008 32 °C
I promised some photos. These are not absolutely, stunningly beautiful photos. These are my daily life photos. Be assured I am not basking on beautiful Mediterranean beaches on a daily basis. I am here to learn both about the culture, the language, and the history. Let's start with the daily culture. The Greek people are very community oriented. People are always on the street chatting, shopping, or drinking coffee. It seems like nobody, not even the children are wasting their days away watching television or playing video games. It is refreshing.
The neighborhood I live in is a working to middle class neighborhood. There are people of all ages here. I'm guessing a school must be just over on the other block since I can hear children playing loudly as I sit here. I didn't expect to see as many cars as I do. The streets are full. I'm guessing each family only has one car since street parking is the only option. What I'm pleased to see, although not surprised, is a large number of these: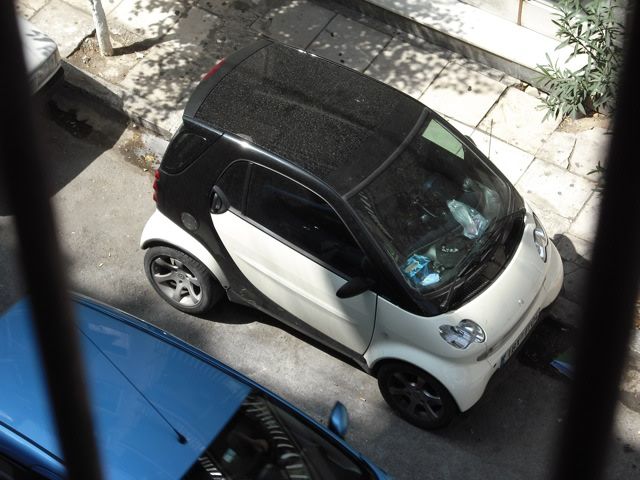 The Smart Car.
It's tiny. I suspect most Americans would turn their noses up at the minuteness of it. They would feel unsafe. I've been here for almost 5 days, in a very busy part of the city and I've not seen or heard one accident. I've also not seen one oversized SUV. I think Americans could learn a lot from the Europeans to be honest. In addition to Smart cars there are a lot of motorcycles and scooters. Water heaters are turned on only when needed. People walk when they can. There is no AC in most living spaces and even in many stores. People shop locally. Neighborhoods seem like true communities. I like that.
Ok, admittedly the apartment living is something to get use to. The bathroom and kitchen are small.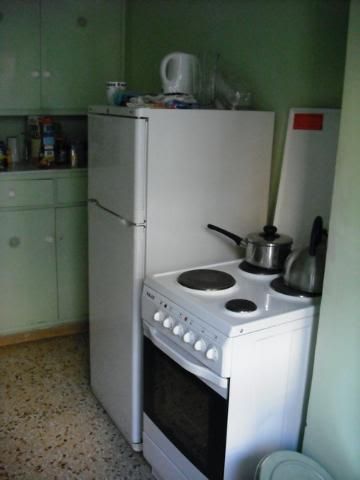 The bedrooms are a good size though and once the nights cool off a bit more I think I will sleep better.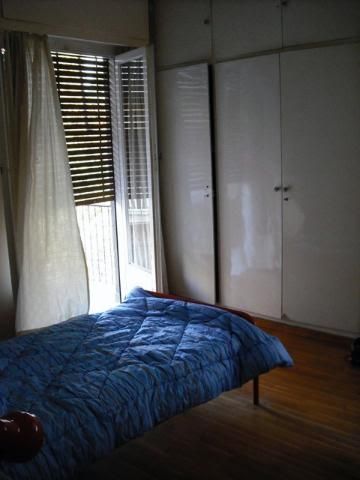 At least there is a balcony door. It's either a blessing or a curse depending on how you look at it. It lets in a wonderful breeze and daylight. With that breeze comes noise and the streetlight at night.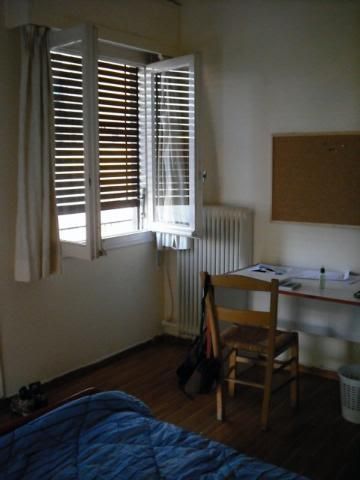 A window too!
Storage is not so great, but I'm only here for 3 months. There are no screens on the windows, something we would never dream of in the US because of insects. I've so far only seen one mosquito and very few flies. Thankfully the pigeons have not tried to come in.
What I love best so far is the yogurt I mentioned. I think I could live in it the rest of my life.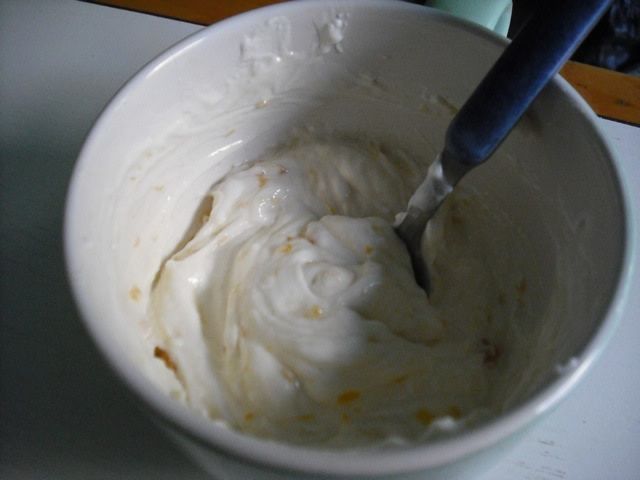 Lastly, I just had to post this photo. Only in Europe would you find someone playing accordion music at McDonalds.
Posted by oceanchild 04:24 Archived in Greece Tagged living_abroad